The 360 S10 is a high-end robot vacuum with impressive navigation and usability features. But how well can it clean? Let's find out!
Good Quality Robot with Smart App
360 S10
The 360 S10 robot vacuum is a quality 2-in-1 robot vacuum. It offers vacuuming or mopping cycles and is approved for all floor types, but it did seem to struggle with low pile carpet during our tests (only collecting 76% of debris on low pile carpet.) Despite the difficulties on low pile carpet, navigation was excellent, the app is incredibly robust, and cleaning performance on hardwoods and high carpet was solid.
Check Price
Pros
Doubles as vacuum or mop with high capacities with either model
Good cleaning performance on hardwoods, 98% debris removal, and on high pile carpets 90% debris removal
One of the most developed and featured packed robot vacuum apps we've tested to date
Cons
Struggles with cleaning smaller debris from low pile carpet
Does not include a mopping protector pad for the docking station
Scoring
Excellent App & Navigation
Design -

94%

Performance -

88%

Quality -

94%

Usability -

95%

Value -

91%
Summary
The 360 S10 robot vacuum is a 2-in-1 robot vacuum with good performance on hardwoods and a pretty advanced app to boot. I was impressed with its navigation ability and obstacle avoidance technology. In addition, the mopping performance was better than average for these types of microfiber cleaning pads. As potential downsides, this model certainly struggled with cleaning low-pile carpets (mainly small debris). That being said, for hardwood cleaning the 360 S10 was nearly flawless and high pile carpets were serviceable at 90% removal rate.
Table of Contents
🧪 Performance
To evaluate overall cleaning performance, we do an in-house clean on all vacuums we test. This process involves testing each vacuum against four different types of debris and on three different floor types.
We test the vacuums on the following floors:
Engineered hardwoods
Low pile carpet
High pile carpet
And against these four debris types:
Cereal; dry
Rice
Kitty litter
Sugar; granulated
How did it do?
The performance of the 360 S10 robot vacuum was good on hardwoods, but not great on carpet. The majority of issues on carpet can be isolated to cleaning small debris, namely sugar.
Let's review each individual floor test in detail.
Hardwood Floor
On hardwood floors, the 360 S10 cleaned 99% of debris by weight.
It left a few bits in the deep corners of our testing lane, but beyond that, it had a perfect performance.
Low Pile Carpet
On low pile carpet, the 360 S10 cleaned 76% of debris by weight.
From the photo above, this sharp dip in performance may be hard to see, but it's definitely there. The main issue was with cleaning sugar, where it basically missed 100% of the sugar we tested.
After the S10 was done cleaning, here is how much sugar was left in the carpet fibers on the testing lane.
Honestly, it's a lot of sugar. We never really expect flawless performance with robot vacuums cleaning sugar, but this was a pretty big miss for the S10.
High Pile Carpet
On high pile carpet, the 360 S10 cleaned 90% of debris by weight.
Compared to low pile carpet, these results are definitely better than the preceding results. Like low pile carpets, the biggest struggle remained the fine debris
Larger kitty litter pieces, rice, and cereal were all removed without issues. However, sugar and small pieces of kitty litter were left behind.
Mopping Performance
For mopping, the S10 was pretty typical, but still good cleaning performance.
The S10 mopping pad attaches to the back of the vacuum on the underside so that after it vacuums, it is able to mop right after.
In general, these "drag behind" mopping pads aren't miracle workers, but they do still make an impact.
You can see from the before and after just how much debris and dust were removed. I'd say it's better than many others we've tested to date.
What makes it better?
While we can't say for sure why the performance feels better than other models, I did notice that it seems to press the pad down onto the floor harder than some of the others we've tested.
That should be making a difference in how much water / force is applied to the floors, and therefore how much dust / dirt it's able to remove.
Despite the better performance, one thing that was missing is that it does not include a floor protector for the base station.
We've seen many robot makers that include a mopping attachment also include the floor protector that slides under / around the docking station. It's basically a piece of plastic that prevents the wet mopping pad from just sitting directly on the floor.
If you have tile or concrete, it's probably not an issue, but you definitely don't want a wet mopping pad to just sit on your hardwood floors for hours and hours until they air dry.
🧬 Design
The design of the 360 S10 is not dissimilar from other 2-in-1 robot vacuum / mops we've tested so far. It uses a simple design that actually feels pretty similar to that of the Roborock lineup.
The top of the vacuum has a LIDAR sensor and two control buttons:
Turns the vacuum on or off to start cleaning
Sends the vacuum back to the charging station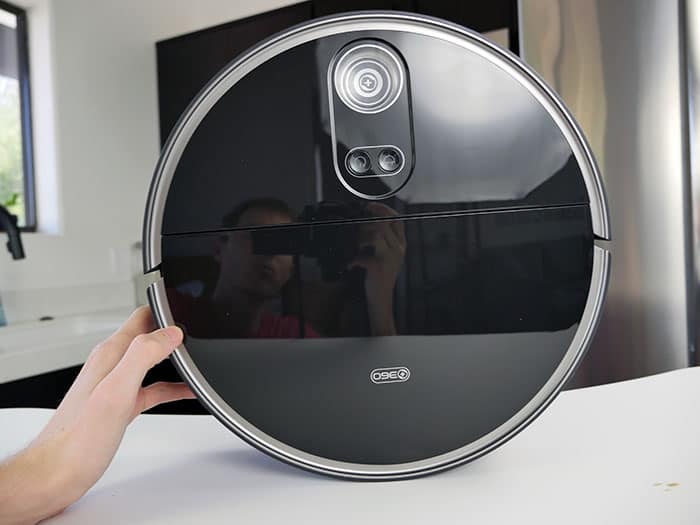 This model also has an app that can be accessed from your smartphone.
What's under the hood?
The lower part of the top panel lifts up to allow access to the dust bin, HEPA filter, and cleaning tool.
How does it navigate?
The 360 S10 uses similar LIDAR navigation like we've seen on other models, but I will not that they pride themselves on the fact that the navigation is hidden.
Often times, LIDAR sensors are visible from the top of the vacuum, but that's not the case here, which does provide a bit of a sleeker look.
And as far as performance goes, the navigation was great. The robot did not get stuck on any obstacles while cleaning our studio / office space.
It is designed to see any object over 0.4″ and it did a great job of avoiding larger threats and skipping over hazards it could not tackle.
Even on the first cleaning, it was able to start and return to the docking station without any help, which isn't always the case since the robots are usually trying to get their bearings and build the internal map.
Other Features
Other features that work together with the LIDAR navigation system include:
Obstacle avoidance: sensors can detect hazards like furniture, stair drops, etc and work to avoid
Multi-level map memory: remembers up to 10 different floor plans
Zoned cleaning: create specific zones using different shapes in the app
Selected room cleaning: allows you to send the vacuum to one specific room on the map
The App
To put it simply, the 360 app has a lot going on. It's definitely a fully developed app with tons of features, data, and settings.
Though I will say the UI isn't amazing.
The combination of tons of colors, features, text, and other info on the screen can be confusing to navigate. I wish the app was a little simpler in terms of how it presents the data. But nevertheless, the functionality and features are there, so it's hard to complain too much about it.
The app does allow you to specify certain area types…dining table area, sofa area, carpeted area, and other areas.
It's unclear what these specifications do exactly, but I would guess the cleaning and/or navigation pattern is different based on the type of area it is cleaning.
A complete list of app features includes:
No-go zones and lines: with custom zone shapes (ex: rectangles, circles, and other custom shapes)
Selective room labeling: name multiple rooms and decide whether you want to vacuum mop, both, or neither.
Multi-story management: Can store up to 10 different floor plans
Cleaning history: full report of what happened during the cycle, will even tell you how many obstacles were avoided
Specialized carpet cleaning: Cleans horizontally, vertically, or both, increased suction on carpet, and the ability to automatically identify carpeted floors from other hard surface floor types
What's on the underside?
The underside of the 360 S10 is more or less typical for a basic 2-in-1. It is designed with the following parts:
Edge sensors: lets the vacuum know when it is approaching an edge or stair to prevent drops
Central brushroll: a spiral bristle brushroll that rotates and pulls debris into the dustbin
Side spinning brush: uses a 3-arm bristle brush to clean along edges and corners by sweeping debris into the central cleaning path
Wheels: 2 large wheels on the size to help navigate flooring transitions and 1 directional wheel at the front of the vacuum for navigation
Charging contact pins: helps the vacuum know when it's reached the docking station and properly charging
Mopping pad: water from the on-board tank slowly soaks the mopping pad and scrubs the floor after it has vacuumed
The Brushroll
The brushroll on the 360 S10 is pretty basic. It has a spiral of soft bristles with composite paddles that agitate and sweep debris into the dust bin.
While we see a lot of this kind of brushroll, the problem is that these types of brushrolls tend to struggle with debris tangling around the axel.
While it should still do a good job cleaning, you'll want to keep an eye on this brushroll and watch for tangles or clogged debris.
Size & Dimensions
The 360 S10 is an average-sized robot vacuum. The exact dimensions are:
Diameter: 13.8″
Height: 3.35″
Weight: 8.48 pounds
Parts & Accessories
When it comes to parts and accessories, the 360 S10 comes with all of the parts and accessories needed for vacuuming or mopping cleaning cycles.
The complete list of contents in the box includes:
360 S10 robot vacuum
Brushroll
Charging dock
Side brush
Water tank
Mopping pad
Washable dust bin
HEPA filter
Cleaning tool
User manual (not shown)
This is a pretty standard set of accessories for a 2-in-1 robot vacuum. The mopping pad, water tank, and dust bin are all washable for easy maintenance.
I touched on it above, but it's definitely worth mentioning here again. The 360 S10 does not come with a pad to protect your floors from the wet mopping pad when it's charging.
For any flooring type besides tile and / or concrete, you're likely not going to want to leave the damp pad sitting directly on the floor.
A damp mop and nice hardwoods likely don't play nice for extended periods of time.
👍 Usability
Getting Started
Now let's move onto out-of-the-box setup. Setting up the S10 is quick and pretty intuitive. Here is the quick list of step to perform upon received the boxed 360 S10.
Remove all original packaging and protective materials.
Install the spinning brush to the underside of the vacuum.
Plug in the charging dock.
Allow the vacuum to charge completely prior to first use.
Daily Use
Daily use is also simple. It comes with a pretty good variety of features and settings which make it easier to control and use this robot vacuum.
Some of the best features include:
2-in-1 Vacuum or Mopping: easily switch between dry vacuuming and damp mopping
Auto Carpet Detection: prevents the vacuum from mopping carpet
App Control: pair your smartphone to the vacuum using the 360 app
Scheduled Cleaning: use the app to set up a pre-programmed time when you want the vacuum to clean
Zoned Cleaning: creates a digital map of your space and lets you specify exactly which areas you want to be cleaned
3 Lasers: uses 3 lasers to detect (1) objects in front of it (2), walls beside it, and (3) the height of furniture so it can know if it will fit under certain objects or not
Maintenance
Concerning maintenance on the 360 S10, it's not really anything uncommon.
The to-do list consists of:
Empty the dust bin. Wash as needed.
Wash the microfiber mopping pads as needed.
Check the brushroll for clogs and tangles.
Clean the filter. Wash and / or replace as needed.
Wipe down sensors.
Replace battery as needed.
The dust bin is easy to empty and also washable which makes it easier to clean it out when debris begins to build up.
🔰 How Does It Compare?
When comparing apples to apples, how does the 360 S10 compete with models already on the market?
To find out, we compared specs, features, and performance of the 360 S10 with two other models on the market for a 3-way comparison: Dreame L10 Pro vs. Roborock S7 vs. 360 S10.
Dreame L10 Pro
Roborock S7
360 S10
The results showed that performance was notably better than the L10, but also notably worse than the Roborock S7. All three of these models offer other advanced features like app control and digital mapping.
Of these three, the 360 S10 did have the largest mop bin capacity so if mopping is an important feature that may be something to consider.
Dreame L10 Pro vs. Roborock S7 vs. 360 S10
Aside from the differences in mopping and performance, all three models use LIDAR navigation and have similar interfaces.
📰 Specifications
Below is a table showing the full list of specifications of the 360 S10:
| Specifications | 360 S10 |
| --- | --- |
| Type | Robot |
| Manufacturer | 360 Smart Life Group |
| Model | S10 |
| Width | 13.8" |
| Height | 3.3" |
| Weight | 8.48 lbs. |
| Floor Type | All (indoor) |
| Battery | 5,000 mAh |
| Run Time | 180 mins |
| Dust Bin Capacity | 500 mL |
| Water Tank Capacity | 520 mL |
| Zoned Cleaning | Yes |
| Returns | Varies by retailer, other retailers will vary |
| Warranty | 1-Year Limited |
| Price | Check Price |
🥇Should You Buy the 360 S10?
So all things considered, should you buy the 360 S10 robot vacuum? I would recommend this robot vacuum if you're looking for:
Excellent performance on hardwoods, good performance on high pile carpet: If hardwood performance is a top priority, the 360 S10 does a great job. The ability to sweep, vacuum, and / or mop is especially handy on this type of flooring. Beyond that, it performed pretty good on high pile carpets, but wasn't great on low pile.
XL mop tank capacity: The mopping tank can hold up to 520 mL of water, which actually makes it larger than the capacity of the dust bin. Often times, mop tank capacities are quite small so I was a little surprised to see this beefy tank.
Solid navigation: The navigation is another area where this vacuum excels. It can detect obstacles as small as 0.4″ and also uses a 3D laser to sense whether or not it can squeeze under obstacles as it approaches them.
Excellent app: The app is fully developed and feature packed. It can be overwhelming when you first open it up, but once you get the hang of navigating around there is a ton of customization available.
Click here to check the price or learn more about the 360 S10 robot vacuum.
ChangeLog
May 10, 2021 – Initial version of the page was published.