The 360 S9 is a high-end robot vacuum with LIDAR navigation. But how well does it clean? We put it to the test to find out.
Smart, 2-in-1 Vacuum and Mopping Robot
360 S9
The 360 S9 is a 2-in-1 vacuuming, mopping robot with dual mode cleaning and full smart integration. It allows for selective room cleaning, deep cleaning, no-go zones, etc. In our tests, cleaning performance was nearly flawless on hardwood floors (99% removed), making it a great option for hard surface flooring. While carpet performance wasn't as good as hardwood, it was still more than serviceable, removing 88% of all debris on both low and high-pile carpets. The mopping function was equally as impressive and is good as any 2-in-1 we've tested to date. A solid value robot from 360.
Check Price
Pros
Selective Room Cleaning + Zoned Cleaning
Up to 180-minute run time
Excellent digital mapping & navigation
Great hardwood cleaning (99%) & mopping performance
Cons
Struggles with finer debris on carpet floors

Higher price point
Cleaning Performance
To evaluate the cleaning performance, we ran a number of different tests. We ran a formal, 3-part vacuum cleaning test which used a mix of debris (of various sizes and weights) on three different floor types—hardwoods, low pile carpet, and high pile carpet.
We also ran a more informal test on just the hardwoods to test mopping performance.
Hardwood Floor Cleaning
The hardwood floor test was a breeze and the 360 S9 was able to capture 99% of the debris we tested.
Low Pile Carpet Cleaning
When cleaning low pile carpet, the performance did dip quite a bit. It left a noticeable amount of sugar and kitty litter. Overall, cleaning performance on low pile carpet was 88%.
It's a little hard to see from the photos so here is a closer look at the debris that the 360 S9 left behind.
High Pile Carpet Cleaning
High pile carpet has similar results to the low pile carpet. Actually, both carpet tests captured 88% of debris tested. The high pile carpet test showed the same struggles as on low pile carpet—fine debris, mostly usgar and kitty litter.
Mopping Performance
When mopping, the tank inserts into the top of the unit. The 200 mL tank capacity and soft microfiber mopping pads allow water to seep through the pad and wet the floor.
The slow flow is designed to let the S9 gently scrub away dirt and debris without leaving the floor soaking wet.
How did it do?
Overall, the mopping seemed pretty good. It had good coverage and reservoir tank is quite sizable.
The mopping pads are gray so it was difficult to see exactly how much debris it was cleaning.
However, we decided to run mopping tests using white cleaning pads from a different robot vacuum mop that were compatible with the 360 S9. Since the pads were white the dirt showed up more visibly.
Below is the before and after.
Overall mopping performance was pretty impressive. It's just as good as the other top-tier 2-in-1 robot vacuum mops we've tested (most of which are Roborock models). It removed a surprising volume of dirt via the mopping function.
360 S9 Design
The 360 S9 is a 2-in-1 robot vacuum and robot mop. There is a navigational laser (LIDAR) on top of the vacuum that allows it to create a 360° digital map of the space.
There are simple controls on top of the S9 or more advanced controls can be accessed via the smartphone app.
What's on the underside?
The bottom of the S9 reveals a design that looks pretty simple. It has a central spiral brush with navigational wheels, edge sensors, and the spinning side brush.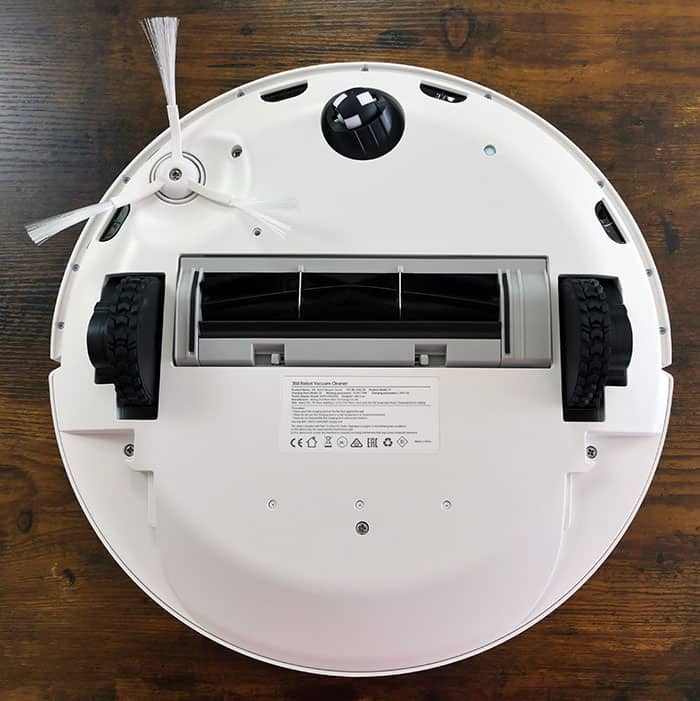 The 3-arm brush on the side is designed to capture debris along edges and corners.
There are two spring-loaded pieces that make it easy to install or remove the brushroll for regular maintenance.
For mopping cycles, you can attach a mopping pad to the bottom of the S9 as well. This vacuum can detect when the mopping pad is installed and automatically switch from vacuum mode to mopping mode.
In addition, we really like the hidden cord wrap on the back of the charging base. Once you wrap the cord to your required length you can re-install the plastic shield. This gives it a clean and sharp aesthetic in your room.
Size & Dimensions
The 360 S9 is a little wider and taller than some other robot vacuums we've tested. The larger size does allow for a decent sized dust bin (up to 420 mL) and water tank (up to 200 mL).
Here are the exact specs for reference.
13.7″ diameter
3.9″ tall
8.6 pounds
Accessories & Parts
Wondering what all is included with the 360 S9 smart robot?
Quite a bit actually. It includes accessories for vacuuming and mopping cycles.
The 360 S9 includes the following parts and accessories:
Charging base
Spinning side brush
HEPA filter
460mL dust bin
200mL mopping tank
Mopping pads
Remote control
The Mopping Pad
The mopping pad is machine washable and simply velcos to the bottom of the unit. Using the app, you can increase or decrease the volume of water depending on your floor type / square footage.
The Remote Control
The remote control has four simple buttons.
The top button turns a cycle on or off.
The button with the map icon starts a spot cleaning session.
The button with the plug-in icon below will send the vacuum back to the charging base to juice up the battery.
The smallest button with a fan icon will put the vacuum in a Boost mode, which offers heightened suction for cleaning high traffic areas or high pile flooring like area rugs or carpet.
Features
The 360 S9 vacuum is an advanced robot with a wide assortment of smart features.
It is designed to be an autonomous cleaner that is capable of learning its environment, adjusting its cycles, and providing excellent cleaning performance.
Scheduling
When using the 360Robot app, you can schedule cleanings for repeating days, alternating days, or somewhere in between. The app allows you to customize:
Cleaning mode
Cleaning frequency / schedule
Power level
Cleaning location

Mopping water level

Voice control (via Alexa or Google Assistant)
Selective Room Cleaning
You can also use the app to assign specific zones to clean. This technology allows "selective room cleaning" that you can call out in the schedule and assign different cleaning frequencies for different rooms.
No Mop Zones
You can also zones of carpet and set up those areas as "No Mop" zones. When the S9 is running a mopping cycle, it will skip these areas when mopping and only vacuum them.
No Go Zones
Similar to the No Mop zones, the No Go Lines can be drawn in-app and set up areas you want the vacuum to avoid entirely. This is a nice feature for areas that have a lot of items on the floor or just a tricky layout that doesn't need regular cleaning.
Deep Cleaning
You can also call out specific high traffic areas that you want the robot to focus on more often than other areas.
There is a ton of flexibility with the digital map and options for how to get the best clean for your space.
Usability
Okay, let's talk usability. The S9 can be controlled using one of three different methods.
Buttons on the vacuum itself
Remote control (infrared)
In-app control (WiFi-based)
If you're looking for immediate usability after the initial setup, I'd recommend using the buttons on top of the 360 S9 or the remote control. Both of these methods are very easy to use and intuitive.
The in-app control is done using the 360Robot app and offers smart features like digital mapping, zoned cleaning, scheduling, and maintenance reports.
What about setup?
The setup for the S9 is straightforward and really just takes a few minutes to get going.
Here's the process:
Unbox the vacuum and remove all packaging.
Make sure the brushroll and spinning brush are installed on the bottom of the vacuum.
Install the filter and dry dust bin into the top compartment.
Charge up and then get to cleaning.
For a full battery, the S9 may take up to 4 hours to charge. Fully charged, you can expect up to 180-minute run time.
To set up the app, it only takes a few minutes and a WiFi connection (2.4 GHz). Simply install the app onto your smartphone and then follow the prompts to pair the vacuum to your phone.
Once paired, you can enable other smart controls like Amazon Alexa or Google Assistant. Set up zoned cleanings for even more usability—there's a ton of options.
Is the 360 S9 worth it?
Alright, so specs, features, and performance aside… is the 360 S9 worth it?
Overall, I would say yes.
This robot is definitely more of a higher-end models. It is a little pricer, but also easy to use, had solid cleaning performance, and a lot of smart integration as well.
Some of the top features include:
Selective room cleaning
Vacuum + mopping capability
Voice control
No-go lines
No mop zones
Good dust bin and water tank capacity
Up to 180-minute run time
Excellent performance on hardwoods (99%)
360 S9 Specifications
For a full list of the 360 S9 specifications, check out the table below:
Specifications
360 S9
Type
Robot
Manufacturer
360
Model
S9
Length
13.8"
Width
13.8"
Height
3.9"
Weight
8.6 lbs.
Floor Type
All (indoor)
Modes
Vacuum + Mop
Battery
5,200 mAh
Dust Bin Capacity
~0.46 L
Mapping
LDS
Voice Control

Yes

; compatible with Amazon Alexa or Google Assistant
Zoned Cleaning

Yes

Keep Out Zone

Yes

Filter

Yes

Returns
Varies by retailer
Warranty
1-Year limited
Price
Check Price
Who Should Buy the 360 S9?
Still not sure if the 360 S9 is the right robot vacuum for you?
I would recommend the 360 S9 if you're looking for the following features in a robot: 
2-in-1 cleaning: The 360 S9 is a 2-in-1 vacuum and mop that can easily swap back and forth between dry cleaning runs and wet / damp mopping.
Solid cleaning performance: The 360 S9 performed well in our cleaning tests. The hardwood vacuuming and mopping tests were the most impressive. The carpet cleaning tests weren't the absolute best we've tested, but they were more than serviceable.
Advanced digital mapping: The in-app mapping technology is impressive for this vacuum. It can map the space with a surprising level of detail and accuracy. And then from the map, you can draw No-Go lines or No-Mop zones which help the S9 to better understand how you want the space to be cleaned.
Zoned cleanings: Using the digital map you can identify specific zones or rooms which allows you to run selective room cleanings and send the vacuum to certain areas more or less frequently.
For more information or to check the price on the 360 S9, click here.
Updates
September 29, 2020 – Corrected errors where we had duplicated our feature and setup lists. 360 requested we add the voice control feature to our feature's list, which we agreed to do, as excluding it was an oversight on our part.
September 28, 2020 – Initial version of the page was published.
Robot That Vacuums & Mops
Design -

95%

Performance -

92%

Quality -

93%

Usability -

95%

Value -

94%
Summary
The 360 S9 is an advanced 2-in-1 robot that both vacuums and mops. The top mounted LIDAR sensor enabled excellent navigation and digital mapping. The 360 app allows you to take greater control over cleaning with scheduling, room-by-room cleaning, keep out zones, and more. Cleaning performance on our tests was pretty good, removing 99% of debris on hardwood floors and 88% of debris on both low & high pile carpets. Our mopping cleaning tests also showed impressive performance, with a sizable volume of dirt coming up on the cleaning pad. Overall, the 360 S9 checks many of our boxes with respect to performance, design, usability, and value.