Abode Security System
The Abode Alarm system is a flexible DIY security system that allows you to build a custom system to match your needs. You can opt for a free plan, a $6/mo self-monitored plan, a $20/mo professionally-monitored plan, or an on-demand package that provides professional monitoring on an "as needed" basis. Based on our tests, we found this system quick to setup, easy to use, and lets you only pay for what you need.
Check Price
Pros
Offers a lot of add-on accessories if you want / need them
Affordable plan for the Abode Standard subscription
On-demand professional monitoring; only pay when you need it
CUE feature within app allows for increased security system integration with your other smart home devices
Cons
Some plans rely exclusively on internet connection (cellular backup available with Pro subscription)
Backup battery only lasts between 5-8 hours, depending on usage
Scoring
DIY System with Flexible Monitoring Plans
Design -

97%

Performance -

97%

Quality -

94%

Usability -

95%

Value -

95%
Summary
The Abode security system offers flexible packages, add-on accessories, and good options for monitoring (self-monitored, professionally-monitored, or on-demand monitoring). The setup only took us 15 minutes and the parts came pre-configured so it was quick and easy to get going. I also really liked all of the optional accessories—a good selection of sensors, cameras, and other specialty detectors. During our tests, we found Abode simple and effective to use.
Pricing & Packages
Abode security systems are a little simpler than other brands we're tested. They offer 2 security system sets pre-packaged or you can build your own system.
Here is a quick summary of the two security system kits that Abode offers.
The Ioda is designed to be a starter kit with more basic devices.
The Smart Security system represents Abode's top-of-the-line collection.
Each system is available in three variations with different numbers of devices— Essentials, Elite, and Plus.
Check out the comparison below:
Ioda All-in-One
Includes:
1 gateway hub (all-in-1)
0 motion sensor
1 mini door / window sensor
1 key fob
Check Price
Smart Security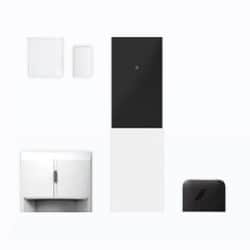 Includes:
1 gateway hub (gen 2)
1 motion sensor
1 mini door / window sensor
1 key fob
Check Price
Within these two class of systems, there are upgraded versions for the Elite or Plus collection. Here's the breakdown of what you would get with each system.
Ioda Kit Plus:
All-In-One Gateway
3 Mini Door/Window Sensors
1 Keypad 2.0
1 Key Fob
Smart Security Kit Plus:
Gen 2 Gateway
3 Mini Door/Window Sensors
1 Keypad 2.0
1 Key Fob
1 Motion Sensor
1 Sticker
Ioda Kit Elite:
All-In-One Gateway
4 Mini Door/Window Sensors
1 Keypad 2.0
1 Key Fob
1 Motion Sensor
Smart Security Kit Elite:
Gen 2 Gateway
4 Mini Door/Window Sensors
1 Keypad 2.0
1 Key Fob
2 Motion Sensors
1 Sticker
Monitoring Pricing
Abode Free vs. Standard vs. Pro
| | Abode Free | Abode Standard | Abode Pro |
| --- | --- | --- | --- |
| Price Starting At | Free | $6/month | $20/month |
| Connection | Ethernet | Ethernet | Ethernet; cellular backup |
| Mobile App | Yes | Yes | Yes |
| Email Notifications | Yes | Yes | Yes |
| Push Notifications to Mobile Device | Yes | Yes | Yes |
| Live Feed | Yes | Yes | Yes |
| Smart Integrations | Yes | Yes | Yes |
| Camera Cloud Storage | None | 7-day storage | 30-day storage |
| Automations | No | Yes | Yes |
| Activity Timeline | No | Yes | Yes |
| 24/7 Professional Monitoring | No | On-Demand | Yes |
| Trial | 30-day | 30-day | 30-day |
| Warranty | 1-Year | 1-Year | 1-Year |
The costs listed above are standard monthly costs for each option, but you can also opt to do an annual plan.
For the Abode Standard, it would be $60/year and the Pro Plan is $200/year. Once you're locked in, Abode also ensures that the rate will never increase so that's a benefit as well.
Equipment
The Abode security system includes a variety of different devices and tools depending on which package you opt for.
Here's a rundown of exactly what each device does:
#1. Gateway
The Gateway is the central hub of communication and the base station for the Abode system. If you opt for the Ioda system, you'll receive the "all-in-one gateway" and if you go for the Smart Security system, you'll receive the "Gen 2 Gateway".
NOTE: Our system included the Gen 2 gateway so the basis of our review is on that particular device.
With both gateways, the connection is via Ethernet (not wireless) and also has a limited battery backup (5-8 hours depending on usage). With a paid subscription to the Pro plan, you will also receive cellular backup.
How does it look?
The Gateway hub is pretty sleek and fairly compact. Since it needs Ethernet, you'll probably need to have it near your router so that may be something to consider when you're thinking about placement and install.
Setting Up the Gateway
Quick and easy setup. Plug it in and turn it on. As you set up the app, it automatically sets itself up and gets any updates it may need.
Comes pre-configured. Our gateway was already pre-configured with all of the devices included in our kit, a small, but really nice extra. This saved setup time and made the install process that much easier.
Delay to exit. When you arm the system gives you 60 seconds to leave the house before it goes active.
Loud siren. Honestly, it's quite loud and would certainly do the job of deterring any suspicious activity if it went off unexpectedly.
No verbal notification. The gateway doesn't offer any verbal notifications. Like "System armed" or "door open", etc. It just beeps…which I guess isn't that big of a deal, but I will say I have become accustomed to the verbal commands from other systems, which I tend to prefer.
#2. Door / Window Sensor
The door / window sensor works similarly to other contact sensors we've tested.
It is a 2-piece assembly where one part installs on a permanent part of the door or window (like the frame or trim) and the other part installs on a moveable part (like the window panel or physical door).
On the back, there is a velcro adhesive that makes for a quick and flexible installation.
Install Notes:
During our install, I did note that it needs to be a little closer to the contact sensor that other systems we've tested thus far.
Fortunately, the door / window sensor comes with a velcro strip on the back, so I was able to move it a little bit closer, while still being able to clear the door itself.
This may just be something conditional with our particular site conditions, but it feels worth pointing out.
#3. Key Fob
The Key Fob for Abode has a compact size and easy to use interface. Like most other fobs, it allows you to remotely arm or disarm your system without having to enter a numerical code.
This fob does use an icon system, as opposed to word labels.
Dot = away
Dot within circle = home
X = disarm
Plus = optional panic button
Personally, I'm not a huge fan of the icons. It seems like they should have just labeled the buttons with words.
That said, it's small, fits on a key chain, and does the job.
From our tests, this fob worked well at both close and long-range. I tested it up to 50 feet away outside the building and it still had no problems connecting.
#4. Motion Sensor
The Motion Sensor for Abode feels pretty standard compared to similar sensors from other companies.
It is easy to install and works silently in the background, which makes it an attractive addition to your system.
Other Items
In addition to the items listed above, there is a pretty wide selection of other devices and accessories available to expand the capabilities of the Abode system.
Here is a quick list of some of their most popular items:
Door & Window Sensor
Motion Sensor
Cameras
Other Accessories
Installation & Setup
Setup and install of the Abode system was simple and actually quicker than most systems that we've tested thus far.
Compared to traditional security systems, DIY systems like Abode can offer cost savings and user-friendly features that are not typically available in the classic home security setup.
DIY Systems
Contract-free
Flexible packages
Wireless or battery-powered
Easy to take the system with you if you move
Inexpensive cost per month
Traditional Systems
Lengthy contracts
Costly start-up fees
Require professional installation
May have penalties if you move or cancel the contract before the term is up
Tends to lack transparency
NOTE: These are generalities and may not be true for every system.
Getting Started with Abode
Abode has one of the faster installations that we've done to date—only 5 minutes to unbox and 15 minutes to set up.
The increased setup speed is due to 2 main factors.
We got one of the smaller system sizes so there were fewer devices.
The devices were already pre-configured to the Gateway base station.
As a result, all I needed to do was set up the base and then the 3 devices were already on the portal. Aside from the physical task of setting them up, I didn't need to do anything to connect them to the Gateway digitally.
Installing the Devices
As is standard, both the motion sensor and door / window sensors came with double-sided tape / velcro mounts. However, the double-sided tape was not pre-installed. I had to install it myself.
Even so, it really wasn't hard at all. Just remove the backing and stick it on there.
The larger side of the door / entry sensor included 3M double-sided velcro, which is a really nice extra…most notably because it allows you to bring the sensor a little closer or further away after install.
This actually ended up being critical for us, as the normal distance I install these sensors was too far with the Abode. So having the velcro install allowed me to pull it off and move it another quarter-inch closer to the other contact sensor.
The Process
For the setup all I really needed to do was:
Install the base station
Download the app
Enter the install code from the box
Setup my account
That's it. From that point forward, everything else pre-configured itself. The whole process was incredibly easy.
Features
So we've touched on the packages, subscription plans, and physical devices. Now let's talk features.
#1. Accessibility
With Abode security, there are a number of different ways that you can access the system.
All subscription plans offer smartphone integration or voice control (when paired with a device like Amazon Alexa or Google Assistant.)
You can also use an in-hand key fob for quick controls.
Lastly, there are access controls that can be seen on the Gateway itself.
#2. Smart Integrations
The Abode setup integrates with quite a few other apps / hardware. This includes:
Amazon Alexa
Apple HomeKit
Bose
Ecobee
Google Assistant
IFTTT
Kwikset
LIFX
Philips HUE
Schlage
Sonos
ZWave
Smart integration allows you to control the system with other devices outside of the Abode collection or even via voice control. You can also connect other devices with the Abode and sync them up to work together (ie: smart lights, speakers, etc.)
What is CUE?
Another important aspect of Abode's automation technology is a system called CUE, an integrated part of the Abode Pro paid subscription.
CUE is a complete home automation platform that connects to and controls your smart home devices. It allows you to set up actions that make your home more accessible and easier to stay in control.
Here is a quick list of the some of the things you can do with CUE:
Create automations from mobile
Sunrise & sunset rules
Multiple trigger support
Conditions
Enhanced geo-location interface
Ability to fine-tune triggers and actions (i.e. longer than)
Blackout periods to prevent automations from executing
Simple rule creation wizard
This system can quickly become a partner to your already connected devices and I found it easy to set up and work with.
#3 On-Demand
One feature that is pretty unique to Abode is the option for on-demand professional monitoring.
This is incredibly handy and helps to keep the costs down.
You can regularly subscribe for the self-monitored subscription, but what happens when you go on vacation?
Abode offers 3 or 7 days of 24/7 coverage with no commitments or costly contracts. When you return and don't need the protection, simply turn it off.
Professional monitoring is designed to help protect from:
Break-Ins and Burglary
Fire
Water Damage
#4 The Modes
The Abode security system has a few preset modes it can operate in. The modes include:
Home
Disarms interior motion sensors
Arms door / window sensors
Standby
Disarms interior motion sensors and door / window sensors
Arms smoke or water sensors active
Away
Arms all sensors and cameras
Monitoring
The Abode security system has three monitoring plans available.
Self-Monitoring: available with the Abode Standard plan
On-Demand: allows 3 or 7-day professional monitoring without permanently upgrading your subscription
Professional Monitoring: available with the Abode Pro plan
You can also use Abode without a paid subscription, but the features are more limited.
Without a paid plan, you could still have the option of controlling and self-monitoring, viewing live video, smart integrations, and getting push notifications. But you would give up the timeline feature, cannot store captured video content, or execute automations.
As we covered above, here is a quick side-by-side of the pricing structure:
The App
The Abode app feels pretty solid—even the free version is well featured, similar to Ring's Alarm app in many ways (read our Ring Alarm review here).
Using the app, you can:
Arm / disarm the system.
View timeline (paid subscription)
View, add, and edit devices
Customize device settings
Setup Cues (paid subscription) – these let you automatically arm and disarm your system using geofence (basically as you leave / come home). In addition, there are other custom settings you can use.
View alarm history
Customize notifications
Integrate with other apps / hardware (Alexa, Apple HomeKit, Bose, Ecobee, Google Assistant, IFTTT, Sonos)
Customer Service
Moving right along, let's review customer service. Any good customer service program is evaluated on two different levels:
Part 1 is support when making the initial purchase.
Part 2 is support when / if things go wrong after install.
Good customer service and communication are critical in both of these instances so for the sake of our review, we look at both and see how well each company meets the mark.
#1. Making the Initial Purchase
On the Abode website, it is pretty clear what the options are. There are organized packages and sets that state exactly what you're getting.
RELATED: Compare Abode security systems here.
It's also easy to see the list of other accessories or devices that Abode offers.
There is also an online chat to help answer any questions. I will admit, I used the chat and their answers seemed a little confusing and contradicted some of the stats listed on their site.
I'm not sure if I was just chatting with a new employee or if I was unclear in my question, but it wasn't quite as easy as some other customer service platforms.
In addition to the online chat, they also offer:
1-year warranty
30-day free returns
Price match program
#2. When Things Go Wrong
So once you select a system and click buy, what next? A good customer service program will support customers from the initial purchase, through setup, and troubleshooting when needed.
So how does Abode rank?
Honestly, it's pretty good. They offer device support for all devices and make it easy to ask a question that they may not have covered.
Abobe offers the following features for customers who already purchased a system:
Online chat
Video tutorials
Device support articles
Ability to "Submit a Request"
Phone number to call for support
Email address to message for support
The Bottom Line
So considering everything we've gone over, is the Abode a good security system?
I would say yes it is. The Abode is quick and easy to set up and their application is simple.
Whether you're looking for a small, self-monitored setup or a larger complex system with the bells and whistles and professional monitoring, Abode likely has the right options for you.
The Abode security system is a good option for users who want:
On-Demand professional monitoring: This is a unique feature that we don't see often, but the ability to opt for professional monitoring only when you need it can be an attractive feature for people who generally like to self-monitor, but sometimes want more when they travel or other special circumstances. Opt-in for 3 days or 7 days, as needed, and don't pay for the time you don't need.
Flexible devices: Abode offers a mix of detectors, sensors, cameras, sirens, and other specialty devices. While their pre-set packages seem small at first, the larger collection of accessories they offer can really take your security to the next level.
Home automation program: While it's not uncommon for DIY security system to have options for home automation, the Abode CUE system is extremely user-friendly and offers automation options in the smartphone or web-based app. Setting up automations can help your security system be smarter and automatically change security settings based on certain conditions (ie: time of day, your location, etc).
Click here to check the price for the Abode Ioda starter pack.
Or click here to check the price for the Abode Smart Security Essentials pack.
Frequently Asked Questions
Do you have pay for a monthly subscription?
No. You can opt for the plan-less option, which gives you the option of controlling and self-monitoring, viewing live video, smart integrations, and getting push notifications. It does not have a timeline, cannot store captured video content, or execute automations.
What if you don't like it?
The Abode security system comes with a 30-day trial period. If you decide that you don't like it, you can simply send it back. Abode also has a 1-year warranty.
Does Abode offer professional monitoring?
Yes. Professional monitoring is included with the Abode Pro plan. The standard plan relies on self-monitoring. You can also enroll in On-Demand professional monitoring, as needed.
Can you buy more sensors after you've already made the initial purchase?
Yes. You can purchase additional devices and accessories any time after placing the initial order.
Does Abode offer security cameras?
Yes. There are currently two Abode cameras—the Abode cam (indoor) or the Outdoor Smart cam (outdoor).