Photo-Catalytic Air Purifier
Airocide APS200
The Airocide air purifier offers a design unlike any other with a performance level on par with the best in the industry. This air purifier does not use filters, but instead contains two catalytic converters that help to break down and destroy harmful particles upon contact.
Check Price
Pros
Two catalytic converters are used in order to destroy harmful particulates in your home's air.
Super easy to use. Turn it on and then forget about it.
Easy maintenance, just replace the catalytic converter annually.
Cons
One of the more expensive units we've seen so far.
APS 200 unit seems to have a hard time going much below 2.0 PM2.5 (should be noted that the Airocide APS 200 PM2.5 is designed for these finer particles)
Airocide Design
The design of the Airocide air purifier is one of the most unique we have seen to date. Unlike most air purification systems, the Airocide is an average sized unit that does not contain filters.
When you first look at the Airocide, it doesn't necessarily appear to be an air purifier. The front panel looks more like a high-end audio speaker.
Control Panel
Along the inside of the Airocide is the control panel.
This consists of three buttons:
Auto mode
Low fan
High fan
Wall Mountable
This unit does have the ability to be mounted to your wall, but Airocide does not include the hardware needed to do so.
If you do not mount it on your wall, the overall aesthetic of the Airocide is sleek enough to be placed in most areas around your home without looking out of place.
Size and Dimensions
In terms os size and dimensions, the Airocide is somewhat of a smaller unit. Comparatively speaking, most other air purifiers are not built in the slender, more rectangular shape, but are more cylindrical or built in a square.
The Airocide air purifier is:
Width:  18.7″
Height:  6.9″
Thick:  6″
Weight: 9 lbs
Accessories & Parts
The Airocide does not include any extra parts or accessories.
That being said, they do offer accessories that can be purchased seprately, such as:
Wall mount
Extra reaction chamber replacement kits
Decorative sleeve (this was included with the model we tested)
Airocide Features
The Airocide does not have a ton of extrenal features for the users. In fact, the features of this air purifier boil down into three small buttons; low fan, high fan, and auto mode.
Fan speeds
With the Airocide, users have the ability to select their preferred fan speed, whether that be low, high, or auto. Each of these are broken down as follows:
Low – This mode is to be used when a quiter noise level is preferred. For example, in a bedroom while sleeping.
High – This is the most effective mode for the Airocide and is their recommended speed for the best results.
Auto – On auto mode, the Airocide will adjust its speed based on the amount of light it is able to sense. As the light fades away (e.g. night time) the system will switch over to the low setting . In other words, the unit will switch into lower power modes while you are sleeping.
Photo-Catalytic Reaction Chambers
Probably the most interesting feature associated with the Airocide is the fact that it does not use filters to clean the air. Instead, it uses a dual photo-catalytic converter setup (more info on photo-catalyic reactions).
These converters work by using the fan to draw in airborne organic pathogens (allergens, mold spores, VOCs, etc.), slows them down, and disperses them across an array of glass tubes, also known as the catalytic surface.
From here, these substances are broken down at the molecular level and the catalyst is able to strip away their carbon atoms, destroying them.
This process is known as oxidation (aka redox), which notably does not create ozone as a byproduct.
Performance
Our performance tests of the Aircode APS 200 were good for the most part, with the unit showing marked improvements in overall air quality (in most cases).
Testing Series
In order to test the Airocide air purifier, we placed the unit in a medium-sized bedroom in my home.
From there, we took the initial measuremement of the air quality in that room, ran the Airocide for 8 hours, and took a new measurement, allowing us to compare the difference in air quality.
Below, we've included information on the testing criteria and what defines good vs. bad air quality.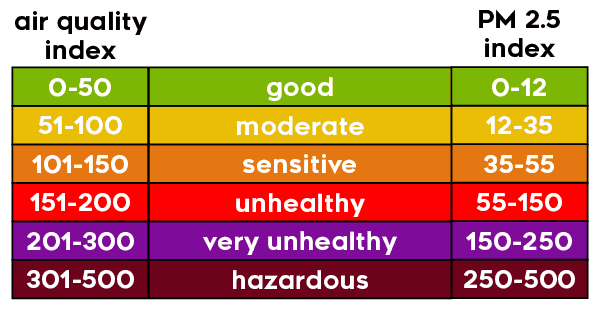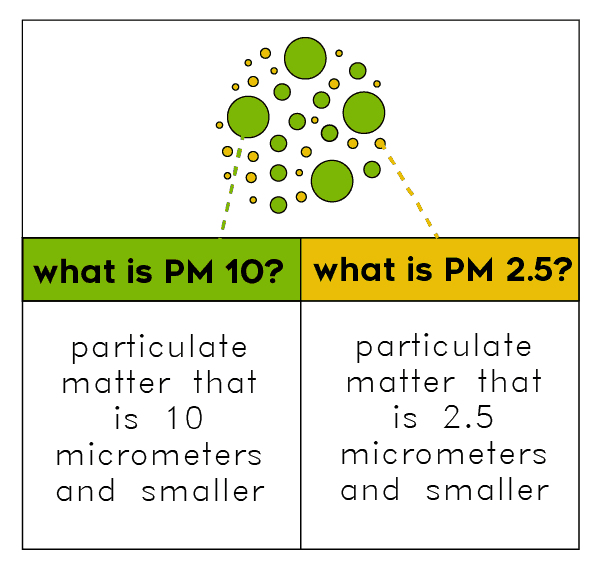 What were the final results?
Before turning the Airocide on, our initial baseline measurements were as follows:
PM2.5 – 11.8
PM10 – 21.4
Particles per liter – 489
AQI – 49
We took these measurements using the Temtop LKC-1000S+ professional air quality detector. With this device we have the ability to get detailed measurements before and after using the Airocide air purifier.
Was there a major change to the air quality after the test?
PM2.5 – 2.6
PM10 – 3.6
Particles per liter – 164
AQI – 11
During this 8 hour test, the Aircode did a great job of reducing particles and improving the quality of the air in the room. 
We ran a number of other tests on the Airocide unit. Most of these tests had baselines that weren't as bad to start with (with test times ranging from 1-24 hours). 
The results?
During one of our 4 hour tests we had a baseline PM2.5 at 1.7. After the 4 hours the PM2.5 had slightly increased to a level of 1.8.
When the air quality is especially bad, the Airocide seems to do a better job vs. when the air is already pretty good.
I think it is fair to say that our equipement is not the absolute best. So there is a possibility that we're not seeing a completely accurate picture of performance.
However, we have not experienced these issues with other air purifiers we've tested (which have reported PM2.5 as low as 0.1. See our other air purifier tests here.)
Another 4 hour test we ran showed PM2.5 improving from 2.9 down to 2.4, with PM10 improving from a baseline of 5.0 down to 3.7.
In general, our tests showed that the Airocide APS200 has trouble breaking PM2.5 of 2. So if you do need to remove more ultra fine particulates you may want to opt for their more advanced unit, the Airocide APS PM2.5.
The Final Word on Performance
Based on the culmination of our tests I am certain the Airocide APS200 will improve air quality in most cases.  It seems to do best at improving really bad air quality situations and getting them to a heathy level.
However, if you're looking to remove ultra fine particulates and achieve a PM2.5 of lower than 2 you probably should get the Airocide APS200 PM2.5 or opt for a different air purifier (like the Rabbit Air MinusA2 and Levoit LV-PUR131 which achieved PM2.5 of 0.1 and 0.2, respectively).
As mentioned above, there is a possibility that our equipment is not accuratley measurely air quality.
In the interest of fairness, below is a performance graph by Air Quality Sciences (AQS), Inc., who tested the APS 200 in lab quality conditions. This was a paid test requested by Airocide.
The graph above shows the APS 200 effectively dealing with a large concentration of formaldyde and getting the room back to safe levels within 4 hours. You can download the full report here.
AQS's tests also showed great performance on the APS 200 vs. decane and toluene.
In the interest of full disclosure, Airocide provided me with the above report. They did not ask me to include it here, but I felt that I should, as it helped to better reveal the performance of the APS 200.
Setup & Usability
Setting up the Airocide is simple, and so is using it.
How to setup the Airocide
The set up process for this air purifier is completed by:
Removing unit from packaging
Selecting a location in your home
Plugging in the system
After these three steps are complete, users can select the fan speed and let the Airocide do the rest of the work.
Using the Airocide Air Purifier
Using this air purifier is virtually completed throughout the setup process.
In order to use the Airocide, you must plug it in. Once it is plugged, simply turn the unit on (small button the rear of the unit), and then select your fan speed. That's it!
Airocide Air Purifier Maintenance
Maintenance is certainly an area of importance with the Airocide, as well as most other air purifiers.
Although this system does not use filters, the photo-catalytic chambers do need to be changed periodically to keep the system running at maximum efficiency.
Removing the Airocide decorative cover
Airocide recommends changing these chambers once a year, which is about $129. This system works best when it is on 24/7.
How loud is the Airocide?
Based on our in-home tests, at maximum airflow the Aircode creates 49 decibles of noise. At low air flow, thedecible level is 43 dB.
Is the Airocide Air Purifier a good value?
I would say the Airocide APS200 is an okay value for typical air purification and a good value if you mostly need to remove VOCs and other gasses.
In our tests the APS200 struggled with removing fine debris down to below a PM2.5 of 2. However, Aircode's lab test results show great results at handling formaldyde and other toxic gases.
If I were going to buy an Aircode air purifier I would most likely opt for their high-end unit, the Aircode APS200 PM2.5, which is better equipped at dealing with ultra fine particulates.
In the grand scheme of the things, it's not that much more, but should offer better performance in the areas where we saw the most struggle on the APS200.
Airocide Air Purifier Specifications
Below you'll find a complete table listing the important facts and features about the Airocide air purifier:
| Specifications |   |
| --- | --- |
| Manufacturer | Airocide |
| Model | APS-200 |
| Width (inches) | 18.7" |
| Height | 6.9" |
| Weight | 9 pounds |
| Filters | 0 |
| Wifi Compatible | No |
| Room Coverage | Unknown |
| Filter Costs | $129 / year |
| Returns | 45 days on Airocide. Varies by retailer |
| Warranty | 5-Year limited |
| Price | Check Price |
Who Should Buy the Airocide Air Purifier?
The Airocide air purifier is a high-tech air purifier that not only removes harmful air-born pathogens, it destroys them.
Airocide air purifier is best if you:
Want a great performer at VOCs / gasses: The Airocide APS200 really excels at removing harmful gasses and VOCs (according to their lab tests). If you are especially concerned about formaldehyde, VOCs, and other gasses the Airocide's reaction chambers do a good job of managing those.
Want a filter-less air purifier:  Airocode uses a photo-catalytic reaction chamber to attract and destroy any pathogens that make contact with the chamber. Like a filter, you will need to replace the chamber every year or so. The reaction chambers cost $129 / year to replace.
Want an simple to use air purifier: Plug it in, turn it on auto, and leave it alone. That's really all there is to using the Airocide unit. You'll need to change the reaction chamber annually (if you use it 24/7), but that's about it.
For more information or to buy the Airocide APS-200 click here.
Attracts & Destroys Pathogens
Design -

97%

Performance -

95%

Quality -

97%

Usability -

95%

Value -

90%
Summary
The Airocide air purifier is a cutting edge air cleaner that attracts harmful particles, gas, and other air-born irritants and destroys them at the molecular level. Airocide uses photo-catalytic glass tubes to annihilate pathogens. Our tests showed the APS200 does best at improving especially bad air quality, but air that is already pretty clean is more difficult to clean (but it can still maintain it). Airocide's lab tests showed excellent performance at dealing with toxic gasses (including formaldehyde). It's an expensive unit, but it cleans in ways that very few other purifiers can.