Bagotte Robot Vacuum
The Bagotte BG700 robot vacuum is a Chinese-made robot with smart features, app control, a remote control, and solid cleaning performance (especially on hardwood floors). It scored a 95% average across our 12 cleaning tests and is a solid value, considering the price point.
Check Price
Pros
Up to 100-minute run time along with Recharge & Resume feature
"Find My Robot" tool on the app makes it easy to locate this vacuum if it gets stuck or lost
Excellent cleaning performance, especially on hardwood floors
Cons
Reduced 60-minute run time when cleaning on MAX mode
Slimline design makes this vacuum less than 3″ tall
Older style of physical boundary strip
Bagotte Design
The Bagotte BG700 robot vacuum has a sleek, round design with an all-black aesthetic. The top of the vacuum features an on-board camera and sensors with a general power button to start a cleaning cycle.
Under the vacuum, it's is pretty similar to its competitors. There is a central standard bristle brushroll with a spiral pattern that helps to pull the debris in more effectively and resist tangles.
The two spinning brushes on the side help to capture debris along edges and corners.
There are three wheels—two along the sides to transition between different flooring surfaces and one small wheel at the front to direct steering and navigation.
The two metal plates to the side of the front wheel are actually charging contact plates. This feature allows the robot to charge wirelessly when it reaches the charging dock.
Wireless Control
This Bagotte robot vacuum can be controlled wirelessly using three different methods.
Voice control: When paired with a voice AI device (like Amazon Alexa or Google Assistant) you can simply speak the command and your vacuum will get to work.
App control: You can also use your smartphone to start, pause, or schedule a cleaning. Additional features and settings are available on the app as well.
Remote control: Lastly, you can use a physical remote control to wirelessly direct the robot.
The remote control has the following buttons and functions:
Return to charging dock
Start an auto clean mode
Start or pause a cleaning
Manually "drive" the robot throughout a space
Schedule a cleaning
Spot cleaning
Edge cleaning
Max cleaning
Top Features
Aside from performance, the Bagotte BG700 includes a range of top features that help this budget robot to compare to higher-end models.
Some of the best features include:
Scheduled cleanings
Included remote control
Drop detection
Automatic recharge when the battery gets low
4 different cleaning modes
Included boundary strip for off-limit areas
App Control
Using the app, you can start, stop, or schedule a cleaning from anywhere with an internet connection. In addition, you can view the progress of cleanings already in progress.
One unique feature in the Bagotte app is the "Find my Robot" button. This feature makes it easier to locate the vacuum after it gets stuck, lost, or the battery dies in the middle of a cleaning.
Size & Dimensions
The Bagotte robot vacuum is compact and fairly lightweight. It is easy to carry between rooms as needed or you can use boundaries to mark of specific areas where you don't want the robot to go.
Exact dimensions of the Bagotte robot vacuum are listed below:
The Bagotte vacuum weighs 5.73 pounds.
Accessories & Parts
The Bagotte robot vacuum doesn't come with many parts and accessories. With the initial purchase, here's what you can expect:
Bagotte robot vacuum
HEPA filter
Remote control (shown above)
Bagotte Performance
To assess the overall performance of the Bagottee BG700 robot vacuum, we put it to the test in our at-home testing lab, where we made a big mess and saw how the Bagotte handled it.
Our mess consisted of a mix of debris, including: cereal, rice, kitty liter, and sugar.


Overall, the cleaning performance of this robot vacuum was consistent with the performance we see from most of these Chinese-made robots — pretty good, not flawless.
The performance on hardwoods was near perfect (99%) and the performance on carpet, both high and low, showed consistent signs of struggle with fine debris, like sugar. (93%)
Cleaning Hardwoods
On hardwoods, this robot vacuum breezed through, capturing 100% of the cereal, kitty litter, & rice and leaving negligible amounts of sugar on the testing lane.
All in all, this was a solid performance this robot is a great performer on hard flooring.
Cleaning Low Carpet
On low carpet, the vacuum struggled a bit more, capturing most all of the cereal, kitty litter & rice and having worse performance on the fine debris. On average, it cleaned 93% of all of the debris dropped.
Cleaning High Carpet
Cleaning high carpet, the Bagotte had pretty much the same issues. Again, performance of sugar cleanup was less than the other debris types.
Typically, high pile carpets is an area where robot vacuums struggle. However, the Bagotte managed to perform equally as well on high pile carpets as it did low pile.
Setup & Usability
Setup and usability of the Bagotte is simple and quick. Overall, this robot vacuum is user-friendly and intuitive.
After upboxing this robot vacuum:
Charge it up.
Select a cleaning mode.
Let it run.
To save time each day, you can set up a cleaning schedule which will allow the robot vacuum to clean at the same time each day.
Here's how long it will take to set up each aspect of control:
How do you pair the robot with your Wifi network?
Pairing the robot vacuum with your wifi network is simple and easy, even for the less tech savvy.
Downloading the App
SCAN the QR code on the package to download the Bagotte app OR search "Smart Life – Smart Living" or "Bagotte " in the APP store to download it.
Once the app is downloaded to your phone, connect your phone to your home's Wi-Fi network.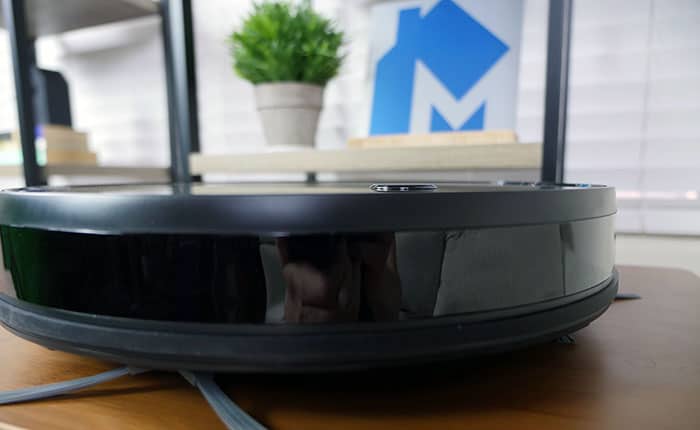 Pairing the Robot + App
Turn on the robot vacuum.
Use the remote control and long-press "Max" button until the blue light blinks quickly. (flashing blue light = matching mode)
Please open the APP and press the "+" logo on the right top to add the robot into the APP.
Enter in the network's name and password.
Wait 10-20 seconds, for the robot to auto-match with the robot.
When it is successfully connected, the blue light will stop blinking and become solid blue light.
Once connected, you can use the Bagotte app to control the robot from anywhere (home or away) and get notifications of its progress as it cleans.
Maintenance
Maintenance of the Bagotte robot vacuum is simple and easy to understand. In all honestly, it's basically the same as all of the other comparable robot models.
Maintenance tasks include:
Regularly wiping down the sensors
Regularly emptying the dust bin
Cleaning or regularly replacing the HEPA filter as needed
Is the Bagotte robot vacuum worth it?
So is the Bagotte BG700 worth it? In short, I would say yes, the BG700 is worth the cost and a good value for most consumers.
Some features it has going for it that really add a considerable amount of value include:
Long run time (up to 100 minutes)
Solid cleaning performance, especially on hardwood floors
Lots of control options
For the price, I would say you get a good value for a wifi-enable robot vacuum.
Some of the more advanced features that you're not going to find on the Bagotte robot vacuum include:
Digital mapping
"In-app" boundaries
Flawless performance on fie debris messes
Again, these aren't exactly "cons" that the Bagotte doesn't have them, it's just a matter of what features are most important to you. If you want the low price, these are simply going to be harder to come by.
Bagotte Specifications
| Specifications |   |
| --- | --- |
| Type | Robot |
| Manufacturer | Bagotte |
| Model | BG700 |
| Width (inches) | 12.6" |
| Height | 2.7" |
| Weight | 5.73 pounds |
| Floor Type | All (indoor) |
| Filter | Yes |
| Cordless | Yes |
| Bagless | Yes |
| Returns | Varies by retailer |
| Warranty | 1-Year limited |
| Price | Check Price |
Should you buy the Bagotte robot vacuum?
I would recommend the Bagotte robot vacuum if you're looking for a robot vacuum with the following features:
Multiple control options: The Bagotte can be controlled using physical buttons, a smartphone app, a wireless remote control, or even voice control. For the best control options, Bagotte really checks all of the boxes.
Long run time: This robot vacuum has a long run time, up to 100 minutes (less on MAX mode). In addition it also has the Recharge & Resume feature which allows it to recharge in the middle of a cleaning and go back out for more when the battery is refreshed.
Good value: The Bagotte is not extremely expensive, especially considering the solid cleaning performance and assortment of smart features. If you want a robot vacuum that will get to work without costing a fortune, the Bagotte is a great option.
For more information or the buy the Bagotte robot vacuum, click here.
Budget Friendly Robovac
Design -

93%

Performance -

95%

Quality -

93%

Usability -

93%

Value -

95%
Summary
The Bagotte robot vacuum is a solid value for a mid-range robot with good cleaning performance and a range of smart features. There are a lot of control options with the Bagotte including physical buttons, remote control, app control, or voice control (when paired with a voice device like Amazon Alexa or Google Assistant). The cleaning performance was also solid on hardwood floors and sufficient on carpeted floors. If you want a good mid-range robot, the Bagotte is certainly one to consider.