Dyson is no rookie in the air purifier market and they have more than a handful of models. Specializing in bladeless air purification, it can be hard to tell the Dyson purifiers apart.
That's where we come in. What's the best Dyson air purifier? Let's find out now.
PRODUCT
DETAILS

BEST OVERALL

Dyson TP04

Type: Tower
Filter: HEPA + Carbon
Air Flow: 361 liters/sec

Check Price

BEST AIR FLOW

Dyson DP04

Type: Desk
Filter: HEPA + Carbon
Air Flow: 419 liters/sec

Check Price

BEST YEAR-ROUND

Dyson HP04

Type: Desk
Filter: HEPA + Carbon
Air Flow: 310 liters/sec

Check Price

BEST VALUE

Dyson TP02

Type: Tower
Filter: HEPA + Carbon
Air Flow: 410 liters/sec

Check Price

BEST VALUE 2-in-1

Dyson HP02

Type: Desk
Filter: HEPA Only
Air Flow: 200 liters/sec

Check Price

Best for Formaldehyde

Dyson TP06

Type: Tower
Filter: HEPA + Carbon
Air Flow: 361 liters/sec

Check Price

Best 3-in-1

Dyson PH01

Type: Desk
Filter: HEPA + Carbon
Air Flow: Unlisted

Check Price

BEST SMALL

Dyson BP01

Type: Personal
Filter: HEPA + Carbon
Air Flow: 257 liters/sec

Check Price
If you prefer to watch rather than read we've got our best Dyson air purifiers video guide below:
8 Best Dyson Air Purifier
Check out our top recommendations below for the best Dyson air purifiers for your needs:
Best Overall Dyson Air Purifier
Dyson Pure Cool TP04
The Dyson TP04 is the best option if you're looking for an excellent cooling air purifier that can treat large rooms. This purifier is wifi-enabled, oscillates, has multiples modes, and can send air forwards or backwards through the unit.
Check Price
The Dyson TP04 is a large air purifier that sits on the floor and is designed for purifying and cooling larger areas. It can oscillate up to 350°, comes with the Dyson remote control, and can project air forward or backward.
The TP04 is able to purify spaces up to 800 square feet.
MORE: Read the full review for the Dyson TP04 air purifier here.
Dyson Pure Cool DP04
The Dyson DP04 shares many simlarities with the TP04 in terms of filtration, coverage level, smart features, and oscilation. The biggest difference is simply the form factor. It's quite a bit shorter, so it's great on a desk or the floor.
Check Price
The Dyson DP04 is a desktop sizer purifier that cools and purifies the air. It's a nice choice if you're limited on space, but want maximum airflow.
Despite its smaller size, the DP04 can move up to 419 liters/sec of air, the highest amount of any Dyson purifier to date. Like the TP04, it's also rated to purify spaces up to 800 square feet.
In addition, it's able to oscillate 350 degrees, is smartphone enabled, and integrates with Alexa.
MORE: Read the full review for the Dyson DP04 air purifier here.
Great Purifier for Heating & Cooling
Dyson Pure Hot + Cool HP04
The Dyson HP04 heats, cools, and purifiers the air. The HP04 version is equipped with both a HEPA filter and carbon filter (for odors / VOCs). It offers real-time air quality assessment or features can be customized for variable needs. A solid multi-function air purifying unit.
Check Price
The Dyson HP04 has a separate mode for heating and cooling, as well as the ability to distribute air forward or backward. These settings allow you to use the purifier on a more year-round basis, regardless what the temperature is.
Similar to other Dysons, this is an oscillating bladeless system that has an Auto mode and a small LCD display on the front for communicating air quality or current settings.
MORE: Read the full review for the Dyson HP04 air purifier here.
Best 3-in-1: Dyson Humidify and Cool PH01
3-in-1 Fan, Purifier, and Humidifier
Dyson Pure Humidify + Cool PH01
The Dyson PH01 is a 3-in-1 that runs as a fan, purifier, and humidifier. It is big enough to treat large, open concept spaces as well as smaller bedrooms and anythign in between. There's an Auto Mode, Sleep Timer, and a 1-gallon water tank that allows for up to 36 hours of continuous humidifying before needing refilling.
Check Price
The PH01 is kind of the first in its class as a 3-in-1 Dyson fan, purifier, and humidifier. It is larger than the DP04, but smaller than the TP04 (in height at least).
It has a one-gallon water tank integrated into the base of the unit which allows for cool, humidified air to constantly circulate throughout the system.
If you're looking for a 3-in-1, this PH01 is a solid choice. There is also a Dyson PH02 model that is available. The main difference is that the PH02 model has the ability to destroy formaldehyde.
MORE: Check the price for the Dyson PH01 purifier + humidifier here.
Dyson Performance
As with any of the air purifiers we review, the Dyson purifiers go through the same testing process.
NOTE: You may notice, we don't have testing results for all of the Dyson models. The ones unlisted have yet to be tested fully, but we continue to add more products to our testing schedule regularly. Come back later to see if we've added any of the other models or shoot us a message for a special request.
We test to see how well the purifier improves existing indoor air quality and other noticable factors like ease of use, portability, controls, settings, and other features.
How well do Dysons perform?
|   | Airflow | PM2.5 | PM10 | Particles | AQI |
| --- | --- | --- | --- | --- | --- |
| Dyson TP04 | 361 liters/sec | 0.2 | 0.2 | 14 | 0 |
| Dyson TP02 | 410 liters/sec | 0.2 | 0.2 | 29 | 0 |
| Dyson DP04 | 419 liters/sec | 0.3 | 0.3 | 29 | 0 |
You can find our full Dyson review and testing data below:
Overall the Dyson air purifiers do exceptionally well at improving indoor air quality. And rightfully so, considering the pretty costly price tag.
Getting PM2.5 or PM10 down to 0.3 or below with a particulate count under 30 are huge wins, in my opinion. And of course, the AQI (Air Quality Index) of 0 is perfection—can't ask for much more in a purifier.
The models we have tested represent the newest models from Dyson and likely the best performance Dyson offers.
For example, the TP02 is a slightly older version of the TP04.
The DP01 is an older version of the DP04, and so on.
What do the numbers mean?
We compare the results by looking at the overall air quality index, and particulate count based on PM2.5 and PM10.
PM2.5 is the number of particles in the air that are 2.5mm or smaller.
PM10 is the number of particles in the air that are 10mm or smaller.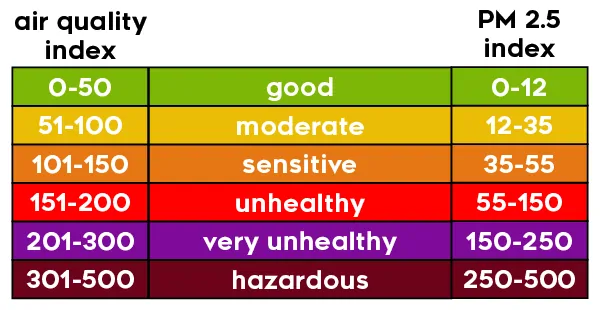 For all of our measurements, we use a professional air quality detector. 
MORE: For our tests, we use the Temtop LKC-1000S+.
Area Coverage Comparison
Unlike other air purifiers, which boast an exact area coverage in square feet, Dyson lists how much air it can move as "liters per second".
The Dyson approach is that it can purify larger spaces, but it takes a little longer, or it can do smaller spaces quicker. Other retailers have estimated Dyson's TP04 & DP04 to be capable of purifying 800 square feet.
Here is a complete breakdown of the airflow rates of the best Dyson air purifiers:
Dyson Size & Dimensions
There are quite a few different sizes of Dysons available, ranging from personal purifiers to large room units.
You can place them on a nightstand, countertop, table, or on the floor.
Personal
(less than 20″H)
Desktop
(between 20-30″H)
Personal-Sized Purifiers
The smallest Dyson air purifier is the BP01, a personal purifier small enough to sit on a nightstand.
Dyson BP01
Width: 8″ diameter
Height: 15.7″ tall
Weight: 5 lbs.
Desktop Purifiers
This class of Dyson air purifiers are small enough to sit on a desktop or can be placed on the floor, depending on the look you're going for. Models in this category include:
DP04
Width: 13.9"
Height: 27.2″
Weight: 10.18 lbs.
HP04
Width: 9.8″
Height: 30.1″
Weight: 19.6 lbs.
HP02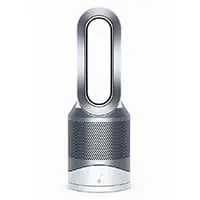 Width: 8.7″
Height: 24.8″
Weight: 8.6 lbs.
All of these purifiers have a compact circular body with rounded edges. They are small enough that they can sit on the floor, tabletop, or other flat surface.
Tower Purifiers
The tower purifiers are the largest Dyson class of air purifiers (and humidifiers). They include units 36-42″ tall, with a diameter range of 7-11″.
TP06
Width: 8.7″
Height: 41.3″
Weight: 10.69 lbs.
TP04
Width: 8.8″
Height: 41.5″
Weight: 10.9 lbs.
TP02
Width: 7.7″
Height: 40″
Weight: 8.4 lbs.
PH01
Width: 11″
Height: 36.4″
Weight: 18.3 lbs.
The PH01 is the widest and shortest of these tower purifiers. It seems appropriate to note that it's also the only purifier and humidifier in this lineup.
The TP04 is the tallest and heaviest, although not by a huge margin. All of the TP models are very similar.
Dyson Filtration
So how do Dyson air purifiers work exactly? The process is similar to other air purifiers on the market.
Suck dirty air in from the bottom.
Process it through a filtration system.
Disperse clean air out the top.
Dyson purifiers use two different kinds of filters, depending on the model:
HEPA filtration only
HEPA + Carbon filtration
The following Dyson purifiers use a HEPA only system:
HP02
HP01
DP01 (discontinued)
These following Dyson purifiers use a HEPA + Carbon system:
TP06
TP04
TP02
DP04
HP04
BP01
PH01
PH02
The addition of the carbon filter helps to capture odors or unwanted smells like food, smoke or even pets.
Access & Maintenance
All Dyson purifiers come with a filter indicator that lets you know in the app when it's time to replace your filter.
It's easy to access the filters by removing the outer shell from the unit and just popping out the filter.
Dyson Design
Dyson air purifiers are fundamentally different than other purifiers on the market because they use a patented bladeless system that distributes air through a large amplifier at the top of each unit.
This design is easy to clean and can be wiped down with a dry, lint-free cloth. It is also typically quieter relative to a purifier with a traditional fan.
How is it controlled?
Dyson air purifiers can be controlled with three different methods. Exactly which options your purifier comes with will depend on the model.
Control options include:
Remote Control
Smartphone Control
Digital Display (on the unit)
Remote Control
All Dyson air purifiers listed here come with a remote control that magnetically attaches to the top of the amplifier to help prevent loss.
The remote control varies between models (and even more so when you consider the remote control for Dyson fans), but the overall design is the same.
SUPPORT: Already have a Dyson air purifier, but lost the remote? No problem– you can buy a replacement remote here.
Some features on the remote may include:
Power on / off
Wifi setup (if applicable)
Adjust fan speed
Oscillation
Night mode
Timer
Auto Mode (if applicable)
Here's a sampling of some Dyson remote controls below:
Smartphone Control
All of the Dyson purifiers listed here have smartphone control, except for the Pure Cool BP01.
Using the Dyson Link app, you can do all of the same functions that you can do using the physical remote, but you can also view air quality stats and other settings as well.
Digital Display
For Dyson purifiers that have this feature, the digital display is below the amplifier. Not all display screens show the same information, but there are basically two different kinds of displays:
Advanced Display: located between the air intake and amplifier
Basic Display: located at the base of the unit
#1: Advanced Display
The more advanced models would look like the DP04 display shown below.
The display screen can communicate stats like:
Indoor air quality
Particle count (PM2.5 or PM10)
Nitrogen Dioxide
Temperature
Humidity
Filter Lifespan
#2. Basic Display
Models like the BP01 or TP02 use a more basic style of digital display located at the bottom of the unit, below the air intake (like the TP02) or integrated into it (like the BP01).
Dyson BP01 Display
Dyson TP02 Display
This display basically just shows the fan speed and other more basic functions.
Auto Mode
Nearly all of the air purifiers reviewed here have an Auto Mode. This mode can be incredibly handy to automatically adjust fan speed.
How does it work?
Sensors within the unit are able to detect indoor air quality. When poor air quality is detected they can adjust to a higher setting and then return to the lower setting when air quality improves.
The following Dyson air purifiers have an Auto Mode:
TP02
TP04
TP06
DP04
HP02
HP04
PH01
PH02
This leaves only one purifier from this review that does not have Auto Mode, which is the:
With Auto mode, you can use the central display on the purifier or the Dyson Link app to check on the air quality in real time.
As the air quality dips, the line gradually changes color:
Red = Poor air quality
Orange = Moderate air quality
Yellow = Good air quality
Greeen = Excellent air quality
Setup & Usability
Setup and usability for the Dyson air purifier is pretty quick for each of these units. The design on the outside is simple, hardly resembling the looks of a traditional air purifier with sleek modern controls.
Here's how to get started:
Unbox each purifier.
Make sure the filter is installed properly
Turn the unit on.
For all purifiers except for the BP01, you can simply press "AUTO" to start a cycle and onboard sensors will begin to read the current air quality and adjust as needed.
If you don't want to do Auto Mode, you can also manually adjust custom controls as needed.
Custom controls (on most models) include:
Manually adjusting fan speed
Adjusting oscillation
Changing airflow direction (forwards or backward; excluding the TP02, HP02, and BP01 which only have forward airflow)
How to care for Dyson purifiers?
Caring for Dyson air purifiers is pretty simple and really only takes a few simple steps.
Proper maintenance involves:
Using a dry cloth to regularly wipe down the amplifier to keep it clear of dust and debris.
Replace the filter as needed.
All Dyson air purifiers have a filter indicator function that will let you know when it's time to replace the filter.
Final Thoughts
So that's a wrap, folks. Dyson has a huge lineup and even this lengthy review is still only a portion of all of the models that are out there, but this selection truly represents the best Dyson air purifiers.
MORE: For a more in-depth review of some of the other Dyson air purifiers not listed here, check out our Dyson air purifier reviews.
For a small, portable air purifier check out the:
For a medium-sized purifier with good coverage and good performance, check out the:
Dyson Pure Cool Link DP04: desk air purifier
Dyson Pure Cool Link TP04: tower air purifier
For a Dyson purifier that does the job of multiple units, check out the:
Dyson Pure Hot + Cool Link HP04: fan, purifier, and heater
Dyson Humidify + Cool PH01: fan, purifier, and humidifier
Still not sure exactly which model is best for your needs? Drop us a comment down below and we'd be happy to make a custom recommendation for your needs.