Article was founded in 2014 and offers home furniture that is simple, sleek, modern, and somewhat timeless. Classic materials like rich leather, soft tufted velvets, or durable wovens provide many different options for each piece that they offer.
Article sofas range from $599 to $3,700, with a variety of shapes, styles, and materials. Generally, each Article sofa comes in a few different colors—you can't customize colors, but each sofa has fabrics selected that match the style and design of each piece.
Continue below to our full Article sofa review and see if this couch is right for your living room.
Article Sofa
Article sofa offer a sleek design with a conservative color palette of fabric options. Sofa styles vary in firmness, seat depth, and overall design, as a sign of the uniqueness of each Article sofa. There is a 30-day trial period to try out any of the Article sofas in the collection and decide if it's right for you or not. This isn't cheap furniture, so prices are more, but quality seems to be notably better also.
Check Price
Pros
Larger selection of sofa, sectionals, and other home decor furniture and accessories.
Limited assembly, since most sofa come basically assembled.
30 day return policy.
Cons
More expensive shipping fees ($99 and up, depending on your order).
Could be difficult to unpack and maneuver by yourself.
All returns must include original packaging.
Article Materials & Design
All Article sofa are assembled with a different set of materials and methods depending on the overall style of the sofa. For fabric selections, Article offers wovens, leathers, velvets or more for some upholstery options.
Regarding production, all Article sofas are manufactured in Southeast Asia, with leathers and duck down fabrics being sourced in Argentina and Italy as a food-industry bi-product.
Legs
The leg styles vary on each Article sofa, but most are hardwoods with a mid-century modern taper to them. The wood is sourced sustainably across the United States. The Sven Sofa has a slight vertical table, but does not angle outward, as with most mid-century pieces. By comparison, the Ceni Sofa does have that mid-century tapered look to it.
Frame
Article sofa frames are a combination of poplar and pine, and always solid wood construction. They are constructed and packed in large boxes, not flat pack. Many of the sofa are shipped fully assembled, all that needs to be assembled are the legs to the bottom and arrange the cushions.
Seat
The seat depth varies for each style of sofa. One of the narrowest sofas, only 19.5″ is the Soma Sofa, while others are much deeper, like the Cigar Sofa or the Mello Sofa which are both 28″ deep. As a standard, 24-25″ seems to be the depth of most Article sofas, like the widely popular Sven Sofa collection.
The style of each seat cushion also varies, between a solid singular cushion (Sven Sectional Sofa), individual sofa cushions (Timber Sofa) or tufted cushions, like the Soma Sofa Bed or the Parker Sectional Sofa.
Arms
The arms of Article sofas are mostly variations of flat top arms, ranging from ultra-thin, like the Anton Sofa to ultra-thick, like the Cigar Rawhide Sofa. For arms with a slight taper towards the mid-century modern cycle, you may want to check out the Ceni Loveseat or the Matrix Sofa.
For Article sofa styles with no arms, it's hard to miss the Sven Daybed, for a more seamless look.
Back
The backs of the Article sofa are generally flat panel sofa, spanning two to three cushions across the width of the sofa. For one continuous look, check out the Alcott Sofa, which transitions between arms and back using the same material.
How to Assemble an Article Couch
The beauty of assembling an Article couch is that it hardly requires any assembly at all. Article sofas come nearly 100% assembled, all that's left to do is install the legs and fluff the cushion in some cases.
In the cases for couches that require a little extra assembly, it is rarely more than 10-15 minutes. Of course, the pitfall of this is that these "pre-assembled" sofas are delivered in massive boxes that may be difficult to get off the truck, much less inside your house or small room.
They offer two tiers of flat rate shipping for Article sofa.
JUST DELIVERED | For $99, your new Article couch will be delivered to your room of choice… exactly as it was shipped.
DELIVERED AND ASSEMBLED | For $169, your new article couch will be delivered to your room of choice and assembled, with the trash being taken away as they leave.
If you'd prefer a more modular option that can be assembled and configured into different options check out our Burrow couch review.
Is the Article Sofa Comfortable?
Article sofas vary in density and firmness, based on the exact style of sofa you select. Also, depending on your size, weight, and personal preferences, one sofa that users define as firm may actually feel soft, or vice versa.
From soft to firm, I will feature a few Article sofas below to help possibly narrow down the field:
Softer: The Nirvana Sofa is one of the softest sofa that Article manufactures, which has down-filled cushions and a buttery soft, distressed leather.
Medium: The Sven Sofa is a good middle-of-the-road sofa which uses high density foam with polyester filling for a slightly firmer feel.
Firmer: The Ceni Sofa definitely has a firmer feel, with similar high density foam wrapped around polyester, but not identical to the firmness of the Sven.
If you don't like the idea of having to choose a more exact firmness you may consider the Campaign Living couch. They only offer a single firmness that tries to sit right in the middle.
Below are a handful of Article sofa users and their remarks on how comfortable each Article couch is:
Michelle (via Decor & the Dog) regarding the Sven Sofa"We stinking love these couches. They are so comfortable. I feel like they mold to us but not in a saggy gross way. More in a loving hug way. They're super soft."
Erin (via Kismet-House.com) regarding the Burrard sofa"I gave it an 7 because when it arrived it was stiff. My husband was genuinely worried it would not work for us. After about 2 weeks it had broken in and now six months later its totally comfy. I give the squish factor an 8."
Sara C. (via Quora.com) regarding the Sven Charme Sofa"It's a beautiful, comfortable, well made couch and the price point is incredibly reasonable."
Nancy Mitchell (via ApartmentTherapy.com) regarding the Burrard Sofa"I gave this a '4' in overall comfort (I like a firm sofa); it's deep and great if you want to lean back just a little. I'd purchase this one."
Brittney Morgan (via ApartmentTherapy.com) regarding the Ceni Sofa"A little too low for my tastes, since I'm tall, but still fairly comfortable."
WireCutter.com regarding the Ceni Sofa"Article's sofa is a good upscale budget pick; it's more comfortable, better constructed [than IKEA]…"
The beauty of Article's sofa lineup is the degree of customization and comfort options. It seems like they have something for everyone. During our research we found many more positive comments than we did negative when it comes to comfort.
Article's firmer couches tended to have more complaints (usually people wanting something softer). So I would suggest you be 100% certain you want something firm if you do go that route.
In either case, having the 30 day return period is a really nice extra you don't find as often for in-store furniture purchases.
RELATED – See more great furniture pieces in our best furniture guide. It covers a variety of different rooms and spaces around the home.
How to Buy An Article Sofa?
Ordering
Ordering the Article sofa is simple and relatively painless. There are quite a few sofa options available so the hardest part is deciding which sofa style best suits your family and lifestyle.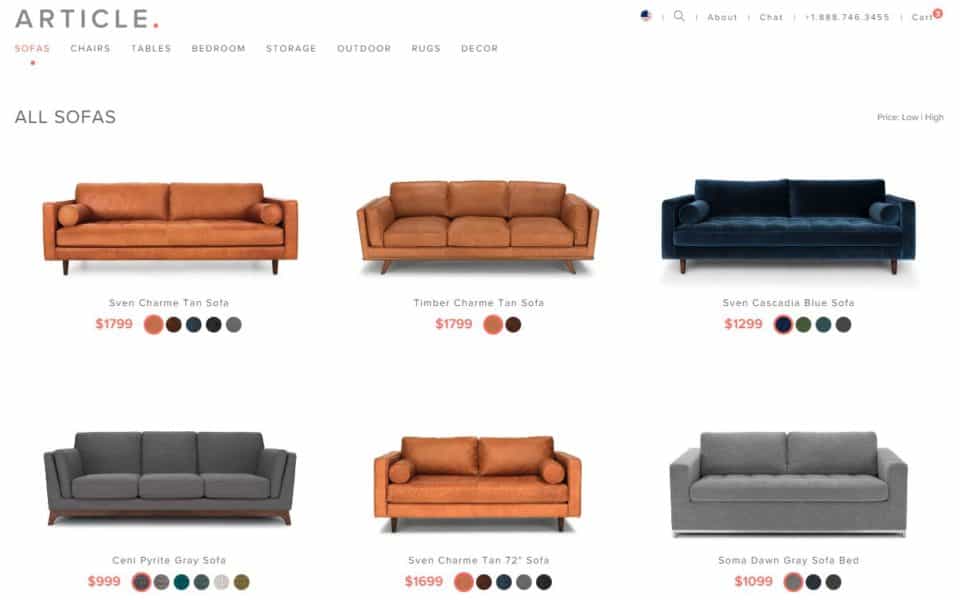 Once you have made your selection, Article offers a few fabrics to choose from with each model. The exact colors that are offered  change with every different sofa model, but the Article design team does seem to do a pretty good job of providing a range of designs and looks, with just a few different fabric options.
When you select your fabric for the sofa, the Article product image will update to give you a realistic look of what the sofa would look like in you preferred fabric.
The last step is to proceed to the checkout and select your delivery option. The delivery options are clearly marked and it is easy to see how the price increase effects the overall total.
Whether you buy an Article sofa or something else, a good handheld vacuum is great to clean in between the cushions. Or see our full line up of vacuum reviews for more.
Shipping
As mentioned above there are three ways to ship your Article couch.
"Ground level" will deliver your couch to the ground level inside your home and call it good.
"Inside room" does exactly like it says and will deliver your sofa inside the room where it belongs and that's about it.
Full Service – The last option will deliver the sofa inside the appropriate room, put it together, and take out the trash if you want. Of course, keep in mind, if you think you may way return your sofa, you'll need to keep that original packaging.
Trials & Returns
With Article, there is a 30-day trial period to decide if your new sofa is the best fit for your home.
If at any point in that 30 days you decide you no longer want to keep the sofa, simply contact customer service, box it up in its original packing and Article will send a team out to come and take it off your hands.
Should You Buy the Article Sofa?
Ok, so we've hit most of the key points about Article, but the question still remains—is it the right sofa for you?
I would recommend an Article Sofa for people who are looking for:
More sofa styles: If you are looking for more options in terms of sofa styles, Article may be a great option for you. Their collection spans from loveseats and sofas, to sectionals and daybeds, and plush ottomans to pull the whole room together.
More firmness options: Unlike other online couches that only offer a single firmness, Article offers a litany of different firmness options. So whether you want super soft, super firm, or something in between, there is a good choice for you.
A neutral palette: The upholstery colors offered by Article in their sofa collections are fairly conservative, but also feel timeless. There are quiet neutrals, leathers, and shades of navy in the palette.
To learn more about Article or shop from their collection, you can check them out at  for yourself, check them out Article.com.
Please note that this review is based on our assessment of the design, materials, specifications, and 3rd party reviewer experiences. We have not yet tested the Article couch. As such, some of the above review scores deviate from our typical scoring methodology. These will be updated when we have completed our full test.
Update Log
August 3, 2018 – Updated the review score as part of our site-wide 1.0 scoring overhaul. Score increased from 93% to 94%
Lots of Options, Quality Builds
Design -

96%

Performance -

95%

Quality -

93%

Usability -

93%

Value -

93%
Summary
The Article sofa line up spans 296 different options. They offer a wide variety of firmness options, fabrics, colors, finishes, and more so you can get a piece that works great for your needs and desires. Article couches aren't cheap, however, the material quality, build quality, and variety of options combine to create a solid value couch overall.