A bucket of water and a sloppy mop, some may say "that's so 2017".
While traditional mops still get the job done, there are more and more floor cleaners that take a more autonomous approach.
The robot mop is one of these cleaning tools.
Continue below to find the best robot mop for you!
What is the Best Robot Mop 2018?
Robot mops are self-directing, cleaning assistants that have an on-board cleaning pad or scrubbing brush, and sometimes include an on-board water reservoir.
The table below dives into a few of the best robot mops for 2018.
This table covers a range of product from models that have a large on-board reservoir tank, to models that really just have a damp cloth which lightly mops. No matter what kind of mopping you're looking for, there is likely a robot that can do it for you.
Check out some popular options below:
iRobot Braava 380t Robot Mop
The Braava 380t serves the dual purposes of dry sweeping and wet mopping and it has a long run time to help tackle these tasks.
For dry sweeping, the 380t can run for up to 210 minutes and for wet mopping, it can go for up to 150 minutes.
Being designed by iRobot, the Braava 380t has the same digital room mapping technology as their Roomba vacuums, which helps it to keep track of where it is and identify spaces that still need cleaned.
To do this, the Braava 380t uses a small navigation cube called "Northstar" which emits a signal back and forth to the robot, which helps with navigation.
For cleaning cycles, there are two main modes—dry sweeping and damp / wet mopping.
For dry sweeping, the Braava 380t uses a multi-purpose cleaning pad and microfiber cloth.
For damp or wet mopping, you'll need to use the Pro-Cleaner cleaning pad, which has the built-in reservoir for water or a cleaning solution. This tank is paired with a microfiber cleaning cloth as well, which can be washed and reused many times.
The cleaning water reservoir is small, only about 0.12 L, but that's still big enough for a full clean cycle. Which is just as well, as you'll want to replace the cleaning pads after each mopping session anyway.
Score: 93%
Dimensions: 9.6 x 8.5 x 3.1″
Weight: 4 pounds
Run Time: ~150 minutes
Water Tank Capacity: 0.12 L
iRobot Braava Jet 240 Robot Mop
The Braava Jet 240 has similar modes to the Braava 380t, dry sweeping, damp mopping, and wet mopping. The 240 works best with iRobot cleaning pads exclusively (versus the 380t which can use third party pads).
By using the branded cleaning pads, the Braava Jet 240 can recognize the desired cleaning mode based solely on the pad selected.
That said, there are plenty of 3rd party cleaning pads that can work.
Compared to the 380t, the Jet 240 is a smaller unit, with a slightly diminished overall cleaning performance (83% for the 240 and 93% for the 380t). It is not really designed to be able to tackle large messes, but for day-to-day dirt and grime, the 240 may be sufficient for your home.
The Braava Jet 240 doesn't use the same "Northstar" navigation cube, so cleaning large spaces can be a little trickier, although if you have a smaller or simpler layout, this may not be a big issue for you.
The Jet 240 has an XL-water tank capacity of 0.15 L.
Score: 89%
Dimensions: 7 x 6.7 x 3.3″
Weight: 2.7 pounds
Run Time: ~180 minutes
Water Tank Capacity: 0.15 L
Best Robot Vacuum & Mop Combo
Hybrid robot mops are basically robot vacuum and mop combos.
They typically have a smaller reservoir for water or cleaning solution (or may not have a tank at all), but also double as full vacuum robots for cleaning hard or carpeted flooring.
These vacuums are equipped with a mopping pad, generally microfiber in the case of hybrids, and a central brushroll for vacuuming up dry messes.
Ecovacs Deebot M80
The Ecovacs Deebot M80 vacuums, mops, and dries floors. For hard flooring or carpeted floors, the Deebot M80 uses a central brushroll with a V-shaped design to agitate and capture dirt, dust, and debris from floors. Using the brushroll, it can also dry sweep hardwood floors, in preparation for the mopping cycle.
For mopping, the M80 has a small on-board reservoir that holds water or cleaning solution and disperses it onto the microfiber mopping pad as necessary. As a final step in the mopping system, the Deebot M80 will also dry the floors as it passes by.
The Deebot M80 has a dust bin capacity of 0.5L.—unfortunately, the water tank capacity is unlisted. However, if it's anything like the Braava 380 or 240 robots it's probably around 0.1 to 0.15 L.
The M80 comes with a remote control, voice control via Amazon Alexa, as well as a smart navigation system that prevents it from driving off ledges or excessively bumping into walls or furniture.
For the low price, it is certainly a cleaning helper that can wear a lot of hats to effectively clean a variety of messes on your floors.
Score: 93%
Dimensions: 13.9″ dia. x 3.3″
Weight: 7.9 pounds
Run Time: ~75 minutes
Water Tank Capacity: Unlisted
iLife V8s
The iLife V8s is another robot mopping vacuum that uses a combination of suction and spinning side brushes for traditional vacuuming, as well as a wet tank reservoir with mopping pad for damp mopping.
When running in "mopping mode", the iLife V8s can mop up to a 23'x23' area.
Unlike the Ecovacs Deebot M80, the iLife V8s does not have a central brushroll. It relies solely on a small open area in the bottom of the vacuum which sucks up debris. Two large spinning side brushes help to push debris into the path of travel, but may struggle with high carpet floors.
Aside from mopping, the iLife V8s has five additional modes: auto cleaning, path programmed cleaning, max cleaning for higher suction area, edge cleaning for corners and edges, and spot cleaning for designated areas of higher traffic.
The iLife V8s has a water tank and dry dust bin capacity of 0.75 L, over twice the capacity of the iLife V5s Pro, listed below.
Score: 93%
Dimensions: 12″ dia. x 3″
Weight: 5.9 pounds
Run Time: ~150 minutes
Water Tank Capacity: 0.75 L
iLife V5s Pro
The iLife V5s Pro robot mopping vacuum is another hybrid with a small optional water tank for damp mopping hardwoods or tile floor and a dry vacuuming system. Similar to the iLife V8s, there is no central brushroll, but there are the same two spinning side brushes and the open suction area for capturing debris.
For these reasons, the V5s Pro is also a little lacking in its performance on high pile carpet. Without the agitation of a central brushroll, suction alone is just not enough to be able to handle the traffic and debris that comes with high pile carpeted floors or thick area rugs.
The iLife V5s Pro has four cleaning modes—auto, spot cleaning, edge cleanings, and scheduled cleanings. One important note, the scheduling feature can not be used with the mopping system and the mopping tank must be removed before the vacuum can charge properly.
For dry vacuum cleanings and wet mopping, there is a 0.3L dust bin / tank capacity.
Score: 93%
Dimensions: 11.8″ dia. x 3″
Weight: 4.9 pounds
Run Time: ~150 minutes
Water Tank Capacity: 0.3 L
iRobot Scooba 450
The iRobot Scooba is one of the only mopping robots to use a dual tank system. Unlike the Braava 380t or Jet 240, the Scooba 450 has a bin to collect dirty water and a bin to dispense clean water, which more closely resembles the way traditional mopping is done.
That being said, the Scooba has a relatively short mopping run time and is pretty slow (taking ~40 minutes to clean about 300 sf). Unfortunately, iRobot stopped making the Scooba line in 2016. As a result, it's pretty hard to find (and also pretty expensive).
For most people iRobot's Braava 380T is going to be a better choice.
Score: 85%
Dimensions: 14.4″ dia. x 3.6″
Weight: 8.29 pounds
Run Time: Unknown
Water Tank Capacity: Unknown
bObsweep PetHair
The bObsweep Pethair is another hybrid robot vacuum that has the ability to vacuum, dry sweep, and mop your floors. Unlike the models above, the bObsweep PetHair is mostly a robot vacuum and just barely a robot mop.
There is no on-board tank for water or cleaning solution, all dampness is supplied by the microfiber mopping pad only.
Without the reservoir, the bObsweep Pet Hair vacuum is able to vacuum, sweep, and mop in a single pass, but the effectiveness of the mopping may not be as robust as some of the models above which use a full separate tank.
The bObsweep PetHair has one of the highest dust bin capacities in this best robot mop guide (1.0 liter), although it's important to also remember that this is not necessarily an added bonus for mopping since there is no wet reservoir.
To learn more about this model, as well as cleaning performance testing, be sure to check out our complete bObsweep PetHair vacuum review.
Score: 92%
Dimensions: 13.8″ dia. x 3.9″
Weight: 7.7 pounds
Run Time: ~90 mins.
Water Tank Capacity: 0.3 L
Diek Robot Vacuum
The Diek robot mopping vacuum is the last model we're going to feature for mopping robot vacuums with on-boards tanks or reservoirs. The water tank can easily be swapped out with the dry debris dust bin when it's time for a mopping cycle.
The water tank also includes a small bin for any dry debris that may have been missed during the vacuum cycle.
The Diek robot vacuum can be controlled by remote control, which allows for two different mopping methods.
One uses a very slight about of water for light cleaning
The second mode allows for more water or cleaner to be released during the run.
Both use the central tank and a washable microfiber mopping pad.
For vacuuming cycles, the Diek has a small central brushroll and two spinning side brushes to help collect dust, dirt, and debris from dry flooring. The Diek vacuum offers scheduled cleanings, a 0.9L dust bin capacity for dry debris and a 0.65L water tank capacity for mopping cycles.
Score: 90%
Dimensions: 13.8″ dia. x 3.4″
Weight: 6.39 pounds
Run Time: ~90 mins.
Water Tank Capacity: 0.65 L
Mopping Robot Reviews
So do mopping robot vacuums really sweep the competition when it comes to all-in-one floor cleaners?
I would say that the verdict is still out on that one.
While the mopping feature is certainly a nice addition, some models execute it more successfully than others, in my opinion.
The mopping vacuums with an on-board tank or reservoir provides the mopping pad with the moisture it needs to effectively clean a larger area. Beyond that, tank capacity it also a big deal.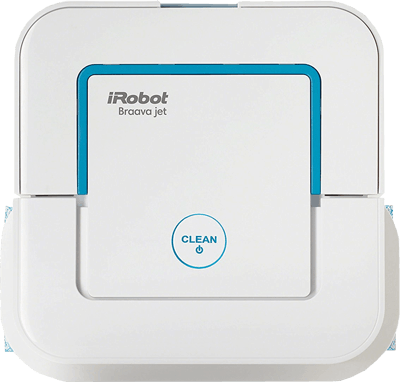 Amazon
As a third party retailer, Amazon provides a large number of direct consumer reviews for the products they carry. Many of these Amazon reviews are purchase-verified. Reviewers may or may not have received discounted or free products in exchange for their review, many times via the Amazon Vine program.
Concerning top-rated consumer reviews only, the iRobot Braava 380t and iLife V5s Pro come in at the top of the list, of all models listed above. Both products were two of the most highly rated among all of the robot mops we looked at.
CNET
CNet reviews of robot mopping vacuums are a bit harsher than some other third party reviewers. Main criticisms of mopping robot vacuums include the inability to schedule cleanings or auto-dock once the cleaning cycle is complete.
Based on Cnet's assessment, it would be a tough sell to allow a mopping robot to replace traditional in-hand mopping with the reliable ol' mop and bucket.
Consumer Reports
Consumer Reports actually doesn't currently offer any reviews of exclusively mopping robots. Of the featured models above, the only model featured on Consumer Reports is the Bobsweep PetHair, in which it is never even mentioned that this vacuum actually does have a damp mopping feature.
Of course, that being said, one user did make the following comment: 
"It was supposed to wash floors. This is a bad joke because the attachment is a piece of felt you are supposed to wet and attach to the unit."
This comments aligns pretty well with our Modern Castle assessment, regardless of the design, a mopping vacuum without the tank is going to really struggle to perform as well as vacuums with on-board tanks.
WireCutter
Wirecutter is also a little behind on the times, having no featured reviews of any mopping robots currently on their website.
Do Mopping Robots Replace Traditional Mops?
Overall, it is hard to say that a mopping robot is as easy to use or convenient as its robot vacuum counterpart, nor would I say that I would throw away my traditional mop.
Robot mops are great for light cleaning, touch up cleaning, and maintenance cleaning.
That said, if you have a serious mess or deep cleaning that needs to get done it's hard to replace the mop and bucket.
If you think the robot mop just isn't right for you, you may want to stick with a more traditional mop.
See our best mops here, which includes a wide variety of mop types. Also, check out some of our favorite non-robot mops, including our review of the Bissell Crosswave and Steam Genius Pocket Steam mop.
Can't decide which is the best mop for you?
Or do you already have a mopping robot that isn't featured on the list?
Feel free to shoot us an email with any questions or comments you may have about robot mopping vacuums.
One final note on scores above. In cases where we have already completed comprehensive testing we included that score above. In some cases, we have not yet completed comprehensive testing.
For these robot mops we have provided an estimated score based on our scores of similar products as well as considering feedback from 3rd party reviews. When we complete our full tests of these products the scores will be updated.