Ever wondered what it would be like to not have to sweep or mop your floors anymore? Well now you can stop wondering and say hello to the iRobot Braava 380t mop.
This robot mop is an iRobot product designed to mop and sweep your home while you sit back and relax.
In this week's review we'll be putting the Braava 380t to the test and determining whether or not this robot mop is truly worth all of the hype.
Continue reading below to discover if the Braava 380t is the right robot mop for you.
Braava 380t
The Braava 380t is a robot mop that can provide excellent maintenance cleaning for all hard surfaces. Its small square design allows it clean into corners and against baseboards. Additionally, the 2 cleaning modes (dry and wet) are great for both sweeping and mopping. Probably isn't a 100% replacement to your mop for deep cleaning, but for day-to-day cleaning it's got a lot to offer.
Check Price
Pros
The 380t has a long battery run time of up to 210 minutes while in sweeping mode and 150 minutes in mopping mode.
This robot mop is compatible with third party microfiber pads and disposable cleaning pads.
Cons
The Braava 380t struggles with large quantities of liquid.
This robot mop is on the higher end of prices for mops.
Contents
Braava 380t Design
The Braava 380t robot mop contains a unique design that we have not seen yet. Built in a square, this robot mop is different than almost every robot vacuum we have tested to date, and much different than all of iRobot's Roomba vacuums.
CONTROL | On top of the unit is a sensor receiver and three buttons. The sensor receiver is there to receive signals from the Northstar navigation system used by the Braava, to help it remember where it has already cleaned in your home. The three buttons on top serve the following functions:
power button
dry cleaning mode button
damp cleaning mode button
CLEANING | As you move down the robot, there is a small cleaning pad attached to the front end of the unit. Two of these pads are included with the unit and each can be individually placed on the iRobot 380t. Small magnets help keep these cleaning pads in place.
STYLE | Aesthetically speaking, the Braava 380t robot mop offers a sleek modern look. An all black color scheme is paired with blue button lights, keeping the unit simple but appealing.
How iRobot Braava 380t Cleans
The Braava 380t robot mop utilizes a couple of different cleaning methods; dry and damp. The dry and damp cleaning styles aren't vastly different from one another, but there are a couple of features that make each mode its own.
DRY MODE | For starters, dry mode, also known as sweeping mode; This is when the Braava 380t literally drives around your home and sweeps your floors.
No water or cleaning solution is needed for this mode to operate. Once you have chosen the dry (sweeping) mode, this Braava robot mop will begin making passes down and back across each room it cleans.
In order to make these passes, users must set the included Northstar navigation cube somewhere in the room. This navigation system shoots a signal off of the ceiling in that room, which is then picked up by the Braava 380t.
By utilizing this style of navigation, the mop is able to track exactly where it has been in that room, creating an efficient cleaning pattern.
WET MODE | The wet mode, or mopping mode, also uses the Northstar navigation, but the way it cleans is a bit different.
Instead of making long, single passes back and forth across the room, the damp mode works to make a few passes over the same area, ensuring it lifts the dirt and grime off of the floor before moving to a new area.
Water can also be placed within the reservoir, which will help to keep the pad damp as the 380t cleans the floors.
How big is the Braava 380t?
The Braava 380t is a rather small unit, coming in at 9.6″ in length, 8.5″ wide, and 3.1″ tall. Additionally, this robot mop weighs 4 pounds.
Length – 9.6″
Width – 8.5″
Height – 3.1″
Weight – 4 pounds
What accessories come with the Braava 380t?
The Braava 380t robot mop does not include a lot of extra parts and accessories, but that is simply due to the fact that not a lot of extras are needed for this mop.
The Braava 380t includes the following parts and accessories:
Northstar Navigation Cube: The Northstar navigation cube is a small block that emits a signal, allowing this Braava mop to track exactly where it has been as it cleans a room.
Charging station: A small charging station is included with the Braava 380t, which allows the unit to charge before cleaning.
Multi-Purpose Cleaning Pad: This is a magnetic cleaning pads that attaches to the bottom of the robot for easier cleaning cloth attachment. The multi-purpose cleaning pad is used for dry sweeping.
Pro-Cleaner Cleaning Pad: This is the damp mop and wet mop cleaning pad that also magnetically attaches to the bottom of the Braava 380t. This cleaning pad has a small built in reservoir tank that can hold water or cleaning solution, allowing it to keep the cleaning cloth damp.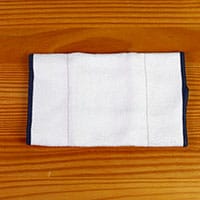 Dry Cleaning Cloth: A dry cleaning cloth is included as well. This cloth should only be used dry can be washed and reused several times.
Wet Cleaning Cloth: A wet cleaning cloth is also included. This cloth should be used for damp and wet mopping and can also be washed and reused several times.
Cleaning Tests
The following tests are designed to show how the Braava 380t performs as both a mop and a sweeper.
We tested the Braava 380t as a mop on tile flooring, spreading three different debris types across the floor and allowing the robot mop to clean the floor until it thought the job was complete.
Next, we tested the Braava 380t as a sweeper, allowing it to run on a dusty hardwood floor for 30 minutes. After doing so, we took a look at the floors and analyze the cleaning performance.
Cleaning Score
To start our mop test we put our 3 messes down on our testing lane. The mop test contains:
Each of these debris types offer a different level of stickiness and consistency, allowing us to test the Braava 380t robot mop against a light, heavy, and liquid substance. All three debris types are spread across our testing lane in three separate sections.
Throughout our mopping tests, we try to give real-life examples and be as consistent and fair as possible. The mopping test procedure goes as follows:
Measure out 3 oz of soda and spread the soda across the back of the testing lane.
Squirt honey in the middle of the testing lane, covering a majority of the width of the lane.
Create a muddy substance from dirt and water then spread the mud with a shoe.
Make a cleaning pass across the testing lane and compare the amount of each debris type mopped up on pass one to the untouched debris.
Make cleaning pass number two across the lane and analyze the amount of each debris type mopped up.
Make a third cleaning pass, if necessary.
Mopping Tests
The mopping tests were a bit of a surprise. After letting the Braava 380t run for 19 minutes (this is when the unit stopped itself), we found that this Braava robot mop was able to completely clean up the dirt and honey. However, the soda was more of an issue for this mop.
Cleaning Soda
With soda being a liquid substance, the 380t has a hard time soaking all of it up while mopping. Instead, the microfiber cloth soaked up what it could and pushed around the remaining soda. Therefore, the soda ended up being spread across our testing lane. The amount spread was not dramatic, but it was a bit more than I would've like to see.
To deal with larger quantities of soda or other liquids see our Bissell Crosswave review.
The Braava 380t removed most of the soda, however, it wasn't able to absorb the entire 3 oz.
Cleaning Honey & Mud
With regard to honey and dirt / mud, the Braava 380t had no issues whatsoever. As it worked its triple pass strategy over each of these messes, it was able to clean them 100% of the way, not leaving any extra on our testing lane.
Overall, I was impressed with the mopping performance of the Braava 380t. Although the soda was tough for this specific unit to handle, it is not necessarily designed to clean up large liquid messes like the one we used.
Our testing lane after the cleaning cycle finished. All of the mud and honey is removed, with some of the soda remaining.
Cleaning Time
Probably my biggest complaint, the speed at which this Braava robot mop cleaned. It makes sense that it moves slowly in order to deeply clean the area, but the pace at which this mop moved was much slower than I expected. On the contrary, the 150 minute mop run time means that the Braava 380t has an ample amount of time to mop your floors.
Wonder how the 380 compares to the 240 Jet? Find out in our complete Braava 380t vs. Braava Jet 240 comparison.
Sweeping Tests
After the mopping tests, we set the Braava 380t loose on a sweeping mission. We let the unit run for 30 minutes on a relatively dirty / dusty floor. Once the 30 minutes were up, we took a look at the dry cleaning cloth to see how much dust and dirt was removed.
All things considered, I was impressed. The 380t did a nice job of cleaning up the dusty floor and was able to hold a good amount of dust and dirt on the microfiber pad.
The unit would have more than likely ran for well over 30 minutes, but I stopped it at this mark in order to assess how well it performed in that short period of time.
RELATED – Looking for other mops? See our best mops list for other top cleaning choices.
Is it Easy to Use?
It doesn't get any easier than using the Braava 380t. As a robot mop, the hard work and labor is completed for you. Just choose the mode you'd like the robot to be in by pressing the appropriate button and let the 380t do the rest of the work for you.
As a robot mop, there is no need for you to follow the unit around, or push it for that matter. This Braava mop uses navigation to map your home out, creating a quick and efficient cleaning pattern around your home.
DRY MODE | If you're in need of a dry sweep, simply add the dry cleaning cloth and multi-purpose cleaning pad, press the dry sweep button, and relax. Your job is virtually done from there on out.
WET MODE | Same goes for mopping. Place the Pro-Clean reservoir on the bottom of the Braava 380t, add the damp cleaning cloth, select the damp mopping mode and once again, you're ready to relax and let the robot mop do the rest of the job for you.
If you need a vacuum that's equally as easy to use, see our best cheap robot vacuums. The Roomba 690, iLIfe A4s, and Eufy 11 are all quite good.
Can Braava 380t clean corners & baseboards?
Maneuverability of the Braava 380t is one of the most impressive features about this robot mop. This Braava is able to turn 360°, has edge sweeping capabilities, and has several sensors to help it avoid running into furniture or other obstacles in your home.
Weight: 4 pounds
Width: 8.5″
Height: 3.1″
Turning: 360°
The ability to turn 360° is a huge plus for the Braava 380t. By doing so, the unit is able to wrap itself around chair legs in one pass.
Typically, users have to make a few separate passes across a mess if it is around a chair leg, or other piece of furniture.
Edge sweeping technology is another great feature associated with this robot mop. Built in a square, the Braava 380t is able to get flush up against the wall and use its microfiber cloth to sweep the edges of baseboards and walls.
This is a small addition, but it certainly makes a difference in the overall cleaning performance.
How much does it cost to maintain the Braava?
The following table indicates the frequency at which you will likely want to replace the various parts and components of the mop. However, your individual experiences may vary.
| Accessory / Part | Replacement Frequency | Replacement Cost |
| --- | --- | --- |
| Cleaning Cloths | As needed | Check Price |
| Battery | 2-3 years | Check Price |
Maintaining the Braava 380t is quite simple. There are only a few key areas to pay attention to, none of which require a lot of time or effort.
Change the cleaning cloth – The cleaning cloth needs to be washed or changed after every major cleaning cycle.
Change cleaning pad – The cleaning pad needs to be changed if you are moving from wet or damp mopping to dry sweeping.
Replace the battery – Replacing the battery should be completed if you notice the battery of the Braava 380t not holding a charge, or if it has died entirely.
Annual maintenance costs for the Braava 380t lands around $5 / year. This will cover replacing the battery every 3 years.
Once you run out of the cleaning cloths that come with the Braava we highly recommend getting a pack of washable microfiber cloths. Lots of good and inexpensive options here.
Is Braava 380t a Good Value?
The Braava 380t robot mop offers a great value. Although it is somewhat high in price for a mop, its features plus cleaning performance are strong enough to balance out the price.
After testing this Braava against some pretty harsh substances, it's evident that this robot mop has sufficient cleaning power to lift extremely sticky substances.
The unit was not as successful with soda, but that was to be expected, for the most part.
Maneuverability is another major plus for this robot mop. Its ability to turn 360° and sweep up against the edges of walls and baseboards is excellent.
With regard to warranty, iRobot offers a 1-year warranty and 30-day return period through Amazon.com.
Braava 380t Specifications
Below is a complete list of important specifications and features included on the Braava 380t:
| Specifications | |
| --- | --- |
| Type | Robot |
| Manufacturer | iRobot |
| Model | Braava 380t |
| Length | 9.6" |
| Width | 8.5" |
| Weight | 4 lbs. |
| Floor Type | All hard surfaces (indoor) |
| Water Reservoir | 0.12 L |
| Cordless | Yes |
| Returns | Varies by retailer |
| Warranty | 1-Year limited |
| Price | Check Price |
Who Should Buy the Braava 380t Robot Mop?
The Braava 380t is a well-rounded robot mop that takes most of the hard work out of mopping. The advanced navigation and cleaning process combines to create a solid performer that could benefit a wide variety of users.
I would recommend the Braava 380t if you're looking for the following features in a robot mop:
Want fewer chores – If you're fed up with the manual labor that comes with mopping, the Braava 380t robot mop could be a great choice. The Braava 380t is great at automatically keeping your floors cleared of most typical debris, dust, and other mess that get tracked in. That said, you will still probably want a more typical mop for deep cleaning.
Like the idea of a mop and sweeper in one – The Braava 380t is not only a mop, but also a sweeper to some degree. Attach the dry cleaning cloth to the bottom of the unit and let it loose. From there, it will work to dust / sweep your floors with its microfiber cleaning cloth.
Want to live in the future – It's a robot mop! I mean, c'mon…I'm all about robots doing my work for me 🙂
For more information on the Braava 380t visit here.
Not Perfect, But Very Good
Cleaning -

95%

Performance -

95%

Quality -

95%

Usability -

95%

Value -

95%
Summary
The iRobot Braava 380t is a robot mop that can be used to wet or dry clean your floors. An impressive 150 minute mopping time means it can cover a lot of ground. It had no issues with most of our cleaning tests, but did struggle with large volumes of liquid. This probably won't be a replacement for deep cleaning your floors, but for day-to-day cleaning it's a solid pickup.