O-Cedar EasyWring Spin Mop Review
By Derek Hales | Updated August 3, 2018
Home » Best Mop » O-Cedar EasyWring Spin Mop Review
Sick and tired of having the old school mop and bucket? How about when it comes time to wring out the mop's cleaning head? Well you can kiss that goodbye and say hello to the O-Cedar EasyWring spin mop.
O-Cedar is no stranger to the mop industry, let alone bucket mops. Its newest bucket mop makes wringing out your mop easier than ever, but does the cleaning performance make this mop worthwhile? It's time to find out!
Continue reading below to discover if the O-Cedar EasyWring is the right spin mop for you.
Design

96%

96%

Performance

99%

99%

Quality

95%

95%

Usability

94%

94%

Value

96%

96%
Modern Castle is supported by readers. When you buy with our links, we may earn a commission. Learn more
Pros
The O-Cedar EasyWring mop makes wringing out the mop head extremely easy and hands free. The basket spins surprisingly fast.
This mop does a great job of cleaning a wide variety of messes.
Cons
This O-Cedar spin mop only includes one cleaning pad.
As as bucket mop, the EasyWring needs to be cleaned more often than most other mops.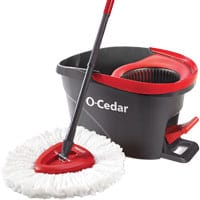 The Bottom Line
The O-Cedar EasyWring is a nice step up over more traditional mop-and-bucket combos. The wring basket is hands-free and spins much faster than I would have ever imagined. The mop, cleaning head, bucket, and spinning basket all feel and look well made. Overall performance was solid and exceeded my expectations across the board.
O-Cedar EasyWring Design
The O-Cedar EasyWring spin mop has what I would consider somewhat of a traditional bucket mop design, with a few upgrades.
DESIGN | The overall design of the EasyWring mop is nice. The mop itself has a durable wand that connects to a cleaning head, which houses the cleaning pad.
As we move onto the bucket, the design becomes a bit more unique. The water reservoir makes up two thirds of the bucket. This is where users can fill the bucket with water in order to mop their floors. The other thirds of the bucket is the "EasyWring" portion of the bucket. This is the section where users can place the mop head and wring it out using the foot pedal on the outside of the bucket.
BUCKET | The bucket is quite sturdy and contains a foot pedal, which is used to wring out the mop's cleaning head. This mechanism works by spinning the mop head once the pedal is pushed down. This constant spinning helps to wring out the cleaning head in a hands free manner.
CLEANING HEAD & PAD | Many microfiber strands make up the cleaning pad. These are all connected on one pad, which is wrapped around the cleaning head.
AESTHETIC | Aesthetically speaking, this O-Cedar spin mop offers a clean look. O-Cedar went away from the traditional look of a bucket mop and gave it a much cleaner look overall. The black and red color scheme is just another one of O-Cedar's staple design moves.
How O-Cedar EasyWring Cleans
The O-Cedar EasyWring spin mop cleans by one main method, manual mopping.
MANUAL MOPPING | This style of cleaning is just as simple as it sounds, users can use the mop and bucket to loosen and lift dirt, debris, and sticky substances off of your floors.
Size & Dimensions
The O-Cedar EasyWring spin mop itself is 51″ tall and 6″ wide.
The bucket, on the other hand, is 19″ tall, 11.5″ long, and 11.5″ wide.
The mop and handle weigh 1.5 pounds and the bucket weighs 5.38 pounds.
Mop length – 51″
Mop width – 6″
Mop weight – 1.5 pounds
Bucket width – 11.5″
Bucket Height – 19″
Bucket length – 11.5″
Bucket weight – 5.78 pounds
Accessories & Parts
This O-Cedar mop does not come with a ton of extra parts and accessories. In fact, everything included with the mop is exactly what you need to start cleaning.
Cleaning Pad: A microfiber cleaning head is included with the purchase of the O-Cedar EasyWring spin mop. This head can be washed and re-used. If you mop a lot, you may eventually want to replace it. You can find replacement heads here.
Bucket: The bucket included contains an 'EasyWring' system, which allows users to wring out the mop head to their desired level of moisture without touching it.
More cleaning heads can also be purchased for this mop. That said, there are no extra accessories that can be added to this O-Cedar mop to make it perform at a higher level, or clean in a different way.
The following tests are designed to show how the O-Cedar EasyWring performs as both a mop and a sweeper.
We tested the O-Cedar EasyWring as a mop on tile flooring, spreading three different debris types across the floor and attempting to mop the debris up over three separate passes.

Next, we tested the O-Cedar EasyWring spin mop as a sweeper, making several sweeping passes across a dusty hardwood floor. After doing so, we took a look at the floors and made our assessment of the O-Cedar EasyWring's cleaning performance.
Dirt / Mud

100%

100%

Honey

100%

100%

Water

97%

97%

Sweeping

100%

100%
For starters, the mop test contains three debris types:
Dirt / mud
Honey
Water (dyed green for visibility)

Each of these debris types offer a different level of stickiness and consistency, allowing us to test the O-Cedar EasyWring spin mop against a light, heavy, and liquid substance. All three debris types are spread across our testing lane in three separate sections.
Throughout our mopping tests, we try to give real-life examples and be as consistent and fair as possible. The mopping test procedure goes as follows:
Measure out 3 oz of water (dyed green) and spread the water across the back of the testing lane.
Squirt honey in the middle of the testing lane, covering a majority of the width of the lane.
Create a muddy substance from dirt and water then spread the mud with a shoe.
Make a pass across the testing lane and compare the amount of each debris type mopped up on pass one to the untouched debris.
Make pass number two across the lane and analyze the amount of each debris type mopped up.
Make a third pass, if necessary.
Mopping Tests
This O-Cedar spin mop had no issues during our cleaning tests. The overall performance, simply put, was exceptional.
WATER CLEANING | The water test is typically the most difficult test for most mops. Yet, the O-Cedar EasyWring spin mop had no issues cleaning up the water.
After a single pass across the puddle of water, we found that the mop was able to absorb 50% of the water. From there, the next two passes lead to virtually 100% cleanliness. There were specs of water here and there, but nothing the mop couldn't handle once we made another pass.
The most interesting note about the water test was the mops ability to hold the water and not drip. Most mops we have tested to date have a tendency to drip the water after absorbing it. That was not the case with this O-Cedar mop. After absorbing it, the water remained within the cleaning head until being rung out.
MUD CLEANING | This test was a breeze for the EasyWring spin mop. One pass lifted every bit of the mud we went over. The cleaning head was able to remove the mud without any issues whatsoever.
HONEY CLEANING | Honey can also be an issue for some mops (the Dirt Devil Versa and Light & Easy steam mops both struggled during our tests), but the dampness of the O-Cedar EasyWring's cleaning head allowed it to easily lift the honey off of the tile.
After a few passes, there was no honey remaining on the lane. Additionally, there was no sticky residue remaining on our testing lane when the test was said and done.
One thing a traditional mop and bucket cannot do is sanitize floors (at least not without using a cleaning solution). If sanitizing floors is important and you don't want to use a cleaning solution you'll want to go with a steam mop. During our tests, the Shark Genius, Shark Pocket, and Hoover Twin Tanks steam mops all performed well.
Sweeping Tests
Similar to the mopping tests, the sweeping tests were a major success. When sweeping, we almost completely dried out the cleaning pad and used it to mop / sweep hardwood floors.
After doing so, we found that this O-Cedar mop was able to sweep the floors clean without any struggle.
Overall, it is hard to beat the degree to which this mop cleans thoroughly.
Is the O-Cedar EasyWring Spin Mop Easy to Use?
The O-Cedar EasyWring is extremely easy to use. This is one of the most basic mops we have tested to date.
SETUP | Setup was simple. After everything has been unboxed, users can take the wand and screw it together by tightening the caps already located on the wand. From there, the handle must be screwed into the mop head, using the same process.
After the mop is assembled, place the cleaning pad on the floor and push the mop head down on the pad until it snaps into place.
FILL BUCKET | Next step, fill your bucket with water. This can be done by taking the bucket to a sink and filling it with the faucet. Just be sure not to go over the max fill line or there may be issues that arise when trying to wring out the mop.
EASY WRING SYSTEM | The EasyWring system included with this mop is interesting and one of the best perks about this mop, in my opinion. Once you are ready to use the mop (mop assembled and water in the bucket), you can soak the mop cleaning pad and place the pad in the spinning basket.
From there, lightly hold onto the wand and pump the pedal to your desired level of dampness. The more you pump the pedal, the more the mop spins, and the more water is removed from the microfiber mop pad strips. Of course, fewer pumps mean a wetter cleaning pad.
Users have to decide how much water they want to mop with, which is why the EasyWring system is so beneficial. Overall, both the mop and bucket feel extremely well made. The plastics and other materials used in construction look and feel quality.
To date, we have not seen another system as easy as this one, with regard to spin / bucket mops.
If you think you want a mop that's even easier to use, you might be interested in robot mops. See our reviews of the Braava 380t and Braava Jet 240.
Maneuverability
Maneuverability on the O-Cedar EasyWring spin mop is quite good. The combination of a lightweight stick and bucket and a triangular shaped head helps to make maneuvering this mop much easier.
TURNING | The swivel head on the O-Cedar EasyWring isn't that great. It can only turn at about 30°. However, I think this is more of a design decision, as you can still spin the full mop handle in hand.
The mop is not necessarily designed to be turned frequently, but more so to go in straight lines and cover large areas at a time.
FLAT LAY | One major benefit to this mop was its ability to lie virtually flat. If you need to mop under a low hanging piece of furniture, the O-Cedar EasyWring can be pushed underneath and used to clean.
MOVEMENT EASE | Overall movement on the O-Cedar EasyWring spin mop is above average. The mop is super light (1.5 lbs), meaning users don't have to exert a lot of extra force to mop when using this specific unit.
Wonder how the O-Cedar compares to other mops? See our best mops guide.
Maintenance Tasks & Costs
The following table indicates the frequency at which you will likely want to replace the various parts and components of the mop. However, your individual experiences may vary
| Accessory / Part | Replacement Frequency | Replacement Cost |
| --- | --- | --- |
| Cleaning pad | As needed | Check Price |
Maintaining the O-Cedar EasyWring spin mop is quite simple. Add water and cleaning solution (if needed) to the bucket and wash or replace the cleaning pad as needed. There is not much else required to maintain this spin mop.
Maintaining the O-Cedar EasyWring should cost around $8 / year. This includes replacing the cleaning pad once per year.
Of course, you may want to purchase a cleaning solution as well. So make sure to account for that added cost as well.
The O-Cedar EasyWring spin mop offers an excellent value. The low price matched with the top notch performance is simply hard to beat.
Throughout our cleaning tests we didn't see any signs of struggle from this mop. All debris types were mopped up with ease and efficiency. This made mopping less of a chore and more of a quick task to complete.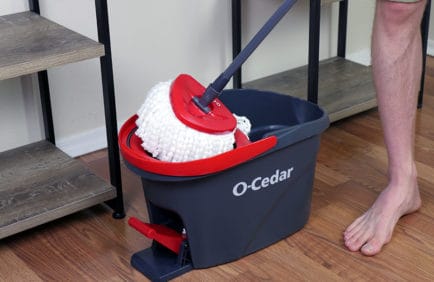 Maneuverability could have been better with this mop, but the triangular shaped head and lightweight design combined for a well-rounded degree of maneuverability.
Maintenance is another positive, considering the only task to complete is washing or replacing the cleaning head, and purchasing a floor cleaning solution if you want to use it. Other than that, this mop is as easy to maintain as it gets.
With regard to warranty and returns, O-Cedar offers a 1-year limited warranty with the EasyWring spin mop, in addition to a 30-day return period, via Amazon.
O-Cedar EasyWring Specifications
Below is a complete list of important specifications and features included on the O-Cedar EasyWring:
| Specifications | |
| --- | --- |
| Type | Spin Mop |
| Manufacturer | O-Cedar |
| Model | EasyWring |
| Length | 51" |
| Width | 6" |
| Weight | 5.38 lbs. |
| Floor Type | All hard floor (indoor) |
| Water Bucket Capacity | 6.0 L |
| Cordless | Yes |
| Returns | 30 days via Amazon. Varies by retailer |
| Warranty | 1-Year limited |
| Price | Check Price |
Who Should Buy the O-Cedar EasyWring Spin Mop?
The O-Cedar EasyWring spin mop is a great addition for almost any home. Although it is more of a traditional mop, the overall performance, usability, and price point make it a well valued unit.
I would recommend the O-Cedar EasyWring if you're looking for the following features in a spin mop:
Want a spin mop with a bucket – The idea of a spin mop is different than most mops. To wring this mop out, you can use the bucket and EasyWring pedal to spin the mop head and wring out the cleaning pad. This is a hands-free process and completed much quicker than most other bucket mops.
Don't mind more manual cleaning – If you don't mind having a mop that is not electronic or more complex, this could be a great option for you. There is no power source, you get from it what you put into the cleaning session. If the O-Cedar sounds a little too simplistic for you, check out the Bissell Crosswave.
Want a strong performer – Although there is no special cleaning attribute about this O-Cedar mop, the cleaning performance is exceptional. This unit flew through our cleaning tests without any issues, leaving our tile floor looking almost spotless.
For more information on the O-Cedar EasyWring visit Amazon.com.
Last Updated - August 3, 2018
The following logs all major updates and changes made to this page.
August 3, 2018 – Updated the review score as part of our site-wide 1.0 scoring overhaul. Score increased from 95% to 96%..
EasyWring = Easy to Clean
Design -

96%

Performance -

99%

Quality -

95%

Usability -

94%

Value -

95%
Summary
The O-Cedar EasyWring spin mop is an inexpensive mop and bucket that offers surprising performance and value. The material construction of both the mop and bucket are quite good. The wringing basket spins much faster than expected, offering solid performance. The O-Cedar is a great all-around mop and despite its simplicity, can handle most mopping jobs around the home.
Derek Hales
Editor-in-Chief
Derek Hales is the Editor-in-Chief and Founder of ModernCastle.com. He is a passionate perfectionist when it comes to testing and reviewing products for the home. When he is not testing new products, Derek enjoys golf, tennis, and PC gaming. Derek lives in Phoenix, Arizona, with his wife, Samantha, son, and poodle, Tibbers.