To find the best water pitcher filters we collected water samples from 10 different popular brands and sent them off for laboratory testing.
We've done several water filter tests over the years, including taste tests, strips that test water quality and pH, and TDS tests using an electronic meter. All of these tests offered insights, but also weren't perfect.
Being able to test water in a laboratory setting offers greater objectivity, accuracy, and the ability to test for specific chemicals, metals, and other contaminants. 
To get the laboratory water testing we partnered with SimpleLab.
What's on this page?
Our Recommendations | Comparisons | Test Process | Laboratory Analysis
With that brief intro out of the way, let's dive into our recommendations for the best filters based on objective 3rd party laboratory data. 
If you'd rather watch than read we've got our complete Best Water Pitcher Filters video below:
The Best Water Filters We Tested
Based on the laboratory data, it's clear that Waterdrop is the best water filter. It removed 100% of the most dangerous containments in the water, including all uranium and chloroform.
the best water filter we tested
Waterdrop
Tap Score – 93
THMs removed – 100%
Chloroform removed – 100%
Copper removed – 92.4%
Uranium removed – 100%
Strontium removed – 66.2%
In addition, it didn't add any contaminants during the filtration process, while removing most other metals, minerals, and salts that were tested.
Looking purely at the Tap Score ranking scores, number 2 is Epic, followed by number 3 Aquacrest. However, the Amazon Basic and Brita filters weren't far behind.
EpicWater vs. AquaCrest vs. Brita vs. Amazon Basics
Below we have a 4-way comparison of the top 4 best water filters we tested.
Like the Waterdrop, all 4 of these filters removed 100% of uranium and chloroform. In addition, they all did an excellent job at removing copper.
The few minor failings varied from filter to filter 
However, all of these are fairly minor relative to more serious health-impacting contaminants. 
PUR
Tap Score – 76
THMs removed – 100%
Chloroform removed – 100%
Copper removed – 95.3%
Uranium removed – 100%
Strontium removed – 91.7%
PUR was sort of middle of the road. PUR removed the chloroform and uranium, but added silver, lead, nitrate, manganese, and sodium.
NAKII, ZeroWater, Soma, and Aquagear all leave much to be desired.
ZeroWater vs. Nakii vs. SOMA vs. AquaGear
Below we have a 4-way comparison of the 4 worst performers based on our the laboratory data.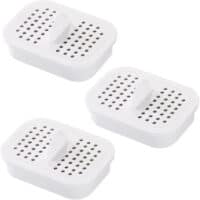 NAKII failed to remove 36% of the chloroform.
ZeroWater failed to remove 60% of the chloroform.
SOMA only failed to remove 20% of the chloroform, but also added two new disinfection byproducts in the filtration process, in addition to adding sodium and silver.
Aquagear was the worst performer by far.
While it removed 100% of the chloroform, it failed to remove 13% of copper and 53% of uranium. In addition, the filtration process added the following to the filtered water:
Sulfate
Nitrate 
Sodium
Chloride
Based on our laboratory findings, I would strongly recommend Waterdrop, Epic, Aquacrest, Amazon Basics, and Brita.
While most of the other filters did get the water to a significantly safer standard, they still left much to be desired compared to the top performing filters.
Waterdrop vs. EpicWater vs. AquaCrest vs. Amazon Basics
Below are the top four water pitcher filters we tested.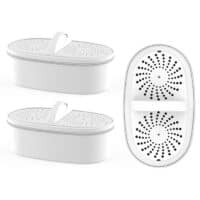 Best Water Filters Compared
Below is a full list of all the water pitcher filters we tested. We have ordered these based on their performance score from the laboratory.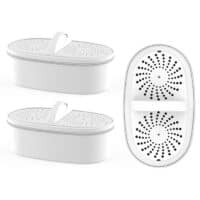 Amazon Basics Filter Pitcher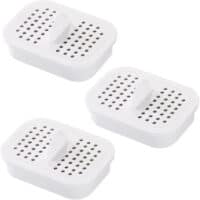 PUR vs. Brita vs. ZeroWater vs. EpicWater vs. Waterdrop vs. NAKII vs. SOMA vs. AquaGear vs. Amazon Basics vs. AquaCrest
Below we have a comparison table with data for all 10 water filters we tested. We've included the most dangerous containments that were found in our unfiltered water, see the full data reports below for the comprehensive reports.
The percentages are based on the total percentage removed by the filter. All percentages were rounded up from the 2nd decimal place.
| Containment | Brita | PUR | Zero Water | Epic | Waterdrop | Amazon | AquaCrest | SOMA | NAKII | AquaGear |
| --- | --- | --- | --- | --- | --- | --- | --- | --- | --- | --- |
| Total THMs | 100% | 100% | 41% | 100% | 100% | 100% | 100% | 33% | 43% | 100% |
| Chloroform | 100% | 100% | 41% | 100% | 100% | 100% | 100% | 80% | 63% | 100% |
| Copper | 96% | 95% | 96% | 100% | 92% | 96% | 97% | 93% | 96% | 88% |
| Uranium | 100% | 100% | 100% | 100% | 100% | 100% | 100% | 100% | 100% | 47% |
| Strontium | 73% | 92% | 100% | 17% | 66% | 76% | 77% | 91% | 17% | 25% |
| Hardness | 60% | 90% | 100% | 7% | 63% | 64% | 74% | 90% | 11% | -12% |
| Flouride | 0% | 0% | 100% | 67% | 0% | 33% | 33% | 33% | 33% | 0% |
If you would like to see the full laboratory testing data and analysis please follow the links below.
Lastly, you can see all 10 models compared side-by-side with the raw data at this link.
Testing Process
We partnered with SimpleLab to help bring these water filter tests to life. SimpleLab provides a 3rd party testing service called Tap Score. They provided us with water testing kits for free, handled all laboratory testing, and their scientists helped us understand the results.
For each testing kit, Tap Score creates a detailed report and provides a score on a 1-100 scale, where 99 is the best score possible.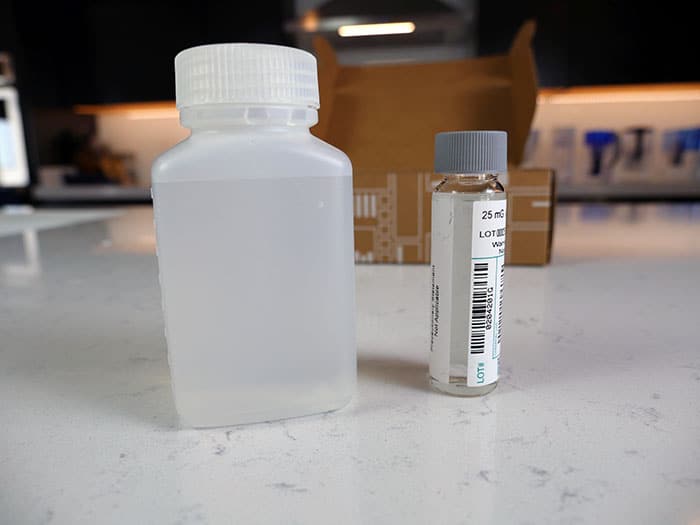 Tap Score did not pay or otherwise compensate us in any way for creating this content.
Our first step in the process was to find suitably terrible unfiltered water to test on. We started by running laboratory tests on 3 different water samples. The samples were taken from my personal home, as well as the home of 2 of my good friends. All of the samples were from the Phoenix, Arizona city water taps. 
The laboratory results showed significant issues with all 3 water samples, but the water sample at my personal home was the worst of the 3. As a result, that's the water sample we decided to use for testing the 10 water filter pitchers.
Next, we began testing by preparing each pitcher and filter. All of the filters used in our testing were brand new, never-opened, and never-used before. 
We purchased all pitchers and filters that were used in this comparison, except for the Epic, which did send us a free sample for testing. None of the brands we tested compensated us in any way for including them in this analysis.
We installed the filters and ran several gallons of water through each pitcher. We generally ran more water through each filter than the manufacturer recommends.
However, we wanted to stay on the safe side and ensure any residue and other agents were cleansed from the filter before collecting our water samples.
We began by filling up a 5 gallon bucket with unfiltered water directly from the sink. We filled the bucket first with our unfiltered water so that each filter would have water from the exact same source.
If we were to turn the tap on and off for 1 sample at a time it could result in an unfair laboratory comparison, since each water sample could be slightly different.
We then poured the unfiltered water into each water filter pitcher and allowed them to filter the water. Once filtered, we poured the filtered water into the Tap Score testing kit vials. Our last step was to simply mail the kits off to the lab and await the results.
Lab Test Analysis
Our unfiltered water sample baseline scored a 43 out of 100 points. This put it in the bottom 23rd percentile for city water across the US.
The most dangerous contaminants within the water that dragged the score down were Chloroform and Uranium, both of which are common in the Phoenix, Arizona municipal water system.
As a result, water filters that failed to remove the Chloroform or Uranium scored poorly. Chloroform is a disinfection byproduct and uranium is a heavy metal. 
There were also notable levels of copper, sulfate, and strontium in our unfiltered water samples, in addition to 7 other contaminants.
Click here if you'd like to see the full laboratory testing data for all 10 filters.
One quick note about water sources. City and well water are very different. As a result, they require different tests.
The contaminants that Tap Score needs to test for in the city is different from what they would test for in well water. Our tests were on city water. So if you're wondering why we don't have data on a certain contaminant, that is the most likely reason. 
Beyond the differences between city and well water, water quality in general is going to be different everywhere. Different states, cities, and homes all have different water quality challenges. Every tap is different. So it's always best to test your tap so you can know your water quality for sure.
DBPs (Disinfection Byproducts) Removal
One of the most common water contaminants are disinfection byproducts, or DBPs. Water treatment plants add chlorine to kill bacteria in water. However, chlorine can interact with old plumbing and other organic matter in the water. As a result, it can create a disinfection byproduct.
Some DBPs are just annoying and might make the water smell or taste weird, however, others are known to cause cancer.
Trihalomethanes, or THMs, are a major type of disinfection byproduct. Chloroform is 1 of 4 main THMs in US drinking water.
Our unfiltered water had 10 parts per billion THMs, all of it being chloroform. The EPA considers anything over 80 parts per billion a federal violation. THMs are found in almost every home in the US that uses city water. Typically, concentrations range from 10 to 40 parts per billion.
When it came to removing DBPs from the unfiltered water, the ZeroWater and NAKII filters were the worst performers. Both reduced DBPs, but they didn't remove them entirely. Both Zero and NAKII failed to remove around 60% of the total disinfection byproducts. 
Considering the fact that DBPs fluctuate often and are particularly high in the summer (when utilities add more chlorine to the water), some reduction just isn't good enough.
Soma also struggled with removing DBPs. While the Soma filter removed 80% of chloroform, it also appears to have transformed some chloroform into other DBPs, including Dibromochloromethane and Bromodichloromethane.
All other 7 water filters removed 100% of DBPs, resulting in a complete reduction of all THMs.
Heavy Metal Removal
Some metals and minerals are helpful and can make the water taste better. However, certain heavy metals are bad for your health and can cause a litany of problems. 
Heavy metals occur naturally within the source water and can also leach from your plumbing. The unfiltered water sample we tested contained the heavy metals uranium, copper, and strontium. There was no lead in our water.
When it came to removing heavy metals, Aquagear was the worst performer. Aquagear reduced, but failed to completely remove uranium. In fact, it left 53% of the uranium in the water.
In addition, it was also the worst performer when it came to removing copper, failing to remove 12% of the copper. It also only had a modest removal of other heavy metals, and made zero reduction in water hardness.
A number of filters actually added metals and minerals to the filtered water. PUR, SOMA, Brita, and Amazon Basic all added silver to the filtered water. Silver is often used to help keep filters clean of bacteria.
Despite the oddity of these filters adding heavy metals, overall all filters except Aquagear did an excellent job at reducing or removing the two most significant heavy metals, uranium and copper. 
Fluoride Removal
Next, let's talk briefly about fluoride. There is a significant on-going debate about the health benefits and risks of fluoride. We won't unpack the debate here, but we do have the lab testing data for fluoride. 
Other Issues
Let's quickly touch on general water parameters, including TDS, PH, Alkalinity, and hardness.
TDS (Total Dissolved Solids) Removal
First, TDS, aka total dissolved solids. TDS is the most over-used and unsatisfactory indicator of water quality. Low TDS does not indicate safe water any more than high TDS indicates bad water.
Bottled mineral water can have high TDS. While a glass of distilled water with a splash of nail polish remover in it will have a TDS of zero. In my view, TDS shouldn't be used as a factor in determining the health of the water.
pH Change
Next, pH. pH does not directly impact the health of the water.
As a result, it's not a major factor in how Tap Score scores water.
Alkalinity Change
Alkalinity stabilizes the water's pH. More alkalinity means less pH volatility, which is a good thing.
Most of the filters reduced the alkalinity, while Zero removed 100% of the alkalinity. 
Water Hardness Reduction
Lastly, we have water hardness. Harder water isn't a health concern, but it can cause bad taste, in addition to causing issues with your plumbing.
Most of the filters made notable decreases in the water hardness. ZeroWater reduced hardness by 100%.
Final Thoughts
We hope you found our best water filter comparison helpful! If you still have questions please use the comment form down below.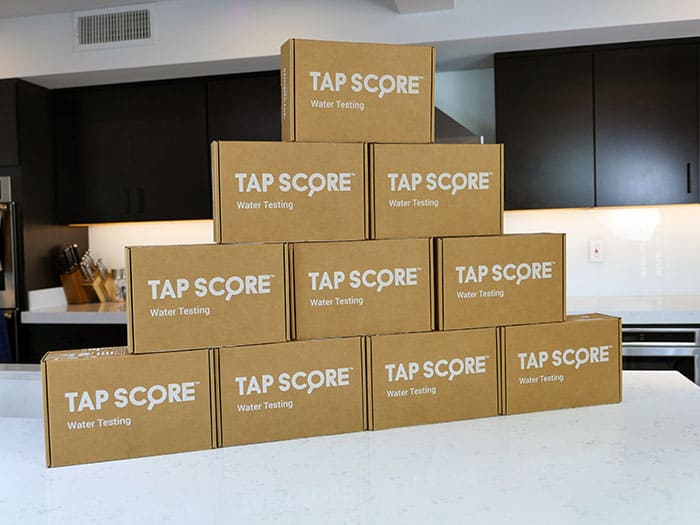 If you're interested in learning more about what's in your water check out Tap Score. They provide an incredible level of data and analysis that will give you insight into any contaminants that may be in your water.
Disclosure – We received zero monetary compensation from SimpleLab / TapScore for creating this video. However, they did provide all of the sample testing kits for free that we used for testing. In addition, SimpleLab / TapScore provided the reports, an analysis of the data, and knowledge support to ensure that our conclusions, analysis, and recommendations are accurate and fair for all brands we tested.
Citations
Alkalinity and water completed. Alkalinity and Water | U.S. Geological Survey. (n.d.). Retrieved December 14, 2021, from https://www.usgs.gov/special-topics/water-science-school/science/alkalinity-and-water
Centers for Disease Control and Prevention. (2016, December 2). Disinfection by-products. Centers for Disease Control and Prevention. Retrieved December 14, 2021, from https://www.cdc.gov/safewater/chlorination-byproducts.html
Centers for Disease Control and Prevention. (2019, June 24). Chloroform. Centers for Disease Control and Prevention. Retrieved December 14, 2021, from https://www.cdc.gov/niosh/topics/chloroform/default.html
Centers for Disease Control and Prevention. (2020, January 21). About Fluoride. Centers for Disease Control and Prevention. Retrieved December 14, 2021, from https://www.cdc.gov/fluoridation/faqs/index.htm
Chloride, salinity, and dissolved solids active. Chloride, Salinity, and Dissolved Solids | U.S. Geological Survey. (n.d.). Retrieved December 14, 2021, from https://www.usgs.gov/mission-areas/water-resources/science/chloride-salinity-and-dissolved-solids
Copper in drinking water. Minnesota Department of Health. (n.d.). Retrieved December 14, 2021, from https://www.health.state.mn.us/communities/environment/water/contaminants/copper.html
Disinfection by-products (dbps) how people are exposed to dbps. (n.d.). Retrieved December 14, 2021, from https://www.cdc.gov/biomonitoring/pdf/THM-DBP_FactSheet.pdf
Environmental Protection Agency. (2012, March 6). Sulfate in drinking water. EPA. Retrieved December 14, 2021, from https://archive.epa.gov/water/archive/web/html/sulfate.html
Environmental Protection Agency. (n.d.). Basic Information about Lead in Drinking Water. EPA. Retrieved December 14, 2021, from https://www.epa.gov/ground-water-and-drinking-water/basic-information-about-lead-drinking-water
Environmental Protection Agency. (n.d.). Disinfection Byproducts: A Reference Resource. EPA. Retrieved December 14, 2021, from https://archive.epa.gov/enviro/html/icr/web/html/gloss_dbp.html
Environmental Protection Agency. (n.d.). Potential Well Water Contaminants. EPA. Retrieved December 14, 2021, from https://www.epa.gov/privatewells/potential-well-water-contaminants-and-their-impacts
Environmental Protection Agency. (n.d.). State-Specific Water Quality Standards Effective under the Clean Water Act (CWA). EPA. Retrieved December 14, 2021, from https://www.epa.gov/wqs-tech/state-specific-water-quality-standards-effective-under-clean-water-act-cwa
Hardness of water completed. Hardness of Water | U.S. Geological Survey. (n.d.). Retrieved December 14, 2021, from https://www.usgs.gov/special-topics/water-science-school/science/hardness-water
Hood, E. (2005, July). Tap Water and trihalomethanes: Flow of concerns continues. Environmental Health Perspectives. Retrieved December 14, 2021, from https://www.ncbi.nlm.nih.gov/pmc/articles/PMC1257669/
Learn about water. Water Quality Association. (n.d.). Retrieved December 14, 2021, from https://www.wqa.org/Learn-About-Water/Common-Contaminants/Uranium
Silver in Drinking Water. Water Quality Association. (n.d.). Retrieved December 14, 2021, from https://www.wqa.org/Learn-About-Water/Common-Contaminants/Silver
Strontium in U.S. groundwater used for drinking-water source: U.S. Geological Survey. Strontium in U.S. Groundwater Used for Drinking-Water Source | U.S. Geological Survey. (n.d.). Retrieved December 14, 2021, from https://www.usgs.gov/news/strontium-us-groundwater-used-drinking-water-source
User, S. (n.d.). Warning: Excessive manganese in drinking water can now be considered a public health risk. Retrieved December 14, 2021, from https://www.brewster-ma.gov/departments-mainmenu-26/health-department-mainmenu-33/1764-warning-excessive-manganese-in-drinking-water-can-now-be-considered-a-public-health-risk
Water treatment solutions. Lenntech Water treatment & purification. (n.d.). Retrieved December 14, 2021, from https://www.lenntech.com/periodic/water/sodium/sodium-and-water.htm
Web 2020 water quality report – Phoenix, Arizona. (n.d.). Retrieved December 14, 2021, from https://www.phoenix.gov/waterservicessite/Documents/wsdprimarywqr.pdf