Blink Outdoor Camera
The Blink Outdoor Camera is a wireless outdoor camera with up to 120 minutes of Cloud-based video storage, good daytime video quality, and easy setup and usability. Based on our real world tests, night time video quality left much to be desired. If you just want a day time camera, Blink Outdoor is great, but if you need quality night time footage we would recommend something else.
Check Price
Pros
No subscription fees; free cloud-based storage
Wireless install
Batteries last up to 2 years
Easy to use and monitor using the smartphone app
Cons
No audible siren or 911-alert system
Requires a Sync Module for pairing, may be sold separately depending on if you purchase a "camera kit" or "add-on camera"
Performance
10 SECOND SUMMARY: The performance of the Blink Outdoor camera was a bit of a mixed bag. The daytime video quality was pretty good, but the night time video quality was terrible. Audio and app quality was pretty good—consistent with other Blink cameras like the Blink XT2 or Blink Indoor.
Video: Day vs. Night
During the day, the video quality was good. It was clear and easy to see a moderate level of detail in the footage.
The nighttime video quality was extremely disappointing. It was so hazy that it was nearly impossible to tell what was going on. Figures that were caught on camera had a low level of detail and were blurry.
Day
In daytime settings, the video quality was similar to what we've experienced with other Blink cameras. Images were crisp, clear, and easy to see details of figures passing in and out of the frame.
There was a bit of a problem with overexposure, as you can see in the skyline area where there is lots of light. 
Despite this, the images are still clear, both with and without people.
Another small area where it struggles a bit is with quick motions, especially activity closer to the camera.
As you can see in the example below, there is a high degree of blur.
In the day time clip where I am a bit further away from the camera it does a better job and more clarity overall.
Night
The nighttime video quality left quite a bit to be desired. The quality and clarity of the video footage just isn't there. The images we snapped had poor contrast and a lot of blurriness.
We tried this camera in two different nighttime settings:
Pitch black
Moderate illumination within range of the house and detached garage
The performance in both environments was pretty poor. You can tell when people walk in and out of the frame, but if you're hoping to see facial details or descriptions of clothing items or items you're going to be unsatisfied.
RELATED: Check out the full review of the Blink XT2 outdoor camera.
For a camera marked as "outdoor" I really expected more from the Blink outdoor.
Audio
The quality of the audio is pretty good as far as detecting audio on screen as well as enabling 2-way audio from your smartphone to the camera mic.
Audio in and out was easily discernible and clear.
The Blink camera does not include an audible siren.
The Blink App
To view your recorded footage or get instant notifications, you'll need to download the Blink app. This app helps to organize activity snippets with easy-to-read time stamps.
At the top, there is a storage bar that shows exactly how much storage you've used and how much you have left.
Once your camera is paired to the app, you'll have some options when motion is detected. First off, you'll receive an instant push notification to your phone.
From there, you can:
View: view stored video for yourself and watch a live-feed
Ignore: ignore the alert; regardless of your decision, the footage is stored on the Cloud with all of the other detected footage that the camera has captured
If you have multiple Blink cameras, the app makes it easy to manage and view a multi-camera system
Blink Design
The Blink Outdoor camera looks basically identical to the other cameras in the Blink lineup.
It has a black body with rounded corners and a glossy front face.
The camera lens is located in the middle, with no physcial controls on the camera itself.
Because this is an outdoor camera, it's really designed to be used with the hardware mount, but the base is also wide enough that it can sit upright without any mounting hardware required at all.
What's on the back of the camera?
The back of the camera looks the same as other Blink cameras as well. It has an audio output at the top, connection for the mount in the middle, and the USB charger located at the bottom.
The USB input has a small silicone cover that covers the USB port and protects it from weather when it's not in use.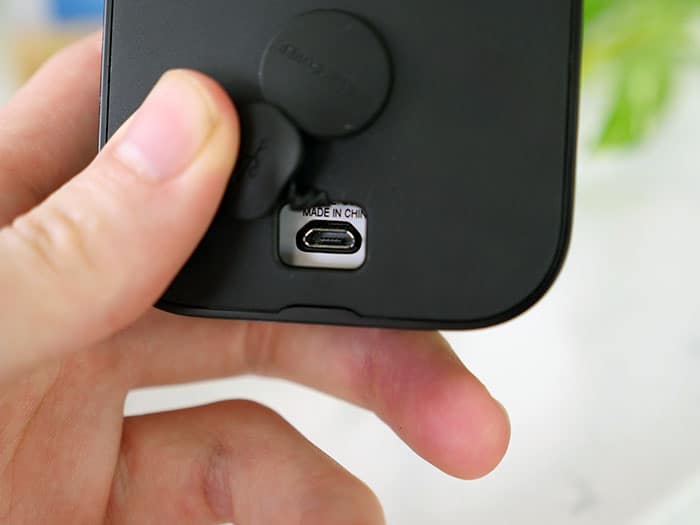 What does it do?
The Blink Outdoor is a wireless camera that detects motion and sends push-notifications to your smartphone that notifies you when activity is detected on-screen.
The Blink app also allows you to view activity history directly from your smartphone or check out a live feed from the camera at any time.
RELATED – Best Home Security Camera Systems
Features
Some of the top features of the Blink Outdoor camera include:
Motion Notifications: sends a push notification to your smartphone when the camera detects motion in the camera's view
2-Way Audio: lets you hear what's going on in the video as well as the ability to talk back, using the audio output on the camera itself
24/7 Live Video: can record footage for 24/7 live video playback (but only stores footage when motion is detected)
App Control: view the camera footage from your smartphone or other device using wifi pairing and cloud video storage
Multiple Pairing: pairs multiple cameras together (indoor or outdoor) for whole-home security using the Blink Sync module and the app
What's in the Box?
The Blink Outdoor comes with the following parts and accessories right out of the box:
In the box, you'll get:
Blink Outdoor camera
USB cord + power adapter
Key
Mount (and hardware)
Window sling (optional)
Setup & Usability
Setup and usability for the Blink outdoor camera is generally quite good.
The setup is fairly quick and takes only a couple of minutes. It does require the use of the Blink Sync Module.
How easy is it to setup?
Like other Blink camera systems, the setup is pretty straightforward and doesn't take too long.
In full transparency, I will say that had some trouble with getting this specific model to connect to our network. That said, I think it's due to a recent upgrade we made to our wifi and not necessarily a problem with the Blink system.
Once the camera was finally connected, the rest of the setup was simple.
What's the Sync Module?
The Sync Module helps the Blink camera to communicate with the router and wifi network for a more intuitive camera system.
You can connect up to 10 Blink cameras within a single Sync Module.
Adding the Sync Module takes an extra step at setup, but this item is included in the box and you only have to set it up once so it's not really a daily issue.
Step-by-Step
Here's a quick step-by-step guide on how to set up the Blink Outdoor Camera.
Unbox the camera.
Install batteries.
Plug in the Sync Module.
Connect the Sync to the app.
Connect the camera to the Sync Module.
How easy is it to install?
After you've done the initial setup, the install is the last step. Because this is an outdoor camera you'll have to use the hardware mount to guarantee a secure install.
The mount uses hardware provided to secure into a vertical exterior surface.
Once the mount is secured, you can pop the wireless camera onto the mount and you're ready to go.
How easy is it to use?
Using the Blink Outdoor cam is incredibly easy to use. It only records when it is both armed and detects motion. Of course, you can change some of those settings.
The big thing with this is that it's not designed to record a huge amount of clips.
If you do, you'll fill up your space and your battery will run out quickly. So you want to set the recording settings to be within reason.
For example…you might only arm it during overnight hours or when you are otherwise away. You don't want it to just constantly record in areas where there is lots of motion.
For these reasons, the camera is less expensive than many others.
Clip History
The clip history tracker is pretty cool and intuitive. This feature makes it easy to flip through your clips to see if people or others are coming into your controlled areas.
Does Blink require a subscription?
Blink does not require a subscription.
In fact, there isn't even a subscription offered.
All Blink systems come with up to 120 minutes of cloud video storage for free.
There is no local video storage and you can't purchase additional storage so once you have video clips taking up the whole capacity, it will begin to delete older clips to stay within the storage limit.
The Sync Module
You won't need to purchase a monthly subscription with Blink, but you do need a Sync Module.
The Blink Outdoor camera kit comes with a Sync, but if you purchase any "add-on camera" from Blink you'll need to make sure that you already have a Sync or are prepared to purchase one separately.
CHECK PRICE: Click here to check the price for the Sync Module.
This Module is the main point of contact between the camera and your network.
It's a one time purchase and can pair up to 10 Blink cameras to a single Sync (provided that they are within range and installed on the same network).
Blink Outdoor vs XT2 vs Indoor
All three of these cameras basically look the same. They have the same body style, same wireless design, and the same user-interface.
Blink Outdoor
Blink XT2
Blink Indoor
The difference is that the Blink Outdoor includes a weather proof shell. But with that in mind, you could easily turn the Blink XT2 into an outdoor camera by adding a weather proof casing.
Blink Outdoor Camera Specifications
 
Blink
Model
Outdoor
Type
Outdoor
Size
2.8 x 2.8 x 1.4"
Weight
3.5 oz
Video Quality
1080p
Night Vision

Yes

Field of View
110° (diagonal)
Power
2 AA batteries (non-rechargable)
Motion Detection

Yes

2-Way Audio

Yes

Local Storage

No

Cloud Storage

Yes

; 120-min limit
Siren

No

Live Streaming

Yes

Returns
Varies by retailer
Warranty
1-Year Limited
Price
Check Price
Should you buy the Blink Outdoor Camera?
I would recommend the Blink Outdoor if you're looking for the following in a security camera.
No subscription fee: The Blink security system is a good option if you don't want the added cost of a monthly membership. For free, you get 120 minutes of cloud-based video storage.
Mainly daytime surveillance: The video quality of the Blink Outdoor camera at night is pretty poor. But if you're primarily looking for daytime surveillance and don't want to spend a lot, the Blink Outdoor could be a good option.
Have other Blink cameras or an existing Sync Module: The Blink Outdoor camera needs the Sync Module to work properly, but it is also included in the box. If you already have a Blink camera hooked up to a Sync you can tap this camera into the same system. For people who have indoor Blink cameras, the Blink Outdoor can be a seamless addiiton.
Click here to learn more about or to buy the Blink Outdoor security camera.
Not Great At Night
Design -

96%

Performance -

85%

Quality -

96%

Usability -

97%

Value -

90%
Summary
The Blink outdoor camera offers wireless video surveillance of outdoor spaces. In daytime conditions, the camera performed pretty well, but we did notice video quality issues for nighttime shots. There was quite a bit of haze and not much detail visible. Blink requires the Sync Module to run, but once it's set up the system is user-friendly. In addition, there is no subscription fee and it comes with up to 120 minutes of Cloud-based video storage for free. A good option for daytime, outdoor video security on a budget.