Blink's XT2 is budget-friendly, easy to use, and doesn't require a subscription. But is the footage actually clear? Find out below.
Subscription-Free Video Surveillance by Blink
Blink XT2
The Blink XT2 is a wireless, indoor / outdoor camera powered by 2 AA batteries. It can stand upright on its own or can be installed to a vertical surface using the pivoting hardware mound. Blink has up to 120-minutes of Cloud based storage which is offered for free with the purchase of the XT2 camera. In our tests we found it easy to use / install and offered a convenient usability and good picture quality.
Check Price
Pros
No subscription fees; free cloud-based storage
Wireless install and batteries last up to 2 years
Easy to use and monitor using the smartphone app
Cons
No audible siren or 911-alert system
Requires a Sync Module for pairing, may be sold separately depending on if you purchase a "camera kit" or "add-on camera"
Quick Specs
2.8″ x 2.8″ x 1.4″
1080p resolution
110° field of vision (diagonal)
Battery-powered (two AA batteries)
Night vision; infrared
Custom activity zones
Subscription: optional
Compatible with Alexa
Wi-Fi connection @ 2.4 GHz only
Two-way audio
Performance
10 SECOND SUMMARY: The Blink XT2 camera offers indoor or outdoor surveillance with good clarity in both applications. In general, I would say the daytime footage is a little better than the nighttime footage. At night, the contrast was less than optimal and figures were harder to make out from further distances.
Video: Day vs. Night
During the day, the footage was clear and had a good level of distinction between figures. In the image below you can see a little overexposure at the window, but it wasn't too bad.
Day
When used outside, the results were comparable. Overall, it's got a good level of detail and figures are easy to spot, wherever they are on the screen.
Night
Nighttime means a shift to grayscale mode, which may make it harder to separate figures of similar color. But overall, it's not bad.
When used outside, darker areas could be an issue. The image below shows the scene next to the house with a mounted floodlight. As you get further away from the house, there is less contrast but much of that is to be expected.
During our indoor night tests the XT2 was a bit hit or miss. In one our test shots the camera had a bit of a haze, which made it difficult to see much detail. It's unclear why this particular shot had a haze.
Audio
The quality of the audio is pretty good as far as detecting audio on screen as well as enabling 2-way audio from your smartphone to the camera mic.
Audio in and out was easily discernible and clear.
The Blink camera does not include an audible siren.
The Blink App
To view your recorded footage or get instant notifications, you'll need to download the Blink app. This app helps to organize activity snippets with easy-to-read time stamps.
At the top, there is a storage bar that shows exactly how much storage you've used and how much you have left.
Once your camera is paired to the app, you'll have some options when motion is detected. First off, you'll receive an instant push notification to your phone. From there, you can:
View: view stored video for yourself and watch a live-feed
Ignore: ignore the alert; regardless of your decision, the footage is stored on the Cloud with all of the other detected footage that the camera has captured
If you have multiple Blink cameras, the app makes it easy to manage and view a multi-camera system
Blink Design
The Blink XT2 security camera has a matte black composite shell with a camera lens located in the middle. It has a simple aesthetic with no physcial controls on the camera itself.
The body of the camera is wide enough that it can comfortably sit on a flat surface without the use of an additional mounting plate or bracket.
Simply, the XT2 is designed to be able to wirelessly sit anywhere without much effort.
What's on the back of the camera?
The back of the camera has the audio output as well as a small mounting port. You can choose to use this port or sit it up on a flat surface without a mount.
What does it do?
This camera is designed to be an indoor / outdoor camera that is powered by two AA batteries (that last up 2 years).
When motion is detected from the camera, the Blink XT2 will send you an automatic push notification to your smartphone. Using the app, you can also view a live stream of the camera view.
RELATED – More security camera reviews by Modern Castle
Features
Some of the top features of the Blick XT2 indoor / outdoor camera include:
Motion Notifications: sends a push notification to your smartphone when the camera detects motion in the camera's view
Flexible Use: designed to be used indoor or outdoor and can sit upright on a shelf or be mounted to a vertical surface
2-Way Audio: lets you hear what's going on in the video as well as the ability to talk back, using audio output on the camera itself
24/7 Live Video: can record footage for 24/7 live video playback (but only stores footage when motion is detected)
App Control: view the camera footage from your smartphone or other device using wifi pairing and cloud video storage
Multiple Pairing: pair multiple cameras together (indoor or outdoor) for whole-home security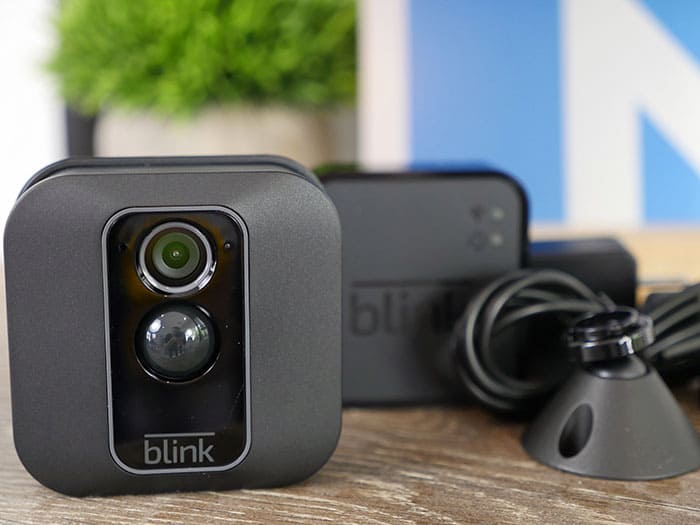 What's in the Box?
The Blink XT2 camera system comes with the following parts and accessories:
In the box, you'll get:
Blink XT2 camera
USB cord
Mounting screws (optional)
Drywall anchors (optional)
Window sling (optional)
What is the USB cord for?
The USB cord is needed for initially pairing the camera to the Sync Module. It may also be needed for future updates to the system.
What is the USB cord NOT used for?
The USB cord does not currently allow:
Transfer of video footage to an external local server; only cloud-based storage is available at this time
Charging the camera; the XT2 is only powered by 2 AA lithium-ion batteries
Setup & Usability
Setup for the Blink is pretty easy and straightforward. You'll need to connect your phone and camera together, using a local wifi network. You'll also need to work with the Blink "Sync Module". Let's go over how to get started.
How easy is it to setup?
The Blink security system is very easy to setup. It basically takes three quick steps.
Create an account on the Blink app using your smartphone.
Plug in, add sync module, and connect to Wifi.
Insert batteries into the XT2 and sync your camera.
How easy is it to install?
Once the camera is setup, you can install it. Installation can be done in two different ways.
Free-standing
With mount
Freestanding, the Blink camera will basically just sits upright on a flat surface. You can place it on a table or shelf indoors, or even outside.
NOTE: Of course, remember to consider theft if using the camera freestanding outside.
With a mount, the Blick camera attaches to a hardware mount that is screwed into any interior or exterior vertically wall surface.
To install the mount, use the screws provided to secure the mount to the wall. Push the mount into place onto the back of the camera and you're good to go.
The mount included with the Blink XT2 is a lot sturdier than the original Blick camera mount and has more flexibility as well.
How easy is it to use?
This camera is easy to use and maintain. The AA batteries included last up to 2 years, which limits your maintenance on the unit. Its wireless design is easy to install and move if you need to.
The instant push notifications keep you informed to what is going on on-site without the recurring costs of expensive subscription programs or contracts.
This leads us into our next issue… subscriptions.
Does Blink require a subscription?
No. Blink does not require a subscription and in fact, they don't offer a subscription at all.
They offer free cloud video storage, up to 120 minutes. After capacity has been reached, it will start deleting the oldest footage.
Unfortunately, Blink does not allow additional video storage beyond the 120-minute limit. Also, there is no local storage available if the internet connection is lost.
The Sync Module
Although Blink does not require a monthly subscription, it does require the purchase of a Sync Module. A Sync is included with "Camera Kits", but if you purchase an "add-on camera", you'll need to purchase the Sync separately.
CHECK PRICE: Click here to check the price for the Sync Module.
This Module is the main point of contact between the camera and the cloud-based server.
It's a one time purchase and can pair up to 10 Blink cameras to a single Sync (provided that they are within range and installed on the same network).
Blink XT2 Camera Specifications
 
Blink
Model
XT2
Type
Indoor/Outdoor
Size
2.8 x 2.8 x 1.4"
Weight
3.5 oz
Video Quality
1080p
Night Vision

Yes

Field of View
140° (diagonal)
Power
2 AA batteries (non-rechargable)
Motion Detection

Yes

2-Way Audio

Yes

Local Storage

No

Cloud Storage

Yes

; 120-min limit
Siren

No

Live Streaming

Yes

Returns
Varies by retailer
Warranty
1-Year Limited
Price
Check Price
Should you buy the Blink XT2?
I would recommend the Blink XT2 you're looking for the following in a security camera.
No subscription fee: The Blink security system is pretty unique in that there is no subscription fee. They do place a cap on video storage, at the 2-hour mark, but depending on how much activity you have, that could be plenty for your needs.
Wireless setup: This camera is battery powered and the batteries are good for up to 2 years. Setup doesn't get much easier than Blink in terms of power and connectivity.
Have other Blink cameras or an existing Sync Module: In order for the XT2 to work properly, you'll need to purchase the Sync Module. This unit is included with a "Camera Kit" but may not be included if you purchase the XT2 as an "add-on camera". You can pair up to 10 cameras to a single Blink Sync.
Click here to learn more about or to buy the Blink XT2 security camera.
No Subscription, Great Value
Design -

96%

Performance -

93%

Quality -

96%

Usability -

97%

Value -

95%
Summary
The Blink XT2 is a wireless security camera that automatically stores footage in the cloud (up to 2 hours). During our tests, we found it incredibly easy to setup and install. Picture quality was amazing, but it was still clear. While the XT2 isn't a bleeding edge camera, it still works well, looks good, and offers excellent value with no subscription required.