July 17, 2019 10:28 am PST Update – Prime Day 2019 is over. The next major vacuum sale will be on Black Friday. Also, check out our full list of vacuum reviews here.
Amazon's Prime day is finally here! With it comes some of the best deals and discounts of the year.
Based on our endless series of vacuum cleaner tests and our robot vacuum vacuums reviews below is what we think are the biggest and best deals.
Here are the best 16 Prime Day vacuum deals (listed with the best deals at the top).
For more info on each model continue down the page.
Prime Day Robot Vacuum Deals
First up, we're going to cover the best deals on robot vacuums this Prime Day.
Roomba Deals
Roomba 690
The Roomba 690 has consistently been one of the best valued robot vacuums in the entire industry (in our opinion). It scored a 94% overall in our cleaning tests, has a solid 90 minute run time, and good enough navigation for most homes. It's a good value at its regular price. The current sale price is just an absurd value.
Check Price
For more information the 690 see our Roomba 690 review here.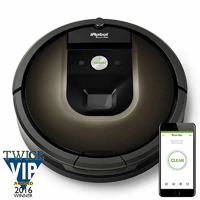 Roomba 980
We really did not expect to see the Roomba 980 discounted for Prime Day, but especially not to this level. The 980 was the flagship for many years. And while there are now better Roomba on the market (Roomba i7+ and S9+), the 980 at this price is a screaming deal. We've never seen a discount this deep on the Roomba 980. For big and complex homes it's a great pick up at this price.
Check Price
For more on the 980 see our Roomba 980 review here.
If you want something between these two in terms of price and performance, the Roomba 891 is also on sale here.
The 891 is basically identical to the Roomba 890 (see our 890 review here).
The Roomba 890 did great in our cleaning tests, where it scored a 92% overall. Like most robot vacuums, the biggest struggle was removing sugar from high pile carpets.
Roborock Deals
Next, we're going to take a look at Roborock.
However, I need to preface this section. For some reason, the sale pages seem like they may be broken for the Roborock robots on Amazon.
The sale prices are not indicated like other products. However, they are indeed discounted over their original prices (sales are $52-$171 off the regular price, depending on model).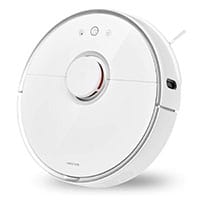 Roborock S5
The Roborock S5 is a newer contender here in the US, but it's quickly becoming one of my favored brands. They are sort of Roomba of the East. They look good, work well, have excellent features, and are priced fair (a combination achieved rarer than you'd expect). The Roborock S5 scored a 91% in our tests overall (biggest struggle sugar on high carpets). It has a ton of high-end features including recharge and resume, laser-based navigation, mopping, and more.
Check Price
For more information on the S5 see our Roborock S5 review here.
In addition to the S5 we have the Roborock E2 and Roborock E3. We like these for the same reason we like the S5. They both have excellent run time, cleaning performance, mop attachments (that actually work), and solid cleaning performance.
The E2 and E3 are basically more budget-friendly versions of the S5. They have many of the same features, but drop a few bells and whistles in order to get the price more competitive.
You can see our Roborock E2 review here and our Roborock E3 review here for the full testing data and more.
In addition, we also have a 5 way comparison for all Roborock robots on the market.
Check the prices on the E2 and E3 below.
iLife Robot Deals
Last, but not least, we have the iLife robot vacuums.
iLife A4s
The iLife A4s is a well-rounded budget-robot vacuum. It scored fairly well in our tests, achieving an overall score of 90%, with most of its struggles on high pile carpet. Despite this, it has got solid features including 140 minute run time, remote control, and 5 different cleaning modes. All at one of the least expensive prices I've ever seen on a robot vacuum (that I would seriously considering buying for myself). If you've got mostly hardwoods and low pile carpet this is a great budget robot.
Check Price
For more information see our iLife V4s review here.
In addition to the the iLife A4s there are a couple of other models on sale including:
iLIfe V3s – Check Price (this is a lightning deal, probably will only last a few more hours, 61% claimed at the time of writing)
While we haven't tested these specific models, they seem comparable to the V4s.
Prime Day Vacuum Cleaner Deals
Next, we've got the best vacuum cleaner deals for Prime Day.
Dyson Vacuum Deals
First, no Prime Day would be complete without a few notable sales on Dyson vacuum cleaners.
Dyson Ball Animal 2 Total Clean
The Dyson Ball Animal 2 is one of Dyson's flagship models and one of the best vacuum cleaners to ever hit the market. It has the most suction of any vacuum cleaner (according to Dyson) at an unreal 306 AW of power. 35 foot cord, 17.5 pounds, self-adjusting cleaning head, and HEPA filtration. This is a powerhouse of an upright vacuum cleaner and signifcantly cheaper than what you'll find post Prime Day.
Check Price
For more information see our Dyson vacuum reviews page here.
Next, we've got one Dyson's most popular cordless stick vacuums, the V7 Animal.
Cordless Dyson Stick Vacuum
Dyson V7 Animal Pro+
This is the Dyson V7, a cordless stick vacuum with a 30 minute run time, multi-surface brushroll, good accessories package, HEPA filter, and 100 AW of suction power. The V7 is a few years old, but is still a solid vacuum, especially at this price. If you prefer cordless function it's hard to go wrong with the V7.
Check Price
For more information read our Dyson V7 review and tests here.
Shark Vacuum Deals
This is part of our on-going update. Both of the following are Deal of the Day items, so these prices will only last until July 15, 2019 11:59 pm PST.
Shark Corded Stick Vacuum
Shark Rocket DuoClean
The Shark Rocket DuoClean is a corded stick vacuum with a lot of power and accessories. It uses the Shark DuoClean cleaning head, which is an open faced multi-surface brushroll great at removing debris of all sizes. It's 9.9 pounds and can convert to a handheld. We haven't tested this exact model, but its big brother, the Shark IONFlex DuoClean performed well in our tests, scoring a 98% on our cleaning tests. Performance might not be quite that good, but we would expect it to be similar.
Check Price
See our Shark IONFlex DuoClean review for more.
Next, we have a Shark upright vacuum.
Shark Rotator TruePet
The Shark Rotator TruePet (NV752) is built on Shark's Rotator upright platform. We haven't tested the TruePet version, but the base model did pretty well in our cleaning tests. It scored an 87% overall (93.5% on hardwood and low carpets), with the biggest struggle on high pile carpet. The Rotator TruePet seems to be an upgraded version with a 30 foot cord, 1,150 watts of power, and HEPA filtration. Definitely one of the best upright vacuum values from a respected brand this Prime Day.
Check Price
Read our Shark Rotator review here for more information.
Tineco Vacuum Deals
Last, but definitely not least, the Tineco PURE ONE S12.
Smart Cordless Stick Vacuum
Tineco Pure One S12
The Tineco PURE One S12 is a vacuum that just checks all the boxes. Cordless design, 100 minute run time, LED control screen, 150W suction power, great accessories, and app integration. It scored a 92% in our tests, with the only failure on cereal on hardwoods (where it scored 0%). If you exclude that one test it scored a perfect 100% in 11 out of 12 cleaning tests. Easily one of the best cordless stick vacuums on the market and one of our favorites.
Check Price
Tineco seemingly came out of no where with this vacuum. We tested it just a couple of months ago and were blown away with the performance, build quality, features, and overall experience.
It's a new, but a very serious competitor to Dyson, who has largely dominated the cordless stick vacuum market in the US (along with Shark).
In addition, Tineco's A10 Hero is also on sale. It's a more budget-friendly version. This is a deal of the day item. It's expiring in about 1 hour…so don't wait on this one.
We tested the Tineco A11 Hero earlier this year and found solid cleaning performance, scoring a 94% on our cleaning tests.
Need Help?
Choosing the right vacuum cleaner during the pressure filled 2 Amazon Prime Days is difficult.
If you aren't sure what to buy leave us a comment down below. Chance are you're not alone.
We'll be extra vigilant at watching our comment form and answering questions as fast as possible during Prime Day to help you find best vacuum cleaner for your your home.
Vacuum Buying Guide Resources
In addition, make sure to check out some of our resources to help inform your purchase:
All of the above resources have been recently updated so they cover the best and most relevant vacuums currently on the market.
Page Updates
Lastly, we'll be watching for new Prime Day vacuum deals as the sale progresses. This current page has been updated based on the sale data available at 1:34 am PST on July 15, 2019.
If you see a new sale you think we should add drop us a comment down below.
Thanks and good luck snagging a great deal this Prime Day!