Hunting for the best Dyson Black Friday deals? You're not alone.
Dyson offers one of the most advanced lineup of vacuums on the market and they are generally quite costly. Black Friday can be a great time to cash in on this awesome vacuum for a lower price than you'd usually see.
Check out our complete Dyson Black Friday guide below for all the best deals on Dyson vacuums this year.
Dyson Black Friday Vacuum Deals
As we get closer to Black Friday and Cyber Monday, remember to check back for the most up-to-date pricing and ensure you find all the best deals.
Black Friday / Cyber Monday Dyson Deals
Black Friday and Cyber Monday are becoming increasingly popular days for vacuum brands to slash their prices on some of their best models.
Dyson is no exception to this. The guide below will walk you through exactly how to get the best deals on your new Dyson vacuum.
Let's go!
RELATED – Find our full list of Black Friday vacuum deals here.
How to Shop for Dyson on Black Friday
Shopping on Black Friday is not a casual experience for sipping lattes and strolling aisles. The most successful Black Friday / Cyber Monday shopping trips (whether they be in-store or online) are precise and calculated.
The 4 critical steps to making it to the check-out screen with your favorite Dyson vacuum deal include the following:
Research
Planning
Comparing
Purchasing
Researching Dyson Black Friday Vacuum Deals
Research is a critical step in finding the best Dyson Black Friday prices for you. Dyson offers a wide range of products in their lineup.
Without research, how can you know which model is best for you?
Or who is having the best sale?
Or the exact perfect time to purchase the vacuum?
Researching product reviews will also help you to determine which Dyson is right for the job.
There are a lot of questions you may need to think about when looking for the best Black Friday deals so try to start early if you can and give yourself plenty of time.
RELATED – See our comprehensive Dyson vacuum reviews guide (do your research!)
This next section is going to break down some of the most frequently asked questions around Black Friday and Cyber Monday.
How do I know which Dyson vacuum is best for me?
As mentioned above, Dyson has many different kinds of models that may be on sale for Black Friday.
Doing research is an important to step to selecting the right model. While this includes product research, it also includes research about yourself.
You can find a full list of the Dyson vacuums we've reviewed below:
Are you looking for a vacuum to clean your house?
Dyson offers everything from powerful corded uprights and canisters down to compact cordless stick vacuums or handhelds.
The corded uprights have large capacity dust bins and numerous attachments. This makes them a great option for cleaning large homes or deep cleaning jobs.
Are you looking for a vacuum to clean your car?
For cleaning on-the-go, Dyson has some nice cordless models, wrapped up in the Dyson V Series. The cordless stick vacuums in this series easily convert between a stick vacuum and a portable handheld.
Run times vary from 20 minutes (like on the Dyson V6) up to 60 minutes (like on the Dyson V10 and Dyson V11).
Are you looking for a vacuum that can tackle large debris, like cereal?
Cleaning up large debris is, many times, the demise to even the best vacuums. Large debris can get caught in the hoses or clogged around the brushroll of traditional vacuum cleaners.
Dyson addresses this common issue with their "Fluffy" cleaning head (aka soft roller head). This cleaning head comes standard with any cordless stick vacuum with the word "Absolute" or "Fluffy" in the name, like the Dyson V10 Absolute or the Dyson V8 Absolute stick vacuum.
Make your life easier…
Narrow down the options out on the market, by first doing research to decide what kind of vacuum you really need. Once you've identified which models will be best for you, you can start to hunt down the sales on those particular models.
How it helps?
This helps you from feeling overwhelmed and can keep your searching laser-focused to pin-point the best options quicker.
One thing to look out for…
When you're finding good Dyson Black Friday Deals for 2020, make sure you really research the terms of the deals.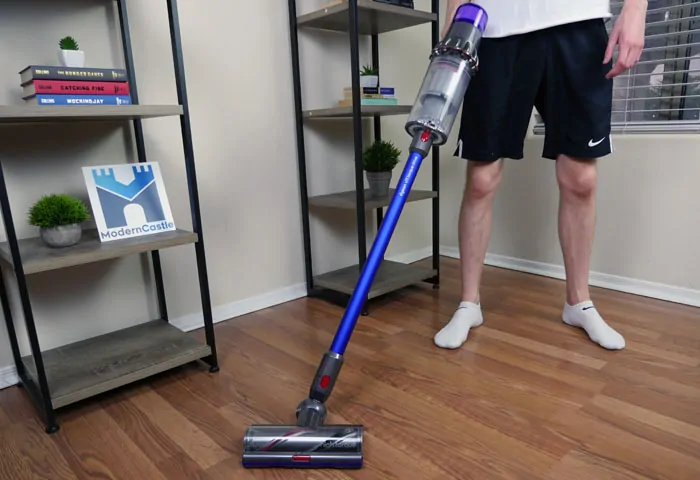 Sometimes, a company may lower the price of their vacuum, but there could be unforeseen conditions, like the dreaded "all sales are final" or no warranty. These tricky deals can be avoided with a little extra research so that you can focus on the wholesome good deals that are out there.
What's the Best Time to Buy a Dyson on Black Friday?
Just as the early bird gets the worm, the early shopper gets the deal. Plain and simple.
These deals are often limited quantities for each model so once they're sold, the deal is over. Making sure that you are high up in the queue will increase your chance of snatching up one of these great deals, and complete research beforehand will save you time on the day of.
Don't forget to read reviews.
Reading vacuum reviews is one of the best ways to effectively research any model that you're interested in.
While marketing videos, photos, and slogans may have you hooked on a particular model, third party reviews helps to show how the vacuum preforms in the real world.
Here at Modern Castle, we personally test and review each vacuum that comes through the door. We can compare and access each model to other vacuums within the same lineup or other models from other manufacturers. We test every vacuum on consistent factors so the scores across the board are relative to each other.
You can check out our full list of vacuum reviews and start researching yourself.
Let's skip the small talk and cut to the chase. Click here to jump right to reviews of the vacuum type that you're interested in:
Prepare ahead of time.
In order to give yourself enough time to fully research the field of options, you'll want to give yourself at least a week (or maybe two).
It is common for companies to start posting their Black Friday deals around this time (or sooner) so starting early allows you to compare prices for models across the board.
Don't wait until you're in a food coma.
The Thanksgiving buzz may feel like a great time to start your research, but don't be fooled. Waiting until your 2pm food coma is a recipe for disaster.
Not only will you feel rushed, but your chances of researching and finding the best Dyson Black Friday prices could be diminished when your under the influence of turkey day tryptophan.
Comparing Dyson Prices & Vacuums on Black Friday
Again, there will be many different kinds of Dyson vacuums participating in the Black Friday Deals. Be sure to compare multiple models to make sure that the vacuum you have your eye on is actually the best option for you.
For example, the Dyson V8 is a great stick vacuum with a 40-minute run time and powerful cleaning performance. You may think that it's "the one" and it certainly could be.
But have you considered…
The Dyson V10 Absolute which has up to a 60-minute run time and comes with an additional cleaning head (the Fluffy cleaning head, which is best for cleaning large debris messes from hardwoods).
If you are looking to clean a larger area with a single charge or frequently have large debris messes you're needing to tackle, the Dyson V10 could be the best option for you.
Dyson's newest stick vacuum, the Dyson V11, takes it a step further with smart suction, LED screen, and more. Read our Dyson V11 review here.
This is just one example of a Dyson Black Friday comparison you might make.
Depending on exactly what you're looking for, there could be pros and cons to each Black Friday deal.
No matter how low the price, remember that you have to live with this model well after the dust settles and the new year is welcomed in.
Think about cleaning performance, features, run time (if cordless), maintenance, and overall usability before jumping the gun on any Dyson Black Friday deal this year.
Should you shop Black Friday online or in-store?
Do you like camping overnight in tents, wearing war paint, and possibly being targeted by aggressive shoppers in aisle 5?
If yes, then Black Friday shopping in a physical store could be for you.
But if you prefer shopping at home… in your pajamas… sipping hot cocoa… then online Black Friday (or Cyber Monday) could be more your speed.
Most times, in-person Black Friday deals are offered online and occasionally the online deals may even be sweeter!
Benefits of shopping online vs in-store:
Here are a few quick reasons why online Black Friday shopping is a great option compared to in-store:
No chaos
Zero lines
No running
More time spent with family
Better chance to snag a deal
Although Black Friday shopping certainly has adrenaline boost that many thrill seekers are looking for, it also leaves many shoppers going home empty-handed.
Despite best efforts, the line is everything. And if you're not in it early then you're likely not going to get the best deal.
We've all been there…
Going up and down the line, asking "what are you here for?", counting up the people in hopes that the number of people in line will be less than the printed number that the ad said they had available.
With online shopping, there are no lines.
Before a sale goes live, if you're on the web page you have just as good of a chance to get the deal as the guy who got online 6 hours ago.
This means less stress, less chaos, less running, and more time spent with your family.
Once the deal is live, you do a couple mouse clicks, enter your info, and wait for your package to arrive without ever having to leave your house.
Overall, I hope these Dyson Black Friday tips have been helpful and you feel confident and prepared to research, plan, compare, and purchase your new Dyson vacuum.
Questions?
If you have questions on Dyson models or any of our listed Black Friday deals, feel free to leave us a comment down below (we do our best to answer within 24 hours).
We'll be more than happy to help you find the best deal for your needs.
Updates
November 16, 2020 – Initial version of our 2020 Black Friday Dyson guide was published.
October 17, 2019 – Initial version of our 2019 Black Friday Dyson guide was published.