After a long day, few things are as relaxing and renewing as an at-home foot massage. Foot massage is a great way to relieve pain, tension points, and painful muscles through the use of pressure points compression. In addition, rolling foot massages can also help increase blood circulation.
Today, we're going to slide our feet into a new review, the Etekcity smart foot massager. Let's go ahead and dive in!
Etekcity Foot Massager
The Eketcity foot massager is a smart massager with 3 modes, 3 intensities, heat, and smart controls. It uses rolling balls inside the housing to provide pressure point deep tissue massage across the toes, arches, and heels of your feel. You can save your favorite settings on the app for a more custom massage.
Check Price
Pros
Bluetooth for wireless control on your smartphone
Set a timer for 15, 20, or 25 minutes
Varies modes and intensities with or without heat
Excellent performance through compression and massage along the entire foot
Cons
Pretty bulky to leave out all the time
Design
The Etekcity foot massager is a sleek, black foot massager that takes a smarter approach to traditional home foot massager. While the rolling deep-tissue style of massage is not uncommon for at-home massagers, the smart controls and modern body style help this unit to stand out.
This foot massager has a large matte black body with two opening at the top to slide your feet into.
Massage Style
This foot massager uses a 3-piece design to mimic a foot massage from real hands. Balls in the massager roll your toes, rub your arches, and press into your heel using three distinctly different pieces for pressure (shown below).
This style of massage uses pinpoint pressure and round motion to help knead out stiff muscles and promote good circulation.
Varying the style or intensity of the massages helps to make this machine more universal to all users, depending on what kind of massage you're looking for.
Furthermore, the heat function can help relax sore muscles and make the kneading pressure more effective.
Washable Insert
One feature on the Etekcity massager is the washable insert. This sock has a silky feel to it and can unzip from the housing for cleaning in a traditional washing machine.
If you're sharing this massager among multiple users, the washable insert can be a real bonus and helps to keep the massager hygienic and clean.
The Controls
There is a series of touch-screen controls with an orange LED-indicator to help display which settings are currently in use.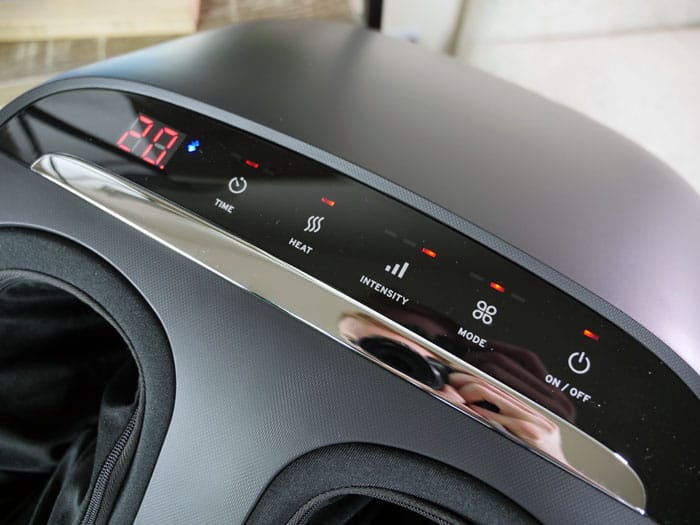 Control include the following:
Timer: Set a timer from 15-25 minutes for auto shut-off; there is also a digital display with the time setting
Heat: Turn heat mode on or off, depending on your needs
Intensity: varies from 3 different levels
Modes: includes 3 different styles of massage
Power: turns the massager on or off
You can control the massager with these physical buttons or using the app, when paired via Bluetooth and connected to your smartphone.
How big is the Etekcity foot massager?
This smart massager is pretty large and bulky, which may make it a little awkward to find a place to store this massager when not in use.
The exact size of this foot massager is:
18.4″ wide
15.4″ deep
10.7″ tall
The Etekcity can fit feet from a size 2 up to a shoe size 12 (Men's US).
What's In the Box?
The Etekcity smart foot massager comes with everything you need to get a good massage going.
In the box, you'll get:
Etekcity smart foot massager
Power cord – 6′ long
Washable inserts (already installed)
Using the Etekcity Smart Massager
Getting started to this massager is simple. You can get going using one of two methods.
The first method (Plug-N-Go) is the fastest method to get your foot massage. Simply plug the unit in, use the physical button to make your selections, and begin your massage.
The second method (Smart Connect) takes a bit more time, but will still have you up and going within 5-10 minutes, depending on your tech-savvy abilities.
To connect to this foot massager remotely, use your smartphone to:
Download the Vesync app
"Search" for the massager on the network and wirelessly connect
Use the app to make, revise, or save selections.
Enjoy your massage.
Maintenance
To keep this smart massager clean and hygienic, the foot inserts actually unzip and can be removed from the housing.
You can wash these inserts in a traditional washing machine and zip them back in after use, which helps to keep this massager clean for multiple users.
Value
Overall, I would say that the Etekcity smart foot massager is a good to great value. I personally tested it and thought it was a solid massage, overall.
However, I also had a number of friends / family test it out, with the vast majority giving it exceptional praise. Most were surprised at the cost and expected it to be more.
While it's not a cheap device, considering the massage performance level I think it's well worth the cost. Adding the smart features on top and it really does round out nicely.
If you're on your feet for any significant amount of time each day a daily foot massage can make a big difference.
Etekcity Smart Foot Massager Specs
| Manufacturer | Etekcity |
| --- | --- |
| Model | Smart Foot Massager |
| Width | 15.4" |
| Depth | 18.4" |
| Height | 10.7" |
| Max Shoe Size | 12 Mens US |
| Modes | Three |
| Intensities | Three |
| Heat | Optional |
| Smart Features | Smartphone control |
| Timer | 15, 20, or 25 mins |
| Power | 6' cord |
| Price | Check Price |
Should you buy the Etekcity smart foot massager?
All things considered, should you buy the Etekcity smart foot massager?
I would recommend this model if you're looking for the following in an at-home foot massager.
Great massage – Bottom line, it offers a great massage. Unlike other foot massagers that just roll balls along mostly the bottom of the feet, the Etekcity takes it a step further. The multiple rolling balls along with foot wide compression really does make all the difference.
Smart design – Etekcity does a great job of adding smart features to this massager, like wireless control on your smartphone and the ability to save custom settings for future use.
Various settings – In addition, this foot massages comes with 3 different modes, 3 intensity levels, heat or no heat, and timer controls. All of these settings help to provide a custom feel to your at-home massage.
Removable inserts – If cleanliness is a top level priority for you, the removable zip-out foot inserts are a nice addition. This feature is not especially common in the market so the fact that Etekcity provides the detail adds to the overall value of this massager.
Click here to learn more or shop for the Etekcity foot massager.
Surprising Massage Performance
Design -

95%

Performance -

98%

Quality -

94%

Usability -

100%

Value -

95%
Summary
The Etekcity smart foot massager takes traditional at-home foot massagers and puts a modern spin on it, in terms of aesthetics, massage style, and wireless controls. If you're looking for a massager with custom settings and the ease of controlling it directly from your smartphone, the Etekcity foot massager could be a good option.