Turn it on and drive it around your house; pretty simple, right? While there's no "right way" to vacuum, learning tips and tricks about how to vacuum may help make your cleaning sessions more efficient.
This guide is going to cover some important topics about how to vacuum and how to do it well. Whether you use a traditional upright or a modern robot vacuum, there are tips for everyone. Let's dive right in.
How to Choose a Vacuum
First things first— it's all about the machine.
Depending on the size, traffic level, and other details of your home, you'll need to select the right vacuum for the job.
Many homes have at least two good vacuums, but you may be able to get by with just one if you're looking for a multi-purpose vacuum.
Upright Vacuums
A good upright vacuum may be able to do the job of multiple vacuums. Uprights generally have powerful suction, a large dust bin canister, and an extension wand with attachments.
These attachments help you to clean hard-to-reach spaces, like curtains or couch cushions.
Some uprights are considered 2-in-1's and have a removable canister, like the Shark Navigator Pro or the Shark Rotator Lift-Away. These are both great options for people who want the power of an upright, but also the portability of a handheld.
Stick Vacuums
A stick vacuum has a similar body style as an upright, but is quite a bit slimmer and more lightweight. Stick vacuums are easy for most people to carry up or down stairs.
They generally have less suction than an upright and a smaller dust bin capacity, but the portability is a huge bonus for this style.
In addition, many stick vacuums are cordless and have a built-in handheld unit that be used independently of the stick, like the Shark Rocket DeluxePro or the Electrolux ErgoRapido.
Handheld Vacuums
For most homes, handheld vacuums serve as a secondary vacuum to the primary floor vacuum.
Handhelds are useful for:
spot cleaning
upholstery
car interior
stairs
pet hair
other small areas
For budget-friendly handheld vacuums, check out the Dirt Devil Scorpion or the Shark Pet Perfect II. If tackling pet hair is a top priority for you, you won't want to miss the Bissell Pet Hair Eraserhandheld.
Canister Vacuums
Canister vacuums are great for people who don't want to carry the burden of a heavy vacuum, but need powerful suction.
Canister vacuums typically have a wheeled base that allows the vacuum to sort of doddle behind you as you hold the hose and vacuum head to direct your cleaning.
While some people see this vacuum type as outdated and clunky, modern improvements to the canister vacuum have really helped to make the canister more attractive.
For modern canister vacuums, check out the Miele C1 or the Dirt Devil Easy Lite.
Robot Vacuums
Robot vacuums may seem high-tech, and they are, but the price is becoming more and more attainable for families.
Robot vacuums allow you to vacuum your home at the touch of a button, with most vacuums returning to their charging dock when the cleaning is complete.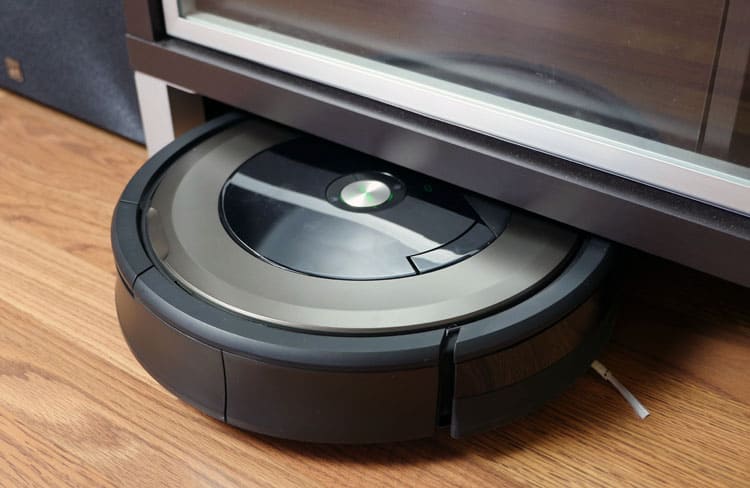 Some models allow scheduled cleanings, advanced navigation with an on-board camera, or accessories that help protect sensitive areas of your home.
For a budget-friendly robot vacuum, check out the iLife A4s or theEcovacs Deebot N79. For a truly hands-free robot vacuum, check out the Roomba 960 or Roomba 980, which offer top-of-the-line navigation and other features.
What vacuum attachments do I need?
After you've selected your vacuum, you'll want to study up on the tools it comes with. Many vacuums come with different cleaning brushes, removable nozzles, or attachments for specific tasks.
Some examples of vacuum attachments include:
Pet hair brush
Soft dusting brush
Hard nozzle
Crevice tool
Extension wand
Motorized tool
Upholstery tool
Shark Rotator Professional Lift-Away with accessories
How to Vacuum Carpet
When vacuuming carpet, there are three main points to keep in mind.
Speed – Go slow. It's not a race and the faster you vacuum, the less likely you are to capture all of the debris.
Dust bin capacity – Be sure to consider dust bin capacity as you're vacuuming. As your bin gets fuller, you may notice a slight decrease in suction, depending on the model. Keeping your bin from overfilling will help your vacuum to run smoother and be able to pick up more debris.
Lines – If you're a line lover, there are two main types of vacuum lines— zigzag and straight. Zigzag lines are certainly the most popular and easy to do: straight pass, angle back, straight pass. For straight lines, simply modify the original style: straight pass, pivot over at the base, straight pass. Of course, if you don't care about the lines, vacuuming in different directions actually agitates the carpet more and you may be able to pick up more debris that consistently going in one direction.
How to Vacuum Hardwoods
When vacuuming hardwoods, the style can be a little more relaxed. Speed and lines are less important here, so you can focus on just following the dirt and cleaning around and under everything.
One thing to be wary of when cleaning hardwoods is a vacuum's "kick back". This is the air exhaust that that is released from the vacuum as it cleans.
For some vacuums, this may be more noticeable than others. In a vacuum with high "kick-back" you may notice debris blowing right out of the cleaning path before you have a chance to clean it up.
As for brushrolls, nearly any of them should do the trick for simple hardwood messes.
You can use a bristle-style brushroll, like the Bissell Hard Floor Expert, a rubber brushroll like the Roomba 890, or a hybrid brushroll that uses both bristles and a composite material, like the Bissell Pet Hair Eraser or Dyson Ball Animal Compact.
Hands-Free Vacuuming
If even with these tips and tricks, vacuuming still just seems too daunting, a robot vacuummay be the best option for you. With a robot vacuum, you don't need to know how to vacuum; you only need to know how to press a button (or in some cases, just speak to it.)
Robot vacuums range in terms of price and capabilities.
Many robots can be controlled using your smartphone and an associated app, developed by the vacuum manufacturer. An example is iRobot's Home app for its Roomba robot vacuums.
With this app, you can start a cleaning or schedule one for later. Advanced Roomba models, like the Roomba 960 or Roomba 980 can also generate a digital map report as it cleans, documenting its route for you to review later.
To navigate hands-free, most robot vacuums use infrared navigation sensors or an on-board camera to scan the room and its surroundings.RELATED – Check out our full range of robot vacuum reviews and find out which one is right for you.
In the early years of robot vacuums, Roomba was really the only choice. However, today there is a litany of popular options from varying brands, including:
Technology ranges from a "bump and continue" approach to a robot that can intuitively navigate the space and change direction prior to clumsy collisions.
Many robot vacuums can also charge themselves when the battery gets low, creating a truly hands-free chore.