Wanting to stay on trend with the newest design looks— check out the top five design trends of 2018 and see which one might have a spot in your home.
When designing your home, it can feel like a constant battle of wanting to stay fresh and present, but also not wanting to have to redo elements every year.
If you're a conservative designer, look for ways to be trendy in simple items, like: 
Throw Pillows
Accent Chairs
Area Rugs
Planters
Plug-In Lighting
If you're an edgy designer, look for ways to be trendy in more permanent items, like: 
Patterned Flooring
Wall Graphics
Plumbing Fixtures
Hardwired Lighting
Accent Walls
Whether you make conservative design choices or gutsy moves, here are five of the top design trends form 2018.
Each of these trends can be implemented in big, impactful ways or more subtly, but all of these design ideas are fresh for 2018 and will certainly catch the idea of local designers, on trend. Let's get started!
1. Bold Patterns (for both walls and upholstery)
On an accent wall or an upholstery, bold patterns are in! Colors range from bright pops to subtle neutrals, but the patterns we're seeing are large scale and can be exquisitely intricate in some cases.
One particular use of pattern that is trending is classic cement tile looks. These patterns are pretty detailed, in many cases, but are balanced out by simple cabinetry and solid colored walls. Color of cement tiles can also vary— here are a few popular selections:
Another way to bring a bold pattern into your space is through wall stencils. These can be purchased inexpensively through third-party retailers, like these fun graphic patterns:
2. Eclectic Matching Furniture & Accents
"Matchy-Matchy" is out and eclectic matching is in.
Eclectic matching means using furniture and accents that have a similar feel or visual weight to coordinate, but are not the same items exactly.
Eclectic matching is an interesting way to bring unique pieces into a space without having the entire design look off balance or uneven.
When trying this out for yourself, consider having two similar elements for each side or area of the room that you are working with. 
For example, if you're trying to match two chairs, keeping them a similar size and both made of wood or both upholstered.
The exact style can vary, but keeping certain elements consistent is a good way to tie the design together.
RELATED – Take a look at a fresh window seat ideas and designs
For example, take a look at the use of sofa and chair / end table combination. They are similar size, but the exact pattern and color varies. This is a good technique to keep your space looking interesting, while still being cohesive and thought out.
3. Two-Tone Cabinetry (The All White Kitchen Takes a Backseat)
The classic white shaker-style kitchen was big in 2017, and 2018 brings an updated twist.
Using white cabinets for the upper cabinetry and bold black cabinets for the lower cabinetry brings a strong sophistication to the space, while maintaining the classic elegance of a white kitchen.
If two tones on the main cabinets is a little unnerving for you, try adding a second tone to an island.
When mixing cabinet colors, try to keep other things about the cabinets the same, like the countertops and the door hardware.
Mixing up too many things in one space, may visually clutter the space and make it hard for your eye to focus on the interesting details.
4. Wood Accents (on beams, walls, furniture, & decor)
HGTV's Fixer Upper has given a whole new meaning to the modern farmhouse and its fan base is everywhere.
Whether you like their style or not, one trend that's coming into 2018 from that style is the use of wood accents.
These can be as large as antique doors and accent beams, or as small as side chairs and decor. Incorporating wood accents into a space brings a homey warmth and a hint of the outdoors in.
For quick wood accents in furniture, look for wood accent side tables, wood accent shelving, or wood accent benches.
Taking it one step further, we're seeing instances of entire wood walls. These accent walls can use reclaimed wood or have a more refined look with smooth planks to lay out linear or geometric patterns, like the accent wall below.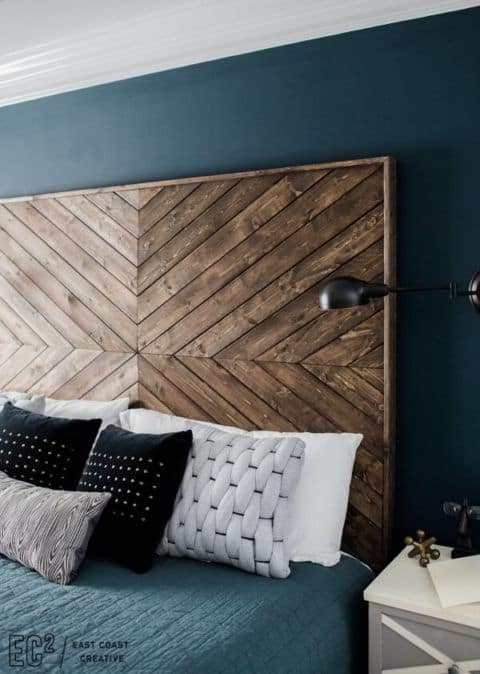 If you want the look of a wood wall, but don't want to splurge for the real deal, you may want to ways to fake a wood wall. You can use:
5. Mixed Metals (Spoiler: Black is Back!)
Mixed metals are also in for 2018. In many cases, we're seeing matte black as a base, with brushed nickel, chrome, or gold accents. 
These accents can be the same style as the black hardware or used in special instances.
Accents could be unique light fixtures or hardware at a small featured area, like a powder bath or a wet bar.
Mixed hardware is tied together by simple design elements and focal points. For instance, in the case of the bathroom above, you can see how black is the main element.
Simple white tile and a white countertop allow the gold sink and shower fixture to stand out. You can actually do the same strategy with a darker palette as well, for instance, on the wood ceiling below.
The most important thing is to keep it simple, with clean lines and intentional design. 
NEXT UP – What vacuum is King of suction power? Find out in our best vacuum cleaner guide.
Have an interior design idea that you think is about to take off for 2018? Let us know in the comments below!