High-performance air purifier
BlueAir Pure 211+
The BlueAir Pure 211+ is a large air purifier with 360° air output and coverage up to 540 sq. ft. It has a simple design that lacks many usability features, but the performance more than makes up for it. It reduced PM2.5 from 9.5 to 0.1 and brought the particulates down from 1299 to 15.
Check Price
Pros
Fantastic purification performance
Large coverage area of 540 sq. ft. 
Simple design
Customizable with different color options
Cons
Lacks usability features like auto mode or app connectivity
Can be difficult to carry
Scoring
HEPASilent air purifier; fantastic performance
Design -

95%

Performance -

99%

Quality -

98%

Usability -

95%

Value -

97%
Summary
The BlueAir Pure 211+ is a simple air purifier with great performance. In our tests, it reduced the PM2.5 down to 0.1 and achieved an AQI of 1. It covers 540 sq. ft., is simple to set up, and comes with a color fabric pre-filter which can be used to customize the look of the device. Overall, a simple, yet excellent air purifier.
Purification Performance
To test the BlueAir Pure 211+, we set up the air purifier in a medium sized room in our office. I took a baseline measurement before starting the test to measure the current air quality.
Then, I let the BlueAir Pure 211+ run on the highest setting for 1 hour and  the air quality to get another set of measurements.
We can then compare the difference between the starting baseline and the post-run data to determine the performance of the BlueAir Pure 211+
Starting Baseline
PM2.5: 9.5
PM10: 17.1
Particles: 1299
AQI: 39
After 1 Hour
PM2.5: 0.1
PM10: 0.2
Particles: 15
AQI: 1
With the 1 hour test, the BlueAir Pure 211+ removed 98.8% of air particulates from the medium-sized room we tested in (~14'x10').
The BlueAir Pure 211+ improved PM2.5 air quality by 98.9%
In order to get these measurements, we used the Temtop LKC-1000S+ professional air quality detector. This device allows us to get precise readings and performance bearings before and after the test. 
Below, we've included information on the testing criteria and what defines good vs. bad air quality.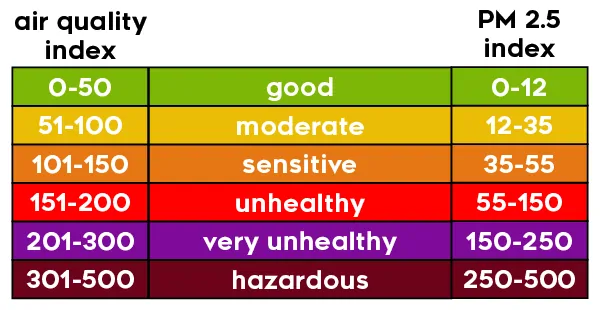 Overall, the performance of the Pure 211+ was excellent. In our tests, it brought the PM2.5 down to 0.1, which is exactly what we are looking for in a high-performance air purifier. I would have liked to see the PM10 brought down to 0.1 as well, but 0.2 is still fantastic.
The Filters
The BlueAir Pure 211+ uses a 3-part filtration system with the option to double up with the pre-filter. 
Here are the included filters:
Optional pre-filter cover
Pre-filter
HEPASilent filter (technically it's not a HEPA filter)
Activated carbon filter
The pre-filter cover is as much an aesthetic option as a functional one. It is a simple fabric cover that you can put on around the device to add a little color. The device we tested came with a black and blue option, but they have two other options to choose from: white and pink. 
Otherwise, both of the pre-filters capture larger particles floating in the air, and can be easily cleaned as needed.
The HEPASilent filter is the main filtration system, capturing air particulates as small as 0.1 microns. According to BlueAir it removes 99.97% of airborne particulates. Notably, it is technically NOT a HEPA filter, though…at least according to BlueAir, its filtration performance is at the same level as a HEPA filter.
In our tests, it performed as well as any high performance HEPA filter we've tested to date.
Finally, the carbon filter eliminates VOCs and reduces odors. 
Noise Test
We also tested how loud the air purifier was while running. To perform this test we have the air purifier run on the three different modes and use a sound meter to measure noise level. We tested the BlueAir Pure 211+ from about 3' away. 
Our results showed the following decibel levels from each mode.
A range of 23-45 dB is about what you would expect from a device of this size and coverage. At its loudest, the noise is similar to that quiet library or the hum of a refrigerator. 
Common noise levels:
20 dB – rustling leaves
30 dB – whisper
40 dB – quiet library, babbling brook
50 dB – refrigerator, moderate rainfall
60 dB – normal conversation, dishwashers
70 dB – traffic, showers
80 dB – alarm clock, telephone dial tone
Usability Tests
The BlueAir Pure 211+ is incredibly simple in design. It doesn't offer a lot of the bells and whistles we see with some air purifiers, but the excellent air purification performance more than makes up for that. This simplicity means that the device doesn't come with much.
Here's what is included in the box:
Pure 211+ air purifier
HEPASilent filter (in device)
Pre-filter in Diva Blue
Pre-filter in Dark Shadow
Manual
Setup
Setting up the Pure 211+ is simple and takes a few seconds once it is out of the box. Before plugging it in, make sure to remove the plastic from the filter and cover the device in your choice of fabric pre-filter. After doing so, the device is ready to be plugged in and turned on.
Controls
The BlueAir Pure 211+ lacks most of the common usability features we see from many others. It does not connect to an app, nor does it have an auto or sleep mode. While this is disappointing, excellent air purification performance was clearly the design priority.
Because of this, the only controls on the device are a singular button on the front of the air purifier. Tapping this button will turn the Pure 211+ on/off and cycle through the 3 power options. That's it, beyond the singular button, there are no other controls on the device. 
Maintenance
The main item of maintenance needed to keep the BlueAir Pure 211+ up and running is replacing the HEPASilent filter.
BlueAir states the expected filter life as 6 months, but that can vary depending on use.
The air purifier does have an indicator light that will let you know when the filter needs to be replaced.
Otherwise you will need to occasionally clean the fabric pre-filter, which can be vacuumed or machine washed as needed. 
Size & Dimensions
The BlueAir Pure 211+ is a larger device with a large coverage area. It can cover up to 540 sq. ft. with 4.8 air changes per hour. Because of the size, I found the device a little hard to move.
The fabric pre-filter can feel slippery while you carry the device, so make sure you have a secure grip on the Pure 211+ if you decide to pick it up.
Here are the exact dimensions of the BlueAir Pure 211+:
Length – 13"
Width – 13"
Height – 20"
Weight – 12.5 lbs.
Specifications
| Specifications | |
| --- | --- |
| Manufacturer | BlueAir |
| Model | Pure 211+ |
| Width | 13″ |
| Height | 20″ |
| Weight | 12.5 lbs. |
| Filters | HEPASilent, Carbon |
| Wifi Compatible | No |
| Room Coverage | 540 sq. ft. |
| CADR | 350 cfm |
| Returns | Varies by retailer |
| Warranty | 2-year |
| Price | Check Price |
I would recommend the BlueAir Pure 211+ if you're looking for the following features:
Fantastic air purification: The BlueAir Pure 211+ had excellent performance in our 1-hour test. It removed 98.8% of the air particulates and reduced the PM2.5 to 0.1 and PM10 to 0.2. The HEPASilent filtration system does an excellent job at purifying the surrounding air. 
Good coverage area: With 540 sq. ft. of coverage the BlueAir Pure 211+ is more than capable of covering any medium to large sized room. Whether you are looking for an air purifier for a bedroom, office, living room, or other large space, the Pure 211+ is an excellent choice. 
Simple design: What the BlueAir Pure 211+ lacks in usability features it more than makes up for in performance. In addition, the simple design is incredibly easy to use. Furthermore, the optional color choices are a nice touch, allowing you to get the right color for your home.
For more information or to buy the BlueAir Pure 211+, click here.