The Coway Mighty 1512HH air purifier is a compact purifier that doesn't look like an air purifier. It has a smaller body style, simple controls, and intelligent air quality detection.
Learn more about the details of this air purifier right here — let's get started!
A Compact, Modern Purifier
Coway Air Purifier
The Coway Mighty air purifier has a smaller footprint, but can tackle up to 360 sq ft. of area coverage and also includes real-time air quality assessment. If you're looking for a compact purifier, but don't want to sacrifice area coverage or performance, the Coway could be a soild option.
Check Price
Pros
4-stage filtration (washable pre-filter, carbon filter, HEPA filter, and built-in Ion filter)
Real time indoor air quality monitor, displayed with color-changing LEDs
Automatically adjusts fan speed, based on indoor air quality
Cons
RELATED – Best air purifiers we've tested and reviewed
Coway 1512HH Design
The design of the Coway Mighty air purifier is simple and user friendly. From the front of the unit, it barely resembles an air purifier.
The Coway air purifier comes in two different two-tone color schemes:
White body with bronze accents (seems to be no longer available)
We ordered the white body with bronze accents, but as you can see from the photos, have silver accents. We're not sure if this is an older color scheme or a new one.
All controls are located on the top of the purifier and air intake / output is located along the sides.
The design of the front panel has a magnetic closure that allows easy access to the filters for maintenance. This purifier uses a 4-stage filtration process: pre-filter, carbon filter, HEPA filter, and an optional air ionizer.
Controls
Controls on the Coway air purifier are fairly exhaustive and provide quite a few options as far as customization. From left to right, here's what the Coway purifier contains:
Power button: turns the purifier on or off
Fan speed: offers 5 different modes; auto, eco, and 1, 2, or 3 — with varying degrees of air output
Ionizer: turns the ionizer function on / off; negative charged ions will disperse into the air and bond to particulate in the air, helping to remove it. FAQ – Are Ionizer's Safe?
Timer: set a timer for 2, 4, or 8 hours where the purifier will operate at pre-determined setting for the allotted amount of time
Filter reset: notifies you when it's time to replace your filter (HEPA and / or carbon odor)
Real-time air quality: measures and reports on current indoor air quality using an LED-light display
Real-time air quality
Specifically, let's talk about the real-time air quality for a second. Sensors in this air purifier allow it to detect current air quality and know when it's time to get to work.
Air quality will be displayed using an LED light.
Blue = good air quality
Purple = moderate air quality
Red = poor air quality
Furthermore, if the Coway air purifier detects poor air quality, it can automatically adjust fan speeds to better suit the current conditions, turning the fans higher or lower as needed.
When the purifier recognizes good quality air, it will automatically switch into "eco mode" to save energy and power.
Filters
This air purifier has a 4-stage filter process.
Pre-filter
Carbon filter
HEPA filter
Ionizer
The pre-filter is designed to capture the largest particulate, like pet dander, pet hair, dirt or dust, etc. By capturing the largest debris here, the more finate filters, like HEPA and carbon will be more efficient.
The carbon filter helps to neutralize and eliminate odors from the air, like smoke, food, or other offensive smells.
The HEPA filter uses traditional HEPA design to capture particulate down to 0.3 micros. For reference, a single piece of hair is around 50 microns so this filter can really hone in on the smallest airborne particles.
The air ionizer is an optional feature that releases negatively charged ions into the air which then bond to particulate in the air and eliminate it.
Modes
There are a variety of different purifier modes available on the Conway AP 1512HH, ranging in air output speed. The five available modes include:
Auto mode: In auto mode, the purifier will assess indoor air quality and select the most appropriate fan speed to best increase air quality. Once the air quality has returned to "good", it will settle into "Eco mode", which uses the least amount of energy.
Eco mode: Eco mode is the most energy-efficient mode of purification and it best for maintaining good air quality, not particularly for improving medium or poor air quality.
1 – Low: Low mode is best for medium or good air quality, as it operates at a lower fan speed and is also quieter.
2 – Medium: Medium mode runs the fan at a higher speed and is good for tackling medium or poor air quality.
3 – High: High mode offers the highest output of air flow and fan speed and is designed for improving poor indoor air quality.
Size & Dimensions
The Coway 1512HH air purifier is a fairly compact, rectangle shape with rounded corners.
The exact dimensions are listed below:
Length: 9.6″
Width: 16.8″
Height: 18.3″
Weight: 12.79 pounds
Accessories & Parts
The Coway Mighty air purifier comes with a basic assortment of parts and really no extra accessories. You essentially get all of the things you'll need for basic use.
What's in the box?
Coway Mighty AP 1512HH air purifier
Pre-filter
HEPA filter
Carbon filter
The biggest thing I wish it included was a remote control.
RELATED – Want an air purifier with a remote control? Check out the Dyson Pure Cool TP04 for easy control from afar.
Coway Performance
Air quality improvement is the most important aspect of any air purifier's performance.
For a good assessment of how well a purifier performs, we put it to the test. Our test basically involved comparing a baseline air qualtiy ready to the reading after running the purifier for 60 minutes in a closed room.
In the results, we're comparing the air quality index and PM (2.5 and 10) to get a good idea of how much cleaner the air is.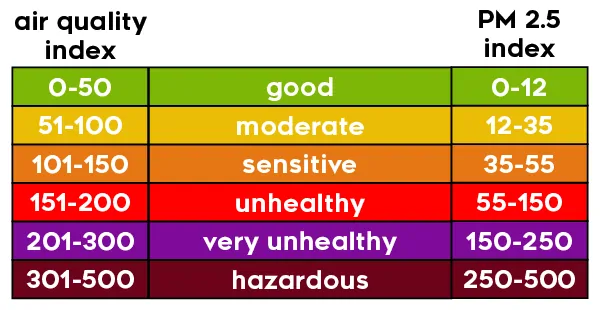 What is PM?
PM stands for "Particulate Matter". This measurement can be divided into two cateorgies, PM10 and PM2.5.
PM 10 = particulate matter that is 10 micrometers and smaller
PM 2.5 = particulate matter that is 2.5 micrometers and smaller
We perform these tests in our home-based testing lab, meaning that the air is much like the air you'd find in most average homes. For example, we have a dog, a baby, and seasonal allergens that come and go.
How do we test?
To start the test, we begin with a baseline measurement, using a Temtop LKC-1000S+ professional air quality detector.
Once we've documented the baseline air quality, we run the purifier in a closed room and document the change in air quality after 60 minutes is up.
Here's what our Coway Mighty AP 1512HH tests showed:
Initial Baseline
PM 2.5: 3.1
PM 10: 5.4
Particles: 234
AQI: 13
After 1 Hour
PM 2.5: 0.3
PM 10: 0.3
Particles: 34
AQI: 0
Within 1 hour, the Coway removed 85% of air particulates from the medium-sized room we tested in (approx. 12'x12′) and improved PM 2.5 air quality by 90%.
Setup & Usability
Setup on the Coway AP 15122H purifier was easy and quick.
To get going right out of the box:
Unbox the purifier and remove all packaging.
Install the filters.
Plug the purifier in.
Turn the purifier on.
It was really painless and because there is an auto mode, I didn't even have to think about which fan speed / mode was the most appropriate.
Coway Maintenance
Maintenance on the Coway looked basically the same as what the maintenance of any air purifier is. One word — FILTERS.
Proper maintenance of the filters helps ensure that the air is cleaned as efficiently as possible.
On the Coway, the pre-filter is washable which limits replacement filters to just the:
HEPA filter
Carbon filter
To make it even easier, the Coway will let you know when it's time to replace these filters for optimal performance.
REALTED – Rabbit Air MinusA2 review.
Is the Coway a worth it?
Concerning overall value, we look at a number of
factors — namely design, features, filtration, performance, and usability /
maintenance.
We then compare these specs to the overall price to help determine if this
purifier is worth the money. With the Coway, I would say that Coway is worth it and a good value for the money.
It's an ideal purifier if you plan to turn it on high or auto mode and then basically ignore it until it's time to change the filter.
Because the price point is so reasonable you don't get smart home integration, smartphone control, or a remote control. But what you do get is solid air purification, which as we said above, is the most important.
Coway 1512HH Specifications
| Specifications | |
| --- | --- |
| Manufacturer | Coway |
| Model | Mighty - AP 1512HH |
| Width (inches) | 9.6" |
| Depth (inches) | 16.8" |
| Height | 18.3" |
| Weight | 12.79 pounds |
| Filters | 4-stage (pre-filter, HEPA, carbon, and ionizer) |
| Wifi Compatible | No |
| Area Coverage | ~360 sq ft. |
| Returns | Varies by retailer |
| Warranty | 3-Year limited |
| Price | Check Price |
Should You Buy the Coway Air Purifier?
The Coway Mighty AP 1512HH air purifier is a compact purifier with a bit of a different look compared to other models. The price isn't unreasonable and it did a good job of cleaning the air in our test room.
Overall, I would recommend the Coway Mighty AP 1512HH if you're looking for the following features in an air purifier:
Real-time air quality assessment: The Coway has the intelligence to detect real-time air quality and determine which purification mode would be best. As air quality improves, it will automatically lower the setting until it is running in "Eco mode", which is the most efficient and energy-friendly mode available.
Air ionization: Air ionization involves distributing negatively charged ions into the air which then bond to airborne particulate and debris at a molecular level, neutralizing or eliminating the particles entirely
Clean aesthetic: For an air purifier with simple controls and a clean design that doesn't scream "I'M AN AIR PURIFIER", the Coway could be a good choice. It is relatively compact and with the air input / output designed into the sides of the unit, it allows the front of the purifier to maintain a sense of simplicity.
To learn more or to buy the Coway air purifier, check it out here.
Good Value, Good Performance
Design -

94%

Performance -

98%

Quality -

94%

Usability -

95%

Value -

95%
Summary
The Coway Mighty AP 1512HH air purifier is a compact purifier that can clean the air in rooms up to 360 sq ft. It has simple controls, offers real-time air quality assessment, and also includes an air ionizer for a 4-stage filtration process. If you're looking for a good performing, compact purifier, that won't break the bank, the Coway Mighty could be the right purifier for you.