What's the Coziest Day of the Year in your home state? Continue to the map below to find out!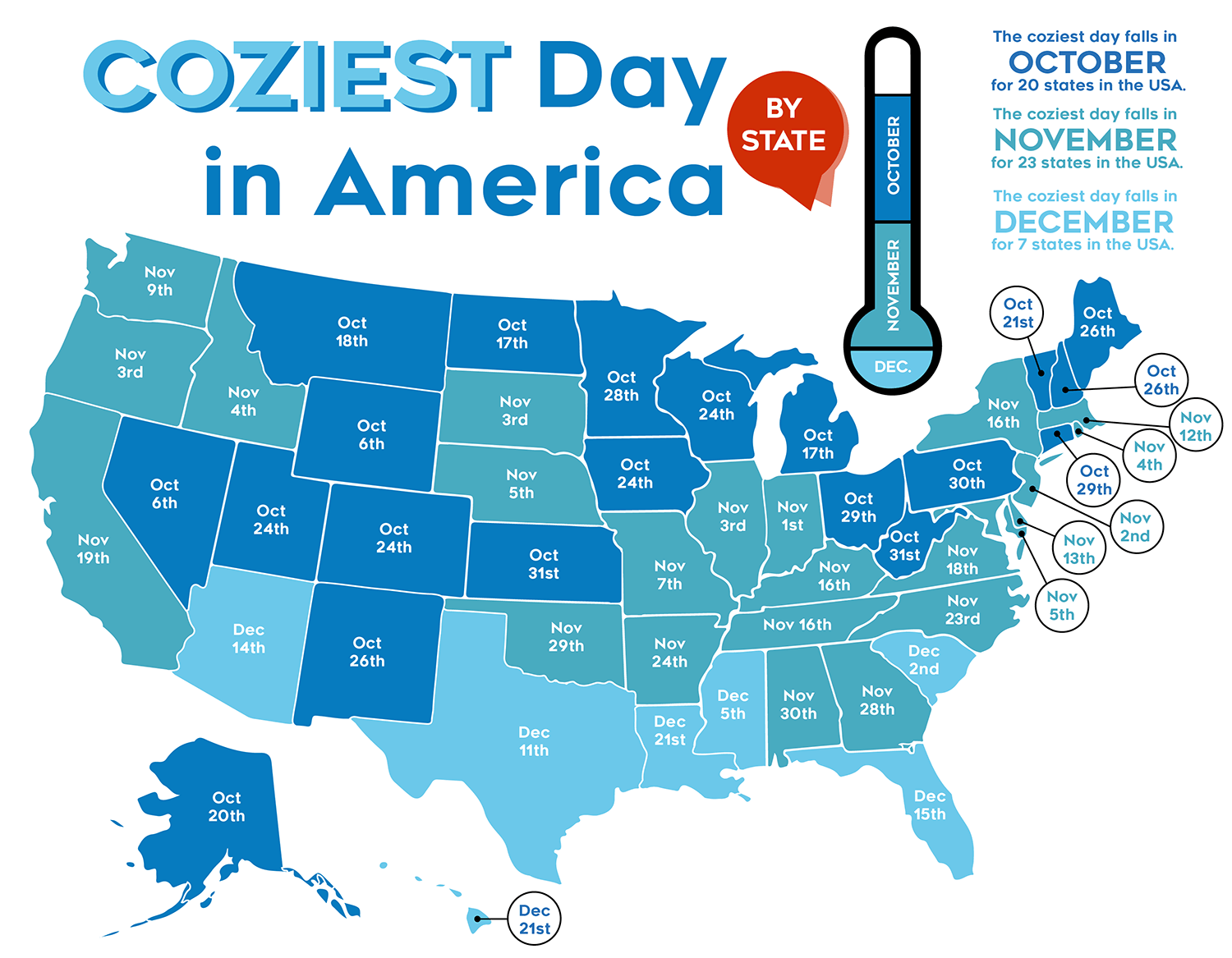 Share With Others: Want to share with your friends and family? Use this link or grab the code below embed on your own website.

What's the Coziest Day of the Year in Your State?
Alabama – November 30
Alaska – October 20
Arizona – December 14
Arkansas – November 24
California – November 19
Colorado – October 24
Connecticut – October 29
Delaware – November 13
Florida – December 15
Georgia – November 28
Hawaii – December 21
Idaho – November 4
Illinois – November 3
Indiana – November 1
Iowa – October 24
Kansas – October 31
Kentucky – November 16
Louisiana – December 21
Maine – October 26
Maryland – November 5
Massachusetts – November 12
Michigan – October 17
Minnesota – October 28
Mississippi – December 5
Missouri – November 7
Montana – October 18
Nebraska – November 5
Nevada – October 6
New Hampshire – October 26
New Jersey – November 2
New Mexico – October 26
New York – November 16
North Carolina – November 23
North Dakota – October 17
Ohio – October 29
Oklahoma – November 29
Oregon – November 3
Pennsylvania – October 30
Rhode Island – November 4
South Carolina – December 2
South Dakota – November 3
Tennessee – November 16
Texas – December 11
Utah – October 24
Vermont – October 21
Virginia – November 18
Washington – November 9
West Virginia – October 31
Wisconsin – October 28
Wyoming – October 6
How Did We Determine the Coziest Day of the Year?
To determine the Coziest Day of the Year our team of researchers scoured through weather, temperature, precipitation, and survey data.
Using these data points our team was able to cross reference the critical factors that create the most cozy day for each state in the USA.
So what did that process look like?
First, we had to ask ourselves, what makes a particular day the most cozy?
In our opinion, there are two primary factors:
Temperature
Precipitation
The Ideal Cozy Temperature
First, it has to be cold, but not too cold. The temperature should be cool enough that you would want to stay inside cuddling up with a blanket watching your favorite movie, reading a great book, or just sleeping in late.
However…
The temperature should not be so cold that it's able to snow or ice.
To determine that ideal temperature we used data from Weather.com's 2016 Sweater Weather survey. The survey asked respondents the temperature at which they started wearing sweaters.
I'm sure you're wondering…what is that number?
Nationally, the number is 60 degrees fahrenheit. However, each state is different. For example, Arizona and Nevada had the warmest sweater weather, at 65 degrees fahrenheit. Whereas South Dakota had the coldest, at 51 degrees fahrenheit.
For our purposes we used sweater weather temperatures for each individual state, as we felt that would give us a more precise and relevant date.
Using the ideal "sweater weather" temperature as a starting point, we then decided to go 10 degrees fahrenheit cooler than that.
Going 10 degrees cooler ensures that it's sufficiently cold enough that you would want to be bundled up with warm clothes or blankets, but doesn't go so extreme that you are too cold or it's able to snow / ice.
Gathering Temperature & Precipitation Data
Next, we used the National Centers for Environmental Information's (NOAA) data tool set. This dataset compiles 30 years of temperature and precipitation data for all 50 states. NOAA seems to update it about every 10 years.
The dataset:
The most up to date data, and the data set we used, is 1981-2010. NOAA's data includes an incredible 9,800 individual weather stations across the US.
Using NOAA'S data we looked at each state, selecting the weather station at the state capital, as these weather stations tended to be the most robust.
We looked at two key data points:
Average precipitation levels (by month, as daily precipitation is not available)
Average temperature by day
Bringing It All Together
With all of our data points now assembled, we had to bring them all together. The final Coziest Day selection process for each state used the following formula:
The date had to be within the Fall season, between 9/22 and 12/21.
The average monthly temperature had to be less than the ideal "sweater weather" (according to the weather.com survey) for that state, but not more than 15 degrees cooler than that ideal "sweater weather" temperature.
We identified the month that has the highest average precipitation, while still being within the the 15 degrees of "sweater weather".
Lastly, we then looked at that specific month and find the single day that is closest to 10 degrees lower than that the ideal "sweater weather" temperature.
This provided us with a single day each year for each state that has the highest chance of rain, and be cold enough to cuddle up with a nice sweater or blanket, but not so cold that it's uncomfortable.
That's it!
There you have it! Now get a hot beverage and your favorite blanket, and enjoy the Coziest Day of the Year.
Citations