The Dreame T20 cordless vacuum is a lightweight 2-in-1 cordless stick vacuum. It comes with a handful of accessories and has a long run time. But is it worth the cost? Let's find out!
2-in-1 Lightweight Vacuum for Small Debris
Dreame T20 Cordless Vacuum
The Dreame T20 cordless stick vacuum is easy to use, lightweight (6.2 lbs), and has good performance on most debris. There's a digital screen on the back of the handheld which allows you to easily switch cleaning modes, see remaining run time, and identify any issues or maintenance errors quickly. Despite its inability to clean large debris (with the main cleaning head), I think this could still be a solid vacuum for many users.
Check Price
Pros
Cordless design with a good run time (up to 70 minutes)
Washable dust bin that can remove from the body of the vacuum
Digital display on the back of handheld for switching modes and seeing estimated remaining battery life
Cons
Unsuccessful at cleaning large debris from any floor type
Brushroll burned out before it could complete high pile carpet tests (we've got a replacement coming, so we'll have updates soon)
On the more expensive side
Scoring
Solid Specs, With Surprising Issues
Design -

90%

Performance -

86%

Quality -

85%

Usability -

94%

Value -

90%
Summary
The Dreame T20 cordless stick vacuum is a 2-in-1 vacuum that runs as a portable handheld or an upright stick vacuum. It weighs 6.2 pounds, is easy to use, and has good cleaning performance on most debris types. The one exclusion is large debris, where it consistently struggled to clean up cereal without spitting out back out and getting clogged. It has up to a 70-minute run time (on ECO mode only) and a washable dust bin with a removable cup. There is a digital display on the back of the body that communicates features like remaining run time, current mode, and any maintenance or error messages. The biggest issue and concern was with the brushroll, which burned out and died during our low pile carpet cleaning tests (most likely due to the repeated clogs). Perhaps we just got a bad part, perhaps there is a bigger issue in play. Either way, it's not a great sign.
Design
The Dreame T20 is a cordless stick vacuum that shares some design similarities with the Dyson V10 Absolute, but at a lower price point.
RELATED: Dyson V10 cordless vacuum review
It's a 2-in-1 stick vacuum so you can use it as an upright stick or a more portable handheld. It has a traditional spiral brushroll cleaning head and an assortment of attachments.
The in-hand portion contains a washable 0.6L capacity dust bin with simple controls.
The Controls
There are two basic controls on the Dreame T20 cordless.
The trigger
The digital display
The trigger is a red push-button on the handle of the vacuum which turns the vacuum on and off. You must hold the trigger for the vacuum to be powered and as soon as you let it go, the vacuum turns off.
This 'trigger-style' of control is not unlike the Dyson V Series cordless vacuums and having a button like this tends to help conserve battery life.
If you prefer a simple on / off switch, there is a trigger lock button on the back which keeps the vacuum running until you unlock it, without having to hold down the trigger.
Trigger
Eco Mode
Standard Mode
Boost Mode
The digital display on the back of the handheld shows an assortment of different features including:
Remaining run time (as a percent)
System error alert
Filter replacement reminder
Suction mode
Filter installation examiner
When running the vacuum in ECO mode, it has the longest run time, up to 70 minutes.
In MAX power mode, it can generate more suction, but it also uses more power and the run time is significantly shorter, only 8 minutes.
The Brushroll
The T20's brushroll feels a little more basic than other stick vacuums at this price, but not terrible.
It has a V-shaped spiral design and uses soft bristles to help pull the debris into the system.
We did notice a pretty significant issue with the system collecting large debris, which is likely due to an issue with the design of the brushroll and seal.
You can read more about it in the testing section below.
MORE: Click here to jump straight to Cleaning Performance testing.
Build Quality
The overall build quality of the Dreame T20 looks and feels incredibly similar to the Roborock H6 stick vacuum. This makes sense, as it's Dreametech, which is a Xiaomi Mi sub-brand, which partners with Roborock.
RELATED: Roborock vs. Roomba
While the exact link between Xiaomi and Dreame isn't 100% certain, the design overlap is so similar that these two are undoubtedly in a collaboration of some sort.
NOTE: This kind of collaboration would not be a bad thing since I have repeatedly been impressed with the quality of vacuums in the Xiaomi lineup.
Features
Here are some of the best features on the Dreame T20:
#1. Cordless Design
The Dreame T20 has a cordless design with a long run time of up to 70 minutes. They also claim to be releasing an interchangeable battery (sold separately), which would allow the batteries to be swapped out and charged between uses.
This would extend the run time up to 140 minutes although the second battery hasn't officially launched yet as of January 2021.
There are three power modes and depending on what mode you are in, you may find run time there to be drastic differences in run time.
#2. User-Friendly Dust Bin
The dust bin on the T20 has a mid-size capacity, but it is also washable and can be removed from the body of the vacuum for cleaning or emptying.
These features alone make the Dreame user-friendly and were nice adds, considering the relatively low price point for this vacuum.
#3. 2-in-1 Design
Here is a quick view of the main body of the Dreame in handheld mode: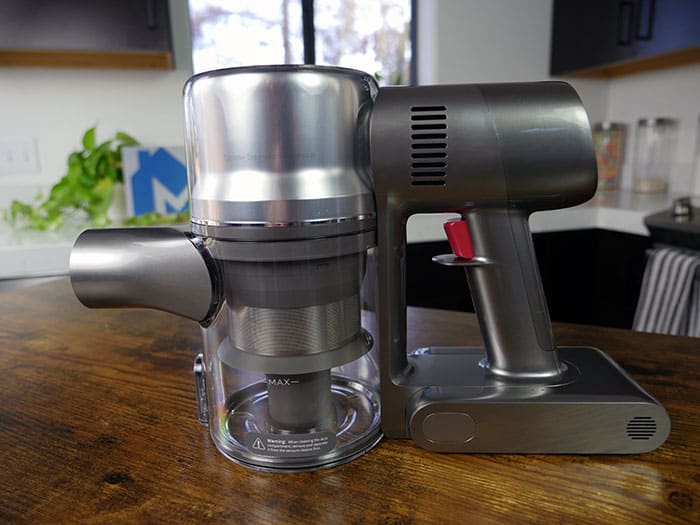 And for comparison, here it is again in stick mode:
Size & Dimensions
The size of the T20 is pretty standard for a cordless stick vac. Exact dimensions are listed below.
Length – 45″
Width – 10″
Depth: 6″
Weight – 6.2 pounds
Dust bin capacity – 0.6 L
What's in the box?
This vacuum has a fairly large assortment of parts and accessories. Most of these are designed to be used in handheld mode, but many can be dual-purpose.
Using these tools with the extension wand would allow for extended reach cleaning and more versatility.
Combination tool: used as a soft dusting brush or a short crevice tool
Flex hose: an extendable, flexible hose that gives you flexibility and extended reach for handheld use
Wall mount: for hanging the vacuum (and tools) on the wall when not in use
Mini motor tool: a motorized brush for cleaning upholstery, bedding, etc
Crevice tool: a long nozzle with a narrow tip for capturing debris from small crevices or cracks that may otherwise be hard to reach
HEPA filter (not shown): a washable filter to capture fine particulate
Cleaning Tests
To evaluate the cleaning performance of the Dreame T20 cordless we put it through a series of tests against varying debris types.
A good vacuum can tackle a range of debris, small to large, and a mix of them across different floor types.
We test the following four debris types:
Rice
Kitty Litter
Cereal
Sugar
And test it on three different floor types:
Hardwood floors
Low pile carpet
High pile carpet
The Results
Overall the results look pretty rough, but the main issue was the cereal test. This vacuum consistently struggled to clean large debris, which had a big impact on overall scores, despite its success with smaller debris.
Cleaning Hardwoods
The T20 doesn't seem to have a great sealing system, which caused some issues during cleanup.
We started our hardwood test with a mixed debris test (mixed all 4 together then spread evenly). Even on that test it immediately clogged due to the cereal.
Cereal was initially sucked up, but then got lodged in the system, and the vacuum spat out a large percentage of the debris.
It seems to have no issue with the small debris on hardwood, but cereal is a major issue.
Cleaning Low Carpet Floors
When cleaning low pile carpet, this vacuum left a bit more sugar than the hardwood test did, but performance of cereal was equally as disappointing.
Again we saw an issue of the vacuum initially sucking up the debris, getting clogged, and then spitting it back out.
The dust bin / seal really just seems to have some design issues that prevent it from effectively cleaning large debris without issue.
Cleaning High Carpet
Unfortunately, we were unable to complete the high carpet tests. After the cereal clog happened on low carpet, the brushroll burned out and even after cleaning it, we were not able to get it spinning again.
These results are actually pretty shocking considering the nature of our tests not really being that difficult for most vacuums.
What seems most likely to have happened is the repeated clogging with cereal caused the brushroll to simply burn out. In any case, we've got a new one in the mail so we're going to update this test when that comes in.
Setup & Usability
Setting up the Dreame T20 cordless was quick and easy. All of the parts easily click together or pull apart with a single button assembly.
From out of the box to being ready to use, it took us less than 10 minutes.
Both cleaning modes (handheld or stick mode) will use the handheld vacuum body which contains the motor and the dust bin. Depending on what kind of cleaning you're doing, you can snap on the relevant accessories and get to cleaning.
For stick vacuum cleaning, use the:
Extension wand
Floor cleaning head
For handheld cleaning, you can use the:
Combination tool
Mini motor tool
Crevice tool
Flex hose
Extension wand (for extended reach)
Usability was also pretty simple with this vacuum. Some nice features that improved the overall usability include:
Swappable batteries (coming soon… not yet launched as of Jan 2021)
Digital trigger lock
Removable, washable dust bin
Lightweight body
Maneuverability
The Dreame T20 is maneuverable and can recline to a nearly flat position. This helps the vacuum to clean under hard to reach areas or under furniture.
The cleaning head is also pretty shallow and it can make right turns. There's nothing truly unique about the way the T20 maneuvers, but it is easy to move and cleans well.
Maintenance
Maintenance is an important factor to maintain peak performance of any vacuum. With a stick vacuum like this one, here are the maintenance tasks you'll need to take care of:
Empty the dustbin, as needed.
Charge / replace the battery, as needed.
Replace the filters, as needed.
There is a washable HEPA filter as well as a fine sponge filter. Both of these filters are removable and easy to maintain.
Is the Dreame T20 worth it?
The value of the Dreame cordless stick comes down to a balance between price, performance, and features. Are you getting what you're paying for?
As of now, I'm on the fence with the Dreame T20. Overall performance was reasonably good, and the accessories, run time, and other usability features are solid.
Good cleaning performance, 94-100% if you exclude large debris
Up to a 70-minute run time
2-in-1 body style
Washable, removable dust bin
Adjustable suction (three different levels)
However, a few moderate clogs were enough to burn out a brushroll. That's not a good sign. In 3.5 years of testing vacuums this is the first time it's happened to us.
What are the drawbacks? The biggest disadvantage has got to be cleaning performance against large debris. It was just incredibly disappointing and a little surprising given their affiliation with Xiaomi and Roborock.
On paper the Dreame T20 is worth it. However, our performance tests weren't amazing. In general, I would typically opt for a different model that offered a better value for th emoney.
Dreame Specifications
| Specs |   |
| --- | --- |
| Type | Stick |
| Manufacturer | Dreame |
| Model | T20 |
| Length | 30" (max height) |
| Width | 13.4" |
| Depth | 6" |
| Weight | 3.74 lbs. |
| Floor Type | All (indoor) |
| Suction Power | 150 AW |
| Max Run Time | 70 minutes |
| Battery Capacity | 3,000 mAh |
| Cordless | Yes |
| Dust bin Capacity | 0.6 liters |
| Charing Time | 4 hours |
| Filters | HEPA |
| Returns | Varies by retailer |
| Warranty | 1-Year |
| Buy | Check Price |
Should You Buy the Dreame T20?
The Dreame T20 comes from a manufacturer that has historically made pretty high-quality products. So the results of our testing data were a little unexpected.
But the tests speak for themselves.
For cleaning large debris this vacuum is just not going to cut it. But for smaller, finer debris types, the Dreame cordless vacuum is still a good performer.
Cordless design: The cordless design makes it easier to take your vacuum wherever the messes may be, providing up to a 70 minute run time with a single charge.
Easy to use: This vacuum has some really nice features that help take overall usability to the next level, like the washable dust bin, the trigger lock button, and the one-click attachments.
Good for small debris: The Dreame T20 did a fantastic job cleaning small debris, like rice, sugar, and kitty litter. Scores were 100% on hardwoods and between 94-100% on low pile carpet. AS long as you're not vacuuming up a pile of crunchy cereal, you will likely be satisfied with the performance of the T20.
Lastly, the issue with the burned out brushroll is certainly note worthy. Perhaps it was just a bad part, which of course can happen. Perhaps it speaks to a larger quality issue. As I said above, I'm on the fence…I want to give DreameTech the benefit of the doubt, but nevertheless, it's a disappointing and concerning sign.
Click here to check the price of the Dreame T20 cordless stick vacuum.
ChangeLog
January 28, 2021 – Initial version of the review was published.