The Dyson vacuum lineup has grown to an extensive collection, considering corded, cordless, canister, upright, handhelds, and stick models.
Many of their vacuums come with a large number of tools and accessories with a simple one-touch connection.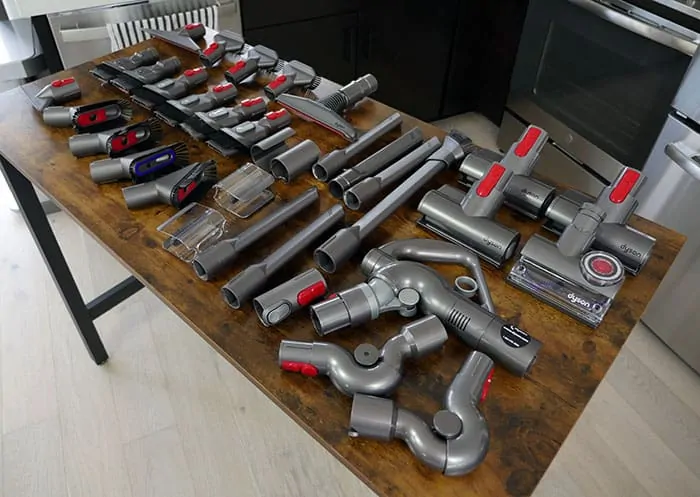 The simplicity of the Dyson tools may lead you to wonder—are any of the tools compatible between models?
If you have an older model and looking to upgrade, can you use some of the same tools?
The answer is a bit of a gray area, but this guide will take a shot at breaking down the compatibility and cross-use between models.
Let's dive in.
Table of Contents
What Dysons attachments are compatible within the V6, V7, V8, V10, and V11?
The answer is complicated as there are a couple other questions that likley need to be asnwered first.
Two of the biggest questions being:
What models are you crossing?
What tools are you crossing?
Some models simply don't play well with others, namely the Dyson V6 (and anything older than the V6).
The V6 cleaning heads are only compatible with other V6 variations as the V6 uses the old grey button accessory system.
Cleaning Heads
V7, V8, V10, and V11 cleaning heads are compatible with each other. At least to the degree that they will click in and turn on.
However, because the higher end vacuums have more power and suction their cleaning heads require more power to operate.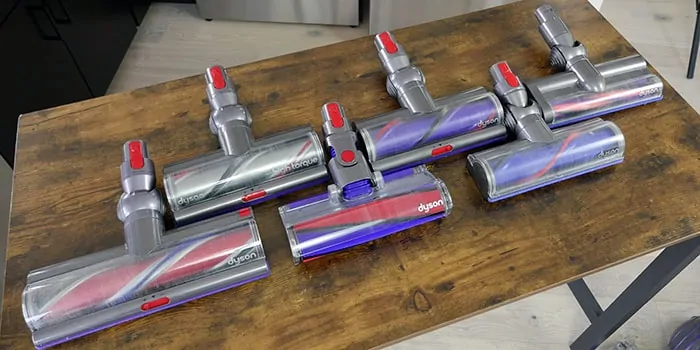 As a result, you may get less than ideal performance when using cleaning heads from the more recent models with older vacuums.
For example, while the V11 Outsize cleaning head will attach to and turn on with the V7. However, the V7 struggles to operate the V11 Outsize's cleaning head and cannot operate at all on max mode.
This is because the V7 just doesn't have enough motor power. In general, you want to use cleaning heads that are within 1 generation. For example, if you have a V11 cleaning head, but want to use it with a V10 body, that should be fine.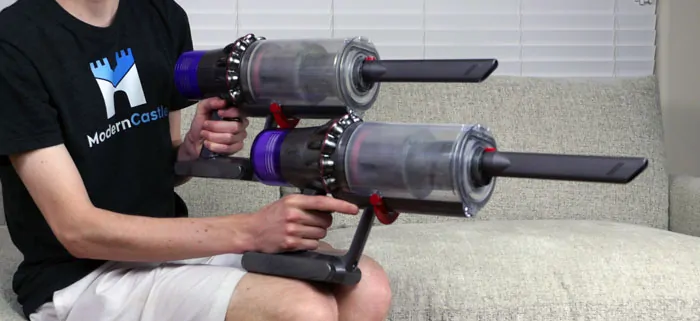 As the V10 has sufficient power to operate those cleaning heads.
However, you wouldn't want to use V11 cleaning heads on a V7 or V8, as the relative motor and battery performance of those lower end models will struggle to operate the higher performance cleaning head.
Wall Charging Mounts
What about compatibility between wall charging mounts—can you cross different wall chargers?
In general, no, but there are a few models that are cross-compatible.
| Model | Compatible With |
| --- | --- |
| V6 | V6 only |
| V7 | V7 and V8 |
| V8 | V7 and V8 |
| V10 | V10 and V11 |
| V11 | V11 only |
Dyson V6
Only the V6 is able to fit on the V6 wall charging mount. It will not fit on any other mount and no other model will fit on the V6 mount.
Dyson V7 & V8
The V7 and V8 are cross-compatible with each other. A V7 can work on a V8 wall mount and vice versa.
Dyson V10
Only the V10 will fit on the V10 wall charging mount. However, the V10 can also work on a V11 charging mount.
That said, it is slightly too narrow for the dock, so it will not fit as snugly as it should. In general, we would not recommend docking the V10 on a V11 mount.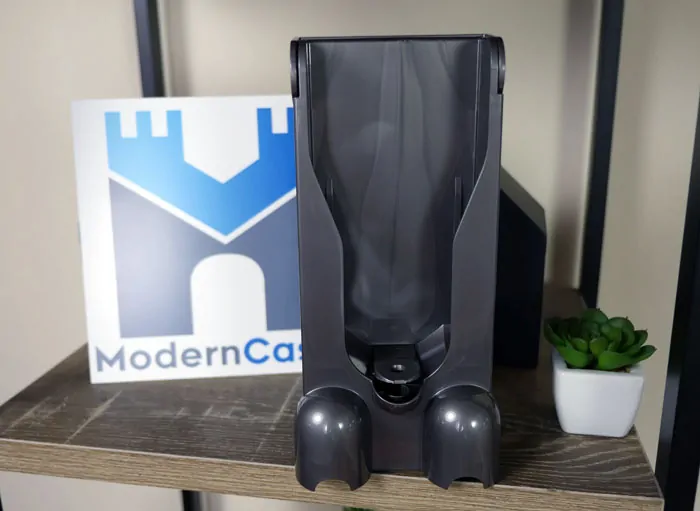 Dyson V11
The V11 Torque Drive, Animal, and Outsize all use the same charging dock. They are cross-compatible with each other, but the V11 cannot be docked on any other wall charging dock.
In general, the reason why many of the wall charging docks are not cross-compatible is that the handle, motor, and canister design is slightly different.
As a result, a slightly modified wall charging station is required to create a snug wall mounted fit.
What attachments are compatible on the V6, V7, V8, V10, and V11?
Dyson V6
Nothing is cross compatible on the V6. Only accessories designed for the V6 will work on the V6.
As mentioned above, the V6 uses a gray, one-touch connection. You simply press the button and pull the two pieces apart.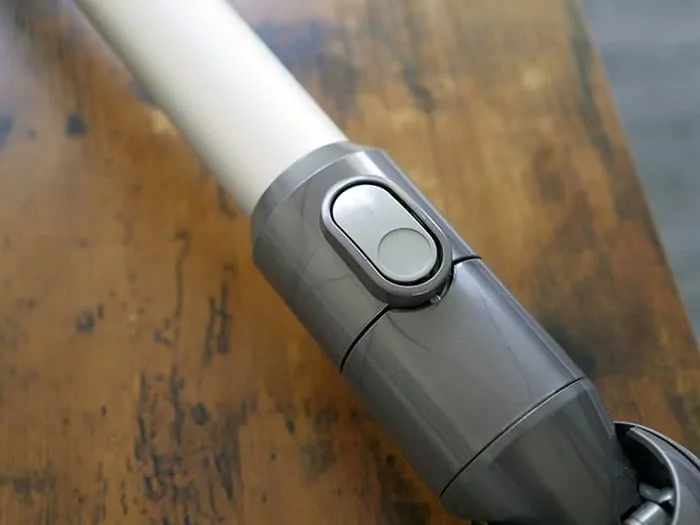 Dyson V7, V8, V10, and V11
With the V7, Dyson launched a new system that used a red one-click button. A new color also insinuated a new design.
All accessories on the V7, V8, V10, and V11 are interchangeable and will work on any of the aforementioned models. All of these vacuums use Dyson's red button clickable accessory system.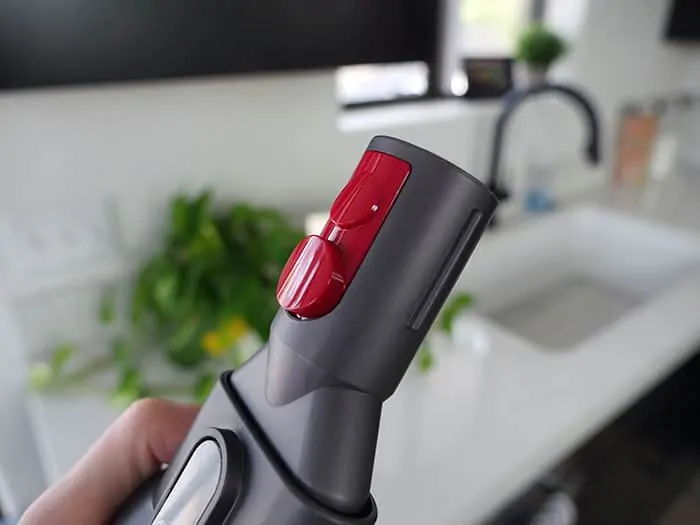 Are Dyson V6 and V7 parts / attachments interchangeable?
Dyson V6 and V7 parts are not interchangeable. The parts and accessories designed for the Dyson V6 will only work on the V6.
The Dyson V6 has a different clickable system and different features than the V7. This means you cannot use the same soft roller head, brushes, and other accessories for both models. However, you may use special adapters to attach non-powered V6 accessories to a V7, V8, or other models.
Dyson V6 attachments are also incompatible with the V8, V10, V11, and V15.
Are accessories compatible with each other?
If the question spans different vacuum types, like canister, upright, cordless stick, or handhelds, the answer is going to be no, in general.
But within the same family of vacuum types, there is some cross-compatibility.
Dyson Cordless Vacuums
Dyson's cordless stick vacuums (the V-series) mostly use the same red button clickable system. The V6 is the only vacuum within this series that has a special system that only it uses. But the V7, V8, V10, and V11 are all cross-compatible and interchangeable with each other.
Dyson Upright Vacuums
Dyson's uprights use a system similar to the V6's grey click system. Most of Dyson's newer uprights use this accessory system. As a result, many Dyson upright models have cross-compatible accessories with other Dyson uprights.
Dyson Canister Vacuums
Dyson canister vacuums use the red button clickable system, similar to the same system that the V-series uses. However, it is not actually the same.
The wand tubing has a slightly larger diameter, as a result, V-series accessories will not be compatible with the Dyson canister vacuums. However, like the Dyson uprights, other Dyson canister vacuums will be compatible with each other.
Can you use a new model battery with an older model?
Can you use a higher capacity battery from a more recent Dyson V-series vacuum model (like the V10 or V11) on an older Dyson cordless vacuum to increase run time?
In general, no.
People usually want to do this to get better run time performance out of old models. However, the batteries are not cross compatible.
That said, you can buy batteries made by 3rd parties. These are designed for the specific model, but usually have an upgraded capacity compared to the stock battery that Dyson includes. As a result, you can get more run time out of older V-series models.
Please note, using a non-Dyson made battery will void your warranty. We wouldn't recommend a 3rd party battery until you are beyond your warranty period.
RELATED: You can find replacement Dyson batteries here.
Can you buy a standalone Dyson soft roller brush?
Many people want a Dyson soft roller brush, but don't want to pay the extra price for the Absolute models.
If you already have an older model soft brush there is a good chance it will work with your newer Dyson.
You can also buy a standalone Dyson soft roller brush here.
Or buy a compatible Dyson soft roller brush made by a 3rd party here.
What about other Dyson accessories, attachments, and stands?
Many 3rd parties make a wide variety of accessories for Dyson that Dyson may not offer, including:
NOTE: With any 3rd party accessory double check that it works with your specific model. Just as with Dyson branded accessories, 3rd party accessories have to use the special click-in system for that model to be compatible.
Warranty Concerns
Regardless of which model you have or are upgrading too, all Dyson vacuums are subject to potential warranty issues when cross-using accessories among models.
You should note that using accessories that are not explicitly designed for that model has the potential to void your warranty.
If you're outside of the warranty period it's probably fine, however, if you still are within the warranty period we would recommend always using accessories designed for that specific model.
Dysons cordless stick vacuums have two different styles of accessories.
Dyson's red button clickable accessories: V7, V8, V10, V11
Dyson's gray button clickable accessories: V6 only
While red button clickable accessories look similar, they are slightly different between different model types.
Dyson canister vacuums use the red button system also, however, the wand tubing is slightly larger, so the V-series and canister vacuum accessories are not cross compatible with each other.
Same issue with Dyson's uprights, while they look similar in many cases, they are in fact different.
In general, the more recent uprights are compatible with more recent uprights…more recent canister vacuums are compatible with more recent canisters…and more recent V-series are compatible with more recent v-series
Dyson Accessory Compatibility Summary
Here are some other general guidelines to keep in mind:
Passive accessories are always okay, provided they will click in (includes tools like the crevice tool, dusting brush, basically anything that isn't powered).
Powered accessories in most cases will work between models, but may not be ideal.
For example…
A V11 High Torque cleaning head will work with a V7 vacuum, however, the V7 motor and battery weren't designed to power the increased demands imposed by the V11's cleaning head
A V7 vacuum can attach a V11 Outsize cleaning head, however, the V7 really struggles to run it at all. As a result, performance may be as good and it could potentially damage the motor.
It probably also will void your warranty.
If you want to use different model accessories more safely then you should try to use older accessories with newer models.
For example, use a V7 soft roller brush with a V10 cordless vacuum. This way, the V10 has more than enough power to run the V7's brush, since it's new and has better performance.
If you're using newer accessories with older models I would suggest finding accessories that are only 1 generation removed.
For example, using a V10 soft roller brush cleaning head with a V8 vacuum would be fine.
Or using a mini motorized brushroll from the V8 on a V7 would also be fine. You just want to avoid using stuff that's several generations different.
Still have questions?
Have questions that we didn't address? Feel free to ask us your question down below in the comments.