Dyson Purifier Hot+Cool HP07 is part of the HP Purifier series, the only Dyson models that include a heating option. The Dyson Hot+Cool Purifying Fan integrates new control and connectivity features, building on the still-recommended Dyson HP04. 
HEPA Purifier that Heats & Cools
Dyson HP07
Like its predecessor, the HEPA-filtered Dyson HP07 is bladeless and offers both heating or cooling fan functions. The Dyson HP07 is redesigned to deliver 50% cleaner air (when compared to the original Dyson Pure Cool purifying fan) using its large amp and an advanced filtration system. Intelligent sensing works to purify while also either heating or cooling your indoor air.
Check Price
Compare the details below to see if this model is right for you.
Pros
Functions as heater, cooling fan, and purifier in one unit
Provides detailed and immediate air quality feedback 
Move air efficiently 
Purifies 99.97% of particles 0.3 microns in size, according to Dyson
HEPA H13 standard for both filter and machine
Auto Mode works with continuous monitoring to evaluate and change settings as needed 
350° oscillation, adjustable by remote or app
Backward airflow can purify without direct heating/cooling
Cons
Expensive
Heat functionality doesn't work with smart app integration for many countries due to safety standards
Quick Specs 
Dimensions: 30"H x 9.8"W x 5.12"L
Airflow Direction: Forward or Backward
Oscillation: 350°
Color: Black/Nickel or White/Silver
Weight: 12 lbs
Number of Speed Settings: 10
Filters: HEPA (H13) and activated carbon
Scoring
3-in-1 HEPA Purifier
Design -

100%

Performance -

100%

Quality -

98%

Usability -

100%

Value -

97%
Summary
The Dyson Purifier Hot+Cool HP07 is a 3-in-1 unit that heats, cools, and purifies the air. It's similar to its HP04 predecessor in many ways, but does improve upon the design with a now HEPA 13 fully sealed system. Dyson's internal testing showed the HP07 is capable of heating a room 376 square feet and purifing spaces up to 871 square feet. The HP07 has all of the standard Dyson features including connecting to the Dyson link app, 350 degrees of oscillation, remote control, and intuitive sensor display. It's a solid step up for Dyson's Hot+Cool lineup.
Dyson HP07 Design
Like the HP04, the HP07 is medium height with a large circular airflow amp resting on a narrow base.
Two color schemes are currently available–white/silver and black/nickel.
The Base
This contains filters under a mesh filter cover, air input, and a digital display showing air quality and status information. The outer release button is on the side.
The Amp
The most obvious and sleek part of the HP0 is the characteristic Dyson amplifier or "amp."
Air is pulled up through the open design, moved over the filters, and pushed outwards–all without needing the usual spinning blades of more traditional purifiers.
The Controls
You can operate the Dyson HP07 using the:
Display Screen/Physical Unit (limited options)
Remote Control
Dyson Link App
Smart Home Connection
1) Display Screen/Physical Unit
The display screen shows all information, but most of the settings need to be adjusted or controlled by other means.
Find readings on the LCD screen on the base for:
Current air quality
Humidity
Temperature
Particulate matter, VOCs, and formaldehyde readings
Remaining filter life
When air quality decreases, the LCD screen will show a symbol indicating which pollutant is responsible.
You can also see Wi-Fi Status and other operating modes. The physical remote, the Dyson Link app, or other smart-home connections are used to customize most settings.
RELATED – Dyson HP04 review
2) Remote
Those who tend to lose remotes will be pleased to find this one conveniently magnetized and curved to rest easily on top of the HP07's magnetized strip.
With the physical remote you can:
Turn your unit on or off
Turn the heating on or off
Set Auto Mode to automatically adjust settings based on current and targeted air quality
View all sensor readings
Adjust oscillation rotation up to 350°
Set airflow direction forward or backward
Turn on the sleep timer and Night Mode for quietest and dimmest settings
Adjust fan speed (1-10)
Use the custom mode for more direct control over speed and other settings.
3) Dyson Link App
The Dyson Link app is available from Google Play or the App Store. Use the app to monitor air quality and change settings from any location.
Everything you can do with the remote can be done on the app, with some additions.
The remote lets you:
Get help with setup if necessary, and contact Dyson support 
Use your actual geographic location to get real-time outdoor air quality monitoring 
Connect to compatible devices like Amazon Echo to use voice commands
Upgrade your unit with the latest software
Set schedules in advance 
Check sensor data readings of different pollutants
Access indoor air quality monitoring instantly
Control all settings and operations
One exception is the heating. Heating cannot be controlled via the Dyson Link app due to safety standard UL 1278. The heating must be controlled via the remote. 
4) Smart Home Connection
Use Amazon Alexa, Google Assistant, or Apple Siri to connect your HP07 with any smart home devices. You can use these to control all settings except heating. 
The Filters
As with other models, Dyson HP07 uses both HEPA and carbon activated filters. They are now fully integrated, which makes replacing them even easier.
The filter consists of two pieces. Just snap them into place around the base for full 360° air purification coverage. One Combi 360° Glass HEPA and Activated Carbon Air Purifier Filter is included in the box with your purchase. Replacement filters are available here.
According to Dyson, the entire unit is now designed to be completely sealed, meeting HEPA H13 standards.
RELATED – Dyson Hot+Cool Model Comparison
How the Filters Work
The filter can be found under the mesh filter covers which wrap around the base.
The purifier base pulls untreated air in to process it through both filters and sends it back out through the radial amp. 
Together, both filters capture and reduce gases and ultra fine particles.
Activated carbon filter—reduces or removes gases and odors including VOCs. Carbon granules capture gases such as formaldehyde, benzene, and nitrous dioxide. 
Glass HEPA filter—captures 99.97% of particle matter down to 0.3 microns in size with borosilicate microfibers pleated more than 200 times.
The backward air flow mode sends purified air through the back of the machine rather than out towards you.  
HEPA 13 Filter
The whole HP07 unit is now fully sealed, meaning that the filter AND the machine itself now meet the HEPA H13  standard.
So your air isn't just purified. What gets taken out of your air stays fully trapped inside the unit. This makes it even more important to change your filters on time, since excess filter blockage will cause strain on the motor. 
Replacing Filters
The Dyson recommendation for changing your filter is every twelve months to keep the unit at peak performance levels. If dust and debris clog up the filters due to extended use, the unit will begin to operate less and less efficiently.
Remaining filter life can be seen on the LCD screen or the app. If the reading gets low, of course, replace it sooner as needed.
Remember that when you replace your filter, you will also need to reset the filter life setting.
Size & Dimensions
Roughly the same measurements as the HP04, the Dyson HP07 is a medium height and relatively thin design.
It has a small footprint, albeit more than an inch larger in diameter than the non-heated Purifier Cool TP07.
Exact dimensions:
Height: 30" Tall
Length: 5.12" 
Diameter: 9.8"
Accessories & Parts
In the box, you will find:
Dyson Purifier Hot+Cool HP07 Purifying Fan Heater
Dyson 360 Combi Glass HEPA + Carbon air purifier filter
Remote Control
6 Ft Power Cord
To reduce environmental impact, Dyson has made the User Manual available as a PDF on their support page here. 
Dyson HP07 Features 
The Purifier HP07 air purifier is certainly pricier than other more traditional fans. Its included design features may help soften the impact of any sticker shock.
Smart Control
Wi-Fi connectivity gives the Dyson HP07 multiple control methods. Use the remote control unit, download the Dyson Link app to your smartphone, or pair with an Amazon Alexa device to use voice commands.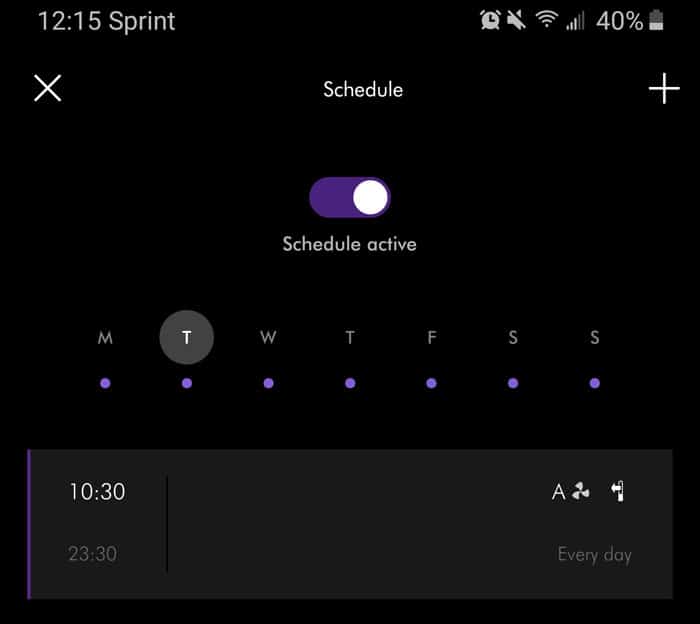 We appreciate the visual graphics of indoor and outdoor air quality provided by the app. These use information collected by the sensors on:
Temperature
Humidity
VOCs: volatile organic compounds 
PM10: Particulate matter from larger microscopic particles up to 10 microns such as mold, pollen, and dust
PM2.5: Particulate matter to 2.5 microns such as bacteria, allergens, and smoke
NO2: nitrogen dioxide
All this collected information is used to constantly monitor air quality and adjust speed up or down. 
Heating
The heating aspect of the HP07 is of course what makes it stand out from other Dyson models. Many people use space heaters to warm rooms or smaller places. Using a Dyson Purifier Hot+Cool allows you to heat your room with already-purified air.
With heating as well as a cooling fan designed in the air purifier, the HP07 is useful in all seasons. Having it all in only one device reduces clutter and cords in your home—not to mention off-season storage requirements. 
How the Heating Works
Heating elements heat the air as it leaves the front apertures. As the plates heat up, their ability to conduct electricity decreases. This reduces the chance of overheating. The Dyson HP07 also has an automatic switch off just in case it does overheat or gets knocked over, making it safer around pets, children, and any inebriated occupants.
For improved efficiency, the Dyson Hot+Cool uses the same intelligent sensing and thermostat as the purifier and cooling fan. Once you set your target temperature in Auto Mode, the machine will use the Continuous Monitoring to automatically adjust by stopping once that temperature is reached, or starting back up when it drops. This helps you save energy as well as space.
Dyson internal testing showed that the HP07 can quickly heat a whole room evenly, when tested for:
Air projection (DTM801)
Purification coverage in a 81m3 room (TM-003711)
Heating performance in a 35m3 room (DTM 961)
Operating Modes
The HP07's primary operation modes are:
Auto Mode: Intelligent sensors monitor indoor air quality and adjust fan speed as needed, even fully stopping when target air quality settings have been reached. This continuous adjusting will save energy, money on utilities, and wear and tear on the device that might be caused by unnecessarily running all the time.
Custom Mode: This allows you more direct moment-to-moment control over oscillation (between 0° to 350°), airflow direction , and fan speed.
Night Mode: When desired, you can set a sleep timer, dim the LCD screen, and enable the quietest settings. The purifier and automatic adjustments to air quality changes continue while in this mode. 
Air Quality Assessment
One of our favorite elements of the Dyson HP07 is the detailed air quality assessments mentioned earlier.
The three intelligent sensors built into the unit processes the information into live  air quality reports. Using Continuous Monitoring, that information can be seen as a graph displayed over a set amount of time. A full report on air quality is available either on the LCD screen on the base or via the app. 
These visuals showing changes in indoor and outdoor air quality can guide you in making informed, energy-and-utility-bill-saving decisions on how and when to adjust settings and controls (and what settings to apply in Auto Mode).
RELATED – What's the best Dyson air purifier?
Setup & Usability
The HP07 setup is as easy and mostly intuitive as most other Dyson models. 
Use both hands to lift the unit, and lift by its base, NOT by the loop amplifier. The machine isn't delicate, but avoid gripping the amp to reduce unnecessary structural stress.
When unboxed:
Push your HEPA+Carbon filter into the outer cover, position onto the base, and push firmly until both outer covers click securely into place. 
Place the remote control on top of the machine with the buttons facing down. 
Plug in the cord.
Push the On / Off button.
Access the Dyson Link app, available from the App Store or Google Play, for full control. Use  on-screen prompts to adjust settings, find support, and monitor air quality.
Just remember that the heating feature must be accessed via the remote control. 
Maintenance
The HP07 requires very little maintenance other than routine cleaning and filter replacement.
Remaining filter life can be seen on the LCD screen or the app. Dyson recommends you replace the filter every twelve months. If the reading gets low, of course, replace it sooner as needed. 
Use a damp lint-free cloth if your HP07 gets dusty. If any debris or dust builds up in the filter's air inlet holes or inside the loop amplifier, a soft brush can remove it. 
Avoid using detergents or polishes.
Is the HP07 worth it?
When developing a cost/benefit analysis of any purifier, we consider:
Special features
Design efficiency 
Included accessories
Ease of Use
Ease of setup
Decibel levels
Required maintenance
Performance testing
The most important overall question is: How well does it function when compared to its cost?
We believe the answer to that question is "Extremely well" when it comes to the Dyson HP07. While it is a more expensive model, you get a good value for that investment.
A great deal of that value comes from the versatility offered by the Dyson Link app and smartphone connection. And for those who don't find that appealing or who don't use smart-home devices, the detailed physical remote control offers a wonderful option.
Adjustable oscillation, speed, and airflow direction allow for easy and full custom control. Or if you don't want to think about it that much, Auto Mode allows for continuous adjustment on its own. 
Dyson HP07 Specifications
Manufacturer
Dyson
Model
Purifier Hot+Cool Purifying Fan Heater HP07
Width
9.8"
Height
30.0"
Length
5.12"
Weight
12 lbs.
Filters
360 Combi Glass HEPA + Carbon air purifier filter 
Wi-Fi Compatible

Yes

Smartphone Compatible

Yes

App
Dyson Link (for iPhone and Android)
Smart Home Compatible

Yes

(Amazon Alexa, Google Assistant, Apple Siri)
Max Airflow
Unknown
Returns
Varies by retailer
Warranty
2-year (Included parts and labor)
Price
Check Price 
Dyson Purifier Hot+Cool HP07 Purifying Fan Heater provides an excellent choice for those who want not just an efficient purifier, but one that can be customized, has easy intuitive controls, and offers multiple features.
The added heating option makes it usable year-round. But like the non-heated TP07, it is somewhat more expensive than some might like.
Dyson HP07 may be right for you if you want a good quality air purifier and are willing to invest in high performance capabilities.
Dyson HP07 is recommended for people who want:
Heating Function: To save you space and reduce clutter, cords, and off-season storage needs required by multiple devices
Real Time Air Quality Assessment: With real time indoor and outdoor air quality assessments, as well as automatic adjustments in Auto Mode.
Multiple Control Options: Including not just a traditional remote but also smart phone and voice control via Wi-Fi connectivity 
HEPA H13 Grade Machine and Filters: to help your air stay clean and pollutants stay fully trapped
Adjustable Air Flow: From fan speeds ( 1-10) to airflow direction (forward or backwards) and oscillation (0-350°)
Check here to learn more about or to buy the Dyson Hot+Cool HP07 Purifying Fan Heater.