Outsize Coverage + Power with More Technology
Dyson Outsize Absolute+
The Dyson Outsize Absolute+ takes a lot of the great things about the original V11 Outsize and adds in new technology developed in the Dyson V15. The result is a Dyson cordless with up to a 120-minute run time, a 0.5 gallon dust bin capacity, laser enabled soft roller brushroll, and a wider cleaning path compared to older V Series Dysons.
Check Price
Pros
Bigger Torque Drive cleaning head. 25% wider than the V11 Torque Drive; 12.5″ wide
Bigger dust bin. 150% bigger than V11 Torque Drive; 0.5-gallon capacity
Stronger suction. Up to 220 AW on Boost mode (V11 is 185 AW, V10 is 140 AW)
Laser Fluffy cleaning head. Shines a laser on the floor to help make hard to see dust visible
Cons
One of the most expensive vacuums on the market

Some users may find it too big and heavy
Scoring
A Cordless With Extra Everything
Design -

100%

Performance -

99%

Quality -

95%

Usability -

100%

Value -

95%
Summary
The Dyson Outsize Absolute+ is a cordless vacuum cleaner designed to be bigger, more powerful, and include extra at every turn. It has 220 AW of suction power, the 2nd most of any cordless stick vacuum on the market (2nd only to the Dyson V15). It has a 0.5 gallon dust bin, which is larger than every other cordless stick vacuum bin we've seen. The Outsize Absolute+ includes 2 powerful cleaning heads, the High Torque XL and Laser Fluffy soft roller head. The High Torque XL is 25% wider than a typical width, giving you a 12.5″ cleaning path. The Laser Fluffy head has a laser for illuminating dust, it's easy to remove, and washable. You couple these factors with a digital display, 2-in-1 design, and tons of attachments, it's the cordless vacuum that does everything.
🧪 Performance
We haven't tested the Outsize Absolute+ model yet. However, we have tested the Dyson Outsize. Based on the hardware and specs, the Outsize and Outsize Absolute+ appear to be functionally identical.
Both of these vacuums have the same:
Suction power

Cyclone count
In-line configuration
Cleaning modes
The only difference is a couple of attachments and an aesthetic color change. In addition, the High Torque cleaning head has a minor design change over the previous generation (we discuss below).
So without further ado, let's dive right into the performance data of the Dyson Outsize.
Overall, the performance on multiple floor types was excellent—99% or higher. We ran all of these tests on Boost modes except for high pile carpet.
On high pile carpet, we noticed that the suction was actually a bit too strong and made it hard for the vacuum to get on top of larger debris, causing a dip in performance.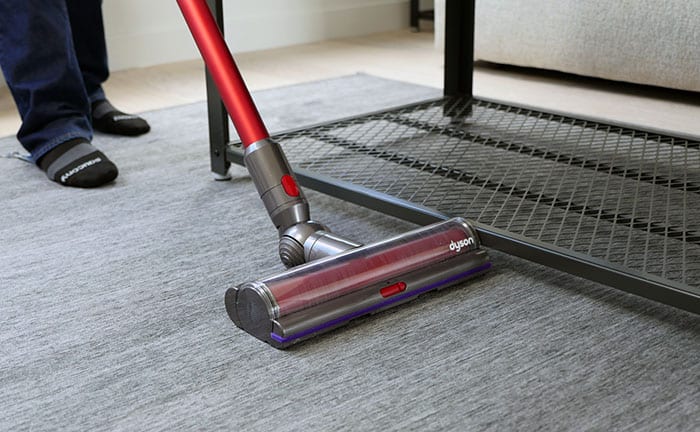 But when we alternated between Boost and Eco mode, performance was greatly improved and it was able to clean all of the debris we tested.
Here is a breakdown of each floor type:
Hardwood Floor Cleaning
When cleaning hardwoods, the performance was fantastic. It didn't have any noticeable problems cleaning and all of the debris was captured easily.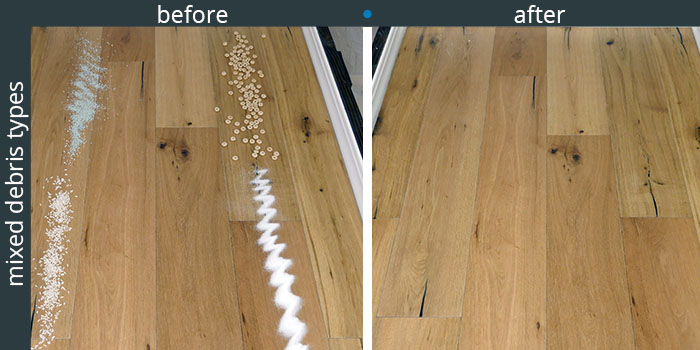 Low Carpet Cleaning
When cleaning low carpet, we saw similar results, nearly 100% of all debris types were cleaned. Again, no complaints or noticeable issues.
High Carpet Cleaning
Cleaning high pile carpet was the only floor type where we needed to modify our testing strategy a bit.
All other tests were run on Boost mode, but we noticed that when we were on Boost Mode, the suction was too high and the cleaning head couldn't get on top of large debris, namely cereal.
So we ran the test a second time, this time alternating between Boost and Eco mode for different debris types. With this small change, we noticed a drastic improvement in performance.
Here's what the testing lane looked like when only using Boost mode.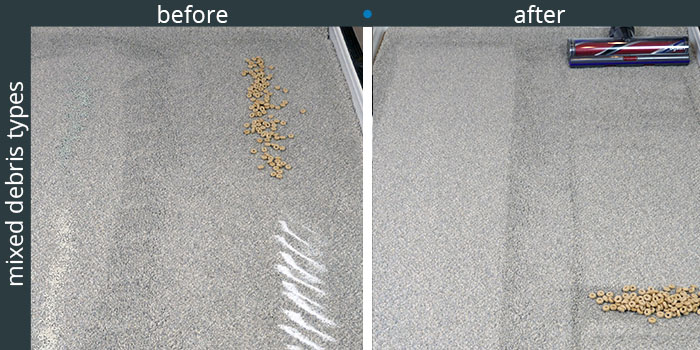 Here are the results of the initial test:
And here are the results when alternating between Boost and Eco mode.
The results below reflect the modified tests:
Run Time
Dyson states that each battery can run for up to 60 minutes or up to 120 minutes for both batteries. We put the Dyson Outsize to the test in a real world test to determine how long each mode can run for.
Boost mode: 7 minutes and 15 seconds
Auto mode: 48 minutes and 5 seconds
Eco mode: 81 minutes and 5 seconds
Each test was conducted with the High Torque XL cleaner head. These tests were conducted on a single battery. So you can effectively double them if you were to use both batteries.
RELATED – What's the best Dyson vacuum?
🧬 Design
The design of the Dyson Outsize Absolute+ feels like a bit of a mix between the technology of the new V15, but with the larger size of the original Outsize.
This larger size covers up to 25% more than older model V Series Dysons, meaning you can clean the same square footage in less time.
Dyson Outsize Absolute+ vs. V11 Outsize
Outsize Absolute+
V11 Outsize
Both of these Dyson Outsize models have the same:
Size
Max suction power (220 AW)
Cleaning modes (eco, auto, boost)
Wider cleaning path (12.5″)
Dust bin capacity (0.5 gallons / approx. 7 cups dry debris)
Upgrade of the Absolute+ over original Outsize includes:
Laser light

: A Fluffy cleaning head with laser light is also included with the Absolute+ that can make it easier to see particles on the floor as you clean. This modified cleaning head is also lower profile than the cleaning head on the original Outsize.
The Cleaning Heads
The Outsize Absolute+ comes with two cleaning heads, similar cleaning heads that are found on the V15 Detect, but with one difference.
Fluffy Cleaning Head
High Torque XL Cleaning Head
The Laser Slim Fluffy cleaning head on the Absolute+ is the exact same head as what you'll get on the V15 model.
The High Torque XL cleaning head on the Outsize Absolute+ is about 25% wider than the High Torque head for the Dyson V15, as well as previous models like the V11 or V10.
The High Torque XL cleaning head is the same width as the Torque Drive cleaning head on the V11 Outsize / Outsize.
However, it does have the advantage of including anti-tangle polycarbonate teeth for better performance.
The Cyclones
The Outsize Absolute+ uses the same cyclonic cleaning that Dyson is known for. These cyclones are designed to spin air at incredibly fast rates, creating stronger, fade-free suction power.
It has a 2-tier system made up of 18 cyclones, which is 4 more cyclones than what you'll find on the original Dyson V11.
Suction Power
The suction power on the Outsize Absolute+ varies depending on which mode is used. There are three cleaning modes—Boost, Auto, and Eco.
Suction levels at each mode are as follows:
Boost: 220 AW
Auto: 49.5 AW
Eco: 24.9 AW
Digital Display
The digital display on the Outsize Absolute+ matches the display that is found on the back of the Outsize and V11 Torque Drive.
It can be used to:
Change current cleaning mode
View remaining run time
See maintenance alerts
Displays for each cleaning mode and maintenance alerts are clear and intuitive. You can check out how those screens look below.
You can easily cycle through the modes or display screens by pressing the button on the bottom of the display.
Size & Dimensions
The Dyson Outsize Absolute+ is the same size as the regular Dyson Outsize / V11 Outsize. It's of similar height to the other V Series Dysons, but virtually everything else about this vacuum is physically larger and heftier than non-Outsize models.
Here are the exact dimensions of the Dyson Outsize Absolute+.
Length: 50.63″
Width (cleaning head): 12.5″
Weight: 5.4 lbs
Dust bin capacity: 0.5 gallons or approximately 7.5 cups of dry debris.
To accommodate the oversize dust bin, the Outsize Absolute+ uses a slightly shorter wand compared to non-Outsize models.
Parts & Accessories
What attachments and accessories does the Outsize Absolute+ come with?
Well, as the name suggests this model comes with absolutely everything you think you may need.
With the max number of tools and accessories, you can rest assured that the Absolute+ will be prepared for virtually any cleaning job.
The complete list of parts and accessories includes:
Laser Slim Fluffy cleaner head
High Torque XL cleaner head
Hair screw tool
Crevice tool
Stubborn dirt brush
Mini soft dusting brush
Combination tool
Wand clip
Docking station
Charger
Additional charger
Additional battery
Laser Slim Fluffy Cleaning Head (new)
High Torque Cleaning Head (new)
Hair Screw Tool (new)
Crevice Tool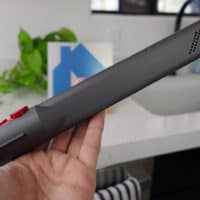 Stubborn Dirt Brush
Charger
Docking Station
Wand Clip
Soft Dusting Brush
Mini motorized brush tool: includes a small brush bar to clean hair and ground-in dirt
Crevice tool: a long narrow tool that helps to reach in between nooks or crannies, like next to furniture, between couch cushions, or car interiors.
Combination tool: works as a short crevice tool or soft dusting brush
HEPA filter: a washable filter that captures fine particulate and prevents the vacuum from recirculating it back into the air
Click-in battery pack: two batteries are included that allows you to always be charging a battery while the other one is in use
Dusting brushes (x2): includes one soft dusting brush for wood furniture or delicate items as well as a stiffer dusting brush to break down more stubborn dirt
Docking station: a wall-mounted station that holds the vacuum and two tools
Charger: plugs into the back of the vacuum for a quick charge and also charges the quick-release click-in batteries when not in use
Click-in Battery
The Outsize Absolute+ uses a click-in battery that snaps into the base of the handheld unit. Click-in batteries are fairly new to the Dyson lineup, starting with the V11 model.
They're convenient and easy to use, allowing you to buy extra batteries and use them interchangeably, increasing available run time.
👍 Usability
The setup of the Outsize Absolute+ is basically identical to other preceding Dyson V Series stick vacuums.
Factors on this vacuum which improve overall usability include:
Cordless design, up to 120-minute run time
Click-in battery, interchangeable (qty: 2)
Quick-release attachment design
2-in-1 conversion between stick vac and handheld
Initial Setup
Setting up the Dyson Outsize Absolute+ is relatively simple and intuitive. Once the package arrives, you can follow the steps below. From boxed to being ready to clean, the whole setup process should take about 5 minutes or so.
To get started:
Unbox the vacuum and remove all packaging.
Charge the battery packs fully prior to first use.
Once charged, click in the battery into the vacuum.
From this point, you can select your desired attachments to the turn the vacuum into a stick vacuum or a handheld.
To use as a handheld, simply attach cleaning tools directly (like the crevice tool, mini-motorized cleaning head, dusting brush, etc.)
To use as a stick vacuum, attach the extension wand and then a cleaning head—either the Fluffy head or the High Torque XL head.
Daily Use
The daily use of the Outsize Absolute+ boils down to a lot of flexibility and swapping of tools. It's easy to use, cordless, and designed to easily swap configurations as your cleaning jobs change.
Maneuverability
I will say that I preferred to use the Outsize in stick vac mode mostly.
As a handheld, it's pretty heavy (relatively speaking) and the larger dust bin can be a lot to manage, making it feel a little awkward.
But again, the benefits of the Outsize are definitely more power and more capacity so the argument could be made that users who prefer the Outsize, don't mind the added bulk because it's somewhat expected.
🔧 Maintenance
Maintenance on the Dyson Outsize Absolute+ is consistent with other V-Series Dysons and boils down to a short list of tasks:
Empty the dust bin
Wash the filter
Watch the brushroll
Recharge the batteries
1. Empty the Dust Bin
The dust bin on the Absolute+ holds up to 0.5 gallons so you likely don't need to empty as often as you would other models. To empty it, simply slide the red level on the side to open the dust bin hatch and push the debris out.
2. Wash the Filter
Like most other Dysons, the filter is fully washable. Simply rinse clean with cool water and leave it out to dry for 24 hours. Dyson recommends doing this monthly.
3. Watch the Brushroll
Both the Fluffy cleaning head as well as the High Torque Drive XL head are designed to prevent tangles and clogs, but it's always a good idea to keep an eye on it.
If hairs do tangle, you can generally pull them out with your hand or if they are tightly wound, use scissors to clip away the hairs.
4. Recharge (or replace) Batteries
The Outsize Absolute+ comes with two click-in batteries, which limit the frequency you'll need to worry about replacing them.
You can use one while you charge the other, which also can provide longer run times if you're concerned about that.
Maintenance Alerts
In addition to the tips above, you can also receive maintenance tips from the digital display, which will let you know when something is amiss.
📰 Dyson Outsize Absolute+ Specifications
| Specifications |   |
| --- | --- |
| Type | Stick |
| Manufacturer | Dyson |
| Model | Outsize Absolute+ |
| Length | 50.6" |
| Width | 12.5" |
| Height | 10.3" |
| Weight | 7.85 lbs. |
| Floor Type | All (indoor) |
| Dust Bin Capacity | 1.89 L / 0.5 gallons / ~7 cups dry debris |
| Cordless | Yes |
| Bagless | Yes |
| Returns | Varies by retailer |
| Warranty | 2-Year limited |
| Price | Check Price |
I would recommend the Dyson Outsize Absoute+ if you're looking for the following in a stick vacuum:
XL capacity: The Dyson Outsize Absolute+ offers XL dust bin capacity, incredibly high suction, and a long run time. All of these are more than what you'd typically see in a standard cordless stick vacuum.
Laser light on cleaning head: The Fluffy cleaning head has a laser light integrated into the design of the head itself. When used, it illuminated the floor with a bright green light that can make it easier to see particles and other debris as you clean.
2 Hour Run Time: With 2 batteries you can get get around a 2 hour run time. For even the largest homes that should be more than sufficient.
Click here to read more or check the price on the Dyson Outsize Absolute+ cordless stick vacuum.
ChangeLog
April 15, 2021 – Corrected 2 errors. One where we said this model has a particle sensor and one where we said it had the more advanced display. It has neither of these features, they are only available on the V15.
April 6, 2021 – Initial version of the page was published. Initial version is a pre-test review, meaning we have not yet personally tested this exact model yet. We have tested the Dyson V11 Outsize, which is functionally identical to the Outsize Absolute+. The differences are fairly minor and mostly attachments / tools, most of which we have tested.