For a high quality fan and air purifier, your searches may have landed you among the selection of Dyson air purifiers. Dyson offers devices that are exclusively fans, combo fans / air purifiers, and even one model that is a fan, heater, and air purifier (the Dyson HP04).
The Dyson Pure Cool DP04 is essentially a more compact version of the Dyson Pure Cool TP04. It is a cooling fan and air purifier in one and is designed to intelligently detect indoor air quality and self-adjust purification settings as needed.
If you're looking for a Dyson fan and purifier and don't need a "heating mode" (like the Dyson HP04 model), then the DP04 could be an excellent option for you.
Compact, High-Performing Air Purifier
Dyson Pure Cool DP04
The Dyson Pure Cool DP04 is a more compact air purifier, but still designed for cleaning medium to large sized rooms. You can set it on Auto mode for autonomous adjustments to real-time air quality conditions, or customize settings to your liking. For an all-around solid fan and purifier, it's hard to beat the DP04.
Check Price
Pros
Compact design without sacrificing airflow
Excellent air purification performance
Easy bladeless design is easy to clean
Cons
Higher price point compared to other non-Dyson models
Performance was slightly worse than what we tested on the Dyson TP04 (but still top tier, nevertheless)
Dyson Pure Cool Design
The design of the Dyson Pure Cool DP04 looks similar to the HP04. It has a compact body, but is large enough to move a large amount of air (419 liters / sec to be exact).
Unlike the TP04 and HP04 models, the Dyson Pure Cool DP04 has a round amplifier instead of an oval amp. Despite appearances this actually results in greater air flow.
For comparison, here are the stats on airflow vs. size, by model:
Dyson TP04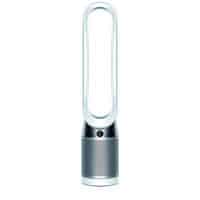 Tower design
Oval amp
361 liters / sec
Dyson HP04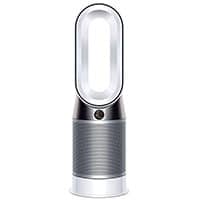 Compact design
Oval amp
310 liters / sec
Dyson DP04
Compact design
Round amp
419 liters / sec
NOTE – The Dyson HP04 functions as a heater and as a cooling fan, depending on which mode it is set on. Click here to check out our full review of the HP04.
It is more compact in size (when compared to the tower style, like the Pure Cool TP04) and instead of an oval amplifier, it has a round amplifier. As you can see in the table above, the design of the round amplifier actually results in greater airflow than both of the oval amp models (TP04 and HP04).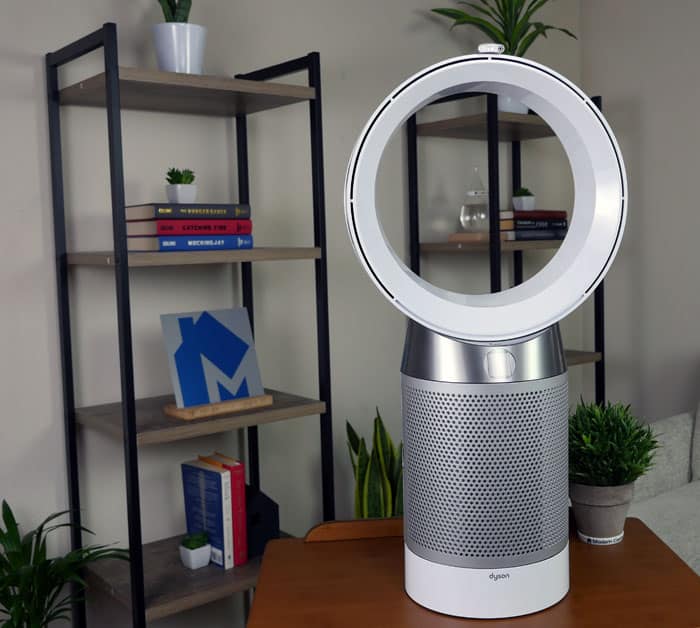 Similarly to other Dyson Pure Cool fans, the DP04 has a white body with silver accents around the air intake area as well as accents on the amplifier.
If you're interested in other colors, it is also available in a black and nickel finish or an iron and blue finish.
The base at the bottom of the Pure Cool DP04 houses the air intake and all filtration technology. For this Dyson air purifier model that means HEPA filtration as well as activated carbon filtration (for neutralizing odors).
The Controls
The controls on the Dyson Pure Cool DP04 are similar to what you'll find with other 4th generation Dyson Pure Cool models.
There is a round digital display screen that shows a variety of settings including:
Air quality
PM 2.5
PM 10
VOCs
NO2
Temperature
Humidity
Filter Lifespan
Apart from the digital screen, additional controls can be accessed using a few different methods.
The Dyson Pure Cool DP04 can be controlled with:
Remote Control
Voice Control (via Amazon Alexa)
Smartphone-based App Control (via Dyson Home app)
To help keep track of the remote control, it magnetically attaches to the top of the purifier.
Remote Control
The physical remote control is a nice feature included on the Dyson DP04 air purifier.
Using the remote control, you can:
Power on / off
Check filter status
Adjust fan speed
Reverse air flow
Oscillate
Auto mode
Night mode
The Pure Cool DP04 offers a few other features as well which can be accessed using the Dyson app on your smartphone.
Smart Control
From the app, you can see additional details about the indoor air quality of your home as well as outdoor air quality.
Setting up the DP04 on the app is quick and easy to do. Once it's all setup, your smartphone can essentially function as if it were the remote control.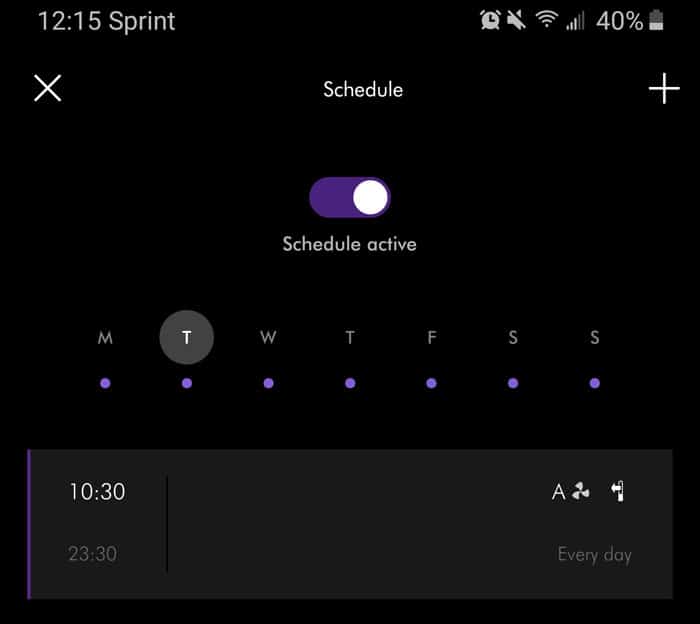 You can turn the purifier on / off, change modes, change fan speed, angle of oscillation, and many other features for a custom air experience.
Or you can simply set the purifier on "Auto" and let it analyze the air quality and adjust as needed.
The Filters
The Dyson DP04 comes with two filters, but they are sold in a pack for convenience and have the same replacement frequency.
The two filters used by the Dyson Pure Cool DP04 includes:
HEPA filter: designed to capture particulate as small as 0.3 microns
Carbon filter: designed to neutralize odors like smoke, food, etc.
RELATED – How to smoke in your room without smelling it?
The Modes
There is a wide variety of custom features and airflow settings offered on the Dyson Pure Cool DP04 purifier. Overall, the modes can be divided into three categories:
Auto Mode: In auto mode, the DP04 will automatically assess the indoor air quality and adjust fan speed and other settings as necessary in order to improve the air quality.
Custom Mode: When in custom mode, you can manually adjust the features to your liking. You can change the fan speed, airflow direction, or angle of oscillation (ranging from 0-350°).
Night Mode: In night mode, the DP04 runs at its quietest decibel level and also dims all displays, so it won't disturb your sleep. The DP04 also has a sleep timer that ranges from 1-8 hours to keep the modified settings for as long as you'd like.
Air Quality Assessment
Air quality assessment is an important integration on the Dyson DP04 air purifier and is one of the smart features that adds to the overall value of the Dyson.
The air quality can be viewed in real time by looking at the digital display screen at the base of the purifier or by using the Dyson app on your smartphone.
On the digital screen, the air quality is shown as a line chart where red indicates poor air quality, yellow indicates medium air quality, and green notes good air quality.
You can also scroll through other more specific air quality menus using the remote control.
The DP04 can also tell you the type of pollutants that it senses when air quality is poor.
On the app, there are a few more features that are available, showing indoor and outdoor air quality. The app includes details on:
Temperature
Humidity
Current AQI (air quality index)
Particulate matter (PM2.5 and PM10)
VOCs
NO2
Air quality history (over time)
Size & Dimensions
The Dyson Pure Cool DP04 is designed as a desk air purifier, but I feel like it is certainly hefty enough to also just be placed directly on the floor if table top space is limited.
The exact specs and dimensions of the Dyson Pure Cool DP04 are listed below:
Base Diameter: 13.9″ diameter
Height: 27.2″ tall
RELATED – Looking for another semi-compact air purifier with great performance? Check out our head-to-head comparison review of Molekule vs. Dyson.
Accessories & Parts
The Dyson Pure Cool DP04 comes with all of the basics that you'd need to run this purifier straight out of the box.
What's in the box?
Dyson DP04 air purifier
Power cord
360° Glass HEPA filter
Activated charcoal filter
Remote control
Performance
The performance of the Dyson Pure Cool air purifier has a lot hanging in the balance between price and value. This is certainly one of the more expensive air purifiers on the market so air quality performance is a huge part of whether or not this purifier is worth the cost.
MORE – Full list of Dyson air purifier tests and reviews.
To get the full story on performance, we put the Dyson Pure Cool DP04 to the test and ran this purifier in our at-home lab. Our testing process is pretty straightforward. For the most accurate results, we use the following process:
Measure and document initial air quality.
Run the air purifier in a closed room for 1 hour.
Remeasure and document air quality after the DP04 has been running.
During the testing process, we're looking at a number of stats, but a lot of it comes down to the overall particulate count and it's relationship to AQI (air quality index).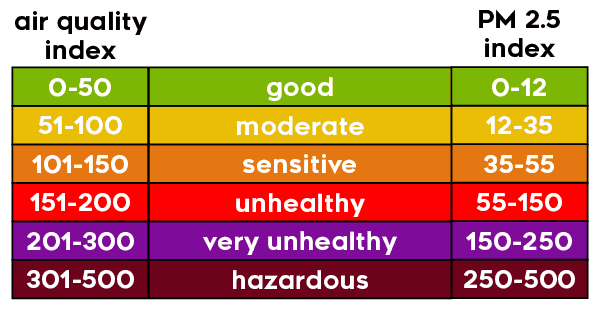 The Test
Overall, I was impressed with the performance of the Dyson Pure Cool DP04 air purifier. It's performance was comparable to that of other Dyson Pure Cool units, like the Pure Cool TP04.
Starting Baseline
PM 2.5: 4.9
PM 10: 8.5
Particles: 359
AQI: 20
After 1 Hour
PM 2.5: 0.3
PM 10: 0.3
Particles: 29
AQI: 0
Within 1 hour, the Dyson DP04 removed 92% of air particulates from the medium-sized room we tested in (approx. 12'x12′). Dyson improved PM 2.5 air quality by 94%.
For a complete comparison, you can see the full review of the TP04 here. This model improved MR2.5 by 97% and removed 98% of air particulates from the room. You can find our Dyson Pure Cool comparison review and charts here.
Setup & Usability
The setup and usability of the Dyson Pure Cool is simple and quick. It is extremely intuitive and the settings are easy to adjust.
To get started, you need to:
Unbox the purifier and remove all packaging.
Install the filters.
Plug in the purifier.
Turn it on.
Once it's up and running the Dyson DP04 will default to auto mode. If you leave it in auto, it will begin to evaluate current air quality conditions and select the appropriate fan speed and other settings to best treat the air.
You can also customize settings like fan speed, oscillation angle, and airflow direction to get air precisely where you want it to go.
Pure Cool DP04 Maintenance
The maintenance on the Dyson Pure Cool DP04 is basically identical to other Pure Cool models by Dyson… very minimal.
The two main jobs you need to do are:
Wipe down the body of the purifier and the amp.
Monitor the filters and replace as needed.
Regularly wiping down the purifier with a dry cloth will help to eliminate fine particulate building up along the body of the purifier. You can also use a handheld vacuum with a soft dusting brush attachment to clean it.
Monitoring the filters is even easier and basically just means keeping an eye on the filter status. The Dyson DP04 is smart and will notify you when it's time to replace the filters.
RELATED – What is a HEPA filter?
To check up on the status of the filter at any time, you can reference the smartphone app or use the "Info" button on the remote control for additional details.
Is the Dyson Pure Cool a good value?
So specs and feature aside, are you wondering if the Dyson Pure Cool DP04 is a good value for you?
It is certainly not one of the cheapest air purifiers, but as is generally the case with Dyson… you truly do get what you pay for.
After our review and performance testing, our findings showed that not only did the Pure Cool DP04 effectively purify the air in our at-home lab, but it was also easy to use and the intelligent real-time air quality made it easy for the unit to adjust to changing conditions.
It offers:
Some of the best air filtration we've tested to date
Has a ton of smart features
Can purify a large space
Looks cool and modern
Expensive, yes, but worth the money, in our view.
Dyson Pure Cool DP04 Specifications
| Specifications | |
| --- | --- |
| Manufacturer | Dyson |
| Model | Pure Cool - DP04 |
| Base Diameter | 8.8" |
| Amp Diameter | 13.8" |
| Height | 27.2" |
| Weight | 10.18 pounds |
| Oscillation | 350° |
| Filters | 2 filters (1 HEPA and 1 activated charcoal) |
| Wifi Compatible | Yes |
| Max Airflow | ~419 liters / sec |
| Returns | Varies by retailer |
| Warranty | 1-Year limited |
| Price | Check Price |
Should You Buy the Dyson Pure Cool?
All things considered, should you buy the Dyson Pure Cool DP04 air purifier? This air purifier is more compact than the Dyson Pure Cool TP04 and with slightly greater airflow.
It's a solid option for cooling medium to large size rooms without taking up an excessive amount of space.
I would recommend the Dyson Pure Cool DP04 to people looking for the following features in an air purifier:
Want a compact footprint with good airflow: The Pure Cool DP04 moves 419 liters of air per second, which is one of the highest rates of airflow on any Dyson Pure Cool purifier. On top of that, it is also pretty compact and is small enough to sit on a counter or tabletop.
Want to remove particulates and smells: The DP04 is equipped with both a HEPA filter and activated carbon filter. The HEPA filter removes fine particulates, while the activated carbon filter is able to help manage odors, bad smells, and VOCs.
Want adjustable settings: If you want the option between automated setting and customized cooling, the DP is a solid option. In Auto mode, it will determine the best settings for the current air quality and adjust as needed. You can also customize fan speed, airflow direction, oscillation, and set custom timers.
Want great purification performance: While our tests didn't show it matching the performance of the Pure Cool TP04, it did come really close and was able to improve indoor air quality by 94%.
To learn more or to buy the Dyson Pure Cool DP04 air purifier, check it out here.
Pricey, But Exceptional Performance
Design -

98%

Performance -

98%

Quality -

98%

Usability -

100%

Value -

97%
Summary
The Dyson Pure Cool DP04 is a high-performing air purifier that doubles as a bladeless fan. It can move up to 419 liters of air per second, but the bladeless design makes it extremely quiet to operate. You can run it in Auto mode or set up custom settings for a unique experience. If you're looking for a smaller footprint, with maximum airflow the Dyson Pure Cool DP04 is certainly a solid choice.