Dyson's Pure Cool series are modern looking, high performance air purifiers. Today we'll be looking at the Dyson Pure Cool TP02 review.
While the TP02 model is a few years old, it still remains one of the best air purifiers on market today. So with that said, let's dive in.
High Performance Air Purifier
Dyson Pure Cool TP02
The Dyson Pure Cool TP02 is one of Dyson's flagship air purifiers. It performed exceptionally well in our tests, reducing PM2.5 to 0.2, while AQI was reduced to 0 (both within 1 hour). The TP02 is easy to use via Dyson's auto mode, remote control, and Dyson Link App. It's nice not cheap, but considering the performance, quality, and usability, it's still a solid air purifier in our view.
Check Price
Pros
3rd highest air flow among all Dyson air purifiers at 410 liters / sec
Great performance in our purification tests, reducing PM2.5 to 0.2, PM10 to 0.2, and AQI to 0
A good value (especially since it's a few years old)
Cons
Digital display is extremely basic, especially compared to the Dyson TP04 (see our review here)
Fairly tall at 40″
Quick Specs
Dimensions: 7.7″ x 40″
Filter: HEPA
Max Airflow: 411 liters / second
Oscillation: 180°
Want to see how the TP02 compares to other models? See our complete Dyson air purifier review and comparison here.
Dyson Pure Cool TP02 Design
The Dyson Pure Cool TP02 uses a tall slender design with a large open amplifier on top of the unit. There are fan no blades.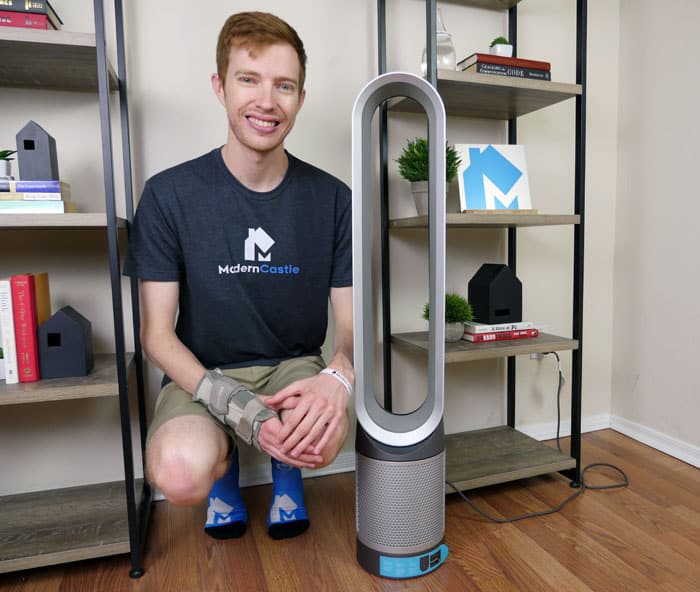 Instead air is driven through the bottom of the unit, through the filter, and out the amplifier on top.
The Amplifier
The Dyson amplifier is one of the most unique features with Dyson fans and Dyson air purifiers. It is the oscillating element and is where purified air is pushed out.
The bladeless design creates a sleek and modern aesthetic.
Cleaning the amplifier is easy. Simply use a basic cloth or dusting brush attachment on a vacuum cleaner.
The Controls
You can control the Dyson Pure Cool TP02 one of two different ways:
Remote Control

Dyson Link App
#1 Remote Control
The remote control has no visual interface, so you'll need to watch the purifier itself, while also watching the display screen.
As you cycle through menu options and settings you'll see the display screen adjust accordingly.
Using the remote control you can adjust any of the settings on the Pure Cool TP02.
Perhaps the biggest downside with the TP02 is the simplicity of the display itself. It is a basic digital display and doesn't offer as much information as Dyson's current generation of air purifiers (TP04, HP04, and DP04).
#2 Dyson Link App
In addition to the remote control, you can also control the air purifier using the Dyson Link App.
The app takes about 5 minutes to setup and is incredibly easy to use.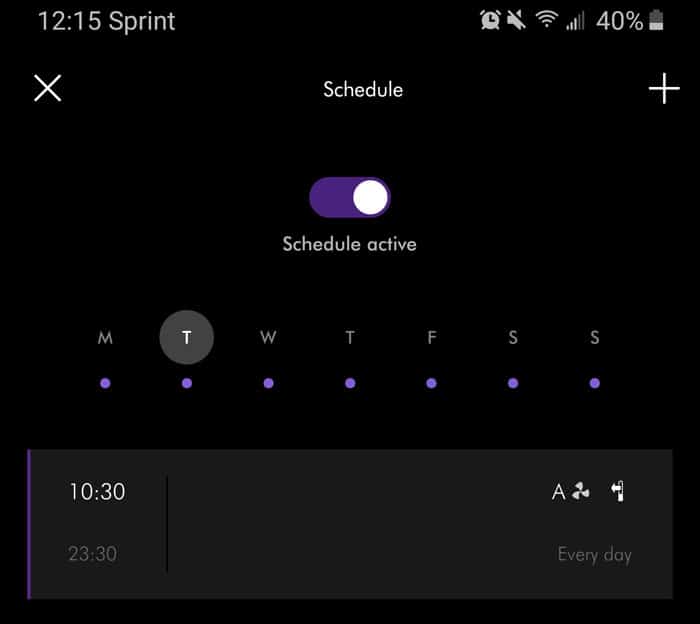 Using the app you'll be able to set a daily / weekly purification schedule, as well as adjust other settings, monitor performance, and more.
Here's a list of all the stuff you can do with the Dyson Link app:
Control all settings and features on the TP02
Monitor air quality both inside and outside your home
Create and manage a schedule
Voice control (via Alexa and other platforms)
Get updates for the purifier itself
HEPA Filters
The Pure Cool TP02 uses a single large circular HEPA filter that wraps all the way around the base of the unit.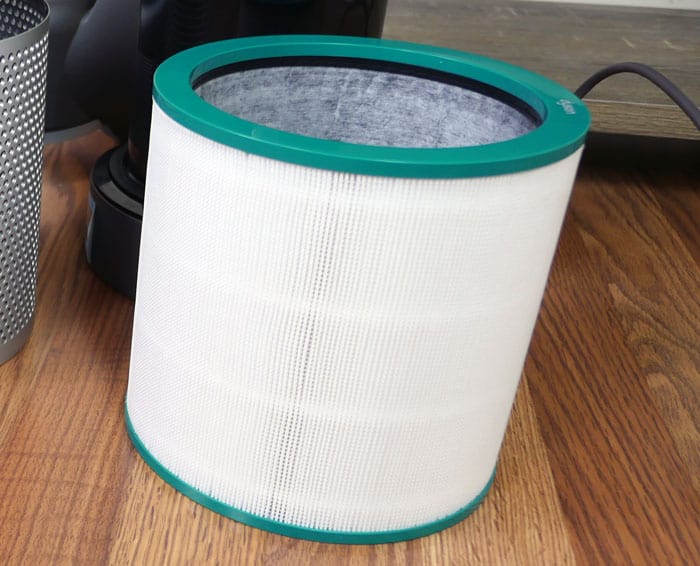 HEPA filters are designed to remove 99.97% of airborne particulates down to as small as 0.3 microns. For more information on HEPA filters, see our How HEPA filters work guide.
How it works
The Dyson TP02 works like most air purifiers.
Untreated air is sucked into the TP02 thru the base
That air passes through the HEPA filter
The HEPA filter traps particulates that pass over it
The Dyson TP02 forces the purified air out through the top amplifier
It's a simple, but effective design that most air purifiers have been using since they were first introduced.
Size & Dimensions
The Dyson Pure Cool TP02 is a tall and slender purifier. The design allows you to easily tuck in a corner of the room.
The TP02 is:
Accessories & Parts
The Dyson TP02 comes with just a few basic parts and accessories that you'll need, including:
Dyson Pure Cool TP02 air purifier
HEPA filter
Remote control
Power cord
RELATED – What's a HEPA filter exactly? (and why it's important)
Dyson Pure Cool Features
There are no shortage of air purifiers on the market (see the full list we've tested here).
Almost all of them that are of any reasonable quality will do a nice job of purifying the air. However, it's the extra features that really help push Dyson to the next level.
Smart Control
The Dyson Pure Cool TP02 can be controlled using the Dyson Link App. This app includes a ton of features, including:
Full control over all settings and modes
The ability to set a schedule for purification
Monitor filter lifespan
Monitor air quality both inside and outside your home
Modes
The Dyson TP02 has a handful of different operating modes you can choose from. The most common and what is best for most homes is going to be auto mode.
On Auto Mode the Dyson Pure Cool will automatically sense the quality of the air and increase or decrease fan speed in order to maintain high quality air in your home.
If you prefer to take manual control you can do that to. Simply manually adjust fan speed and oscillation based on your preferences.
Lastly, night mode can be enabled, which turns on a sleep timer. This is nice if you don't want to have to worry about turning the purifier off as you're getting ready in the morning. Just set it for as long as you intend to sleep and forget it.
Real Time Sensors
Last, but not least, we have real time air quality sensors.
The TP02 uses a built in sensor to determine air quality. This provides real time feedback so you know how clean / dirty your air is.
In addition, the Dyson Pure Cool also uses this data to operate on auto mode. The dirtier the air is, the more auto mode will increase fan speed to accommodate (and vice-a-versa).
Air Purification Performance
Performance on the Dyson Pure Cool TP02 was exceptional. It easily handled our air purification tests without any issues, dramatically improving air quality.
To fully test any of our air purifiers, we rely mainly on the comparison between a baseline number and the results after running the purifier in a closed room for one hour.
We compare the results by looking at the overall air quality index, and PM (2.5 and 10).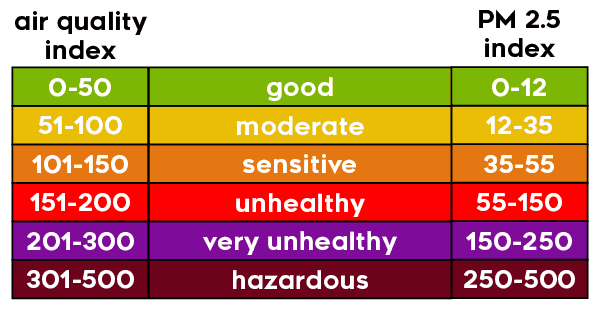 What is PM?
PM stands for "Particulate Matter". This measurement can basically be divided into two camps , PM10 and PM2.5.
PM 10 = particulate matter that is 10 micrometers and smaller
PM 2.5 = particulate matter that is 2.5 micrometers and smaller
We perform these tests in our home-based testing lab, meaning that the air is much like the air you'd find in most average homes. For example, we have a dog, a baby, and seasonal allergens that come and go.
How do we test?
To start the test, we begin with a baseline measurement, using a Temtop LKC-1000S+ professional air quality detector. 
Once we've documented the baseline air quality, we run the purifier in a closed room and document the change in air quality after 60 minutes is up.
Below is our testing data from the Dyson TP02:
Starting Baseline
PM2.5: 2.8
PM10: 4.1
Particles: 279
AQI: 11
After 1 Hour
PM2.5: 0.2
PM10: 0.2
Particles: 29
AQI: 0
Within 1 hour the Dyson TP02 had improved PM2.5 from 2.8 to 0.2, an improvement of 92.8%. Additionally, PM10 was reduced from 4.1 to 0.2, an improvement of 95.1%.
Particles were reduced by 89% and the air quality index reached a level of 0.
The performance of the TP02 was among the best we have tested to date.
You can find our other air purifier tests here.
Setup & Usability
Setting the Dyson air purifier up is incredibly easy.
Unbox everything and remove the packaging
Install the filter (slides into the base)
Plug it in
Turn on
That's it. From there, you can set it on auto mode or select a manual operating mode.
Maintenance
All air purifiers are going to require maintenance. Typically, most of the cost is going to be tied up in replacement filters.
Depending on how often and hard you run your air purifier will determine how often you need to change the filter.
Dyson does not provide a hard recommendation on how often they suggest changing the filter (at least that we could find). However, other high-end HEPA air purifier manufacturers we've seen typically recommend replacing the filter annually.
This is probably a pretty good guess for what you could expect on Dyson's Pure Cool.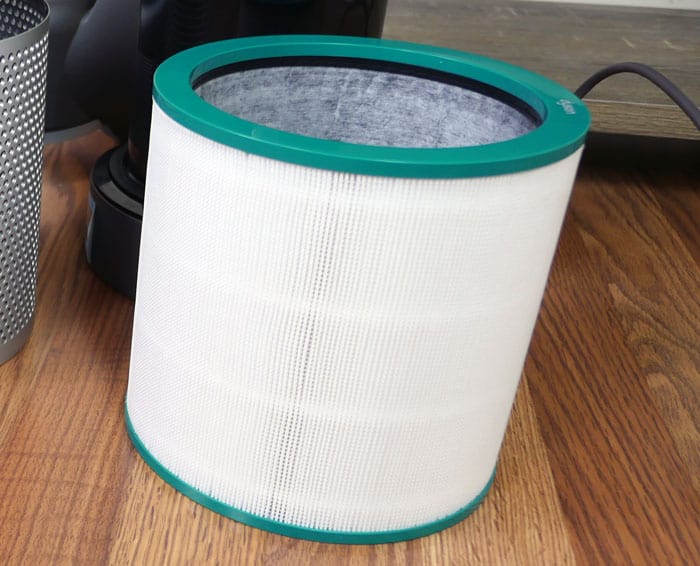 The only other maintenance task you'll want to keep an eye on is simply wiping down the amplifier and air in-take periodically. Just use a basic microfiber or dusting cloth to remove any built up dust and dirt on the outside.
That's it.
Is the Dyson Pure Cool TP02 a good value?
Definitely.
The Dyson Pure Cool TP02 checks all of my boxes.
It showed great performance, reducing PM2.5 and PM10 to 0.2
It's easy to use via the remote, auto mode, and the app
It looks great and doesn't take up much room
Dyson does everything I'd want in a purifier at a price that feels fair and reasonable considering the performance, quality, and usability.
Dyson TP02 Specifications
| Specifications |   |
| --- | --- |
| Manufacturer | Dyson |
| Model | Pure Cool TP02 |
| Width (inches) | 7.7" |
| Height | 40" |
| Weight | 8.4 pounds |
| Filters | HEPA Filter |
| Wifi Compatible | Yes |
| Max Airflow | ~410 liters / sec |
| Returns | Varies by retailer |
| Warranty | 1-Year limited |
| Price | Check Price |
Should you buy the Dyson Pure Cool TP02?
Still not sure if the TP02 is right for you? Below we've summarized the most important factors.
You should buy the Dyson Pure Cool TP02 if:
You want great performance – the TP02 did well in our cleaning tests, reducing PM2.5 and PM10 to 0.2. Number of particles per cubic liter was reduced to 29 and AQI reached a level of 0. It's among the best air purifiers we've tested to date based on performance.
You want an easy to use purifier – you've got auto mode, the Dyson Link app that enables scheduling, and a remote control. There just isn't much more I feel Dyson could even add to make it easier than it already is.
You want a quality product – whether it's vacuums, purifiers, or high dryers, Dyson makes good stuff. We have been consistently impressed with build quality across all of the Dyson products we've tested here at Modern Castle (see our Dyson vacuum tests here). You pay a little bit more, but I never worry about a Dyson dying for no good reason.
Questions or comments? Please drop us a note down below. We're always happy to answer any questions.
For more information the Dyson TP02 click here.
Excellent Performance & Easy to Use
Design -

95%

Performance -

100%

Quality -

98%

Usability -

100%

Value -

97%
Summary
The Dyson Pure Cool TP02 is a high-end air purifier. It uses HEPA filtration to purifier the air. The bladeless design is sleek and modern, while a remote control, smartphone app, and auto made making using it incredibly easy. It scored well in our air purifier tests, reducing PM2.5 and PM10 to as low as 0.2. AQI was reduced to 0. It's a few years old, but that helps keep the price lower, making the value one of the best we've seen to date.