This air purifier review is going to be looking at the Dyson Pure Cool TP04. It's had a few upgrades from previous versions like the TP01 or TP02. Check out the details and figure out if it's right for you.
Let's go!
Air Purifier for Medium & Large Rooms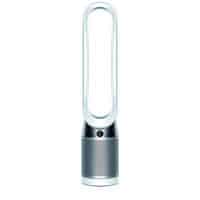 Dyson Pure Cool TP04
The Dyson Pure Cool TP04 is a large, bladeless, HEPA air purifier that is designed with the patented Dyson amplifier. It performed well in our at-home test and dramatically improved air quality, reducing PM2.5 from 7.2 to 0.2, a 97% improvement.
Check Price
Pros
Real-time air quality feedback helps to know when it's time to bump up fan speed
Auto mode can monitor and adjust the purifying based on air quality
Large amp is great for moving air through larger rooms
Cons
A little on the pricey side
On the large side at 41.5″ tall
Quick Specs
Dimensions: 8.8″ diameter x 41.5″H
Airflow Direction: Forward or Backward
Max Airflow: 361 liters / sec
Oscillation: 350°
RELATED: Click here to check out our full rundown of all Dyson air purifiers.
Dyson Pure Cool TP04 Design
The design of the Dyson Pure Cool TP04 is tall with a narrow base and a large, open amp that the air flows through.
The Dyson TP04 is available in three different colors:
The Amplifier
The amplifier, commonly referred to as the "amp" is one of the iconic features of most Dyson air purifier. The bladeless amp is designed to move air without needing rotating blades or other small parts / attachments.
It's easy to wipe down with a dry cloth or vacuum using a soft dusting brush.
RELATED: Want the fan, but don't need the purifier? Click here to check out our full review of Dyson fans.
The Controls
The Dyson Pure Cool TP04 can be controlled using a few different methods. You can use the:
Display Screen
Remote Control
Smartphone Control
#1. Display Screen
The display screen is located towards the base of the air purifier and contains a menu, customizable features, and current readings of the air quality in real time.
In the image above, you can see the chart showing "AQ" and a "5". The AQ stands for "Air Quality" and the "5" is the current fan speed.
When on Auto Mode, the fan will automatically adjust speeds based on the air quality. You can also customize the fan speed and air direction when in custom mode.
You cannot change settings using the display screen, but you'l need to use it with the remote control to determine your current settings.
#2. Remote Control
The remote control allows you to:
Turn the purifier on / off
Adjust fan speed (1-10)
Oscillate base of the purifier (0-350°)
Reverse airflow (forward or backwards)
Turn on the sleep timer
Turn on Auto Mode
Flip through sensor readings (using the "i" button)
As another handy feature, all Dyson remote controls are magnetic and designed to hold to the top of the amp, via a magnetized amp.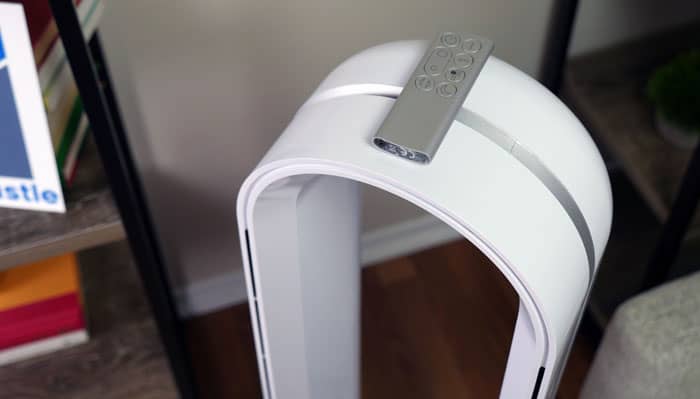 #3. Dyson Link App
The Dyson Link app provides a wealth of control, information, and monitoring for your Pure Cool air purification.
Controls all the same features and settings that the physical remote control does
Provides real-time air quality monitoring based on your geographic location (ie. how bad / good the outside air quality is)
Provides real-time air quality monitoring based on the sensor data from the Dyson air purifier itself (PM10, PM2.5, VOCs, etc.)
Allows you to set an automatic on / off schedule
Voice control
Provides firmware updates to the purifier
The Filters
The Dyson Pure Cool TP04 uses two main filters that work together to effectively purify the air. The filter set includes:
360° Glass HEPA filter: can capture particulate down to 0.3 microns in size
Activated carbon filter: helps to reduce and remove odors from the room
RELATED: Do air purifiers really remove odors? Click here for the answer!
How does it work?
Untreated air is sucked in from the base of the purifier, processed through the filters (Glass HEPA filter and an activated carbon filter) and then redistributed into the room with the help of the radial amp.
The amp can push air forward (towards you) or backwards (away from you) which makes it a nice option for use all year around.
Size & Dimensions
The Dyson TP04 air purifier is a tall and fairly slender air purifier. The exact dimensions are listed below:
Accessories & Parts
There are a few included accessories and parts that come with the Dyson Pure Cool. Nothing too fancy, just parts needed for basic use.
What's in the box?
Dyson TP04 air purifier
Power cord
360° Glass HEPA filter
Activated charcoal filter
Remote control
RELATED: What is a HEPA filter? Find out the details in this informative guide.
Dyson Features
The Pure Cool TP04 air purifier comes with a few features that are designed to make the Dyson truly a high-end air purifier.
Smart Control
With its integrated wifi-connectivity, the Dyson Pure Cool TP04 is able to be controlled using an app on your smartphone, the wireless remote control, or even using voice commands (when paired with an Amazon Alexa device).
Is it easy to pair the Dyson app?
Pairing up the Dyson app to the purifier was easy to do and took 6-7 minutes. I paired the TP04 to my Android phone without issue, but the app is also compatible on iOS.
The app provides a nice visual graphic of indoor and outdoor air quality based on:
Temperature
Humidity
PM10
PM2.5: particulate matter 2.5
VOC: volatile organic compounds
NO2: nitrogen dioxide
This information helps the Dyson air purifier to know when it's time to adjust fan speed.
Operating Modes
The Dyson Pure Cool TP04 comes with three main modes you can run from this air purifier. The modes include:
Auto Mode: When in Auto Mode, the Pure Cool TP04 will use its integrated sensors to detect current air quality and adjust fan speed as needed to properly purify the room.
Custom Mode: Custom mode involves a few different features that can be adjusted. Fan speed can range from 1-10 and airflow direction can be reversed to blow towards you or away from you. Oscillation can also vary, ranging from 0° to 350°.
Night Mode: When the nighttime mode is turned on, it basically just enables a sleep timer to be used. The timer can be turned on from 1-8 hours (in 2 hour intervals) for uninterrupted sleep.
Air Quality Assessment
One of the more unique features on the Dyson TP04 is the ability to analyze current air quality. We briefly touched on that above with the Dyson Link app.
You can see a full report of air quality on the app or directly on the digital display screen on the purifier itself. Below, we've included a snippet of some of the information that can be displayed on the purifier.
Seeing a wide range of data regarding the indoor and outdoor air quality helps you to know when it's time to turn the purifier up or down.
Of course, when in Auto Mode, the purifier will be able to adjust to varying air quality automatically.
Dyson Performance
An air purifier is basically only as good as its ability to clean the air. Overall, I was impressed with the performance of the Dyson Pure Cool air purifier.
To fully test any of our air purifiers, we rely mainly on the comparison between a baseline number and the results after running the purifier in a closed room for one hour.
We compare the results by looking at the overall air quality index, and PM (2.5 and 10).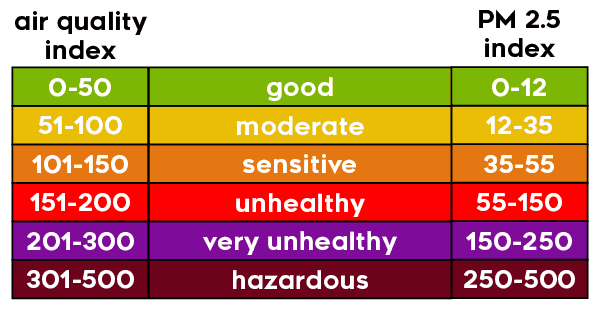 What is PM?
PM stands for "Particulate Matter". This measurement can basically be divided into two camps , PM10 and PM2.5.
PM 10 = particulate matter that is 10 micrometers and smaller
PM 2.5 = particulate matter that is 2.5 micrometers and smaller
We perform these tests in our home-based testing lab, meaning that the air is much like the air you'd find in most average homes. For example, we have a dog, a baby, and seasonal allergens that come and go.
RELATED: What's the best air purifier? We answer in this in-depth guide.
How do we test?
To start the test, we begin with a baseline measurement, using a Temtop LKC-1000S+ professional air quality detector. 
Once we've documented the baseline air quality, we run the purifier in a closed room and document the change in air quality after 60 minutes is up.
Here's what our Pure Cool TP04 tests showed:
Starting Baseline
PM 2.5: 7.4
PM 10: 12.1
Particles: 599
AQI: 30
After 1 Hour
PM 2.5: 0.2
PM 10: 0.2
Particles: 14
AQI: 0
Within 1 hour, the Dyson removed 98% of air particulates from the medium-sized room we tested in (approx. 12'x12′). Dyson improved PM 2.5 air quality by 97%.
How loud is the Dyson Pure Cool?
The Dyson Pure Cool air purifier ranges between 40-56 dB depending on room size, fan speed, and ambient noise present in the room.
Setup & Usability
Setting up and using the Dyson Pure Cool TP04 was fast and intuitive.
We simply:
Unboxed the air purifier.
Installed the filters.
Plugged the purifier in.
Turned it on.
The Dyson Pure Cool purifier started working immediately, on Auto Mode, and began purifying the air.
Dyson Maintenance
The maintenance on the Dyson Pure Cool TP04 basically boils down to following digital prompts.
Dyson doesn't recommend a filter life for most filters, but the digital screen and the Dyson app will tell you when the filters need replacing.
You can also check out the current status of your filters at any time to see where you're at regarding usage.
For the best performance, you'll want to make sure to replace these filters as soon as the purifier prompts you to avoid particulate build-up or damage to the purifier.
Is the Dyson Pure Cool TP04 a good value?
To assess the overall value of any air purifier, we look at a series of factors.
We're looking at: design, accessories, features, usability, setup, noise, maintenance, and overall performance. How well was it able to do what it was designed to do in relation to the cost?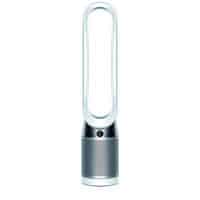 In the case of the Dyson Pure Cool air purifier, I was impressed. Is this a cheap purifier? Absolutely not, but I do believe that you get what you pay for in the case of Dyson.
The TP04 had great performance and was easy to use. The smart-capability (ie: connection to the Dyson Link app, smartphone control, and voice control) adds a great value to the usability of this purifier.
That being said, if apps aren't your thing, the digital screen on the purifier itself, as well as the physical remote control still gives users choices and options when it comes to how to control this purifier.
There are a number of custom features, like oscillation, airflow mode, and adjustable fan speed. You can also just let it do it's thing by leaving the purifier in "Auto Mode". In this mode, the Pure Cool will check the current air quality and
automatically adjust as needed.
Despite the high price point, it's still one of the best value air purifiers we've tested to date.
RELATED: Check out our Rabbit Air BioGS review for another high-coverage air purifier at a similar price point.
Dyson Pure Cool TP04 Specifications
| Specifications |   |
| --- | --- |
| Manufacturer | Dyson |
| Model | Pure Cool - TP04 |
| Width (inches) | 8.8" |
| Height | 41.5" |
| Weight | 10.89 pounds |
| Filters | 2 filters (1 HEPA and 1 activated charcoal) |
| Wifi Compatible | Yes |
| Max Airflow | ~361 liters / sec |
| Returns | Varies by retailer |
| Warranty | 1-Year limited |
| Price | Check Price |
Should You Buy the Dyson Pure Cool TP04?
So no doubt the Dyson Pure Cool air purifier is an excellent purifier with good design, intuitive controls, and customizable features. But it's also not cheap.
If you're looking for a high quality air purifier and are willing to foot the upfront cost for a high-performing model, the Dyson TP04 may be right for you.
I would recommend the Dyson TP04 to people looking for the following features in an air purifier:
Smart Control: The Dyson TP04 air purifier can be controlled using your smartphone, voice control (when paired with a voice control device like Amazon Echo), or a physical remote control.
Real Time Air Quality: The Pure Cool purifier also can measure real time air quality (inside and outside). When in "Auto Mode", this feature allows the Dyson to self-adjust as needed in order to accommodate changing air conditions.
Customizable Air Flow: The Dyson air purifier also comes with a number of features designed to allow you a custom airflow experience. You can adjust fan speed from 1-10, adjust airflow direction (forward or backwards), or adjust the angle of oscillation (0-350°).
To learn more or to buy the Dyson air purifier, check it out here.
Incredible Performance, Intuitive to Use
Design -

98%

Performance -

100%

Quality -

98%

Usability -

100%

Value -

97%
Summary
The Dyson Pure Cool TP04 is a large form-factor tower air purifier. It uses 2 filters to purify the air, including a glass HEPA filter and an activated carbon filter. During our tests it performed exceptionally well, getting PM2.5 as low as 0.2, an improvement of 97% over our baseline. The remote, auto mode, and Dyson Link app make it incredibly easy to control and maintain. Easily one of our favorite air purifiers we've tested to date.