The Dyson Pure Hot + Cool HP01 is a triple function air purifier, heater, and cooling fan small enough to sit on a desktop. What it lacks in size, it makes up for in ability to heat or cool a sizeable room.
At a lower price point than many other Dyson models, does it still stand up to the Dyson name and technology? Let's take a look at its features and abilities to find out.
Compact Air Purifier, Heater, & Fan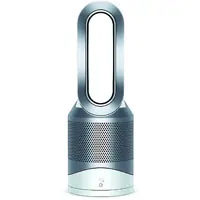 Dyson HP01
The Dyson HP01 purifies the air while also heating or cooling, making it a great option no matter the season. The 360° glass HEPA filter removes bacteria, allergens, and other pollutants from the air. While the air flow rate is lower at 200 liters / sec, that still equates to around 400 square feet of coverage. Considering the price point and relative performance, it's a great value option from Dyson.
Check Price
Pros
Less costly than other triple function models
Small enough to move from room to room as needed
Remote control makes changing the mode and fan speed easy
Cons
Not wifi enabled
Not compatible with app controls
Dyson Pure Hot Cool Design
Similar to other Dyson air purifier models, the Dyson Pure Hot Cool air purifier has the familiar oblong shape sitting on a round base.
The base houses the controls, digital display, and filter.
The amplifier is where the magic happens. The Air Amplifier technology pushes clean air continuously, unlike the choppiness of typical bladed fans. The bladeless Dyson technology makes the fan safer to operate around small children and pets.
The max airflow of this particular Dyson model is not as high as other models, with a max airflow of 200 liters / second.
The Dyson HP01 is available in 4 different color options, including:
The Dyson HP01 is able to generate 200 liters / sec of purifier air, which equates to around 400 square feet of purifier coverage. If you need greater air flow you may want to consider another Dyson air purifier.
The Dyson HP04 has a max airflow of 310 liters / second.
The Dyson TP04 has 361 liters / second, while the Dyson DP04 has a max airflow of 419 liters / second.
These models are more expensive, but also have other features the Dyson HP01 doesn't (specifically, smart home integration and a carbon filter). Check them out to find out more about what sets them apart for the HP01 model.
For extended information you can find our Dyson Pure Cool comparisons here and a comparison of all Dyson air purifiers here.
The Controls
The Dyson HP01 has a button on the front of the base that controls the:
Power On / Off
Adjust fan speed
Set the sleep timer
Change the mode (purifier, hot, cold)
Oscillation
This model also comes with a remote control to use for all the same features. It makes it easier to make changes from across the room.
Worried about losing the remote? Don't be. The remote control is curved and magnetized, while the amplifier has built in magnetization so the remote can attach directly to the machine.
The Dyson HP01 has 10 different fan speeds as well. This makes it easy to find the optimal speed paired with temperature for just the right ambience in the room.
For further versatility, the HP01 also oscillates up to 70° in either direction and also has a tilt feature.
The Filter
This Dyson air purifier hot cool model contains a 360 degree replaceable glass HEPA filter. 
The filter is guaranteed to remove up to 99.97% of contaminants in the room's air. Particles as small as 0.3 microns will not stand a chance against this filter.
What makes this filter special? It's Dyson's second generation glass filter, containing:
Twenty feet of borosilicate microfiber
Three times more graphite material than the first generation
Pleated exactly 333 times
Why no carbon filter? The Tris-coated graphite replaces the carbon, eliminating odors, fumes, and gases. This filter has up to 400 square feet of air purification capacity.
Internal sensors detect pollutants, gases, and odors, making sure they are trapped inside the filter. What's left is pure, clean air that is odorless and safe for even the smallest family member to inhale.
RELATED – Do purifiers really remove odors?
The Modes
The Jet Focused Technology has two modes to create the perfect room temperature:
Focused Mode: Use this mode for long range airflow. This setting offers personalized heating and cooling.
Diffused Mode: To heat or cool the room, choose this setting. It disperses the airflow on a wider angle while still providing long range temperature control.
Sleep Mode: If using the Dyson Hot + Cool in the bedroom, sleep mode might be preferred. There are preset time frames to choose from and the air purifier will automatically turn off at the designated time.
The digital display will show the temperature the room is currently at. Once set to the desired temperature, the fan will blow hot or cold until that temperature is achieved. Then, it will continue to blow purified air.
Size & Dimensions
The Dyson Pure Hot + Cool is versatile – it's small enough to sit on a desk or tabletop, but can easily sit on the floor if preferred. This model has the capacity to purify up to 400 square feet, regardless of placement in the room.
Take a look at the size and dimensions of the HP01 model:
Height: 24.9" tall
Length: 6" long
Width: 8.7" wide
Weight: 8.6 lbs
Cord length: 5.9 ft long
The HP01 is considerably smaller than other Dyson air purifiers, including the TP04 and DP04. Below is the size chart for the Dyson Pure Cool TP04 for comparison:
Accessories & Parts
The Dyson HP01 air purifier comes with everything needed to heat, cool, and purify the air in any room.
The box contains:
360° Glass HEPA filter
Power cord
Remote control
Performance
An air purifier's job is to sense pollutants in the home's air and remove them effectively. Without being able to do that at a high rate, an air purifier isn't worth the cost and is pretty much useless.
We put every air purifier we review to the test by running the same in-home assessment for each model. This way, we can ensure that every air purifier lives up to the manufacturer's specifications. Plus, it gives us the ability to compare models and brands to find the best of the best.
RELATED – The Best Air Purifiers
Here's the process we use:
Measure the indoor air quality prior to testing and document.
Turn on the air purifier in an enclosed room and let it run for 1 hour.
After the hour is up, measure the air quality again and document for comparison.
There are two indexes that we use to make the final determination, shown in the chart below.
PM2.5 = Particulate matter 2.5 micrometers and smaller
PM10 = Particulates matter 10 micrometers and smaller
AQI = air quality index, a standard government index based on different air quality factors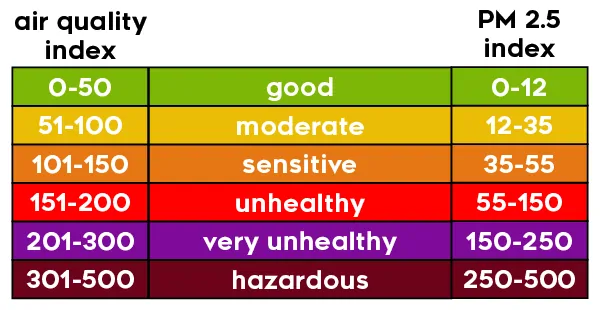 The air quality index (a number of different independent factors go into these numbers) and the particulate matter index (how many pollutants are in the air).
The Tests
We have not yet completed our comprehensive tests on the Dyson HP01 model. However, we have tested several other Dyson air purifier models.
Because Dyson uses such a consistent design, parts, and filters for their air purifiers we feel confident in our assumption that all Dyson air purifiers should perform at a similar performance level.
Thus far all of the Dyson air purifiers we've tested we performed at virtually an identical level.
Below, we've included data from our Dyson air purifier tests.
Dyson TP04
Starting Baseline
PM 2.5: 7.4
PM 10: 12.1
Particles: 599
AQI: 30
After 1 Hour
PM 2.5: 0.2
PM 10: 0.2
Particles: 14
AQI: 0
You can find our full Dyson TP04 tests and review here.
Dyson TP02
Starting Baseline
PM2.5: 2.8
PM10: 4.1
Particles: 279
AQI: 11
After 1 Hour
PM2.5: 0.2
PM10: 0.2
Particles: 29
AQI: 0
You can find our full Dyson TP04 tests and review here.
Dyson DP04
Starting Baseline
PM 2.5: 4.9
PM 10: 8.5
Particles: 359
AQI: 20
After 1 Hour
PM 2.5: 0.3
PM 10: 0.3
Particles: 29
AQI: 0
You can find our full Dyson DP04 tests and review here.
Setup & Usability
Like other Dyson air purifier models, setup is quick and easy once you remove everything from the box.
Even with the technology and sensors, setup is as simple as:
Remove everything, including the air purifier, from the packaging.
Place the filter in the base.
Plug in the cord.
Turn the air purifier on.
Upon turning the Dyson HP01 on for the first time, it will default to air purification only. If you want to get right down to playing with the settings and fan speeds, grab the remote control and get started!
HP01 Maintenance
Maintenance for the Dyson Pure Hot Cool is easy and tracking filter life isn't needed thanks to the filter indicator light.
Once the filter indicator light is illuminated, that means a new filter is needed. Simply open the base, insert the replacement HEPA filter, and then wait until the indicator light lets you know its ready to be replaced down the road.
RELATED – What is a HEPA filter?
To keep the air purifier looking nice, take a damp rag or duster and wipe it down as needed.
Looking for replacement filters? You can find them here.
Is the Dyson HP01 a good value?
After considering the features and performance quality, is the Dyson HP01 a good value? Based on our tests, I'd say that it definitely is.
It may not have as many features as some of the other models Dyson offers (like the HP04), but it's a multi-function air purifier, heater, and fan at a more reasonable price. 
It's small and light enough to be used on a desk or bedside table. The sleep timer will let you drift off peacefully to sleep knowing the air you're breathing is cleaner than anywhere else in your house.
Since the HP01 is a few years older it's notably less expensive than newer models. Yes, you don't get a full carbon filter or smart home integration. But if you can live without those features you'll save a couple hundred bucks.
Dyson Pure Hot + Cool HP01 Specifications
| Specifications |   |
| --- | --- |
| Manufacturer | Dyson |
| Model | Pure Hot + Cool HP01 |
| Base Diameter | 8.7" |
| Height | 24.9" |
| Weight | 8.6 pounds |
| Oscillation | 70° |
| Filters | 1 HEPA filter |
| Wifi Compatible | No |
| Max Airflow | ~200 liters / sec |
| Returns | Varies by retailer |
| Warranty | 2 Year limited |
| Price | Check Price |
Should you buy the Dyson Pure Hot + Cool HP01?
The Dyson Pure Hot + Cool HP01 could be a great option if you want:
A multi-tasking air purifier that also heats and cools
Is small enough to fit on a desk yet large enough to purify, heat or cool a large room
A lightweight air purifier to move from room to room with ease
I would recommend the Dyson Pure Hot + Cool HP01 to anyone looking to find the following features in an air purifier:
Year round use: With the ability to heat and cool plus purify the air in the room, this is a great unit that will get use all year. It's hard to beat the functionality and multi-tasking ability of this Dyson model.
Intelligent Thermostat: Set the thermostat temperature and forget about it. Once the desired temperature is reached, the heat or cooling feature will automatically turn off, leaving just the air purifying to continue cleaning the rooms air. Never worry that leaving the room means coming back in to a too hot or cold temperature with the Intelligent Thermostat.
Safety around children and pets: One of the most unique features about Dyson's air purifiers is the bladeless technology. Not only is it easy to clean, it also means that there are no blades to hurt a child or pet if they are playing near it.
Jet Flow Technology: Use this model as a personal air purifier, heater, or fan. Or, set it to dispersed mode to use the same features in a room up to 400 square feet. The versatility and lightweight features of this model make it easy to move from room to room and change modes at will.
Want to learn more or purchase this Dyson air purifier model? Make sure to check it out here.
Purifies, Heats, & Cools
Design -

95%

Performance -

100%

Quality -

98%

Usability -

95%

Value -

97%
Summary
The Dyson Pure Hot + Cool HP01 is a 3-in-1 unit that heats, cools, and purifies the air. Like all Dyson air purifiers, it sucks air in thru the base, sends it over a 360 degree HEPA filter, and outputs clean air through the top amplifier. Includes a remote control, but notably cannot be controlled via smart home. The HP01 is a few years old, but still includes the bulk of what makes a Dyson air purifier a great unit…strong fan, good features, and thick quality HEPA filter. It's a great way to save a few bucks on a Dyson air purifier unit compared to the current generation models.