The Dyson Pure Hot + Cool air purifier is currently the only model series from Dyson that works as a heater, cooling fan, and air purifier. This is certainly one of their more expensive models, but when it is multi-function, it does tend to increase the overall value.
Let's jump in and see how this Dyson Hot Cool compares and if it might be the right air purifier for you.
Great Purifier for Heating & Cooling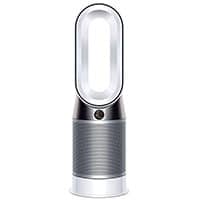 Dyson Pure Hot + Cool HP04
The Dyson HP04 heats, cools, and purifiers the air. The HP04 version is equipped with both a HEPA filter and carbon filter (for odors / VOCs). It offers real-time air quality assessment or features can be customized for variable needs. A solid multi-function air purifying unit.
Check Price
Pros
Functions as a heater and cooling fan in one system
Automatically detects indoor air quality and adjusts appropriately
Can be controlled with a smartphone via the app, remote control, or voice control (via Amazon Alexa or Google Assistant)
Cons
Dyson Pure Hot & Cool Design
The design of the Dyson Pure Hot & Cool air purifier is similar to other compact air purifiers in the Dyson lineup.
It has an all white body with silver accents, like at the base and as accent trim.
The overall design can be broken down into two main parts:
The Base: which contains the filters, air input, and adjustment controls / digital display
The Amplifier: which is the open vessel where clean air is evenly redistributed back into the air using bladeless Dyson technology for good airflow without the choppiness of traditional blade fans
If you're concerned about max airflow, the Dyson Pure Hot & Cool HP04 has a max airflow of 310 liters / second.
RELATED – Looking for a Dyson with greater airflow? Check out the Dyson DP04 which maxes out at 419 liters/sec or the Dyson TP04 at 361 liters/sec. Keep in mind, these models do NOT have the heating function. See our full list of Dyson air purifier reviews here.
The Controls
This Dyson HP04 air purifier can be controlled through a number of different methods.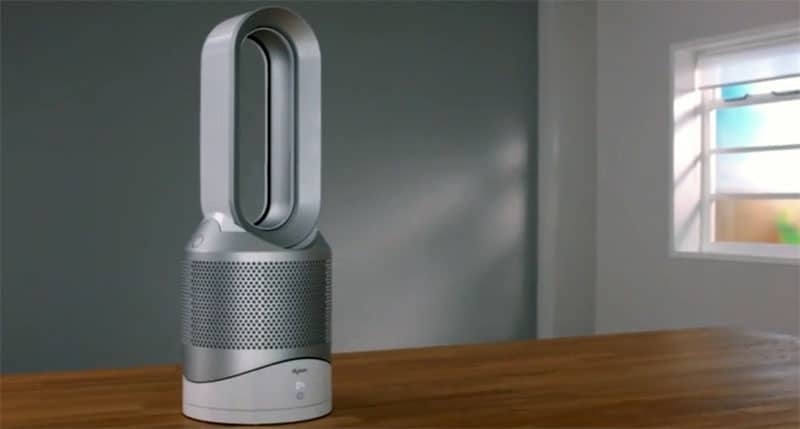 You can control the Dyson HP04 purifier using:
Remote Control
Voice Control (via Amazon Alexa or Google Assistant)
Smartphone-based App Control (via Dyson Home app)
In addition, there is also a digital screen the displays current settings, including the current indoor air quality and temperature so you can see real-time results.
The Dyson HP04 is not really designed to adjust the controls with any physical buttons on the body of the air purifier itself.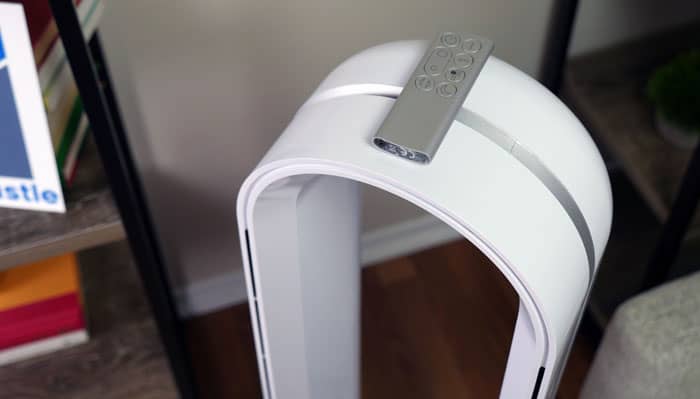 That being said, there is a magnetic strip the circles around the entire Dyson HP04 amplifier. This magnetic area allows the remote control to easily attach to the top of the purifier so it's easier to keep track of it.
Remote Control
The remote control allows for access to settings and controls without having to use your smartphone.
On the remote control, you can access / adjust the following features:
Power on / off
Adjust fan speed (for cooling)
Adjust heat setting (for heating)
Auto mode
Sleep mode
Oscillation
Reserve airflow (if you want purify air, but don't want air blowing on you)
Set a timer
Additional features not listed here can be accessed via the smartphone app.
RELATED – Wondering how the design of Dyson stands up to other brands? Check out our full comparison of Molekule vs. Dyson for a head-to-head between two purifier names with great design.
Smart Control
The Dyson HP04 Pure Hot & Cool can easily be adjusted using the Dyson Home app. The app allows the following features on the air purifier:
Power on / off
Adjust fan / heat speed
Adjust angle of oscillation
Set a timer
Auto mode
Night mode
Adjust airflow direction
View filer status and remaining life
The Filters
This Dyson purifier uses the same air filtration technique as other Dyson 4th generation purifier models.
There are two main filters:
HEPA filter: designed to capture particulate as small as 0.3 microns
Carbon filter: designed to neutralize odors like smoke, food, etc.
RELATED: Do air purifiers really remove odors? Click here for the answer!
The Modes
There are three basic modes on the Dyson Pure Hot + Cool HP04, which generally provides something for every user.
Auto Mode: When in auto mode, the HP04 will use on-board sensors to automatically detect current air quality and adjust settings as needed. This could include increasing / decreasing fan speed
Custom Mode: You can also manually adjust the fan speed or heat settings by using the arrows on the remote control or by setting a target temperature. You can also adjust airflow direction (forward or backwards) as well as the angle of oscillation from 0-350°.
Night Mode: In night mode, this purifier can operate at a lower decibel level and also dims all lights and digital screens. This is a useful mode when you're trying to catch some sleep.
Air Quality Assessment
The ability to measure and respond to real-time indoor air quality is one of the most impressive features on the Dyson Pure Hot + Cool purifier.
You can view the indoor air quality from the digital display at the base of the purifier or by checking the app.
On the app, you can see the specs about air quality divided into two categories — inside the home and outside the home. The app makes it simple to understand the differences with simple graphics.
There is a small house which displays stats about the inside of your home, including:
Label (like Kitchen, Living, Upstairs, Downstairs, etc)
Temperature (indoor)
Humidity (indoor)
Particulate data
PM10
VOC
NO2
There are also stats listed for outside the home, which includes:
Label (generally city name)
Current weather icon
Air quality index number (AQI)
Temperature (outside)
Humidity level (outside)
Particulate data
RELATED – Looking for a less expensive air purifier that still offers real-time indoor air quality? Check out our review of the Rabbit Air BioGS purifier.
The Pure Hot + Cool will detect air quality (AQ) and chart it in real-time across a line graph on the main digital display.
Air Quality Color Indicators
When the line is green, that means that the indoor air quality is at a healthy level.
As the line raises to yellow, that means that there are a few particulates that need to be addressed in order for the air to be at its best quality.
And when the line in red, that means that there are serious contaminants that the purifier needs to tends to. This could be caused by something simple, like an nearby door being left open for too long or cooking.
For example, this air purifier even has the ability to determine exactly which types of pollutants are being detected and when, so that you might be able to avoid the issue in the future.
Size & Dimensions
The Dyson Pure Hot and Cool is a compact air purifier that is designed to be small enough for a table or desk, but also powerful enough for large room purification and can sit on the floor if needed.
The exact specs and dimensions are listed below:
Base Diameter: 9.8″ diameter
Height: 30.1″ tall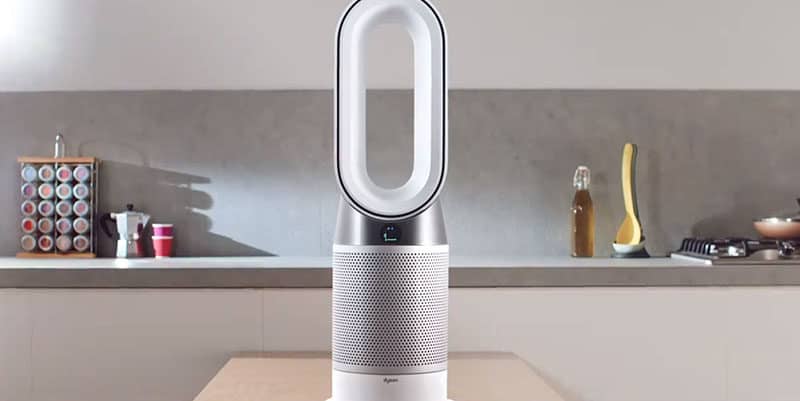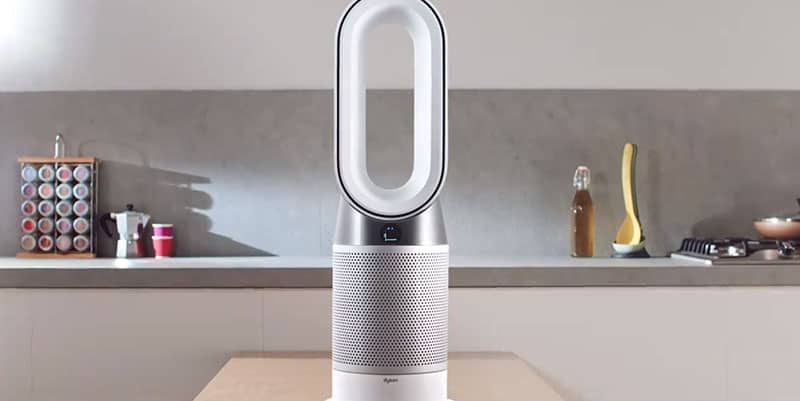 Accessories & Parts
The contents of the Dyson Pure Hot + Cool HP04 comes with everything you may need to get started using this purifier.
What's in the box?
Dyson HP04 air purifier
Power cord
360° Glass HEPA filter
Activated charcoal filter
Remote control
Performance
The overall performance of an air purifier is largely based on its ability to detect and treat indoor air pollutants. Regardless of other features that a purifier might posses, if it can't treat the air effectively, then it is basically useless.
To fully test air purifiers, we assess them through an in-home assessment. To do this, we follow the simple steps below:
Measure and document initial air quality.
Run the air purifier in a closed room for 1 hour.
Record and document air quality after the purification.
For a 101 lesson in air quality, it can be simply assessed by looking at the relationship between PM (particulate matter) and AQI (the air quality index; a number given to air quality based on a number of independent factors).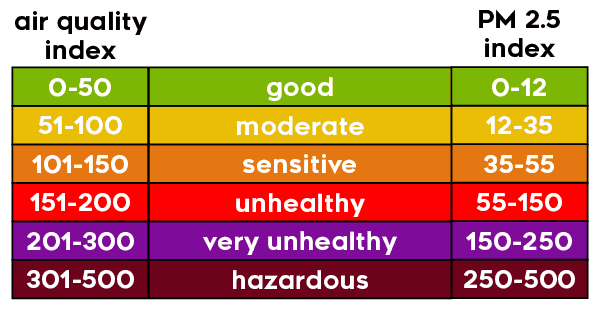 The Test
While we haven't yet tested the air purification performance of the Dyson HP04, it has virtually the same purification specs to the Dyson TP04 air purifier (which we tested here) so we can assume purification performance will be similar.
Our TP04 data is listed below:
Starting Baseline
PM 2.5: 7.4
PM 10: 12.1
Particles: 599
AQI: 30
After 1 Hour
PM 2.5: 0.2
PM 10: 0.2
Particles: 14
AQI: 0
Within 1 hour, the Dyson removed 98% of air particulates from the medium-sized room we tested in (approx. 12'x12′). Dyson improved PM 2.5 air quality by 97%.
Note: One area where they may be some difference is in the rate of air treatment. Specifically, the TP04 can tackle up to 361 liters/sec, while the HP04 model can only tackle up to 310 liters/sec. This means the TP04 can handle larger rooms, but the purification level should still be the same
MORE – To see the full review of the Dyson TP04 air purifier, click here.
Setup & Usability
The setup and usability of the Dyson HP04 is straightforward, and honestly quite similar to other Dyson air purifiers.
Due to the on-board sensors and air quality detection, it is really as easy as:
Unbox the purifier and remove all packaging.
Install the filters.
Plug in the purifier.
Turn it on.
Once it's on, the Dyson HP04 will default to Auto Mode and start assessing and treating the air as needed.
If you want to customize settings or change the purifier to "Night Mode", you can do that using the remote control (immediately) or the smartphone app or voice control (once the app is installed and paired to your wifi network).
Pure Hot & Cool Maintenance
The maintenance on the Dyson Pure Hot + Cool HP04 is also pretty easy, thanks to the intelligent self-assessing design of this air purifier.
Specifically, the filtration system is monitored by an internal system that will alert you when it time to replace.
You can also check the status of the filter life by checking on the app at any time.
In addition to maintaining the filter, you can also occasionally wipe down the body of the purifier to keep everything in running order.
Is the Dyson Pure Hot & Cool a good value?
So features, performance, and all other specs considered… is the Dyson Pure Hot + Cool air purifier a good value? Overall, I would say yes.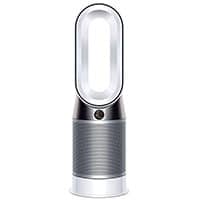 Now don't get me wrong, the Dyson HP04 is certainly not inexpensive. That said, as is the case with most Dyson products, I do believe that you get what you pay for.
Indeed, the HP04 is likely to perform as well as the TP04 in terms of indoor air quality treatment.
This air purifier can be as "hand-on" or "hands-off" as you're looking for. For example, It comes with sensors for an intuitive and responsive "Auto Mode", while also providing a number of different features for customized modes.
Being able to heat, cool, and purify air, all within a single unit that can be controlled via your smartphone, by remote control, or with auto mode is a solid package and worth the money.
Dyson Pure Hot & Cool HP04 Specifications
| Specifications |   |
| --- | --- |
| Manufacturer | Dyson |
| Model | Pure Hot & Cool - HP04 |
| Width | 9.8" |
| Depth | 8.1" |
| Height | 30.1" |
| Weight | 19.6 pounds |
| Oscillation | 350° |
| Filters | 2 filters (1 HEPA and 1 activated charcoal) |
| Wifi Compatible | Yes |
| Max Airflow | ~310 liters / sec |
| Returns | Varies by retailer |
| Warranty | 1-Year limited |
| Price | Check Price |
Should You Buy the Dyson Pure & Cool HP04?
If you're in the market for an air purifier that doubles as a heater, which is also well-suited for large spaces, the Dyson Pure Hot + Cool HP04 could certainly be a solid option for you.
I would recommend the Dyson Pure Hot & Cool to people looking for the following features in an air purifier:
Want all-season use: For an air purifier that can function as a heater and a cooling fan, the Dyson HP04 is hard to beat. It's currently the only Dyson model that can perform both functions which provides use in summer or winter months.
Want wifi-connectivity: The Dyson Pure Hot & Cool is compatible with a wifi network and can communicate directly with your smartphone. When connected to the app, you view cleaning reports, change modes, and access other behind-the-scenes functions of the Dyson HP04.
Want a smaller purifier, without sacrificing room size: In many cases, small purifiers are for treating small rooms and large purifiers are for treating large rooms. The Dyson HP04 strikes a nice balance by being large enough to treat large rooms (up to 310 liters/sec of airflow), while still being compact enough to fit in a small area.
To learn more or to buy the Dyson Pure Hot & Cool air purifier, check it out here.
Spendy, But Exceptional Performance & Design
Design -

99%

Performance -

100%

Quality -

98%

Usability -

100%

Value -

97%
Summary
The Dyson Pure Hot + Cool HP04 is a medium-sized air purifier that offers fan cooling or heating, which makes it a nice option for year-round usage. This purifier has an Auto Mode for a "set it and forget it" type of purification or you can customize different features like fan speed, airflow direction, oscillation, as needed. Lastly, this model is also wifi-compatible and can be controlled using a physical remote, via smartphone app, or using voice control.