Dyson stick vacuum with the suction power of an upright
Dyson V11 Outsize
The Dyson V11 Outsize is Dyson's newest model to come to the V-Series. It has the largest dut bin capacity of any Dyson stick vacuum to date (up to 0.5 gallons, or 7 cups of dry debris) and had exceptional cleaning performance in our tests. The Outsize has the most suction of any cordless vacuum on the market. The wider cleaning head also allows for more coverage while you clean. Lastly, the 2 batteries allow for up to 120 minute run time.
Check Price
Pros
Bigger Torque Drive cleaning head. 25% wider than the V11 Torque Drive
Bigger dust bin. 150% bigger than V11 Torque Drive; 0.5-gallon capacity
Stronger Suction. Up to 220 AW on Boost mode
Cons
More expensive price point
May be difficult to maneuver, especially as a handheld
May have too much suction on high pile carpet for some larger debris
Specs
12.5″ wide cleaning head
1.89 liter dust bin
2 click-in batteries (120-minute run time)
18-cyclone suction
220 AW max
V11 Outsize Design
The design of the Dyson V11 Outsize draws a lot of similarities from the V11 Torque Drive in the overall design. The Outsize basically feels like a larger version of the Dyson V11 Torque Drive.
It takes some big strides to become closer to the power and cleaning capacity of a traditional upright without sacrificing the convenience of a cordless stick vacuum.
The Cleaning Head
The cleaning head on the V11 Outsize is about 25% wider than the V11.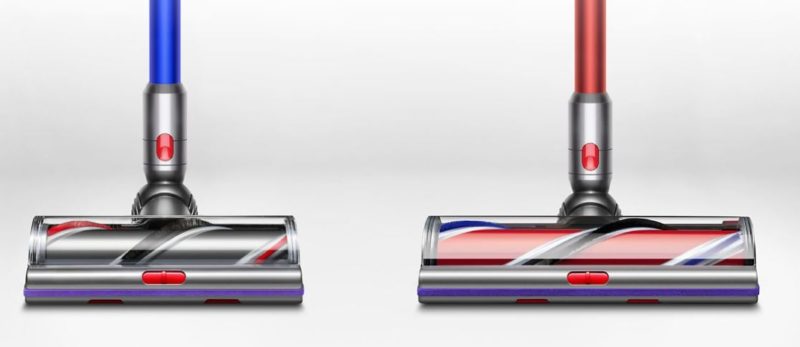 A wider cleaning path means that the V11 Outsize can also clean the same space about 25% faster than the original V11. If you have a larger footprint or simply want to spend less time vacuuming, this could be a solid option.
The brushroll uses short spiral bristles to help pull debris from floor surfaces and agitate carpet fibers for a deeper clean.
The Cyclones
Cyclonic cleaning is one of the features that makes a "Dyson" a "Dyson". This style of cleaning relies on the centrifugal force created by spinning air in a cyclonic pattern to provide powerful, fade-free suction.
The Dyson V11 Outsize uses a 2-tier cyclone system made up of 18 cyclones, while the V11 Torque Drive only has 14 cycles in the same system.
Suction Power
Of course, the change in cyclone design results in a change in suction power as well. Below, I've listed the max suction of both the V11 Outsize and the standard V11 as well as their respective modes.
Dyson V11 Outsize
Boost: 220 AW
Auto: 49.5 AW
Eco: 24.9 AW
Dyson V11 Torque Drive
Boost: 185 AW
Auto: 38.6 AW
Eco: 26 AW
DID YOU KNOW?: On Boost mode, the V11 Outsize begins to rival the air watt suction power of a traditional upright. For example, the Dyson Multi-floor 2 upright has 250 AW of suction power.
LCD Digital Display
The display on the V11 Outsize is basically identical to that of the Dyson V11 Torque Drive. It includes a variety of digital graphics that cover:
Run time countdown
Maintenance alerts
Cleaning modes (manually or automatically selected)
To see the exact run time remaining, you can simply cycle through the modes until run-time is displayed. The run time will vary based on which mode the vacuum is in.
Here are the estimated run times for each cleaning mode (per single battery):
Boost mode: 9 minutes
Auto mode: 43 minutes
Eco mode: 72 minutes
Size & Dimensions
The Dyson V11 Outsize vacuum is basically the bigger and badder version of the V11 Torque Drive. It's about the same height, but it has a wider cleaning head and is larger in-hand to accommodate the additional cyclones and larger dust bin.
Dyson also designed a shorter wand to pair with the enlarged vacuum body. Exact dimensions are:
Length: 50.63″
Width (cleaning head): 12.5″
Dust bin capacity: 0.5 gallons or approximately 7.5 cups of dry debris.
Bigger is Better?
Much of the design of the Outsize focuses on a "bigger is better" mentality. It shares a lot of similarities with the Dyson V11 Torque Drive, but the difference is primarily that the Outsize has a few features that are physically larger.
The bigger features mainly include the wider cleaning head and larger dust bin capacity.
Where there are certainly advantages to a larger dust bin (less emptying) and wider cleaning path (shorter cleaning times), there is also the disadvantage of being a heavier unit when used as a handheld vacuum.
V11 Outsize
(with no attachments)
5.4 pounds
V11 Torque Drive
(with no attachments)
4.2 pounds
Of course, to that end, it feels important to note that the wand is shorter on the Outsize to accommodate for the larger bin so it doesn't feel excessively large when you're cleaning.
Not to mention, the extra-large dust bin really does allow for longer and more efficient cleaning cycles without having to empty the bin as often.
The image above shows a complete comparison between the dust bin on the V11 Outsize (see right), V11 Torque Drive (see middle) and V8 (see left).
Parts & Accessories
What does the Outsize come with? The complete list of parts and accessories right out of the box includes the following items.
Mini Brush
Crevice Tool
Combination Tool
HEPA Filter
Click-In Battery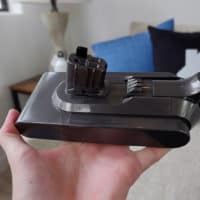 Dusting Brushes
Mini motorized brush tool: includes a small brush bar to clean hair and ground-in dirt
Crevice tool: a long narrow tool that helps to reach in nooks or crannies, like next to furniture, between couch cushions, or car interiors.
Combination tool: works as a short crevice tool or soft dusting brush
HEPA filter: a washable filter that captures fine particulate and prevents the vacuum from recirculating it back into the air
Click-in battery pack: two batteries are included that allows you to always be charging a battery while the other one is in use
Dusting brushes (x2): includes one soft dusting brush for wood furniture or delicate items as well as a stiffer dusting brush to break down more stubborn dirt
Docking station: a wall-mounted station that holds the vacuum and two tools
Charging cables: plugs into the back of the vacuum for a quick charge and also charges the quick-release click-in batteries when not in use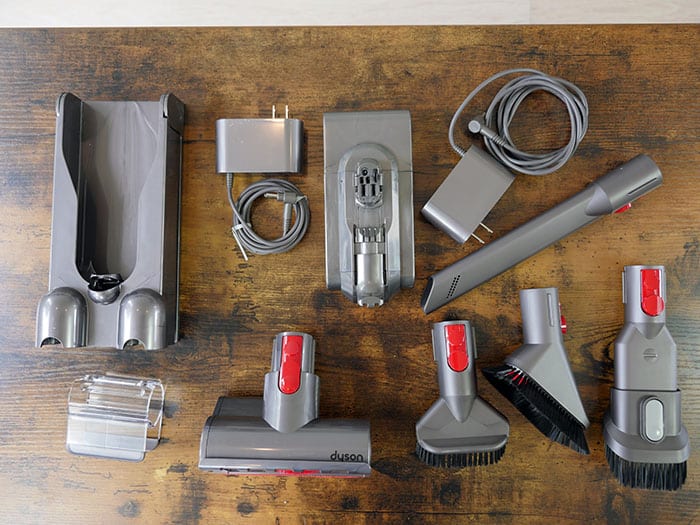 The Battery
The click-in battery is easy to use and simply clicks into the body of the vacuum. It comes with two batteries so you can use one while the other is charging.
V11 Outsize Performance
When I was using the V11, the cleaning performance was overall very good. It was virtually flawless on hardwoods and low pile carpets. The main issue we documented was excessive suction on high pile carpet.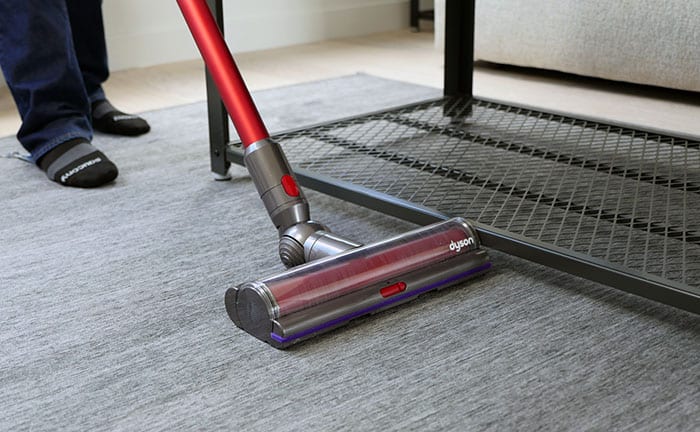 NOTE: All tests were run on Boost mode except for part of the high pile tests where we alternated between Boost and Eco mode as needed.
When we used these strategies, we did notice a considerable increase in overall performance.
Hardwood Floor Cleaning
On hardwoods, the performance was exceptional. It captured all debris types and had an average performance of 99%.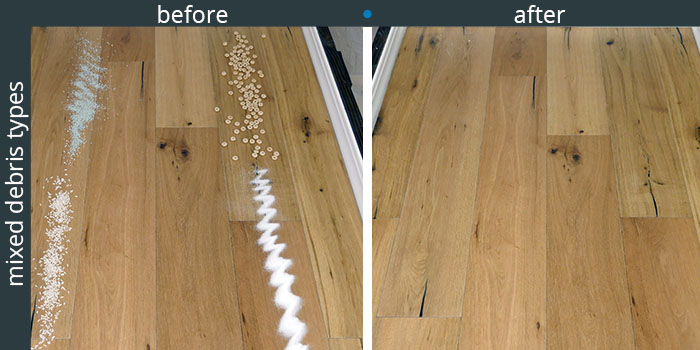 Low Carpet Cleaning
On low carpet, the results were also nearly flawless, where it captured almost 100% of every debris type.
High Carpet Cleaning
High pile carpet was really the only floor type where we really started to notice an issue with potentially too much suction.
When we first ran this test on Boost mode the suction was soo strong that it pulled the carpet up and provided no separation between large debris and the carpet.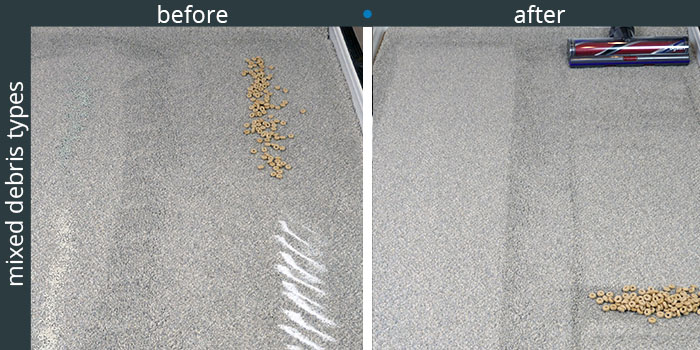 While small debris wasn't a problem, larger debris tended to push forward in front of the cleaning head instead of being sucked up.
Here are the results of the initial test:
That being said…
These initial results were based on our first round of testing, which was basically forward and back strokes… pretty mechanical.
You don't live in a lab. And neither do we.
When we ran tests again (on cereal and rice), we tried some basic techniques to capture the debris, like putting the vacuum directly on top of debris piles or moving the vacuum side to side as we were cleaning.
These efforts worked and we noticed a drastic improvement in overall cleaning performance. The results below reflect the modified tests.
Dyson V11 Outsize vs. Outsize Origin
V11 Outsize
V11 Outsize Origin
Digital motor
V11
V11
Run time
~120 mins.
~60 mins.
Dust Bin
1.89 L
1.89 L
Weight
7.85 lbs.
7.85 lbs.
Max Suction
220 AW
220 AW
Power Modes
3
3
Digital Display Screen Type
LCD
LCD
Run-time countdown

Yes

Yes

Automatically adjusts suction

Yes

Yes

Low battery notification

Yes

Yes

Clickable Battery

Yes

, 2 included

Yes

Extension Wand

Yes

Yes

Torque Drive cleaning head

Yes

; XL version

Yes

; XL version
Mini motorized brushroll

Yes

Yes

Combination tool

Yes

Yes

Crevice tool

Yes

Yes

Mini dusting brush

Yes

Yes

Stubborn dirt brush

Yes

Yes

Docking station

Yes

Yes

Charger

Yes

; 2 included

Yes

Price
Check Price
Check Price
With the release of the V11 Outsize, also came the release of the Outsize Origin. Wondering what the difference is?
It essentially boils down to one thing and that's battery power.
The V11 Outsize comes with 2 click-in, interchangeable battery packs.
In contrast, the Outsize Origin only comes with one. Dyson does offer extra batteries, but they can be pretty costly.
Setup & Usability
The setup for the Dyson Outsize is basic and straight to the point. Here is a quick rundown of what you need to know to get going with this stick vacuum.
Unbox the vacuum and remove all packaging.
Charge the battery packs fully prior to first use.
Once charged, click in the battery into the vacuum.
To use the vacuum as an upright stick…
Install the cleaning head.
To use the vacuum as a portable handheld…
Select the right attachment for the job.
Snap the accessory into the end of the handheld vacuum, using the accessory clip as a guide.
Maneuverability
The maneuverability of the V11 Outsize vacuum is a little worse than previous V-series models, in my opinion. But also, it really comes down to how you plan to use the vacuum.
Primarily used a stick vacuum, you will likely be very happy with the new features and find it to be very maneuverable.
But as a handheld vacuum, it can feel a little bulky, awkward, and difficult to maneuver.
As A Stick Vacuum
As a stick vacuum, the maneuverability is great. The wider cleaning path makes it easier to clean more area in less time.
Even though the dust bin is larger, the wand still has great maneuverability, allowing it to lay virtually flat and squeeze under even low furniture.
As a Handheld Vacuum
When used as a handheld, I would say that the dust bin becomes a bit more obtuse and awkward. It adds a little extra weight as a stick vacuum, but even more so when used as a handheld vacuum.
Because the handle is so far at one end, it makes the vacuum feel even heavier than if the handle were closer to the middle.
This could be uncomfortable for people with weaker wrists or limited arm strength.
Once you get past the initial feel in-hand, I would say that the usability is good. It is easy to change out the accessories and cleaning tools.
Maintenance
Keeping the Outsize running smoothly relies on proper maintenance. The maintenance isn't hard and Dyson provides a few shortcuts to make it easier.
Empty the dust bin, as needed. The larger dust bin does hold an impressive amount of debris so you won't have to empty it as often as you would with an older V-Series vacuum.
Wash the HEPA filter, as needed. The filter itself can be washed with cold water and allowed to dry for 24 hours. This helps keep maintenance costs low. Dyson recommends doing this monthly.
Keep an eye on the brushroll. The brushroll is designed to prevent tangles and clogs, but it's always a good idea to keep an eye on it. If you notice something wrapping around the axel, address it immediately.
Replace the battery, as needed. The V11 Outsize comes with two click-in batteries which limit the frequency you'll need to worry about replacing them.
Maintenance Alerts
The Dyson Outsize has an LCD display on the end of the handheld that will also let you know about some maintenance tasks as they are needed. Keep an eye on that screen for urgent alerts.
Dyson V11 Outsize Specifications
| Specifications | |
| --- | --- |
| Type | Stick |
| Manufacturer | Dyson |
| Model | V11 Outsize |
| Length | 50.6" |
| Width | 12.5" |
| Height | 10.3" |
| Weight | 7.85 lbs. |
| Floor Type | All (indoor) |
| Dust Bin Capacity | 1.89 L |
| Cordless | Yes |
| Bagless | Yes |
| Returns | Varies by retailer |
| Warranty | 2-Year limited |
| Price | Check Price |
Should you buy the Dyson V11 Outsize?
I would recommend the Dyson V11 Outsize if you're looking for the following in a stick vacuum:
XL Capacity: If you like the style of the V11, but are looking for something with a bit more capacity. The V11 Outsize can hold almost 3 times the debris as the original V11.
Interchangeable batteries: The Outsize includes two click-in batteries that make it easy to swap them out when one runs out of juice. Using both batteries consecutively, the V11 Outsize has a longer run time of up to 120 minutes.
Suction power of an upright: On Boost mode, the Outsize can pump out up to 220 AW of raw suction power, which is comparable to many other upright vacuums on the market. It is more than sufficient for most messes and can provide that ultra-deep clean when needed.
Click here to check out more details or to purchase the Dyson V11 Outsize.
The Best Cordless Vac Gets Better
Design -

98%

Performance -

99%

Quality -

95%

Usability -

98%

Value -

95%
Summary
The Dyson V11 Outsize is objectively the best cordless vacuum cleaner on the market. It has the most suction at 220 AW. It has one of the largest cleaning heads at 12.5″ wide. It holds up to 0.5 a gallon of debris. When you couple that with a clickable battery system, LCD screen, and intelligent suction it's truly a machine heads above the rest.