On the hunt for a 2-in-1 robot vacuum that doubles as a robot mop? Check out today's review of the Ecovacs Deebot N8+ Pro, where we dive into the details of this high-tech robot.
A Self-Emptying, 2-in-1 with Bells & Whistles
Deebot N8+ Pro
The Deebot N8+ Pro by Ecovacs is a 2-in-1 robot vacuum that is also a mop for hard surface flooring. It has a self-emptying dust bin, long run time, and good performance. In our cleaning tests it removed 98% of debris on hardwoods and 89% on carpet. This model also offers advanced digital mapping and the ability to set up cleaning zones for more targeted cycles.
Check Price
Pros
Self-emptying dust bin integrated into the charging base
Advanced digital mapping with zoned cleaning
App control for use with smartphone or voice control
Cons
Struggles with fine debris on carpet and cleaning in corners
Mop isn't quite to the level that we've seen on other high-end 2-in-1s
Scoring
Usability to the Max
Design -

95%

Performance -

92%

Quality -

94%

Usability -

95%

Value -

94%
Summary
The Ecovacs Deebot N8+ Pro is a 2-in-1 robot vacuum that doubles as a robot mop. It has solid performance on hardwoods and pretty good performance on carpet as well (struggling a little with cleaning fine debris or in corners). This vac has a self-emptying dust bin integrated into the charging base and advanced digital mapping options. You can sync the vacuum with your smartphone using the Ecovacs app to view digital maps, cleaning zones, performance history, or to schedule cleanings in the future. All things considered, I was happy with the performance of this vacuum and although it wasn't perfect, it's decently priced considering all of the bells and whistles.
🧪 Performance
For cleaning performance, we do an in-house test where we evaluate all robot vacuums we review against the same set of debris and site conditions.
We test the vacuums on three different floor types:
Hardwoods
Low pile carpet
High pile carpet
And against four different debris, ranging in size and density:
Dry cereal
Rice
Kitty litter
Sugar
How did it do?
The Deebot did pretty good on hardwoods and a little less impressive on carpets, both low pile and high pile.
Hardwood Floor
On hardwood floors, the Deebot N8+ Pro captured 98% of the debris that we spread in the testing lane. It effectively removed everything it was able to get on top of, but wasn't great at removing debris from corners.
All in all, I was happy with this performance and thought the Deebot did a solid job.
Low Pile Carpet
On low pile carpet, the Deebot N8+ Pro captured 92% of debris. The biggest struggle here was cleaning fine debris like sugar.
It could be a combination of not enough suction, a poor seal on the floor, or not enough agitation from the brushroll. All that said, a 92% is still better than many robot vacuums.
High Pile Carpet
On high pile carpet, the Deebot N8+ Pro captured 86% of debris and had similar results to the low pile carpet. It left a mix of sugar and kitty little behind after the cleaning was done.
These results weren't entirely unexpected, but of course, I always like to see performance somewhere in the 90% range so dipping into the 80's isn't a huge win.
What's different on carpet?
I will say that the N8+ Pro has some nice features on carpet including:
Carpet boost – doubles the suction when cleaning carpet
Smart mopping – mop won't drive over carpet when in mop mode
Mopping Tests
When we tested out the mop, we essentially let it loose in our home where there was everyday debris and dust. The results were good, but not great.
This mop was able to pick up a decent amount of dirt and dust, but you can see by the photo that it seems to remove more debris on one side.
It's a little odd that it wasn't more consistent, but even so, it did remove a sizable volume of dirt and dust. 2-in-1 robots that vacuum and mop are super handy and I'm a big fan. However, I've yet to test one that I would say is a 100% replacement to a traditional mop.
🧬 Design
The overall design of the Ecovacs Deebot N8+ Pro is pretty straight forward. It has a black body with simple controls on the top.
Sensors on the top and underside of the Deebot help it to navigate around avoid obstacles. It uses a LIDAR sensor on top of the unit to map your home.
The N8+ Pro looks and feels solid. Add in the fact that it is a 2-in-1 (robot vacuum and robot mop) as well as having a self-emptying charging station and there's a lot to like.
The Underside
The underside of the N8+ Pro is similar to other Ecovacs models (see our N79 review). It has a centrally located brushroll with navigational edge sensors, contact sensors to find the charger, and dual spinning side brushes to capture debris from edges and corners.
This Deebot comes with a washable mopping pad (as well as disposable mopping pads), which attach below the tank.
The Parts
Here's the quick rundown of all the components that are integrated in the underside of the N8+ Pro:
Spinning side brushes: dual spinning brushes capture debris from corners and edges and pulls it into the cleaning path of the main vent
Wheels: two large wheels on the left and right help to navigate flooring transitions, while a smaller wheel at the front is used for steering and making tight turns.
Contact sensors: two sensors to the left and right of the front directional wheel tell the vacuum when it has properly docked on the charging station
Edge sensors: sensors along the perimeter of the vacuum helps prevent the vacuum from drop hazards, like falling down stairs
Brushroll: dual bristle and rubberized paddle spiral brushroll
Mopping pad: comes with disposable or washable pads
The Brushroll
The brushroll on this vacuum uses a combination of soft spiral bristles and rubberized paddles.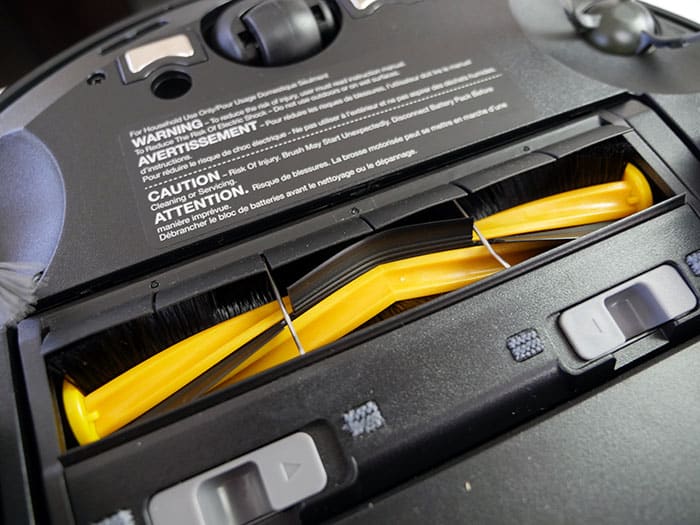 Combining these two materials generally helps to gently sweep more debris from hard surface flooring while also using the rubberized paddles to agitate debris from carpet fibers.
The Build Quality
Overall, the build quality of the Deebot feels solid. I wouldn't go as far as to say that this vacuum is "unique", but I do think that it feels different from a lot of the lower-end models we've tested.
Details like the cord wrap designed into the back of the charging base are nice additions and really make the unit feel higher end.
The Controls
The Ecovacs Deebot N8+ Pro has three different ways to control the robot:
Push buttons on the vacuum itself
Smartphone control via the Ecovacs app
Voice control via Amazon Alexa (or similar)
The Features
Here's a rundown of some of the most attractive features in any robot vacuum that you may be looking for.
From this list, you can quickly see how the Deebot N8+ Pro compares:
All in all, I think the Deebot N8+ Pro checks a lot of boxes that many consumers are looking for in a smart robot vacuum.
The 2-in-1 style makes it usable for vacuum cycles as well as damp mopping. And although the dust bin capacity is relatively small, the fact that it can empty its own dust bin is certainly a win.
It also has the ability to recharge and resume in the middle of a cycle so if it starts to die before it is done cleaning, it will simply drive back to the dock, charge up, and pick up where it left off after the battery is refreshed.
Here's another summary of top features on this vac:
2-in-1 vacuum and mop
Self-emptying dust bin
Digital mapping
App control
Wifi connectivity
Voice control
Scheduled cleanings
Zoned cleanings
The Ecovacs App
The Ecovacs app works on IOS or Android platforms and installs on your smartphone within a couple of minutes.
Here's a complete list of some of the best features in the app:
Start a cleaning cycle
Schedule a cleaning cycle for the future
View digital map
Save maps of multiple floors or levels
Label rooms or specific areas
Clean a specific room
Clean a smaller custom zone within a speicifc room
Create no-go lines
View cleaning history
Receive automatic app updates
Unfortunately, we had trouble getting the N8+ Pro to connect to the app and weren't able to personally test the in-app features.
Size & Dimensions
The Ecovacs Deebot N8+ Pro is a pretty average size robot vacuum with a self-emptying dust bin that is significantly larger than a standard charging base.
Here are the exact dimensions:
Diameter: 13.5″
Height: 3.0″
Weight: 8.2 pounds
What's in the box?
This 2-in-1 comes with a nice selection of tools and accessories considering the price point. Here is the complete list of everything you get with this setup:
Ecovacs N8+ Pro robot vacuum
Self-emptying charging station
Disposable debris bag
Dust bin
HEPA filter
Mopping tank
Mopping Pad (1 washable, 10 disposable)
User Manual
Charging Station
Dust Bin
Debris Bag
HEPA Filter
Mopping Tank
Mopping Pad
There is also a plastic mat that can be used under the charging base. This helps to prevent leaks from dripping and potentially damaging your floor after mopping cycles.
I will also add here that the Deebot N8+ Pro came with one washable mopping pad and 10 disposable pads.
While I would probably just have preferred to have an additional washable pad instead of the disposables, it is still a nice inclusion for users who want to replace the pad after each use.
👍 Usability
Okay, let's talk about setup and usability. Getting started with the Ecovacs Deebot N8+ Pro was pretty simple.
Here's the quick run down how to get up and going:
Unbox the N8+ Pro and remove all the packaging.
Make sure the filter and spinning brush is installed.
Place the charging station in an open area and plug it in.
Charge the vacuum.
Start a cycle.
To set up the app…
Install the Ecovacs app.
Follow the prompts to find your local WiFi network.
Use the app to search for your vacuum and pair the two.
Ecovacs also provides a QR code that makes it easier to follow along and get going. For most users, the setup process should take around 5 minutes.
Hands-Free Control
You can easily control this robot using a number of different hands-free methods. The list includes:
Smartphone control via the app
Pre-scheduled cleaning cycles
Voice control via Amazon Alexa (or similar)
This is a pretty complete list of hands-free options, in my opinion. While it lacks a physical remote control, it's still user-friendly and has a lot of options for starting, stopping, or scheduling cleaning cycles remotely or on-the-go.
How does it navigate?
The N8+ Pro uses dToF (direct time of flight), master-based mapping, and navigation. It has the technology to scan and map a space prior to cleaning to help ensure that the route is logical and efficient.
It is also equipped with obstacle avoidance with the ability to detect obstacles up to 30′ away and objects as small as 2 millimeters.
During our tests and on-going usage, we have not had any issues with the N8+ Pro getting stuck. It does an excellent job at avoiding issues before they become issues.
🔧 Maintenance
Maintenance tasks for the Deebot N8+ Pro are basically identical to other 2-in-1 robots.
Here's a simple list of to-do's:
Regularly charge the vacuum (it should do this automatically after each cycle).
Empty the debris bag at the charging base as needed.
Clean the filter and replace as needed.
Check the brushroll for clogs or tangled debris as needed.
Empty or fill the mopping tank as needed.
Dispose of or wash the mopping pads as needed.
Ecovacs says that the N8+ Pro can run for up to 100 minutes with a full mopping tank.
📰 Specifications
Below is a complete list of specifications and features included with the Ecovacs Deebot N8+ Pro robot vacuum:
| Specifications |   |
| --- | --- |
| Type | Robot |
| Manufacturer | Ecovacs |
| Model | Deebot N8+ Pro |
| Diameter | 13.5" |
| Height | 3.0" |
| Weight | 8.2 lbs. |
| Floor Type | All (indoor) |
| Battery | 2,600 mAh |
| Dust Bin Capacity | 420 mL |
| Mop Tank Capacity | 240 mL |
| Cordless | Yes |
| Bagless | Yes |
| Returns | Varies by retailer |
| Warranty | 1-Year limited |
| Price | Check Price |
Overall, I would say that the Ecovacs Deebot N8+ Pro is a solid robot vacuum. It has a number of really cool features and the performance was good on hardwoods / low pile carpets / mopping and pretty good for high pile carpets.
I would recommend the Deebot N8+ Pro if you're looking for the following features in a robot vacuum:
Good cleaning performance: The N8+ pro was excellent on hardwoods, good on low carpets, and pretty good on high pile carpets. Likewise, the wet mop did a nice job at removing a sizable volume of debris during our usage tests. It's not the absolute best we've seen, but when coupled with so many excellent usability features it's hard to complain too much.
Self-emptying dust bin: This vacuum also has the self-emptying dust bi,n which allows it to fill up during a cleaning, empty the dust bin, and go back for more cleaning if needed. It stores the debris in a closed debris bag that is disposable so when it's time to clean, you can just toss it out and replace as needed.
Advanced digital mapping: The N8+ also has good digital mapping which makes it easy to save multiple floor plans, set up specific zones, or even highlight smaller custom areas within multiple zones.
For more information or to check the price on the Ecovacs Deebot N8+ Pro.