COUPON: Save 10% when you use promo code 69RTADJR. Click here.
Solid Medium-Sized Purifier
Elechomes Air Purifier
The Elechomes air purifier (HC3101) is a medium-sized purifier with smart features for automatic purification or custom controls. It had good performance during our in-home tests, improving PM2.5 air quality by 94.7% (to 0.4). It's a solid value and solid performer overall.
Check Price
Pros
Auto-detects air quality using Smart Mode and dual-sensors
Covers up to 350 square feet
Included activated carbon filter works well at removing odors
Cons
No wifi-connectivity for smartphone or voice control
A little bit on the heavy side and boxy in design
Elechomes Air Purifier Design
The Elechomes air purifier has a rectangular, white body with interesting cut outs to mark areas of air intake or flow.
It has a modern feel that blends into the design of many different styles. It may be considered a little boxy and is certainly a larger sized purifier unit, but it does have some nice design features so if you've got the room to spare, it could be a solid option.
With air intake / return on the sides, the top of the Elechomes is reserved for the various functions of this purifier.
RELATED: Wondering what the Best Air Purifier of 2020 is? Check out our full guide and find out!
The Controls
The top of this purifier features quite a few buttons and points of control. Buttons or touch-screen controls are included for the following features:
Filter Reset Reminder
Auto Mode
Sleep Mode
Timer
Adjust airflow (low, medium, high)
Negative Ion Release
Child Lock
Power On / Off
PM2.5 Display
In addition to controls on the top of the Elechomes, this purifier also comes with a physical remote control.
The remote control allows you to:
Turn the purifier on / off
Adjust airflow speed
Set a timer
Negative Ion Release
Turn on Sleep or Auto Mode
Child lock settings
The Filters
The Elechomes UC3101 air purifier uses four filters, including:
Pre-filter: traps larger particles like hair and larger airborne debris
Antibacterial filter: helps to kill bacteria and viruses
HEPA filter: filters out particles as small as o.25 microns
Activated carbon: works to capture and trap airborne odors
As you can see, the pre-filter is a single filter and the other three filters are combined into a single 3-layered filter, for a 2-filter system.
RELATED: Check out our review of the Dyson Pure Cool TP04 air purifier for more HEPA and activated carbon purifiers.
The Modes
There are two main air purification modes with the Elechomes system — Smart Mode and Sleep Mode.
Smart Mode: In Smart Mode, the Elechomes can automatically detect air quality and adjust as needed, turning airflow up or down.
Sleep Mode: When in Sleep Mode, this purifier can turn off indicator lights, dim the touch panel, and reduce airflow for quieter operation.
How Does It Work?
This air purifier relies on a series of sensors to help the purifier know when it is time to turn the fans up or down (when in auto mode).
The two main sensors at work on the Elechomes air purifier are the:
When the Elechomes detects dust particles or smells, it will adjust airflow to purify the detected air.
Colored LEDs
This air purifier has colored LEDs which indicate air quality in the room. Green for clean air, yellow for moderate air, and red for unhealthy air.
When in Sleep Mode, the colored LEDs are turned off.
Additional Features
In addition to the features and controls listed above, the Elechomes air purifier also has the following features:
3 Airflow Speeds
Dual Sensors (Dust and Smell)
Dual Mode (Smart or Sleep)
Negative Ions
Timer (1-8 hours)
Child Lock
4-stage filtration
350 square foot coverage area
Size & Dimensions
The Elechomes air purifier is a medium- sized purifier.
Length: 16.5″
Depth: 8.3″
Height: 19.3″
Weight: 18.74 pounds
RELATED: Looking for something smaller? Check out the compact Levoit LV-H132 for a compact solution to air purification.
Accessories & Parts
This air purifier comes with minimal accessories and parts.
What's in the box?
Here's a complete list of all parts and accessories includes in the box:
Elechomes UC3101 air purifier
Power cord
Pre-filter
3-stage HEPA / Carbon filter
RELATED: Want to see an air purifier that doesn't use HEPA? Check out our full guide of the Molekule air purifier, that cleans the air using a new kind of technology.
Elechomes Performance
To fully test any of our air purifiers, we rely mainly on the comparison between a baseline number and the results after running the purifier in a closed room for one hour.
We compare the results by looking at the overall air quality index, and PM (2.5 and 10).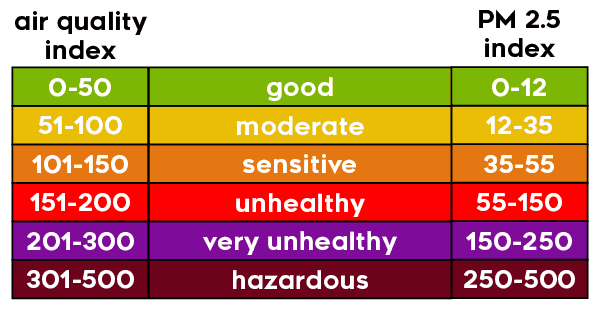 What is PM?
PM stands for "Particulate Matter". This measurement can basically be divided into two different measurement, PM10 and PM2.5.
PM 10 = particulate matter that is 10 micrometers and smaller
PM 2.5 = particulate matter that is 2.5 micrometers and smaller
We perform these tests in our home-based testing lab, meaning that the air is much like the air you'd find in most average homes. For example, we have a dog, a baby, and seasonal allergens like what you'll find in most other average homes.
How do we test?
To start the test, we begin with a baseline measurement, using a Temtop LKC-1000S+ professional air quality detector.
Once we've documented the baseline air quality, we run the purifier in a closed room and document the change in air quality after 60 minutes is up.
When we tested the Elechomes air purifier, here is what we learned:
Starting Baseline
PM 2.5: 7.5
PM 10: 10.6
Particles: 444
AQI: 31
After 1 Hour
PM 2.5: 0.4
PM 10: 0.7
Particles: 34
AQI: 0
Within 1 hour, the Elechomes purifier removed 92.4% of air particulates from the medium-sized room we tested in (approx. 12'x12′). This purifier improved PM 2.5 air quality by 94.7%.
Setup & Usability
Setting up this purifier was very easy. To get started, we…
Unboxed the purifier and all filters, removing all packaging.
Install the filters by simply snapping them into place.
Turn on the purifier.
NOTE: When you press the "on" button, this purifier will automatically enter Auto Mode. To switch to Sleep Mode, simply press the Sleep Mode button and it will switch.
How to use the Elechomes air purifier?
Using this air purifier is about as simple as setting it up. You can just turn it on and allow it to run on Auto Mode, or you can enable a Custom Mode.
Custom features include the following:
Adjust airflow speed – This can be adjusted manually from a selection of 3 different fan speeds.
Turn negative ions on / off – Ionization is another type of purification. It releases negatively charged ionic particles into the air which attach to positively charged particles. Once they attach, they fall to the ground and can be vacuumed up.
Child lock – The child lock disables the use of all buttons on the control panel. You can engage the child lock by holding the "child lock" button for 3 seconds.
RELATED: Are Ionic Air Purifiers Safe? Click here to find out what you really need to know about negative ions.
Maintenance
Proper maintenance is an important step for any air purifier. Without regular maintenance, the filters can clog and performance can drastically drop.
While exact maintenance tasks may vary based on different models, basic purifier maintenance revolves around cleaning and maintaining the filters.
For the Elechomes air purifier, this includes the following steps:
Wipe down the unit with a soft, dry cloth.
Rinse the pre-filter every 2 months. Allow to dry for 24 hours before reinstalling.
Change the composite HEPA filters once every 12 months.
RELATED: What is a HEPA filter? Learn the details here!
According to the manufacturer, these frequencies are based on running the purifier every day for 8 hours a day. Running the purifier more or less may result in different maintenance frequencies.
Is the Elechomes purifier a good value?
So all things considered, is the Elechomes air purifier a good value?
The Elechomes purifier has a sleek look, intuitive features, and good overall purification performance. But what about price?
Overall, I would say that the Elechomes purifier is a pretty good value. It's not the most affordable air purifier we've reviewed, but it has a large range of airflow coverage and made a noticeable improvement on overall air quality.
Elechomes UC3101 Specifications
| Specifications | |
| --- | --- |
| Manufacturer | Elechomes |
| Model | UC3101 |
| Length (inches) | 16.5" |
| Width (inches) | 8.3" |
| Height | 19.3" |
| Weight | 18.74 pounds |
| Filters | 4 filters |
| Wifi Compatible | Yes |
| Airflow | 350 sf. range |
| Returns | Varies by retailer |
| Warranty | 1-Year limited |
| Price | Check Price |
Who Should Buy the Elechomes?
I would recommend the Elechomes UC3101 air purifier if you're looking for the following features in an air purifier:
Want auto air quality detection: In Auto Mode, the Elechomes purifier uses the dual sensors to determine air quality and adjust as necessary to fully purify the space.
Want good coverage: This purifier can clean up to 350 square feet of air space, which would be plenty sufficient for most medium-sized spaces. (Example dimensions of coverage would be roughly 17'x20′).
Want simple controls: If you want simple controls, accessible from the unit itself or a physical remote control, this purifier has a variety of options. That being said, if you're looking for wifi-connectivity for smartphone control, you may want to keep looking because that is not a feature that this purifier has.
Want more information on the Elechomes air purifier? Click here to buy or visit Elechomes.com for more info.
Solid Performance, Fair Price
Design -

94%

Performance -

96%

Quality -

94%

Usability -

95%

Value -

96%
Summary
The Elechomes UC3101 purifier is designed for rooms up to 350 square feet. It uses a pre-filter, HEPA filter, activated carbon filter, and ionization to purify the air. The purifier doesn't have wifi / smartphone connectivity, but does include on-board particulate and smell sensors. It's auto mode uses these sensors to automatically increase or decrease speed in order to keep the air clean. It performed well in our tests, reducing PM2.5 to as low as 0.4 and reducing the air quality index to 0.