Hospital-Grade, No-Fuss Purifier
EnviroKlenz Air Purifier
The EnviroKlenz air purifier is a basic purifier with a simple style and solid air quality performance. It uses a HEPA filter and VOC neutralizer to rid air of harmful pollutants. Its wheels allow it to be easily moved wherever you need cleaner air.
Check Price
Pros
Hospital-grade quality
4 different speeds of air flow
Good performance during our air quality tests
Cons
No wifi-connectivity for smart control or remote control
Pretty heavy at 38 pounds
Pricey unit for such a basic style
EnviroKlenz Air Purifier Design
The EnviroKlenz air purifier is a large, hospital-grade air purifier with a commercial look, but the capacity to tackle large spaces.
Aesthetically, this purifier feels industrial and border-line sterile, but what it lacks in design appeal, it makes up for in sheer power and capacity.
This air purifier comes in three different colors:
Each purifier is made of a powder-coated metal body which means no plastic parts to potentially effect air quality.
The Modes
The EnviroKlenz has 4 airflow settings:
Whisp-Air
Low
Medium
High
As you power up to higher levels, this purifier is able to cover more square feet, but the more powerful airflow settings are also louder.
How does it work?
HEPA combined with chemical odor neutralization are the two main approaches that the EnviroKlenz takes to treating indoor air quality.
The filtration process uses two parts to work effectively:
14 x 14″ Cartridge: This cartridge looks like a traditional air filter and is designed to remove harmful VOCs and neutralize indoor toxins.
HEPA Filter: The HEP filter is medical-grade and looks more industrial than what you will find in other purifiers. It can remove participate as small as 0.3 microns.
How It Controls Odors
The included cartridge takes a chemical approach to remove VOCs and odors similar to activated carbon filters.
This filtration process is called chemical adsorption.
When dirty, polluted air comes in contact with the cartridge, the VOCs or odors are adsorbed into the media and chemically broken down.
RELATED: Do Air Purifiers Remove Odors? Find out here!
Size & Dimensions
Concerning size, the EnviroKlenz is a medium-range unit, but aside from the dimensions it is extremely heavy compared to other models.
It has a perfectly square body in width and depth and is slightly taller, probably due in part to the wheeled based.
The exact specs are listed below:
Width: 15.5″
Depth: 15.5″
Height: 18" tall
Weight: 38 lbs.
Accessories & Parts
The EnviroKlenz air purifier does not come with any additional accessories besides the basic ones you need for daily operation.
This includes the:
Air Purifier
HEPA Cartridge
VOC + Chemical Neutralization Filter
Performance
With limited features and design elements, we were really interested to see how the EnviroKlenz would perform, especially compared to other purifiers on the market.
Testing Series
Our testing process starts with setting up the EnviroKlenz in a medium-sized bedroom in my home. I took an initial baseline measurement of the room's air quality, and then ran the EnviroKlenz purifier for 1 hour and 2 hours.
At the end of the test, I took a new measurements in order to compare the difference in overall air quality.
What were the results?
Starting Baseline
PM2.5: 12.7
PM10: 22.1
Particles: 606
AQI: 50
After 1 Hour
PM2.5: 1.0
PM10: 1.6
Particles: 53
AQI: 4
After 2 Hours
PM2.5: 0.4
PM10: 0.6
Particles: 34
AQI: 0
Within 1 hour the EnviroKlenz removed 91.3% of air particulates from the medium-sized room we tested in (~12'x12′) and improved PM2.5 air quality by 92.2%.
To really test the performance quality of this purifier we let it run for an additional hour. After 2 hours, the EnviroKlenz removed 94.4% of air particles from the room and improved PM2.5 air quality by 96.9%.
How We Test
In order to take these measurements we used the Temtop LKC-1000S+ professional air quality detector. By using this device, we were able to get precise measurements both before and after using this air purifier.
Below, we've included information on the testing criteria and what defines good vs. bad air quality.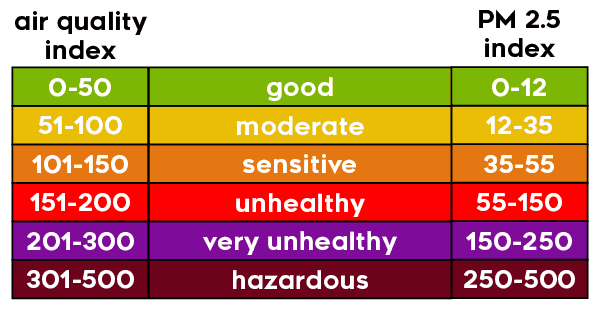 What is PM?
PM stands for "Particulate Matter". This measurement can basically be divided into two camps , PM10 and PM2.5.
PM 10 = particulate matter that is 10 micrometers and smaller
PM 2.5 = particulate matter that is 2.5 micrometers and smaller
Setup & Usability
Setting up the EnviroKenz was simple and easy to do. As I mentioned above, there are limited features on this model so it basically boils down to…
Unbox the purifier, filter and cartridge.
Install the HEPA filter and cartridge into the back of the unit.
Plug in the purifier.
Select your air speed purifier was as simple as unboxing it, plugging it in, and turning it on.
RELATED: Looking for a smarter air purifier? Check out the Dyson Pure Cool TP04 for a purifier with great performance and smart features (connects to wifi, scheduling, remote control, etc.)
How to Use the EnviroKlenz Air Purifier
While the EnviroKlenz was easy to set up and use, it's extremely basic.
There are no smart features on this purifier so all you do is select your air speed that you want at any given time.
There is a high, medium, low, and whisper quiet air speed (called "Whisp-Air"). The Whisp-Air mode is the quietest airflow mode and a nice option for when you're sleeping.
RELATED: Looking for an air purifier with a Sleep Mode? Check out our full review of the Elechomes air purifier.
Concerns About Air Smell
During our tests we noted that the unit created a less-than-great smell. I expect this is probably due to the filter designed to remove odors from the air.
It was more prominent while running at higher speeds.
Over time, it did seem to dissipate in intensity. However, if you're sensitive to smells you may find it an aggravation.
NOTE: Strong smells as a result of purification is not something we've experienced with other purifiers we've tested.
EnviroKlenz Maintenance
Proper maintenance of the EnviroKlenz starts with maintaining the HEPA filter and cartridge.
The HEPA filter is designed to last 2-3 years. (This is the larger filter in the metal frame.)
The VOC cartridge is designed to last up to 4-6 months, depending on use. (This is the thinner filter with the paper frame.)
Replacement filters are not currently available from third party providers and can only be purchased direct from enviroklenz.com.
In addition, they're not cheap. The VOC cartridge is about $100 and the HEPA filter is even more at $150 / each. This could be something to consider if you're trying to keep maintenance costs low and relatively simple.
Is the EnviroKlenz air purifier a good value?
If I'm being honest, I would not call the EnviroKlenz a great value. It's pricey and honestly it just doesn't have some features that I would expect it to have for being at the price range it is in.
Some advanced features that this purifier does not have include:
Air quality detection
Auto mode
Sleep mode
Remote control
Wifi-compatibility (for smartphone or voice control)
Not all air purifiers are designed with these features in mind and that's certainly something we can respect, but the high price point does leave some something to be desired.
This is especially true considering that its performance wasn't better than some other high-end models, like the Dyson Pure Cool TP04, Elechomes air purifier, and Rabbit Air MInusA2.
These comparable models matched performance and were a similar cost, but yet included some nice bonus features.
EnviroKlenz Specifications
| Specifications | |
| --- | --- |
| Manufacturer | EnviroKlenz |
| Model | Mobile Air Purifier |
| Width | 15.5" |
| Height | 18" |
| Weight | 38 pounds |
| Filters | 2 filters (1 HEPA and 1 VOC neutralizer) |
| Wifi Compatible | No |
| Max Airflow | Unknown |
| Area Coverage | Up to 750 sf. |
| Returns | Varies by retailer |
| Warranty | 1-Year limited |
| Price | Check Price |
Who should buy the EnviroKlenz air purifier?
In conclusion, the EnviroKlenz air purifier is a hospital-grade, industrially designed air purifier. With virtually zero bells and whistles, this purifier is easy to operate and use if you prefer the "set it and forget it" approach.
The EnviroKlenz air purifier may be best if you want:
Large coverage range: The EnviroKlenz can cover up to 750 square feet of air space, which is great for large rooms and spaces.
Basic usability: If you're not looking for any fancy features like wifi, smart control, or special modes, the EnviroKlenz could be a good option for you.
An all metal body: Some people have concerns about plastic or composite parts leeching pollutants into the air. The EnviroKlenz goes around this issue by constructing an all metal body style that eliminated the need for small plastic or composite parts. Additionally, the all metal body increases the lifespan of the various parts.
For more information or to buy the EnviroKlenz air purifier, click here.
Good Performance, Expensive to Maintain
Design -

92%

Performance -

96%

Quality -

97%

Usability -

92%

Value -

90%
Summary
The EnviroKlenz air purifier has a bit of an industrial feel with limited bells and whistles. It takes a minimalist approach to design in order to focus mainly on air quality performance. It did show strong improvement in air quality, improving PM2.5 air quality by 92.2% within 1 hour. That said, considering the overall price, features (or lack thereof), and price to replace filters, we feel like the value just isn't great compared to competitors on the market.