The Eufy BoostIQ 11s is modeled after the Eufy RoboVac 11, but it's sleeker and features more upgrades than its younger brother.
It scored 97% in our cleaning tests overall, struggling the most with sugar on carpets. Despite that, it's ultra friendly to budgets and presents a great value overall.
A Smarter Robot with Boost IQ
Eufy RoboVac 11s
The Eufy RoboVac 11s is a robot vacuum that strikes a nice balance between budget and performance. It has a long run time and solid cleaning performance, but lacks fancier bells and whistles like app control or digital mapping.
Check Price
Pros
Comes with 5 different cleaning modes
Excellent cleaning performance on all floor types
Easy to control via remote control or smartphone
Cons
Running on max mode has a significantly shorter run time
Lacks digital mapping for advanced navigation
No compatible apps for smartphone-based controls
Eufy RoboVac 11S Design
In this Eufy 11S review, we'll discuss the robot's design in depth. Like most RoboVacs, the Eufy RoboVac 11S has a fairly simple and straightforward outward design, featuring a tempered glass cover that's scratch resistant.
The Controls
The controls of the RoboVac 11S function very much in the same way as its previous version, with the Start / Stop button on top.
One notable difference, however, is that the main power switch to turn the vacuum on and off is located on the bottom of the Eufy BoostIQ 11S, as compared with on the side like in other RoboVacs.
The Eufy 11S RoboVac communicates with you via the color of its LED indicator. For example, "breathing orange" means it's charging, while solid orange indicates it is low on power and must return to the charging base.
In addition, solid blue means it is in standby mode, cleaning, or fully charged.
Finally, if there's an error, the RoboVac 11S will communicate that with a red indicator button.
The Underside
Much like previous models, the underside of the Eufy RoboVac 11S with BoostIQ technology features a dustbin near the front and a brush guard and spinning brush beyond that toward the middle.
There are two main wheels on either side of the spinning brush, and a swivel wheel positioned near the back of the Eufy 11S.
Two sides brushes flank the space near the back for a more thorough clean. Charging contact pins and drop sensors surround the swivel wheel, helping the RoboVac 11S efficiently charge and steer away from ledges, respectively.
Dustbin
When comparing our Eufy RoboVac review of the 11S's predecessor with the 11S, it appears the size of the dustbin is not an area of improvement. Specifically, with a capacity of 0.6 L, the dustbin on the 11S stays the same as that of the 11.
Cleaning Modes
It's easy to switch cleaning modes and get the clean you want when you use the Eufy 11S RoboVac's remote control. Specifically, there are five cleaning modes:
Auto Cleaning
Spot Cleaning
Edge Cleaning
Single Room Cleaning
Manual Cleaning
Below is the extended description of each cleaning mode.
Auto Cleaning: In Auto Mode—which is the 11S's default mode when it's first turned on—the vacuum adjusts its mode based on the dirt and debris it encounters as it optimizes its cleaning path. 
Spot Cleaning: When you're using Spot Mode, the Eufy RoboVac 11S focuses on the area where you place it for an intense 2 minutes of cleaning. To accomplish this, it uses a spiral motion to get rid of as much of the area's debris as possible in this mode's short burst of time.
Edge Cleaning: When used in this mode, the Eufy RoboVac 11S cleans for 20 minutes at a reduced speed along the edges of a wall (or several walls).
Single Room Cleaning: The convenience of Single Room Mode on the RoboVac 11S is that it only takes 30 minutes to intensely vacuum the room you most need cleaned.
Manual Cleaning: If you're more a fan of taking control, then Manual Mode might be your favorite. You can use the remote control to direct the RoboVac 11S exactly where you want it to clean.
RELATED – What's the best robot vacuum?
BoostIQ Technology
The Eufy 11S robot from Eufy features three suction power levels:
Standard
Max
BoostIQ
The RoboVac's BoostIQ feature will drive stronger suction power to the vacuum automatically when it senses the need for it. This usually occurs on medium / high pile carpets or more serious messes.
Wondering how to use the BoostIQ feature?
It actually is the default setting for your 11S vacuum, but you can change that if you'd like.
All you have to do to switch to Auto Cleaning mode is press the "fan" icon on the remote control until you get to your desired suction power level.
BoostIQ is only available when you're using the Auto and Single Room cleaning modes.
Autoclean Scheduling
One nice convenience of the Eufy RoboVac BoostIQ 11S vacuum is the way you can easily set a scheduled cleaning time. Though it's a fairly standard feature on many robot vacuums, it does help to increase the overall value and usability of this robot.
Power
Though the Eufy RoboVac 11S features up to 1300Pa of suction power, it's surprisingly quiet at 55 decibels—which, according to the manufacturer, is "no louder than an operating microwave."
Of course, this sound is increased when the vacuum is using the BoostIQ or MAX mode, but you can disable this feature if the noise is just too much for you.
Auto Recharge
When you charge the Eufy RoboVac 11S from 0%, it takes about 5-6 hours to get to 100%. Before its battery runs down completely, though, it will return automatically to its base and recharge without you having to lift a finger.
Run Time by Mode:
Standard power = 100 minutes
BoostIQ mode = 60 minutes
Max mode = 50 minutes
The 11S will give you approximately 100 minutes of continuous cleaning, but that's in Standard power mode. When using BoostIQ mode, the vacuum will go from 100% to 0% in about 60 minutes.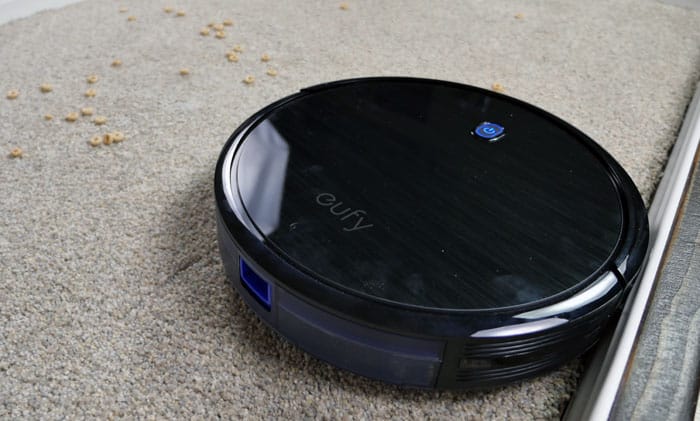 Max mode—which usually means medium-pile carpets are involved—will result in 50 minutes of cleaning time.
Note that the BoostIQ RoboVac 11S is not intended for use on high-pile carpets of greater than 1.02 inches (or 26 mm).
Size and Dimensions
Overall, our Eufy RoboVac review did not find much difference between the 11S's size and many others, such as the 15C, 30C, 12, and 30. Our Eufy 11S review shows is an improvement over the 11, though.
How big is the vacuum?
The Eufy BoostIQ RoboVac 11S comes in with dimensions of 12.8" x 12.8" and a height of 2.85". This is an improvement over the 11, which has a height of 3.1".
The slimmer design allows the 11S more clearance under furniture, resulting in fewer incidents of getting stuck.
The exact dimensions of the eufy RoboVac Boost IQ 11s are as follows:
Diameter:  12.8″
Height:  2.85″
Weight:  5.85 lbs.
At 5.85 pounds, it weighs less than the RoboVac 11 as well, which comes in at 6.7 pounds.
Accessories & Parts
The Eufy BoostIQ RoboVac 11S includes the following accessories:
Charging base
Remote control
Four side brushes (two extra)
Power adapter
Cleaning tool
Additional high-performance filter
Additional foam filter
Charging Base: The Eufy 11S's charging base looks like that of many robot vacuums, and should be placed on a level, hard surface against a wall.
Filter: A triple-layer filter system adorns the Eufy 11S RoboVac, combining one high-performance filter with a dual-layer filter. Its goal is to capture more dirt and debris. If you're cleaning your home once a week, the manufacturer suggests replacing your filters every two months.
Remote: The remote control that comes with the Eufy 11S fits easily in your hand and is pretty slim. It does include a number of different controls.
Using the remote control, you can:
Start / stop a cleaning
Schedule a cleaning
Manual directions
Auto mode
Boost mode
Spot cleaning mode
Singe room cleaning mode
Edge mode
Adjust time
Return to charging base
Two AAA batteries for the remote are included with your purchase of the Eufy RoboVac BoostIQ 11S.
RELATED – Roomba S9+ review
Cleaning Performance
Our performance testing of the Eufy RoboVac 11s yielded positive results from this little robot. Across the board, it averaged 97%, considering performance on hardwoods, low pile carpet, and high pile carpet.
All of the tests were done on max mode and tested against a mix of cereal, kitty litter, rice, and sugar.
Apart from sheer cleaning performance, run time is another aspect to consider in this evaluation. In our tests, we ran the 11s on Max mode to generate results based on max performance.
When running the 11S on "max mode", we found the run time of this machine to be dramatically less.
When cleaning easier floors like hardwoods and low pile carpet, you'd likely be able to get away with a lower suction mode. In those cases, opting for a less powerful suction can translate to a longer run time.
As a final note, eufy does seem to have some reservations about the performance of the 11s on high pile carpet, stating the following:
For Optimal Use: Use on low-pile carpet, tile, laminate, and hardwood floors. Not suitable for high-pile carpet or very dark-colored floors. Move cables out of the way to avoid entanglement.
This statement could raise some eyebrows about performance on high pile carpet or navigation abilities.
From our tests, I would say that it performed just fine on high pile carpet, but this may be something to keep in mind if your carpet fibers exceed 1.02 inches (or 26 mm), which the manufacturer states as the maximum acceptable carpet density.
Setup & Usability
Like most robot vacuums, the RoboVac 11S is fairly straightforward in terms of setup and requires just a bit of time spent learning how to use the remote control.
Setting Up the Vacuum
Before you use the Eufy 11S RoboVac, you have to:
Set up and plug in the charging base
Install the side brushes
Turn on the main power switch (which is on the bottom)
Set the vacuum on the base to receive a full charge
Once it's charged, you can play around with the controls on the remote. Be sure to read the manual so you are familiar with all of the cleaning options and modes.
RELATED – Shark ION R85 review
Is the Eufy BoostIQ RoboVac 11S a good value?
So what's the bottom line? Would we call the Eufy BoostIQ RoboVac 11S a great value buy? Honestly, it depends on what you value as a consumer.
If you're looking for a solid robot vacuum with good run time (especially on hard surfaces) and don't need app-based controls, the Eufy 11s is an excellent option.
If you have a lot of dense high pile carpet, this vacuum would likely not be a great option, as the manufacturer flat-out doesn't recommend this vacuum for floor type.
Eufy BoostIQ RoboVac 11S Specifications
Specifications
 
Type
Robot
Manufacturer
Eufy
Model
Boost IQ RoboVac 11s
Width
12.8"
Height
2.9"
Weight
5.73 pounds
Floor Type
All (indoor)
Battery
Unknown
Run Time
50-100 minutes
(varies by mode)
Dust Bin Capacity
0.6 L
Includes Virtual Wall
No
Returns
Varies by retailer, other retailers will vary
Warranty
1-Year Limited
Price
Check Price
Should you buy the Eufy BoostIQ 11S?
All things considered, should you buy the Eufy Boost IQ RoboVac 11s?
I would recommend the Eufy BoostIQ RoboVac 11S if you are looking for the following in a robot vacuum:
Want long run time: The eufy 11s has a run time between 50 – 100 minutes, varying depending on mode. If you can keep this robot in standard mode, the 11s can clean for twice the amount of time it can clean in max mode.
Don't need digital mapping: There is no digital mapping technology designed into the eufy Boost IQ RoboVac 11s. In other words, it won't be able to see the layout of your space, but sensors will help it to see obstacles and walls that are nearby.
Want a good value: For the price, the eufy RoboVac 11s is an excellent performer. It averaged 97% cleaning performance across all floor types and didn't significantly struggle with any particular debris type. These are big wins for a budget robot vacuum and definitely increases the overall value of the eufy.
To learn more or buy the Eufy BoostIQ 11S, head over here.
Low Price, But Good Performance
Design -

93%

Performance -

97%

Quality -

93%

Usability -

93%

Value -

95%
Summary
The eufy Boost IQ RoboVac 11S is a robot vacuum built with the value-conscious consumer in mind. It has a long run time, up to 100 minutes, and offers three different suction levels and five different cleaning modes. It lacks digital mapping and app-based control, but has a physical remote control and smart sensors for navigation. For a budget robot with excellent cleaning performance (average of 97% across all floor types), the eufy 11S is an excellent option.