COUPON: Use code CASTLE15 to save 15% off your entire cart.
DIY Home Security, Made Easy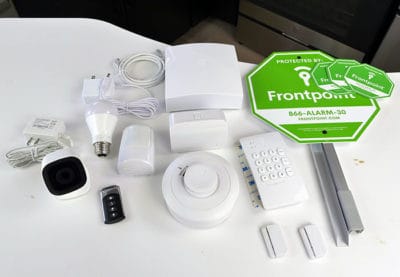 Frontpoint Security System
The Frontpoint home security system comes in four different packages with the ability to add on additional devices, sensors, and cameras as needed. System flexibility is a major selling point for Frontpoint, allowing for more customized installs. Add 4G LTE backup and professional monitoring it feels like a mix between total DIY and full-service security.
Check Price
Pros
4G LTE cellular backup and battery backup in the event of a power outage
Compatible with many smart home devices
Easy to add on devices for custom packages
Professional monitoring
Cons
A little pricey for monthly monitoring ($50 / month)
Scoring
Customizable Install, But More Expensive Monitoring
Design -

95%

Performance -

95%

Quality -

95%

Usability -

95%

Value -

90%
Summary
The Frontpoint security system is user-friendly and provides a professionally monitored system at a fraction of the cost you would pay for traditionally installed security systems. There is a variety of packages to choose from and you can add on additional devices as needed. This system offers smart control, app control, video surveillance, and more. The prices for monthly monitoring were a more than other DIY brands, but it does offer a good number of features for what you pay. If you want a professionally monitored security system that can be adjusted to meet your needs (and without having to pick up a phone or talk to a salesman), the Frontpoint system is a solid buy.
Table of Contents
Pricing & Packages
There are three different tiers of packaging available for the Frontpoint security system. Depending on the size of your space or how closely you want to monitor each area may help determine the package is right for you.
You can add additional items and add-on devices to any of the packages below to build a completely custom setup.
The Safehouse
Includes:
Frontpoint Hub & Frontpoint Keypad (x1)
Door/Window Sensor (x2)
Motion Sensor (x1)
Yard Sign (x1)
Window Decals (Set of 3)
Door Sticker (x1)
Free Doorbell Camera (x1)
Check Price
The Bunker
Includes:
Frontpoint Hub & Frontpoint Keypad (x1)
Door/Window Sensor (x3)
Motion Sensor (x1)
Indoor Camera (x1)
Smoke & Heat Sensor (x1)
Yard Sign (x1)
Window Decals (Set of 3)
Door Sticker (x1)
Free Doorbell Camera (x1)
Check Price
The Fortress
Includes:
Frontpoint Hub & Frontpoint Keypad (x1)
Door/Window Sensor (x6)
Motion Sensor (x2)
Indoor Camera (x1)

Smoke and Heat Sensor (x1)

Yard Sign (x1)
Window Decals (Set of 3)
Door Sticker (x1)
Free Doorbell Camera (x1)
Check Price
Build Your Own
Includes:
Design a customized package with the exact list of sensors, cameras, and keypads you need
Free Doorbell Camera (x1)
Check Price
Monitoring
All packages offered by Frontpoint are professionally monitored by a team of specialists.
The one monitoring plan offered is:
This plan is a bit on the higher end of the pricing spectrum, but it does come with a wide range of features so the higher price may be justified to some.
Here is a complete list of major features:
100% Wireless & Cellular
24/7 Professional Monitoring
Automated System Check
Crash and Smash Protection
Expandable and Portable
Geo-location Services
Mobile Alert and Notifications via Email and Text
Remote Access and Control
Sensor History
Unique User Codes
Motion Triggered Alerts
Night Vision Enabled
Light Control
Live Video Streaming
Smart Lock Control
Video and Image History
Equipment
30 SECOND SUMMARY: We installed this system in our home, with the main hub in the living room. It's got a good default voice / volume level and was easy to hear and understand. It offers verbal notifications when the front door opens, which is great for families with small children.
There is a pretty vast range of equipment offered under the Frontpoint umbrella. Depending on your needs, you can easily choose from the packages listed above, or mix and match the equipment below to create a custom package.
All of the equipment with a Frontpoint system can be broken down into two categories.
Included with Packages
Add-On Items
The items included with packages are listed above, but here is a list of some quick details.
#1: Items Included with Packages
The items that you get with all Frontpoint security systems include:
Keypad
Door / Window Sensor
Motion Sensor
Yard Sign
Window Decal
Door Sticker
The Select and Preferred Packages include all items listed above as well as:
Glass Break Sensor
Smoke & Heat Sensor
The Preferred Package includes all items listed above as well as:
#2. Add-On Items
Other items not listed above would be categorized as "Add-On Items". Any device not included with your original package is considered an "Add-On", but Frontpoint makes it easy to use these add-ons to customize the perfect system for your needs.
Add-On Items include:
Cameras
Doorbell Camera
Indoor Camera
Outdoor Camera
Premium Indoor Camera
Control
Accessories
Keychain Remote
Panic Pendant
Yard Sign
Window Decals (set of 3)
Door Stickers
Sensors
Door / Window Sensor
Motion Sensor
Glass Break Sensor
Garage Door Tilt Sensor
Smoke & Heat Sensor
Carbon Monoxide Sensor
Flood Sensor
Smart Devices
Smart Door Lock
Frontpoint Smart Thermostat
Wireless Light Control
Smart Light Bulb
RELATED – More home security reviews from Modern Castle
#1. Hub & Keypad
The hub and keypad serve as the central command center for the Frontpoint security system. It allows you to turn the system on or off using a unique code as well as change modes.
In the event of an alarm / emergency, it will emit an audible sound and also let you know when the battery is running low.
This device uses an Ethernet connection with wifi & cellular backup built-in in case of a power outage or targeted attempt to damage the device by an intruder.
The hub is pretty sleek and blends in easily. Most people really wouldn't notice or have any idea what it is (even with it placed in our main living room). We prefer this location so it's easier to hear the notifications and alarms.
The keypad itself can mount directly onto the wall using a sticky 3M pad on the back of the device. It provides a numeric entry pad with raised, rubberized buttons where you can input your access code to arm or disarm the system.
It will also alert you in the event of a power failure or low battery as well as if you need to put the system in "panic mode".
The numeric pad is wireless so if you don't want to stick it onto the wall, you can also just opt to sit it freestanding on your desk or likewise. I really like that it's wireless and you don't have to mount it.
In the last few weeks I've placed it on my office's desk and in the entry / mud room where we drop off keys. Both spots worked great and were easy and accessible to use.
#2. Door and Window Sensor
The door and window sensor by Frontpoint is nearly identical to the other sensors like this that we've tested, although it does feel a little bit thinner which may be better for ultra-narrow installations.
It's a 2-part system that installs partially on the door frame (or window sill) and the other part on the moveable door (or operable window).
Front View
Back View
When the two units are in contact, the system can be armed. But if the door or window opens and the units are disconnected, an alarm will sound or mobile notification sent to your phone.
During our tests, it worked well and as expected.
#3. Motion Sensor
The motion sensor is a wireless device that installs quickly and lets you know when motion is detected in any given space.
Sensors on the device can tell the difference between people and pets, which helps to ensure that you only get alerts for the motion you care about most.
The motion sensor has a surprisingly large viewable range. It really does a nice job at catching motion even at the very edges of it's viewable area. In addition, it had no issue ignoring our dog and robot vacuums that routinely run while we're away.
My only real complaint is that the motion detector didn't include a 3M adhesive mount. Even so, I ended up just cutting a smaller piece off the large 3M pad included with the key pad. That made mounting it super easy and fast.
#4. Glass Break Sensor
The glass break sensor listens for the audible sound of glass breaking and sends an alert when it hears it.
This sensor can work within 20′ of any window, which may mean a larger coverage area without having to buy an excessive number of devices.
#5. Smoke & Heat Sensor
The smoke and heat sensor detects unusually high temperatures and small amounts of smoke in an open space.
The benefit of syncing up a smoke detector to your central security system is that you will receive mobile alerts in the event of an emergency or professional monitoring can deal with the issue directly if you are away.
#6. Indoor Camera
The indoor camera only comes with the Safe Home Preferred package, but you can add it onto any of the smaller packages as a separate item.
Adding a camera to your home security system can provide clear video surveillance for spaces of higher priority.
You can add as many cameras as you need and Frontpoint offers indoor or outdoor cameras.
#7. Keyfob
In addition to using the keypad or app for access, the Frontpoint system can also be controlled with the keyfob. This fob can work up to 100 feet away from the main system. It's easy to attach it directly to your keyring for quick controls or other small device.
The keyfob allows you to wirelessly emit alerts, arm or disarm the system, or turn lights on / off.
#8. Wireless Light Control
Which leads right into the next device—wireless light control. This smart bulb is an add-on item and doesn't come standard with any of their existing packages, but it is compatible with all of their systems and is a quick add-on.
Similar to any other smart bulb, the Frontpoint system screws into a standard light socket and allows you to turn lights on or off using the Frontpoint controls.
You can also set the lights to be programmed with timed schedules that occur at a particular time.
For example, if you want to make a "Bedtime" preset which arms the Frontpoint system and turns off the lights, you can do that.
#9. Smart Switch
Frontpoint also offers a smart switch. This is great if you have a light or other electrical device you want to turn on / off on a triggerable switch, schedule, or part of a larger arming scene.
The switch itself feels well made and offers 2 plugs. During our setup it automaticaly connected to our account.
In terms of functionality, it's pretty typical for a smart switch. But I will say it's super nice that it's automatically integrated into the app.
#10. Signage
Frontpoint includes a wide variety of decals, stickers, and other signage with all of their packages.
Regardless of which package you go with, you will receive:
Yard Sign (x1)
Window Decals (set of 3)
Door Sticker (x1)
As many people tend to believe, one of the best forms of defense against intruders is simply making them aware that you have a security system active.
Many intruders are much less likely to attempt a burglary or break-in if they know they'll be up against a fight.
Properly placed hard signs, decals on the windows, or stickers on the doors at your main entry points can be a great way to spread awareness and improve perceived security.
Installation & Setup
Frontpoint follows a "do it yourself" approach to installation and setup. DIY security systems may mean more work for you on the front end, but it also can mean big savings on the back end.
Here is a quick side-by-side comparison of DIY systems vs. traditional security systems.
DIY Systems
Contract-free
Flexible packages
Wireless or battery-powered
Easy to take the system with you if you move
Inexpensive cost per month
Traditional Systems
Lengthy contracts
Costly start-up fees
Require professional installation
May have penalties if you move or cancel the contract before the term is up
Tends to lack transparency
The Install Test
The Frontpoint system takes about 10 minutes to unbox and 30-40 minutes for setup. Of course, the setup could be longer or shorter depending on the size of your system.
The setup was pretty straightforward. You unbox the equipment, Frontpoint provides a web address, you go there, and follow the prompts.
Once you login to the website it automatically pulls most of your account information and system information in, so there's not a ton that you need to do.
Just follow along as it helps you install the system, various sensors, and settings. Overall, it was a pretty seamless process.
Features
So that's the rundown of what all you get with the Frontpoint security system, but what all does it do?
Let's do a dive into the complete list of features of the Frontpoint Security System.
#1. Accessibility
How can you control the Frontpoint security system? The five main ways include:
Touch screen: central hub which serves and the main command center
Keypad: use a unique numeric code to arm or disarm the device
Keychain: can be added to your keys for remote control on-the-go
Panic pendant: a wearable device to signal for help in the event of an emergency
Mobile app: see notifications and alerts right from your smartphone
The five methods listed above for control make the Frontpoint system highly accessible whether you're home or away.
Generally, I would say that this is a solid range of control options and makes the Frontpoint system more user-friendly.
#2. Smart Integrations
Frontpoint is compatible with smart home devices. They offer the following smart home add-ons:
Smart Door Lock
Frontpoint Smart Thermostat
Wireless Light Control
Smart Light Bulb
In addition to this short list, Frontpoint is also compatible with any existing or third party smart device as long as it supports the Z Wave smart home technology (which is a huge collection of devices).
RELATED: Other Z Wave smart devices
#3 The Modes
Frontpoint Security offers three different standard modes as well as the ability to bypass certain settings for custom modes.
The three standard modes offered are:
Arm – Stay
Disarms interior motion sensors
Arms door / window sensors
Arm – Away
Arms interior motion sensors and door / window sensors
Arms smoke or water sensors active
Disarm
Disarms all sensors and cameras
The App
This is one of the most complete and highly developed apps I've tested to date.
There's just quite a lot going on.
Using the app, you can:
Arm or disarm the system
Verify an alert or cancel it
Set up scenes (like Home, Away, Sleep, or Wake Up)
View activity history or live feed
Smart control
Get instant alerts sent to your smartphone
Check out some additional feature details below:
Scenes: allows you to tell your various devices what to do when certain conditions are met and certain modes are activated. Lots of flexibility for smart homes
Images / Video: if you have relevant devices, it will automatically drop in videos and images for you to review
Lights: you can manage a full range of smart lights and smart switches; manually and/or connect to scenes and other security configurations
Geo-services: basically allows you to set up a geo-fence, so when your phone enters / leaves the defined boundary you can activate different smart integrations and scenes
Notifications: plenty of adjustments for notification settings, including the ability to break DND on your phone in the case of an alarm
Users: you can add users and give them special permissions
Devices: tons of device management options, and given the range of devices that Frontpoint offers there's a lot you can do. Most notably, all of the devices integration into the larger app.
Customer Service
Customer service for any home security system can really make or break the user experience of any home security system.
Good customer service is divided into two main components:
Part 1 is support when making the initial purchase.
Part 2 is support when / if things go wrong after install.
Balance of both of these parts is important to ensure that the buying process, as well as the maintenance, are both easy to do.
#1. Making the Initial Purchase
Making the initial purchase with Frontpoint is simple and relatively quick. The website breaks it down into a series of steps.
Start with your security base.
Select add-ons.
Select a monitoring plan.
If you have questions or concerns along the way, there is an online chat that connects you to a real person who responds quickly and I found to be helpful.
I used this chat tool during the workweek as well as over the weekend and received an answer to my question within a couple of minutes each time. Overall, I was happy with this performance and customer service.
You can also call or email then directly if you'd like them to build a custom package and / or send a quote.
1-833-408-8428
sales@frontpointsecurity.com
#2. When Things Go Wrong
Once you purchase a system, you become an official customer and can log in to see details about your system or troubleshooting support.
There is an entire Support Center which has details on:
Installing your new system
Installing additional equipment
Using your system
My Frontpoint account
Products
FAQs
Overall, I found the Help Center to be helpful and had a range of topics covered.
For any topics that weren't included, you can call, email, or reach out through the online chat to speak to a live agent.
The Bottom Line
I was happy with the performance and product lineup of the Frontpoint security system. It's moderately priced and has a lot of flexibility in terms of building custom packages or choosing a pre-set system.
It's a bit pricier for their monthly monitoring, but I feel like they do a good job of providing some good value features for the price that you pay.
I would recommend Frontpoint if you're looking for:
Wide range of features: This system supports nice upgrades like video streaming, custom scenes, smart integration, app control, and a variety of interesting devices.
Custom setups: You can choose a preset package or build your own system using "add-on devices". The website walks you through the process and the whole thing is simple.
Backups: Frontpoint offers 100% cellular connection with a backup battery with WIFI connectivity.
For more information or to purchase visit Frontpoint here.
Frequently Asked Questions
Do you have pay for a monthly subscription?
Yes. All Frontpoint systems require a monthly subscription.
What if you don't like it?
The Frontpoint system offers a 30-day trial where you can test out the equipment and return for a full refund anytime in that window if you end up not liking it.
Can you buy more sensors after you've already made the initial purchase?
Yes. There is a huge lineup of other devices that can be purchased after the fact. Frontpoint makes this part simple.
Does Frontpoint offer security cameras?
Yes. There are currently four different camera options—indoor, indoor premium, outdoor, and a doorbell camera.
ChangeLog
May 28, 2021 – Updated information on the packages and monitoring tiers.
May 14, 2021 – Updated images and added some extra performance details after receiving the Frontpoint security system for in-house testing.
March 16, 2021 – Initial version of the review was published. This was a pre-test before we had tested the system in person.