A Basic Air Purifier for Medium Coverage
Germ Guardian AC4825
The Germ Guardian AC4825 air purifier is a basic purifier with simple dial controls, three variable fan speeds, and up to 167 sq. ft. of area coverage. It has solid performance during our in-home tests and would be a suitable option for basic features in small to medium sized rooms.
Check Price
Pros
Three fan speeds; easy to use
Tall tower design style makes it easy to fit into most rooms
Carbon filter helps neutralize odors, like smoke, food, etc.
Cons
Cannot detect real-time air quality (no auto mode)
Not sufficient for larger rooms
Quick Specs
Filters up to 167 sq. ft.
Three fan speeds (low, medium, high)
Includes filter indicator
Three level filtration (HEPA, activated charcoal, UV-C light)
GermGuardian Design
The GermGuardian AC4825 air purifier has a tall black body with silver accents at the top of the unit to help highlight the controls.
Air intake is located at the front of the purifier and clean air is distributed through the back.
The Controls
From the top of the purifier you can:
Change fan speeds (low, medium, or high)
Check filter status
Turn UV light filtration on / off
How does it work?
The Germ Guardian works by combining three separate levels of filtration:
HEPA
UV-C light
Activated charcoal
RELATED – What is a HEPA Filter?
HEPA Filter: The HEPA filter is the primary level of defense for this air purifier and protects from airborne particulate like allergens, household dust, and other debris down to 0.3 microns in size.
UV-C Light: The UV-C light is designed to use light to reduce airborne bacteria like viruses, germs, and mold spores.
Activated Charcoal: The main purpose of the activated charcoal filters is to capture airborne odors like smoke, pets, or food odor.
RELATED – Do Air Purifiers Remove Odors?
Size & Dimensions
The Germ Guardian air purifier is a medium-sized filter that is tall and relatively slender. It is designed to sit directly on the floor of any room and is powerful enough to treat small to medium sized rooms.
The exact dimensions and weight of the Germ Guardian is listed below:
Width: 9″ wide
Depth: 5.5″ deep
Height: 22″ tall
Weight: 7 lbs.
Accessories & Parts
The Germ Guardian AC4825 air purifier doesn't include any additional accessories beyond the ones needed for basic use.
What's in the box?
Germ Guardian air purifier
HEPA filter
User manual
Germ Guardian Performance
Overall air filtration performance is certainly one of the most important (if not THE most important) part of any air purifer.
If a purifier cannot effectively improve the indoor air quality to a noticeable degree then what are you really paying for?
RELATED – Skip the tests and get right to the results! Click here to check out the Best Air Purifier of 2020.
To put these purifiers to the test, we run them in our in-home testing lab, studying original air quality compared to the air quality after running each purifier in a closed room for one hour.
We compare the results by looking at the overall air quality index, and PM (2.5 and 10).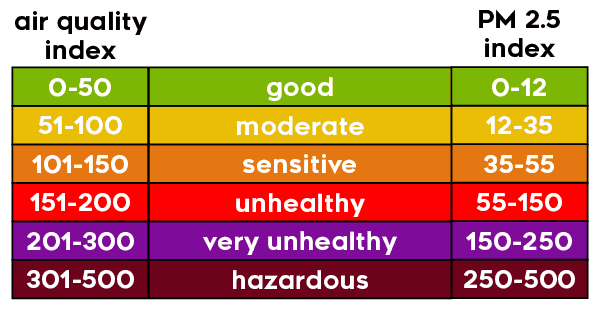 What is PM?
PM stands for "Particulate Matter". This measurement can basically be divided into two basic categories, PM10 and PM2.5.
PM 10 = particulate matter that is 10 micrometers and smaller
PM 2.5 = particulate matter that is 2.5 micrometers and smaller
We run these tests in our actual home so the baseline air quality measurements may vary between different purifiers, but we feel this is the best way to assess performance in a "real life" setting.
How do we test?
To start the test, we begin with a baseline measurement, using a Temtop LKC-1000S+ professional air quality detector. 
Once we've documented the baseline air quality, we run the purifier in a closed room and document the change in air quality after 60 minutes is up.
Here's what our Germ Guardian tests showed:
Starting Baseline
PM 2.5: 4.2
PM 10: 6.4
Particles: 244
AQI: 17
After 1 Hour
PM 2.5: 0.5
PM 10: 0.5
Particles: 44
AQI: 0
Within 1 hour, the Germ Guardian removed 82% of air particulates from the medium-sized room we tested in (approx. 12'x12′). The germ Guardian improved PM 2.5 air quality by 89%.
Given the purification performance I wouldn't say the GermGuardian is a top-tier purifier, but it's not bad, provided you have a space that's 167 square feet or less.
For money, this is about what you'd expect from performance.
Setup & Usability
Setting up the Germ Guardian air purifier was simple. The controls are basic and pretty intuitive.
To get up and running, you simply:
Unbox the air purifier and remove all original packaging.
Plug it in.
Select a fan speed (low, medium, or high).
The "UV" button is simple enough to turn on or off using a push button control at the top of the purifier.
For the best purification performance, it is recommended to leave the UV light setting "on", but some users may opt to turn it off for night time or sleep mode.
Maintenance
One of the biggest items of maintenance for any air purifier is maintenance of the filter. The filter is the primary line of defense between clean and dirty air particles.
Without a working filter, even the best air purifier will be highly ineffective.
To properly maintain the filter on the Germ Guardian air purifier, the manufacturer recommends two tasks:
Vacuum the filter once a month.
Replace the filter every 6-8 months (exact time may vary based on use.)
Is the Germ Guardian a good value?
So based on the stats, specs, and performance, is the Germ Guardian purifier a good value?
Overall, I would probably say it is a decent value.
The design is fairly basic with limited features, but is easy to use and would be appropriate for most small to medium sized areas.
The price is not outrageous so if you're looking for a reasonable price with good coverage and basic controls, the Germ Guardian is be a solid option.
Germ Guardian Specifications
| Specifications |   |
| --- | --- |
| Manufacturer | Germ Guardian |
| Model | AC4825 |
| Width (inches) | 9" |
| Depth (inches) | 5.5" |
| Height | 22" |
| Weight | 7 pounds |
| Filters | 3-stage filter (HEPA, UV-C light, and activated charcoal) |
| Wifi Compatible | No |
| Area Coverage | ~167 sq. ft. |
| Returns | Varies by retailer |
| Warranty | 3-Year limited |
| Price | Check Price |
Should You Buy the Germ Guardian?
It's easy to use, has good purification performance, and decent area coverage. If you're looking for a basic air purifier to sit in a corner and get the job done, the Germ Guardian could be a nice choice.
I would recommend the Germ Guardian AC4825 if you're looking for the following features in an air purifier:
Easy operation: This purifier is super easy since the controls are located on top of the purifier and are a simple radial dial design — low, medium, or high. Nothing fancy.
Good performance: After running the Germ Guardian in a closed space for an hour, I was impressed with its ability to purify most of the air. This particular model includes a HEPA filter, UV-C light filter, as well as an activated carbon filter (which is great for neutralizing odors).
Don't need real-time air quality: The Germ Guardian does not have the ability to detect actual indoor air quality, but it'll run at whatever speed you set it without turning off.
To learn more or to buy the Germ Guardian AC4825 air purifier, check it out here.
Good Performance in Small Spaces
Design -

92%

Performance -

94%

Quality -

94%

Usability -

92%

Value -

93%
Summary
The GermGuardian AC4825 is a good budget air purifier designed for small spaces not longer than 167 square feet. It performed well in our purification tests, reducing PM2.5 to 0.5 and AQI to 0. Controls and usability are basic, utilizing a single dial control. There are no sensors and no extra accessories. If you want a set it and forget type of air purifier for a small to medium sized space the GermGuardian can be a good pick.