Looking for a mid-range air purifier that won't break the bank, but is also more than your "average air purifier"; check the Hathaspace HSP001 air purifier.
Budget Air Purifier with Auto Mode & Remote
Hathspace Air Purifier
The Hathaspace air purifier is a value-packed, mid-size purifier that can treat rooms up to 700 sf and is user friendly. It comes with manual speed settings, auto mode, timer, and sleep mode for additional flexibility. Overall, it's a solid win for a mid-range purifier option. In our tests it was able to reduce PM2.5 to 0.1 and PM10 to 0.2, a good performance, especially at this price point.
Check Price
Pros
5-stage purification system
Auto Mode detects real-time air quality and automatically adjusts
Includes remote control for improved usability
Good performance in our tests, reducing PM2.5 to 0.1 and PM10 to 0.2.
Cons
Lacks smartphone integration
Not as sleek of an exterior as some other models we've tested
Hathaspace Performance
A purifier's ability to purify and clean the surrounding air is likely the most important aspect of any air purifier on the market, regardless of size, coverage, features, or budget.
Can it clean the air?
To find out how well the Hathaspace gets the job done, we put it to the test.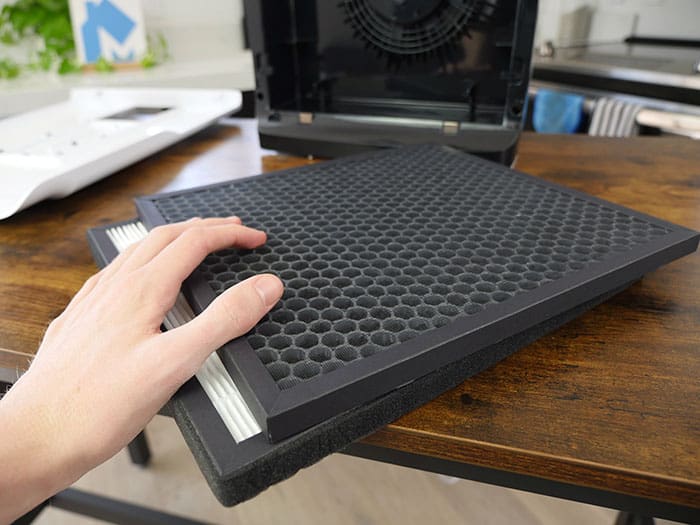 Our test involved comparing a baseline air quality reading to the reading after running the purifier for 60 minutes in a closed room.
In the results, we're comparing the air quality index and PM (2.5 and 10) to get a good idea of how much cleaner the air is.
How do we test?
To start the test, we begin with a baseline measurement, using a Temtop LKC-1000S+ professional air quality detector. 
Once we've documented the baseline air quality, we run the purifier in a closed room and document the change in air quality after 60 minutes is up.
Here are the results of the Hathaspace air purifier tests:
Initial Baseline
PM 2.5: 2.7
PM 10: 4.6
Particles: 339
AQI: 11
After 1 Hour
PM 2.5: 0.1
PM 10: 0.2
Particles: 44
AQI: 1
Within 1 hour, the Hathaspace HSP001 removed 87% of air particulates from the medium-sized room we tested in (approx. 12'x12′) and lowered the PM 2.5 down to 0.1, which is fantastic.
Even the PM 10 count was extremely low, only 0.2, which is great for an air purifier in this price range.
Noticeable Difference in Odor Control
One specific note to highlight, I was impressed with the ability to improve the overall smell of the room. Some purifiers boast carbon filters that don't really impact the odor, but this is not the case with the Hathaspace.
It could be the combination of carbon filter + ionizer, but the elimination of airborne odors was definitely noticeable between tests.
Hathaspace Design
The Hathaspace air purifier has a white body with black accents. It has softened rounded corners and a digital display screen on the front.
The Controls
There are a few different control features on the front as well, including:
Timer
Light
Power
Adjust fan speed
Anion generator / Ionizer
Sleep
What is an anion?
An anion is a negatively charged ion that can be used to attract positively charged ions. This generator can be separately turned on to target the most stubborn odors like litter boxes, cigarettes, and old homes.
The controls have text and icons to clarify the function of each setting. There are also colored LEDs to communicate different functions, as shown above.
All in all, the controls were intuitive and easy to understand, which is exactly what I like to see when using a new purifier like this.
Of course, you could always reference the user manual, but intuition supersedes a well-drafted user manual, in my opinion.
Area Coverage
This purifier can treat rooms up to 700 sf, which would replace the air once every hour. For faster purification and air changes twice every hour, it could treat rooms up to 350 sf.
Replaces the air 2x per hour in 350 Sq Ft
Replaces the air 1x per hour in 700 Sq Ft
Modes
The four main modes for this purifier are:
Manual Mode
Auto Mode
Timer Mode
Sleep Mode
#1: Manual Mode lets you adjust the fan, as needed from varying speeds.
#2: Auto Mode uses on-board sensors to detect real-time air quality and adjust the fan speeds automatically.
Air quality will be displayed using an LED light bar that increases in bars when the air quality increases.
Green / more bars = good air quality
Yellow / less bars = moderate air quality
Red / least bars = poor air quality
#3: Timer allows you to set your purifier to turn off after a set amount of time. You can choose up to 12 hours, or not use it at all and let the purifier run continuously.
#4: Sleep Mode allows the unit to run at a quieter speed with the lights off, and the smart sensor will turn off. If you would prefer for the lights to be off in an alternate mode, you can also just press the "Light" button and it will turn off.
Purification Process
The Hathaspace purifier has a 5-stage air purification process. The 5 stages include:
Cold Catalyst Filter
Carbon Filter
Antibacterial Filter
HEPA Filter
Ionizer / Anion Generator
Cold Catalyst Filter: captures large dust particles, pet dander, pollen mold, and toxic chemicals
Carbon Filter: absorbs odors, smoke, gases, and volatile organic compounds (or VOCs)
Antibacterial Filter: targets bacteria and germs
True HEPA Filter: removes 99.97% of allergens, dust mites, pollen, and pollutants as small as 0.3 microns
Ionizer: releases negatively charged ions that neutralize and eliminate odors, smoke, dust, and pet hair
Size & Dimensions
The Hathaspace HSP001 is a medium-sized purifier that you can sit directly on the floor or on a tabletop or counter.
The exact dimensions are listed below:
Width: 13.5″
Depth: 7″
Height: 19.5″
Weight: 12 pounds
Accessories & Parts
What all comes with the Hathaspace air purifier? The list is actually a little long, but most of that is for the numerous filters that it uses. Here's the complete list.
What's in the box?
Cold catalyst filter
Carbon filter
Antibacterial filter
HEPA filter
Remote control
User Guide
Our unit did not include a remote control, most likely because it was an early pre-release version. However, once it launches it will include a remote control.
The included remote gives full control of the purifier from across the room and is powered by 2 AAA batteries (not included).
RELATED – Want another option for an air purifier that comes with a remote control? Check out the Dyson Pure Cool TP04.
Setup & Usability
Getting the Hathaspace air purifier up and running was relatively simple and took only a few minutes.
To get going right out of the box:
Unbox the purifier.
Remove packaging from filters and re-install.
Plug it in. The red power indicator will light up.
Use the Power button on the unit or remote to turn
on/off.
At this point, the purifier will start in AUTO mode and the smart sensor will automatically initiate when the unit is turned on.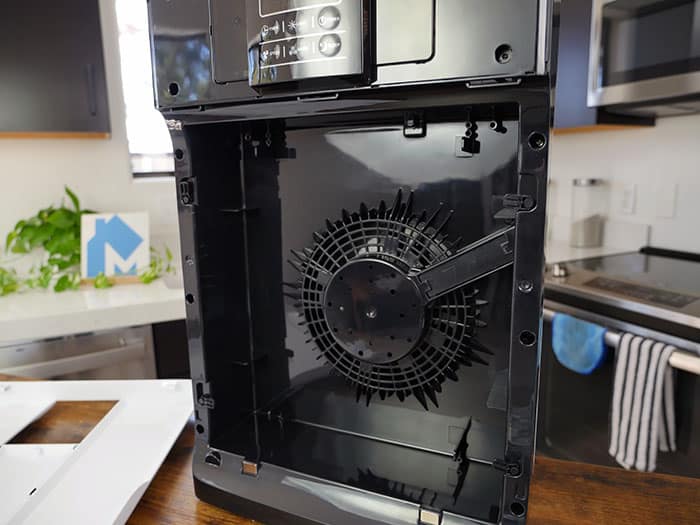 The unit will adjust the fan speed automatically, beginning in high for a few minutes and moving down as needed.
Maintenance
The biggest piece of maintaining the Hathaspace purifier really just comes down to taking care of the filters.
There are 4 filters with this unit and they need to be replaced every 4 months, according to the manufacturer.
Depending on use, you may be able to stretch that to 6 months, but the performance would be a little unknown at that point.
These filters are not washable. Proper maintenance of the filters helps ensure that the air is cleaned as efficiently as possible.
Is the Hathaspace a good value?
When it comes to value, we are mainly looking at how the price compares to all of the features, performance, and technical specs.
Do you get what you pay for?
In the case of Hathaspace, I would say the answer is yes. This purifier falls under $200 and still packs in quite a few features, including:
Good air purification performance
User-friendly interface
Remote control
Auto Mode
Really the only box it doesn't check off is wireless integration with your smartphone, but with the addition of the remote control, that feature may not even be necessary.
All in all, this purifier is a solid buy.
Hathaspace HSP001 Specifications
Specifications
 
Manufacturer
Hathaspace
Model
HSP001
Width (inches)
13.5"
Depth(inches)
7"
Height
19.5"
Weight
12 pounds
Purification Levels
5; Cold Catalyst, Carbon, Antibacterial, HEPA, Ionizer
Wifi Compatible

No

; Includes Remote Control
Room Coverage
Up to 700 sq. ft.
Returns
Varies by retailer
Warranty
2-Year
Price
Check Price
Overall, I would recommend the Hathaspace HSP001 if you're looking for the following features in an air purifier:
Real-time air quality assessment: The Auto Mode is a nice feature on this purifier and can help to take the guesswork out of cleaning the air in your home. Auto Mode uses on-board sensors to detect air quality in real-time and make adjustments as needed. When the air quality improves, it will automatically lower the fan speed to save energy.
5-stage purification: There are five different levels of defense acting in this purifier. Some of the most notable include HEPA filtration, the carbon filter, and the ionizer (which helps to neutralize odors). When we tested this unit, the air was noticeably fresher and the air quality meter confirmed our assumptions.
Good value: For less than $200, it's hard to beat the value of the Hathaspace air purifier. It has good coverage, good performance, and good usability. All in all, it meets a lot of standards for a solid air purifier and I think it is well worth the cost.
To learn more or to buy the Hathaspace air purifier, check it out here.
Fantastic Value in a Mid-Sized Purifier
Design -

95%

Performance -

99%

Quality -

95%

Usability -

96%

Value -

99%
Summary
The Hathaspace HSP001 air purifier is a mid-size purifier that can treat rooms up to 700 sf, or up to 350 sf if you want more frequent air changes (2x per hour). It comes with manual settings, an Auto Mode, as well as a remote control, and an easy to use interface. During our tests, I was pleased with the results of Hathaspace. After running an hour, it was able to effectively clean the air as well as make a noticeable improvement in indoor air quality and odors. For a middle-of-the-road air purifier that won't bust the budget, the Hathaspace purifier can be a solid option.