UPDATE – In 2020 iRobot put the launch of the t7 on hold due to the pandemic. iRobot has not provided a new launch date.
The iconic Roomba robot vacuum has taken the world by storm. It is compact and easy-to-use, making cleaning a breeze. iRobot, the company behind this smart gadget, is getting ready to launch a brand new product that will take the stress out of lawn mowing.
We're talking about the iRobot Terra t7, which will launch as a beta program in the U.S. later this year.
First, let's see how the iRobot Terra t7 works, how it compares to other robotic lawn mowers, and why it's worth checking out.
Pros
Imprint Smart Mapping technology
No wires required
Easy to set up and maintain
Straight line navigation
Sleek design
Wireless connectivity
App control
More environmentally friendly
Highly customizable
No grass clippings
Advanced safety features
Functionality and convenience
Cons
Possible Wi-Fi signal interruption
May increase your electricity bill
iRobot Terra t7 Design
After 10 years of waiting, iRobot is finally launching its first robotic lawn mower. As expected, this gadget learns and maps your yard without any help. But what makes it stand out is its wire-free boundary system.
Traditional robot lawn mowers require setting up a border wire to define the area you plan to mow. Arranging all those wires can take hours. The bigger your yard, the harder it gets.
With the iRobot Terra t7, you no longer need to worry about that.
Its design is pretty cool too. Like other iRobot products, the Terra t7 is sleek and compact, so you can easily store it when not in use.
Safety Precautions
Another thing we like is its built-in safety mechanism. This gadget turns off automatically when its handle is lifted. You'll no longer have to worry that your kids might grab the mower while it's working and get injured.
On top of that, there's a big red STOP button right on top of it, so you can turn it off instantly.
With its sleek design and smart technology, the Terra t7 can handle rough terrain. Furthermore, it moves in clean back and forward directions, just like people when mowing the lawn.
The Controls
At this point, there is little information available about the iRobot Terra's exact features and controls.
What we do know is that it will have built-in smart features. This means you'll be able to set it up and control it directly from your smartphone or tablet.
GPS Navigation
Back in 2018, several manufacturers announced that they plan to integrate GPS and voice control into their lawn mowers. Some have already launched models that work with Google Assistant and Amazon Alexa.
The addition of GPS to these gadgets makes it easier to define what parts of the yard to trim.
Based on these updates, we can expect the iRobot Terra t7 will likely integrate similar features. There will likely be manual controls on the device itself — but the emphasis will be placed on smart technology.
So far, we know that there will be a STOP button as well as the ability to set the mowing schedule and grass height with the iRobot HOME App.
WiFi Connectivity
The new iRobot Terra t7 will connect effortlessly to your smartphone through its native app. This will enable users to control how and when the lawn is cut, regardless of their location.
Other robotic lawn mowers feature an intuitive interface with advanced functions like zone control, required mowing time, operation alerts, and more. iRobot's robot vacuums already posses these features as part of the iRobot Home App and we expect the Terra will have a similar feature set.
Imprint Smart Mapping
The Roomba S9+ and other similar devices from iRobot integrate imprint smart mapping. Its latest gadget, the Terra t7, will use this technology too.
Imprint Smart Mapping enables the device to navigate the designated area, cutting in straight lines. Thanks to it, the mower can identify its exact location and determine what areas it needs to cover — all without boundary wires.
Recharge & Resume
Just like the iRobot Roomba vacuum cleaners, this autonomous lawn mower plugs itself into its base when the battery runs low. Once recharged, it uses the Imprint Smart Mapping technology to figure out where it still needs to trim the grass.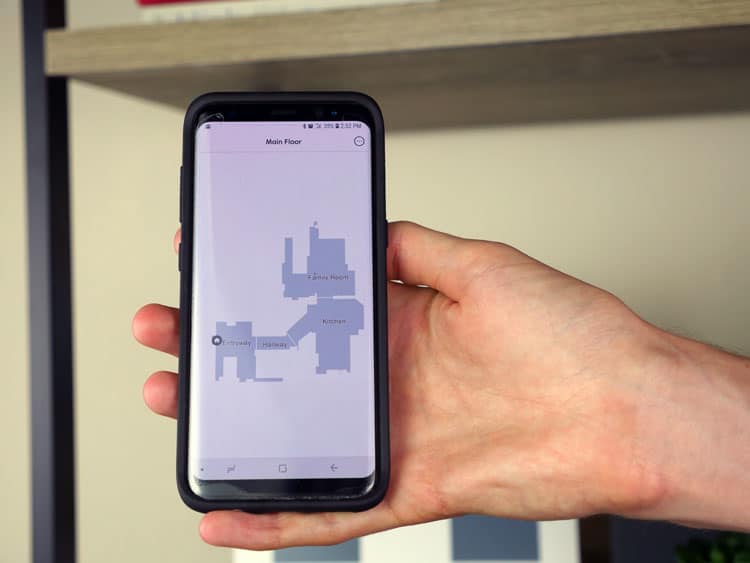 Size and Dimensions
iRobot hasn't released any information on the exact size and dimensions of the Terra t7. However, it's enough to take a look at its design to realize that it seems smaller than other robotic lawn mowers on the market.
That said, based on the photographs of the Terra that have been released we would estimate the dimensions are:
Width:  18″
Length:  22″
Height: 6″
Check out the WORX WR150 Landroid, the McCulloch ROB R1000, and the Husqvarna Automower for other popular robot lawn mowers (all of which are currently available).
Mowing Performance
We haven't tried this gadget yet, so it's hard to say how it performs. Since it comes equipped with the mapping technology, it should deliver the similar navigational results as the latest Roombas.
According to its manufacturer, the iRobot Terra t7 cuts in back-and-forth straight lines and can handle rocks, hills and rough terrain. Plus, you can electronically adjust the cutting heights from your smartphone.
With most robot lawn mowers, it takes some time to get the settings right for maximum performance.
Unlike many competitors, this device relies on wireless beacons to generate a digital map of your yard. You can set it up through the app to avoid furniture, garden beds, yard decorations, and other specific areas.
Setup & Usability
The iRobot Terra t7 is designed with usability in mind. This robot mower will likely deliver the similar usability levels that we've seen in Roomba robots (which in general have always impressed us).
Just like with the Roomba, it's a good idea to charge your new lawn mower before using it for the first time. Your only job is to download the iRobot HOME App, connect the device and make the necessary settings.
Also, keep an eye on its performance and adjust the settings if necessary.
If you like the idea of an electric powered lawn mower, but aren't ready to make the leap to full robotic you may want to consider a corded electric mower. Check out the recommendations from BestReviewsList.com here.
Allergies?
If you have seasonal allergies, the Terra t7 can be helpful. You can turn it on from your smartphone when you're away from home, which in turn, will help minimize your exposure to allergens.
Setting Up the App
Installing the iRobot HOME App is as easy as it gets.
Follow these steps:
Download the app on your tablet or smartphone
Follow the instructions to pair it with the iRobot Terra t7
Set the desired schedule, choose the grass cutting height, view mowing performance, and so on.
Is the iRobot Terra t7 a Good Value?
Now that you know more about iRobot's latest gadget, you might wonder: is it worth the money? It depends on what you expect from a lawn mower.
The Terra t7 features cutting-edge (no pun intended) navigation and mapping technologies. It's easy-to-use and highly customizable. Its compact design is a welcomed bonus.
Automatic Lawn Mowing
Once installed, this Terra t7 will automatically cut your grass without requiring any help. It connects effortlessly with the iRobot HOME App, allowing you to adjust cutting height and other settings.
The iRobot Terra t7 will most likely come pre-assembled – just like the Roomba. Compared to a traditional lawn mower, it should be easier to maintain and takes less space.
Plus, it doesn't produce gas emissions as traditional mowers do.
So far, we don't know anything about its price. The latest robot lawn mowers cost anywhere between $1,000 to $10,000, depending on their features and cutting capacity. We'll keep you updated, so stay tuned.
Should You Buy the Terra t7?
If you're looking for a cutting-edge robot lawn mower equipped with the latest technology, the Terra t7 won't disappoint you. The simple fact that it requires no wires and has built-in smart features is reason enough to check it out.
However, it's too soon to give a verdict. For example, we don't know yet how the company will deal with a potentially poor signal in remote outdoor areas.
One thing is for sure: with the iRobot Terra t7, you'll finally get rid of grass clippings and won't require boundary wires. Not to mention that you'll have a perfectly mowed lawn without hard work.
Check back in the coming months for our more in-depth iRobot Terra t7 review.
Note – this is a pre-test review. We have not yet personally tested the Terra t7. This review is based on information from the manufacturer's website and other assumptions based on other similar products / software. When the t7 is released we will update this review.
ChangeLog
March 3, 2021 – Added updated launch date info at the top.
October 4, 2019 – Removed our score for the time being. We will add the score back once the product launches and more information is available.
September 4, 2019 – Initial version of the page was published.