COUPON: Save $10 off with code CASTLE10.
A Simple, High-Quality Knife Set
Kilne Knife Set
The Kilne knife set is a 6-piece set that comes with an acacia wood block for storage. It has a simple and sleek design, with knives that are extremely sharp. Based on our tests, we were impressed with the performance and build quality. The full tang design gives it a great feel in-hand. Compared to more typical knife sets we've used in the past, the Kilne is a massive improvement in every significant area.
Check Price
Pros
Sleek and simple design, but incredibly high quality
Fantastically sharp. An extremely easy slice through meat, fruits, vegetables, and more.
No gimmick marketing or cheesy ad-campaigns—straightforward transparency
Cons
Set doesn't come with a huge quantity of knives
Price may be more than expected considering that it doesn't include steak knifes. There are fewer knives, but the relative quality is higher.
Extremely Sharp, Modern Aesthetic
Design -

96%

Performance -

98%

Quality -

98%

Usability -

98%

Value -

96%
Summary
The Kilne knife set is a 6-piece set that includes 4 knives, one sharpening rod, and one pair of kitchen shears all housed in an acacia wood knife block. It has a sleek and modern aesthetic that focuses on a smaller set of high-quality tools instead of a larger set that lacks in quality. Overall, I was impressed with the quality and performance of these knives. In our kitchen tests, they were extremely sharp and easy to use. In addition, the wood block looks high-end and a little more designed than some other cheaper blocks I've seen. For a small knife set that doesn't take up a ton of room or break the bank, the Kilne could be a great option.
Kilne Design
The Kilne knife set is a 6-piece set of 4 knives, one steel sharpening rod, and a pair of kitchen shears (ie: scissors). The entire set comes with an angled knife block that is solid and minimal in design.
Overall, it's an impressive display. The block itself has some interesting wood grain and just looks high-end, even just sitting out on the counter.
The knives have a full tang, which means the metal extends from the tip of the blade to the full length of the handle.
Cheaper knives will often only have a partial tang, which can result in the knife breaking where the tang meets the handle.
This is an obvious weak point so a knife set that integrates a full tang is structurally stronger and more high quality than the cheaper alternative.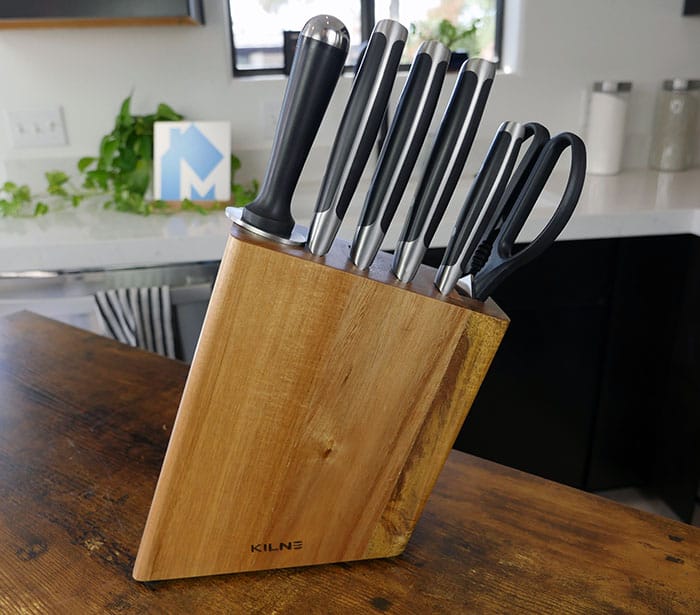 The Set
What tools are included in the Kilne set? As mentioned above, it is a 6-piece set with an acacia knife block.
Here's everything you'll get with the knife set:
1 sharpening steel rod
1 kitchen shears / scissors
8″ Chef Knife
7″ Santoku
8″ Bread Knife
3.5″ Paring Knife
What are these knives made of?
Kilne knives are made with high grade X50CrMoV15 German Steel with a Polyoxymethylene (POM) handle.
What is German steel?
German steel is known for its advanced composition and makeup, yielding a more high quality knife.
But not all "German steel" means that it was manufactured in Germany, as the name might imply. "German steel" could also just mean steel that matches the formula or makeup of traditional German steel.
Kilne doesn't specify and it's a bit of an odd detail in any case.
While the steel comes from Germany, the knives themselves are assembled in China.
What is Polyoxymethylene?
Polyoxymethylene is an engineered thermoplastic used in precision parts requiring high stiffness, low friction, and excellent dimensional stability.
In short, it's a fancy plastic and also the shroud to the blade itself, which forms a nice handle.
Size & Dimensions
Overall, I found the sizing of these knives to be pretty consistent with the size of other knives I have in my kitchen.
The one exception is the bread knife which is a full 8″ long knife. This is longer than an older bread knife I have and I found the extra length to be pretty handy, especially when cutting longer loaves like ciabatta or baguettes.
Knife Performance
To test the performance of the Kilne knives, we used them exactly as we would any other set.
In the kitchen. With real food. Being used.
To make the stakes even higher, we tested it with our Thanksgiving feast, when good performance is critical.
Here are the details of exactly how it performed.
The 8" chef knife was used to carve the the turkey. It easily sliced thru the bird without issue—even cutting through small bone, joints, and other harder to sever areas of the bird weren't too bad.
The bread knife was also a good performance. I really appreciated the extra length and the quality of the knife just felt so much nicer than any knives I've used before.
NOTE: As a caveat, let me add here that I don't have a habit of buying expensive knife sets, so you could say the bar was already pretty low. With that in mind, I would still say that the Kilne set is certainly the best sets I've ever had in my kitchen.
Third Party Comments
On this day of testing, we had a few other cooks in the kitchen at the time who made a few notes about the knife set.
Paring Knife – There was a comment about the paring knife feeling a little shorter than usual. After the meal, I did measure it with our existing paring knife and the length was pretty consistent with what we already had.
Sharpness – One person cut themselves twice while using the paring knife, which should illustrate just how sharp this knife set really is. It doesn't take much pressure to make a cut.
Chef's Knife – There was also a comment about the shape of the chef's knife being unusual. Again, not sure how much merit I give this since I checked the shape with our existing chef knife and it was similar.
Usability
Using the Kilne knives was about as simple as any other knife on the market. It had a high-quality build and felt well balanced in-hand.
Possibly the most important, it was extremely sharp and easily cut through all the foods we tested. All in all, not sure you can ask for much more in a quality knife set.
Maintenance
Maintenance on this knife set is up front and simple. I really like that the company doesn't beat around the bush claiming that the knives "never dull" or no need to sharpen.
All knives that are used frequently need to be sharpened to stay in good condition. Kilne is no different.
I will say that the knife sharpener that comes with the set seems quite good. I found it easy to use and it does sharpen efficiently.
I used it to sharping our older kitchen knives, which were markedly better even with just a little sharpening.
Other ways to properly care for this knife set includes:
Do not put the knives in the dishwasher. That said, Kilne does say that the knives are dishwasher safe. However, they'll stay sharper longer if you hand wash only.
Always store the knives in their block, not in a drawer.
Use the right knife for the right job.
Is the Kilne knife set a good value?
So overall, how would we rank the value of the Kilne knives?
I think these knives are a good value. The price is a little steep if you're considering the cost "per knife", but if you want the highest quality set you can afford and can skip out a few extra blades, the Kilne is a solid choice.
Kilne Specifications
Specifications
 
Manufacturer
Kilne
Description
Knife Set
Model
"The Knife Set"
Pieces
6-piece set
Included Shears
Yes
Included Blades
(1) Chef, (1) Santoku, (1) Bread, and (1) Paring
Included Block

Yes

; acacia wood
Included Sharpener

Yes

; steel rod
Dishwasher-Safe

Yes

; though recommended to still hand wash
Returns
Varies by retailer
Warranty
Lifetime
Price
Check Price
Should you buy the Kilne knife set?
I would recommend the Kilne if you're looking for a knife set with the following features:
Simple set: This knife set feels like it focuses more on quality than quantity and skips the gimmicky add-ons and low quality tools, instead focusing on the most popular knives and making them extremely well.
High quality: Which leads to the next point that this set is incredibly high quality. The full tang detail is just one aspect that really takes this set to the next level. Add that to the German steel and high-performance handle, it's a solid combination. I can see these knives lasting for many years if well taken care of.
Comes with a classy block: Some knives have a block that feels more like an afterthought than a design element. This knife block feels classy and well made, an element than has been carefully designed along with each of the knives that nest inside of it.
To learn more or to check the price on the Kilne knife block set, click here.
Changelog
December 21, 2020 – Initial version of the review was published.