Basic Purifier, Great Performance
Levoit Core 300 Air Purifier
The Levoit Core 300 air purifier is a basic air purifier with 3 fan speeds, a timer, and a sleep mode. It can treat rooms up to 215 sf. in size and had strong performance in our at-home tests. This purifier can't detect the current indoor air quality or respond to environmental changes, but if you're looking for a purifier that will just run exactly how you tell it to, the Core 300 is a solid choice.
Check Price
Pros
Good for small areas, maxing out coverage around 215 sf.
Lightweight and easy to move to various locations
360° HEPA filtration
Cons
Lacks "auto mode" and the ability to detect drops in indoor air quality
No LED light to display current air quality
Levoit Core 300 Design
The Levoit Core 300 air purifier is a shorter, white tower with a matte plastic shell and simple LED controls on the top of the tower.
It has a 360° ait intake at the bottom of the unit and the air output grill is at the top of the purifier.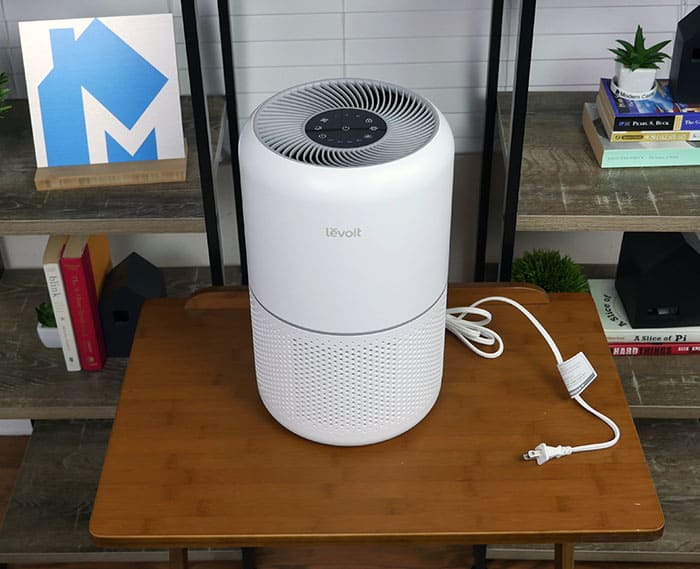 The LED controls on top make it easy to adjust fan speed, set a timer, enable sleep mode, turn off or lock the display, or get a notification of when it's time to reset the filter.
The Filters
This Levoit Core 300 uses three stages of filtration for the best performance, including:
Fine pre-filter: captures larger particles like dust, lint, or fibers
HEPA filter: captures particles as small as 0.3 microns
Activated carbon filter: for odors like smoke, food, or pets
The combination of these filters helps to ensure that all of the air is effectively treated and only clean air passes through.
When it's time to replace the filters, a filter indicator light on top will glow to let you know.
The Controls
As mentioned above, all of the controls for this Levoit purifier are located on the top in a circular layout. In the middle is the "on / off" button with various other functions around the circle.
The features include:
Timer (2, 4, 6, 8 hours)
Sleep mode
Adjust fan speed (low, medium, high(
Display lock
Filter reset
Display off
The Modes
This purifier has four power modes it can operate in.
Sleep Mode: operates at the quietest dB level and dims the lights while you sleep
1 Speed: low fan speed
2 Speed: medium fan speed
3 Speed: high fan speed
NOTE: Unlike more advanced models, the Core 300 does not have an Auto Mode.
Size & Dimensions
The Levoit Core 300 air purifier is essentially a smaller version of the Levoit LV-H133 and is slightly larger than the Levoit Vista 200 purifier.
In comparison, the Core 300 is shorter, lighter, and is designed for smaller spaces, treating up to 215 sf.
Unlike larger air purifiers that are designed to sit on the floor, the Levoit Core can be used on the floor, a table, or a desktop.
Width: 8.7″ diameter
Height: 14.2″ tall
Weight: 8.75 lbs.
Accessories & Parts
The Levoit Core 300 doesn't really come with any accessories, besides the parts and filters that necessary for general use.
Parts of the Levoit Core 300 include:
Base
Shell
HEPA filter — 3 Stage
What's in the box?
Levoit Core 300 Air Purifier
True HEPA 3-Stage Original Filter
User Manual / Quick Start Guide
Although they're not included with the original purchase of the Core 300, Levoit does offer a few accessory filters for various needs. Each filter is modified with features specifically designed for different needs.
These filters include:
Performance
In terms of performance, the Levoit Core 300 was pretty consistent with other results we've seen from Levoit. This purifier is compact, budget-friendly, and did a great job of purifying the air.
Testing Series
For performance testing, we set up the Levoit Core 300 in a medium-sized room in my home. We used the Temtop LKC-1000S+ professional air quality detector to get a baseline reading for the existing air quality. From there, we let the purifier run for an hour and then re-ran measurements.
The difference between the baseline and post-run data gives a solid picture of how well the air purifier was able to improve indoor air quality.
Good vs. Bad Air Quality
Below, we've included information on the testing criteria and what defines good vs. bad air quality.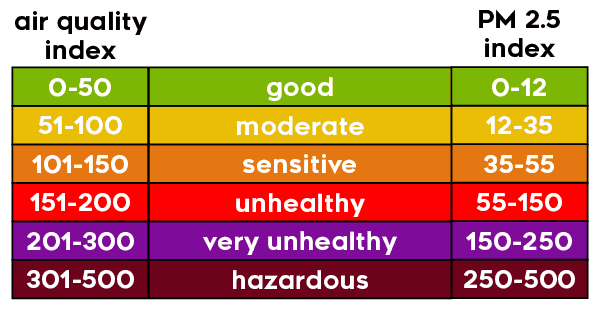 What were the results?
Starting Baseline
PM2.5: 4.0
PM10: 6.7
Particles: 214
AQI: 16
After 1 Hour
PM2.5: 0.4
PM10: 0.4
Particles: 29
AQI: 0
Within 1 hour the Levoit Core 300 removed 96% of air particulates from the medium-sized room we tested in (~12'x12′).
Levoit improved PM2.5 air quality by 87%. Overall, the Core 300 air purifier did an exceptional job of purifying the air.
How loud is the Levoit?
According to the manufacturer, the Levoit Core 300 is slightly quieter than larger Levoit purifiers. Noise levels can range from 24-50 dB. The 50 dB is documented on high speed while the 24 dB is documented on sleep mode.
For comparison, breathing is rated around 10 dB and a library would be around 40 db.
Setup & Usability
Setting up the Levoit Core 300 is simple and intuitive. To get up and running, follow the steps below:
First, unbox the purifier and remove all excess packaging.
To remove the shell from the base, twist it counterclockwise.
Remove the plastic bag of the filter before running the air purifier.
Twist the shell to lock it back in place.
To start a cycle, you can press the "on" button and select a fan speed. To that end, keep in mind that the Levoit Core 300 does not offer an Auto Mode.
You'll need to manually select the desired fan speed, as this model cannot automatically detect or respond to changes in indoor air quality.
Maintenance
To keep the air purifier running at its peak performance, proper maintenance is an important step.
With that in mind, here's a quick checklist of maintenance items for the Levoit Core 300 air purifier.
Wipe down the air intake and outlet grills with a dry, lint-free cloth
Replace the filters as needed, every 6-8 months as recommended by the manufacturer
The Core 300 also has a filter indicator on top of the unit which lets you know when it's time to put in fresh filters.
Is the Levoit Core 300 a good value?
If you're looking for the best bang for your buck, value may be an important factor when hunting for the best air purifier.
For the price, I would say that the Levoit Core 300 is a good value. It is intuitive, easy to use, and has a variety of modes as well as a timer and sleep function.
The one thing it's really lacking is an auto mode or built-in air quality detection sensors. But, that being said, the price is also lower than most purifiers that have this feature.
If you're looking for a great deal and don't need the details of current air quality, the Levoit Core 300 air purifier would be a fantastic option.
Levoit Specifications
| Specifications | |
| --- | --- |
| Manufacturer | Levoit |
| Model | Core 300 |
| Area Coverage | Up to 215 sq. ft. |
| Diameter | 8.7" |
| Height | 14.2" |
| Weight | 8.75 pounds |
| Air Output | 360° |
| Filters | 3 filters (1 pre-filter, 1 HEPA, and 1 carbon) |
| Filter Indicator | Yes |
| Timer | Yes, 2/4/6/8 Hour |
| Auto Mode | No |
| Sleep Mode | Yes |
| Wifi Compatible | No |
| Returns | Varies by retailer |
| Warranty | 1-Year limited |
| Price | Check Price |
Should you buy the Levoit Core 300 Air Purifier?
Soo all things considered, is the Levoit Core 300 air purifier the right choice for you?
This model is compact, lightweight, and a great option for small areas like bedrooms, kitchens, or home offices.
Overall, I would recommend the Levoit Core 300 if you're looking for an air purifier with the following features:
Compact size: This air purifier is compact and lightweight. If you plan on moving the purifier around to different spaces or if your primary space is under 250 square feet, the Core 300 could work well for you.
Value priced: If you're looking for a medium coverage air purifier for under $100, the Levoit Core 300 has you covered. This purifier strikes a balance of area coverage, solid performance, and a reasonable price tag.
Excellent performance: During our performance tests, the Levoit Core 300 improved the indoor air quality, reducing the particulate count by 96% and improving the PM2.5 value by 87%.
For more information or the buy the Levoit Core 300 air purifier, click here.
Budget-Friendly, Compact Design
Design -

94%

Performance -

97%

Quality -

94%

Usability -

95%

Value -

96%
Summary
The Levoit Core 300 air purifier is an excellent small to mid-size air purifier with a simple design and user interface. It has a 360° HEPA filter that maximizes air input and output to help cover more area faster. There are 4 modes on this purifier; high, medium, low, and sleep. The biggest disadvantage to the Core 300 is that it lacks wifi connectivity and an "Auto Mode" which would sense the current indoor air quality. But that spec aside, this purifier is still a really great unit and effectively improved indoor air quality during our performance tests.