A Modern, Intelligent Air Purifier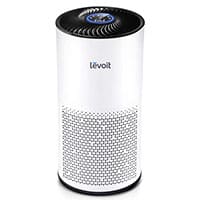 Levoit LV-H133
The Levoit LV-H133 air purifier is a modern purifier with a round body style and simple, LED control setting display. It can intelligently detect indoor air quality and change fan speeds as needed. LED changing lights communicate current air quality and let you know when its time to replace the filter. It's a large form factor, but it houses a massive fan capable of purifying up to 538 square feet. It performed well in our tests, reducing AQI to 0, particles to 10, and PM2.5 to 0.1.
Check Price
Pros
Good area coverage, maxing out at 538 sf coverage
Offers auto mode that self-adjusts based on current indoor air quality
Great air quality improvement during our performance tests (PM2.5 hit 0.1)
Cons
No wifi-connectivity or app-based control
Levoit H133 Design
The Levoit LV-H133 air purifier is a tall air purifier that has a round body style and matte white finish.
The base of the unit has perforations that allow for air to be sucked into the purifier. From there, an internal motor and HEPA filtration system treats the air and sends it out of the purifier out the radial grill on top.
The 360° opening provides a wide outlet for air to flow freely. In addition, this air purifier can treat up to 538 sf. of living space and offers easy controls using a touch display with LED lighting.
The LED light color changes as the indoor quality changes, making it easy to pick up on the changes in the air.
Blue = Very good air quality
Green = Good air quality
Yellow = Moderate air quality
Red = Poor air quality
This Levoit model comes in two finishes: black or white.
The Filters
This Levoit air purifier uses three stages of filtration for the best performance, including:
Fine pre-filter: captures larger particles like dust, lint, or fibers
HEPA filter: captures particles as small as 0.3 microns
Activated carbon filter: for odors like smoke, food, or pets
The combination of these filters helps to ensure that all of the air is effectively treated and only clean air passes through.
The Controls
Controls for the Levoit LV-H133 are located all on the top of the air purifier. There is a power button right in the center with the following buttons on the perimeter of the circle:
Adjust fan speed
Timer (1-12 hours)
Sleep mode
Display off
Filter change indicator
Auto mode
The Levoit LV-H133 cannot be controlled using your smartphone. However, if smartphone control is an important feature they do offer a purifier with wifi connectivity.
RELATED: For app-based control, check out the Levoit LV-PUR131s.
The Modes
This purifier has 5 main power modes it can operate in.
Sleep Mode: operates at the quietest dB level and dims the lights while you sleep
Auto Mode: intelligently senses indoor air quality and adjusts fan speed based on current conditions
1 Speed: low fan speed
2 Speed: medium fan speed
3 Speed: high fan speed
Size & Dimensions
The Levoit LV-H133 is a pretty decent size air purifier and is best used as a free-standing purifier on the floor.
In addition, the exact dimensions are listed below:
Width: 14.8″ diameter
Height: 25.9″ tall
Weight: 18 lbs.
On high speed, the Levoit can treat large rooms up to 538 square feet.
Accessories & Parts
The Levoit H133 has a simple aesthetic and is made up of simple parts. The shortlist includes:
Base
Brushless motor
Centrifugal fan
HEPA filter
Pre-filter
Carbon filter
Shell
The HEPA filter, pre-filter, and carbon filter are the only primary parts that you will have to replace over time.
To keep the purifier running smoothly, regularly wipe down the air inlet and outlet grills.
RELATED – See our complete list of air purifier reviews here.
Performance
So regarding performance, how did the Levoit H133 stack up against the other heavy-hitters on the market, like Dyson or Rabbit Air?
Testing Series
Our testing consisted of setting up the Levoit in a large bedroom in my home. A baseline measurement of the indoor air quality was established and then we ran the purifier on high for 1 hour and took another set of measurements.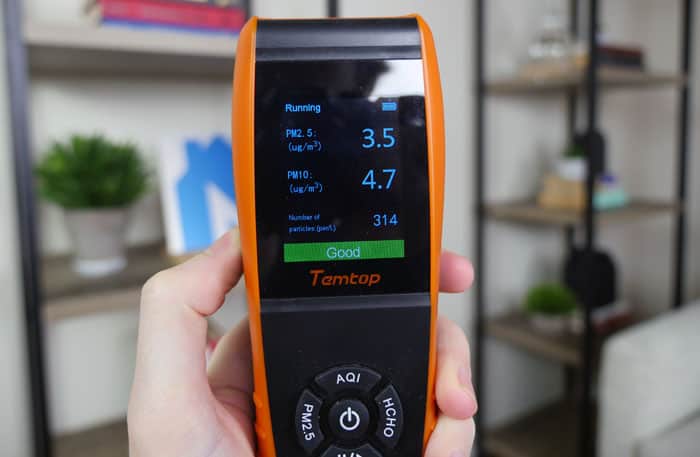 For accurate measurements, we used the Temtop LKC-1000S+ professional air quality detector.
The difference between the baseline and post-run data gives a good look into the overall performance of the purifier.
Good vs. Bad Air Quality
Below, we've included information on the testing criteria and what defines good vs. bad air quality.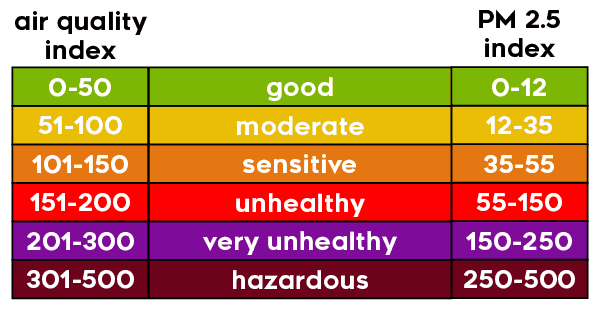 What were the results?
Starting Baseline
PM2.5: 2.3
PM10: 3.3
Particles: 239
AQI: 9
After 1 Hour
PM2.5: 0.1
PM10: 0.1
Particles: 10
AQI: 0
Within 1 hour the Levoit H133 removed 96% of air particulates from the room we tested in.
Levoit improved PM2.5 air quality by 96%. Overall, these are exceptional results and really a testament to the overall build quality, design, and performance of this Levoit air purifier.
For the best results, Levoit recommends the following settings:
1 Speed: ACH of 5 over 100 sq ft.
2 Speed: ACH of 4.5 over 160 sq ft.
3 Speed: ACH of 4 over 538 sq ft.
RELATED – What's the best air purifier?
How loud is the Levoit?
According to the manufacturer, the Levoit LV-H133 can range from 25-52 dB. The 52 dB is documented on high speed while the 25 dB is documented on sleep mode.
For comparison, breathing is rated around 10 dB and a library would be around 40 db.
Setup & Usability
Setup of the Levoit H133 is simple and quick, straight out of the box.
First, unbox the purifier and remove all excess packaging.
To remove the shell from the base, twist it counterclockwise.
Remove the plastic bag of the filter before running the air purifier. 
Twist the shell to lock it in place.
To start a cycle, you can simply press the "on" button and select a fan speed or you can set it to Auto Mode. For instance, if you're leaving and want the Levoit to self-adjust, Auto Mode would be a great option.
On auto mode, the sensors can detect indoor air quality and adjust fan speed as needed.
Maintenance
To keep the air purifier running at its peak performance, proper maintenance is an important step.
To that end, maintenance of the Levoit LV-H133 includes:
Wipe down the air intake and outlet grills with a dry, lint-free cloth
Replacing the filters as needed, every 6-8 months as recommended by the manufacturer
The Filter Change Indicator also lights up to let you know it's about time to put in fresh filters. Filters can be purchased directly from Levoit or via a third-party website like Amazon.
Is the Levoit LV-H133 a good value?
Wondering about the overall value of the Levoit LV-H133? Well, to be short, the value is excellent. The price is quite reasonable (click here to see for yourself) considering all of the bells and whistles that it comes with.
Some of the most impressive specs include:
Large area coverage (up to 538 sf.)
Auto mode
LED air quality display
Exceptional performance
RELATED – Wonder how the LV-H133 compares? See our complete list of Levoit air purifier reviews below.
Levoit Specifications
| Specifications |   |
| --- | --- |
| Manufacturer | Levoit |
| Model | LV-H133 |
| Area Coverage | Up to 538 sf. |
| Diameter | 14.8" |
| Height | 25.9" |
| Weight | 18 pounds |
| Air Output | 360° |
| Filters | 3 filters (1 pre-filter, 1 HEPA, and 1 carbon) |
| Filter Indicator | Yes |
| Timer | Yes, 1-12 Hour |
| Auto Mode | Yes |
| Sleep Mode | Yes |
| Wifi Compatible | No |
| Returns | Varies by retailer |
| Warranty | 1-Year limited |
| Price | Check Price |
Should you buy the Levoit H133 Air Purifier?
Soo all things considered— specs, features, functions aside… should you buy the Levoit LV-H133 air purifier?
This purifier has a large body and is designed to tackle big spaces. In addition, it has some smart features, a modern aesthetic, and solid performance.
Overall, I would recommend the Levoit LV-H133 if you're looking for an air purifier with the following features:
Auto Mode: If you want a purifier that can read current air quality and adjust itself, along with changing conditions, the H133 is a great option. It will self adjust between low, medium, or high speeds as needed.
Great usability: This air purifier is a snap to use and a big reason for that is the LED light info ring. By using color to communicate things like indoor air quality and when to change your filters, it helps to take the guesswork out of using the air purifier.
Performance: The air cleaning performance was simply exceptional. It reduced AQI to 0, total particles per cubic liter of air to 10, and PM2.5 to 0.1. The LV-H133 does exactly what it says it will do and it does it extremely well.
For more information or the buy the Levoit LV-H133 air purifier, click here.
Big Purifier for Big Spaces
Design -

94%

Performance -

99%

Quality -

94%

Usability -

95%

Value -

97%
Summary
The Levoit H133 is a simple and intuitive air purifier. It has a 360° HEPA filter and excellent area coverage (up to 538 sf). There are 5 modes including 3 varying speeds, sleep mode, and auto mode. In auto mode, the H133 can detect current indoor air quality and adjust the fan speed accordingly. Although these stats are not reflected on a digital app, there is a colored LED light ring that communicates the quality using different colors. For a simple and easy to use air purifier, the Levoit H133 is a solid option.