Levoit LV-H134 Air Purifier
The Levoit LV-H134 air purifier is a large purifier with a ton of air flow. It's capable of cleaning up to 710 square feet of space. It uses the largest HEPA air purifier we've ever tested. The LV-H134 did well in our tests, reducing PM2.5 from 7.0 to 0.1. Particles per liter were reduced from 444 to 13, a 97.1% improvement. It's a bit bulky, but it can really crank through a lot of air.
Check Price
Pros
Large are coverage — up to 710 square feet
Easily communicates real-time air quality
Excellent air quality improvement in a short amount of time
Cons
Bulky and heavy
No smart phone connectivity
Levoit LV-H134 Design
The design of the Levoit LV-H134 has a tall white body with air intake located at the bottom of the purifier and controls up at the top.
It has a tapered shape to it, getting narrower as you work your way up the purifier.
The Controls
In the middle of the purifier at the top is the control center. This is an LED display screen that shows:
Real-time air quality
Fan speed
Auto mode
Sleep mode
Brightness display
Filter Status
Timer
Real-time air quality is communicated with a numerical number of PM2.5 as well as a colored ring that encircles the whole display.
Red

= Poor air quality

Orange

= Moderate air quality

Green

= Good air quality

Blue

= Excellent air quality
This purifier is larger than other comparable purifiers and has a wheeled design to help move it between adjacent rooms.
How does it work?
The Levoit LV-H134 uses a laser dust sensor to detect air particles within 30 seconds and communicate an indoor air quality reading. This reading comes with an associated PM2.5 value and a color-coded ring to visually show air quality.
The Modes
This purifier has two main cleaning modes: auto and sleep.
When in Auto mode…
This purifier will self-adjust, turning fan speed up or down in response to changing air quality.
The Levoit LV-H134 can purify up to 710 square feet of air space during any given cycle.
When in Sleep mode…
This purifier will dim the lights and run at the quietest fan speed (around 25 dB according to the manufacturer). While this mode might not be great for times of high-traffic air purification, it can certainly make a noticeable impact while you sleep.
This purifier also has a timer which allows you to enable certain settings for a brief period of time only.
Size & Dimensions
As I mentioned above, the Levoit LV-H134 is not a small air purifier. This unit is:
Width (at top): 12″
Width (at base): 13″
Height: 29″
Weight: 27.7 pounds
RELATED – Looking for a smaller version of this purifier? Check out the Leviot LV-H132 for a Leviot purifier about half the size and less than 1/3 of the weight.
Accessories & Parts
This air purifier comes with a few basic parts and accessories including:
HEPA filter (pre-installed)
Power cord
User manual
Caution card
These accessories all pretty basic parts needed to run this purifier.
Perhaps the most notable part is the HEPA filter, which is easily the largest we've tested to date. Below you can see it side-by-side a Dyson air filter setup.
RELATED – Looking for an air purifier with a little more swag? Check out the Dyson Pure Cool TP04.
Performance
To fully test out any of the air purifiers we review, we run it through an at-home usage test where we measure indoor air quality before running the purifier and after running it for an hour.
We compare the results by looking at the overall air quality index, and PM (2.5 and 10).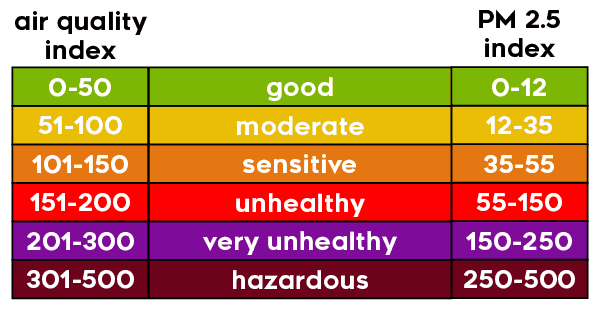 What is PM?
PM stands for "Particulate Matter". This measurement can basically be divided into two different measurement, PM10 and PM2.5.
PM 10 = particulate matter that is 10 micrometers and smaller
PM 2.5 = particulate matter that is 2.5 micrometers and smaller
We perform these tests in our home-based testing lab, meaning that the air is much like the air you'd find in most average homes. For example, we have a dog, a baby, and seasonal allergens like what you'll find in most other average homes.
How do we test?
To start the test, we begin with a baseline measurement, using a Temtop LKC-1000S+ professional air quality detector. 
Once we've documented the baseline air quality, we run the purifier in a closed room and document the change in air quality after 60 minutes is up.
When we tested the Levoit LV-H134, here is what we found out:
Starting Baseline
PM 2.5: 7.0
PM 10: 11.6
Particles: 444
AQI: 29
After 1 Hour
PM 2.5: 0.1
PM 10: 0.1
Particles: 13
AQI: 0
SUMMARY – Within 1 hour, the Levoit LV-H134 removed 97.1% of air particulates from the medium-sized room we tested in (approx. 12'x12′). This purifier improved PM 2.5 air quality by 98.6%.
Setup & Usability
Setting up the Levoit LV-H134 air purifier was easy and only took a few minutes. This purifier basically came assembled in the box so all we had to do was:
Unbox the purifier and remove packaging.
Plug in the power cord and make sure the area around the purifier is clear.
Turn on the purifier.
The Levoit comes with the filter already installed and no additional features like wifi connectivity. This makes it quick and easy to get up and going with the LV-H134.
Levoit LV-H134 Maintenance
Maintaining this Levoit air purifier is also straight forward and just involves a few steps.
For the best performance:
Wipe down the purifier with a soft, dry cloth. Every 2-4 weeks should be fine, unless your house is really dusty.
Replace the filter every 6-8 months, depending on use.
Is the Levoit LV-H134 air purifier a good value?
So overall, considering everything, is the Leviot LV-H134 air purifier a good value?
I would say absolutely.
The coverage range on this purifier is extremely impressive and its ability to purifier the air so effectively and quickly is solid.
As added bonuses, the real-time air quality display is easy to use and automatically adjusts as needed, depending on the indoor air quality.
This feature really helps to take the guesswork out of air purification. For more custom settings, you can also manually adjust fan speed or use one of the alternate modes, including Sleep mode or the timer setting.
I do wish it had smartphone control, but given the price and other performance factors, I think that's a fairly small negative.
Levoit LV-H134 Sepcifications
| Specifications |   |
| --- | --- |
| Manufacturer | Levoit |
| Model | LV-H134 |
| Width | 12" (at top) & 13" (at bottom) |
| Depth | 12" (at top) & 13" (at bottom) |
| Height | 29" |
| Weight | 27.7 pounds |
| Wifi Compatible | No |
| Room Coverage | ~710 sq. ft. |
| Returns | Varies by retailer |
| Warranty | 1-Year limited |
| Price | Check Price |
Who Should Buy the Levoit LV-H134 Air Purifier?
The Levoit LV-H134 is best if you:
Need large area coverage: If you've got a large area that you're looking to clean, it's hard to beat the coverage of the Levoilt LV-H134 which can purify up to 710 square feet.
Want real-time air quality notification: The LED ring in the middle of this unit makes easy to know when you're indoor air quality is struggling or when it looks good. In addition, the Auto Mode will adjust fan speed settings automatically based on these findings.
Want exceptional purification performance: After running for only one hour, I was extremely impressed with the Levoit's ability to purify the air to an impressive level.
For more information or to buy the Levoit LV-H134 click here.
Bulky, But Exceptional Performance
Design -

94%

Performance -

100%

Quality -

94%

Usability -

95%

Value -

96%
Summary
The Levoit LV-H134 air purifier is a large purifier with the capacity to clean up to 710 square feet of air space. During our performance tests, this purifier had outstanding results and is a solid option for large-scale purification. It reduced PM2.5 from 7.0 to 0.1 and reduced particles per liter from 444 to 13. It includes color-coded real-time air quality readings, HEPA filtration, and Auto or Sleep mode for varied uses.