Budget-Friendly & Large Coverage Air Purifier
Levoit Vital 100 Air Purifier
The Levoit Vital 100 air purifier is a compact purifier that can clean up to 500 sf. It is quiet and has basic features, but if you can live without the bells and whistles (ex: Auto mode, Sleep mode, Wifi connectivity), then it could be a great option for many different types of spaces. It performed well in our purifier tests, reducing PM2.5 and PM10 to 0.3 and AQI to 0.
Check Price
Pros
Good area coverage (up to 500 sf.)
Easy to use touch-LED controls
Filter indicator lets you know when it's time to replace
Solid purification performance, reducing PM2.5 to 0.3
Cons
Lacks a 'Sleep Mode' as well as an 'Auto Mode'
No real-time air quality data
No wifi connectivity
Levoit Vital 100 Design
The Levoit Vital 100 is a more compact air purifier with a simple, white glossy shell with rounded corners.
The front of the purifier maintains a sleek, simple aesthetic with short, raised legs for the base and controls and air intake located on the top.
The Filters
This Levoit air purifier uses a 3-phase filtration system that tackles particulate at all levels.
The Velcro attached washable preliminary filter traps pet fur, hair, and lint.
The activated carbon filter absorbs odors from pets, cooking, and smoke.
Lastly, the True HEPA filter captures 99. 97% of airborne particles as small as 0. 3 microns, such as pet dander, pollen, mold spores, dust, and germs.
Fine pre-filter: washable filter that captures pet hair and lint
Activated carbon filter: absorbs odors from pets, cooking, and smoke
True HEPA filter: captures 99.9% of particles down to 0.3 microns like pet dander, pollen, mold, dust, and other airborne germs
Each of these filtration methods working together helps to provide the most effective air purification.
The Controls
Controls for the Levoit Vital 100 are on top of the purifier as touch-LED buttons. They are aligned on the bottom right-hand corner of the cover, leaving the rest of the purifier top for air output.
Power on / off
Adjust fan speed (low, medium, or high)
Turn display lights on / off
Timer (2, 4, or 8 hours)
Filter change notification
There are small LED blue lights above the "Speed" and "Timer" button, which makes it easy to see what setting you are currently on.
When it's time to change the filter, the "Filter" button will illuminate a red LED light.
The Levoit LV-H133 cannot be controlled using your smartphone. However, if smartphone control is an important feature they do offer a purifier with wifi connectivity.
For app-based control, check out the Levoit LV-PUR131s. Also, you can see our test and review on the LV-PUR131 here.
The Modes
This purifier has 3 simple modes it can operate in. The modes are:
1 Speed: low fan speed
2 Speed: medium fan speed
3 Speed: high fan speed
Unlike more advanced air purifier that have a dedicated Sleep Mode or Auto mode, the Levoit Vital 100 takes a simpler approach.
For Sleep…
If you're concerned about sleeping with this purifier, there are a few nice features that this model includes, such as:
Quiet to operate (as low as 23 dB)
Dimmable display lights
What about an auto mode?
If you're specifically looking for an air purifier that can automatically detect indoor air quality and adjust settings based on real-time conditions, the Levoit Vital 100 may not be the right choice for you.
If Auto mode is important see our Levoit LV-H134 test and review here (which does have Auto mode enabled).
With this purifier, all modes will need to be manually selected and it will stay in that mode until you physically turn it off (or when the timer dictates that the cycle is complete).
Size & Dimensions
The Levoit Vital 100 is a compact purifier. It is about half of the size of the larger Levoit LV-H133 and can be used freestanding on the floor or sitting on a large table.
In addition, the exact dimensions are listed below:
Width: 12.8″ wide
Depth: 6.4″ deep
Height: 16.1″ tall
Weight: 10.25 lbs.
The Levoit Vital 100 can treat large rooms up to 500 square feet in 30 minutes or smaller rooms (approx. 300 sf.) in as little as 18 minutes.
RELATED – See our complete list of air purifier reviews here.
Accessories & Parts
The Levoit Vital 100 air purifier comes with everything you need for basic operation and air purification.
What's in the Box?
Levoit Vital 100 air purifier
Washable pre-filter
Carbon & HEPA combination filter
With regular use of this air purifier will come regular replacement of the filter. The pre-filter is washable, but the HEPA / Carbon filter will need to be replaced occasionally (varies depending on use).
The Leviot purifier also has a filter replacement indicator that will let you know when it's time to reorder.
Performance
In terms of performance, is this compact air purifier able to clean the air to the same degree as some of the more powerful models we've reviewed?
To find out, we put it to the test in a real-life testing sequence. Here's how we do it.
Testing Series
Our testing for this air purifier starts by taking an initial air quality measurement in a 10×10′ room. Next, we run the purifier for an hour and then take a new measurement. The results are documented and the change in air quality shows how effective the purifier is at cleaning air.
For accurate measurements, we used the Temtop LKC-1000S+ professional air quality detector.
Good vs. Bad Air Quality
Below, we've included information on the testing criteria and what defines good vs. bad air quality.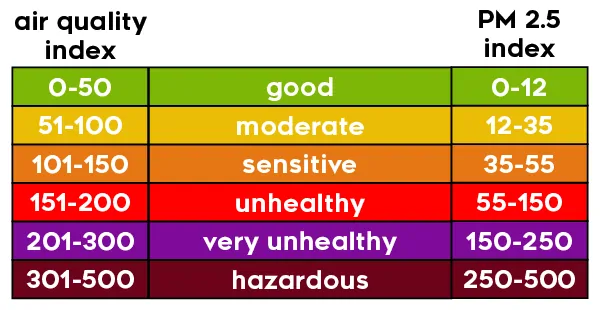 What were the results?
Starting Baseline
PM2.5: 3.0
PM10: 4.3
Particles: 126
AQI: 12
After 1 Hour
PM2.5: 0.3
PM10: 0.3
Particles: 19
AQI: 0
Within 1 hour the Levoit Vital 100 removed 86% of air particulates from the room we tested in.
Levoit improved PM2.5 air quality by 90%. Overall, these are excellent results, especially considering that the indoor air qulaity was not awful to begin with.
Had the indoor air quality been worse in the room we tested in, I would expect it to clean just as well.
RELATED – What's the best air purifier?
Setup & Usability
Getting up and running with the Levoit Vital 100 is easy, right from the beginning.
You simply:
Unbox the purifier and remove all packaging.
Plug it in.
Select your fan speed.
If you want to set a timer or dim the controls, you can do that as well.
When running, this purifier emits about 24 dB of noise, so it's definitely on the quiet side compared to other models we've tested.
Can you control with your smartphone or voice-control?
Unfortunately, the Vital 100 purifier does not enable smart control through your phone, tablet, or a voice device like Amazon Alexa.
Although these features would certainly be nice adds, the fact that they're not included does help to keep the cost low and the value higher with the Levoit.
Maintenance
To keep the air purifier running at its peak performance, proper maintenance is an important step.
The maintenance isn't hard and doesn't take long, but it's critical that it gets done. For peak performance, make sure you regularly do the following tasks:
Wipe down the air intake and outlet grills (as well as the internal fan) with a dry, lint-free cloth
Replacing the filters as needed, every 6-8 months as recommended by the manufacturer
The Filter Change Indicator also lights up to let you know when it's time to replace the filter. Filters can be purchased directly from Levoit or via a third-party website like Amazon.
Is the Levoit Vital 100 a good value?
So overall, how is the value of the Levoit Vital 100? I'd say the value is good.
This air purifier is not terribly expensive and it's got good area coverage. These two factors tend to put this air purifier in a different category of high-coverage, low-price purifiers.
If you don't need the added features of real-time air quality detection, sleep mode, auto mode, or wifi connectivity then the Levoit Vital 100 could still check all your boxes.
RELATED – Wonder how the Vital 100 compares to the other models in the lineup? See our complete list of Levoit air purifier reviews below.
Levoit Specifications
| Specifications |   |
| --- | --- |
| Manufacturer | Levoit |
| Model | Vital 100 |
| Width (inches) | 12.8" |
| Depth(inches) | 6.4" |
| Height | 16.1" |
| Weight | 10.25 pounds |
| Filters | 1; 3-phase |
| Wifi Compatible | No |
| Room Coverage | ~500 sq. ft. |
| Returns | Varies by retailer |
| Warranty | 2-Year limited |
| Price | Check Price |
Should you buy the Levoit Vital 100 Air Purifier?
Overall, I would recommend the Levoit Vital 100 if you're looking for an air purifier with the following features:
Compact Size: If you want an air purifeir that isn't going to take up too much space, the Vital 100 is a good option. It's about half the height of the Levoit LV-H133 and is easier to fit into smaller spaces.
Big area coverage: Despite its smaller size, this purifier can treat up to 500 sf. (just at a slower rate than it would treat a smaller space). If you aren't in a hurry, this could be a nice way to save some cash.
Don't need auto mode: The biggest downside of the Vital 100 purifier is the lack of an Auto Mode. Since it can't automatically regulate to the air around it, you'll need to manually set all fan speeds. The timer can help you decide when the purifier turns off if you're away.
For more information or the buy the Levoit Vital 100 air purifier, click here.
Budget-Friendly + Big Coverage
Design -

94%

Performance -

98%

Quality -

94%

Usability -

95%

Value -

97%
Summary
The Levoit Vital 100 is a budget-friendly compact HEPA air purifier. It has a maximum coverage area of 500 square feet. It performed well in our air purification tests, reducing PM2.5 and PM10 to 0.3, while bringing AQI to 0. It lacks many features like smartphone control, auto mode, sleep mode, and others. However, as far as purification power goes it checks all the right boxes, especially at this price point. A solid value HEPA air purifier.