Today we're diving into our Lovesac Sactional review. It has many configurations and is marketed as comfortable, durable, and long-lasting.
But does the Lovesac sofa live up to the hype? Let's do a deep dive into this sectional couch to find out.
Lovesac Sactional
The Lovesac Sactional couch might be the perfect option for frustrated buyers looking for a comfortable configuration not easily found in the traditional sofa and loveseat combo. With over 250 cover options and 11 different configuration options, this sectional can easily change along with your lifestyle.
Check Price
Pros
Modular design with multiple configurations to fit almost any room shape
Hard pieces are covered by a lifetime warranty
Most fabric choices are machine washable
Free shipping when purchased online
Cons
More expensive than other brands
Shipping and delivery can take a long time
Customization is not covered by warranty, limited warranty on covers and cushions
Lovesac Sactional Materials & Design
The Lovesac Sactional is build around an idea of modularity. Individual pieces connect to each other, can be rearranged, moved, reconfigured, added, or removed depending on your exact needs.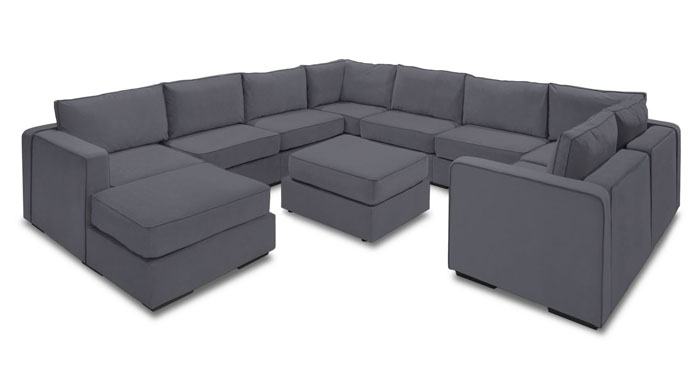 The Sactional can be purchased as just a seat and side to get started.
For greater configuration and arrangements, additional seats, sides, and pillow inserts can be purchased.
Legs
The Lovesac sofa seat base doesn't actually have legs, but it does have feet. Each foot is made of high-density MDF (medium density fiberboard) with real wood veneer and is an inch or two off the ground.
For configuration, an additional inch in height can be added to give the couch a more traditional look, there are shoes provided with each seat. The shoes are divided evenly into four sections with round peg holes for a foot to fit in perfectly.
The feet come pre-installed in the seat, so no assembly is required. If the shoe is used, simply line up the markings on the shoe, put the foot into the shoe and place the shoe onto the ground.
Each seat also comes with a steel U-shaped clamp which can be used in places where a foot can't go (where legs don't line up to secure both connecting seats with a shoe).
Frame
Each seat is made from the following materials:
Hardwood for the base
Sinuous steel springs
Italian webbing
High-density MDF rub plates to increase strength and longevity
Plywood
The frame is created so that each seat can stand alone. This allows for maximum changeability and means that the Sactional can be used in various different configurations, increasing its versatility in any size room.
Seat
Each seat cushion comes with one of three different fill layer options:
Standard foam: a central support layer sandwiched between two layers of high-density foam
Down blend: synthetic fibers mixed together with goose down and feathers
Lovesoft: a luxurious blend of resilient material that keeps its shape without the need for fluffing
Standard seat dimensions:
Width: 35" wide
Height: 18" tall
Depth: 29" deep
Weight: 45 pounds
These measurements include full assembly with cushion, back pillow, foot, shoe, and clamp.
Standard vs. Wedge Seats
There are two different types of seats available:
Standard seat
Wedge seat
The wedge seat is made of the same materials as the standard seat, but is shaped to give the Sactional couch a 45-degree angle for additional configuration options.
With over 250 different color and material options, we won't list them all here (suffice to say, there is probably a color you will like).
But, there are different fabric types that we will list:
Velvet
Phur
Leather
Polylinen
Outdoor
Chenille
Tweed
Microsuede
Weave
Canvas
Denim
Jacquard
Linen
Faux linen
Twill
Out of those color / material choices, 189 are machine washable. Eighteen choices are dry clean only while 41 are spot clean only.
RELATED – Best vacuum for wood floors.
Arms
The Lovesac Sactional comes with three different arm choices:
Standard
Deep
Rolled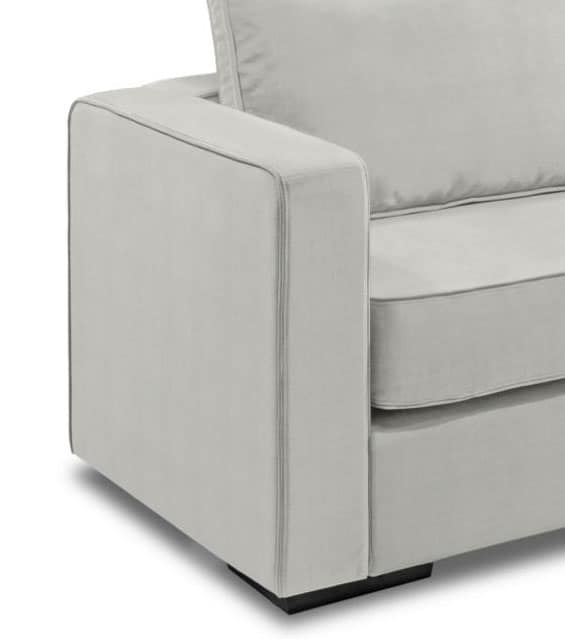 They act as both armrests and backs for this sectional sofa.
Rolled sides provide a more traditional couch look while deep sides are ideal for taller people and lounging. The seats can be used normally or turned for the deep configuration if preferred along with the deep sides.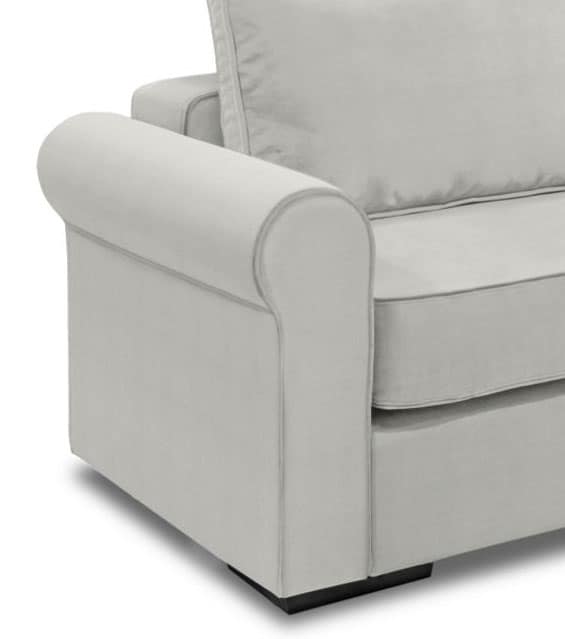 Regarding deep arms, these are the same arms as standard or rolled, just with extra depth.
Dimensions differ for each side, as shown below:
Standard Side
Width: 35" wide
Height: 28.5" tall
Depth: 6" deep
Weight: 25 pounds
Deep Side
Width: 29" wide
Height: 28.5" tall
Depth: 6" deep
Rolled Side
Width: 35" wide
Height: 25.7" tall
Depth: 29" deep
Back Pillows
The back pillows are loose add-ons with the same fabric for a cohesive look throughout the Sactional. They are made with a poly-fiber 3-chamber insert that fits snuggly inside the pillow cover to provide a couch-like appearance.
The pillows also come in a deep side option to fit perfectly with the different dimensions of the deep seats and sides.
RELATED – Check out our other modular furniture reviews Joybird, Arhaus, and Burrow
How to Assemble a Lovesac Sactional Sofa
Time
The amount of time needed to assemble the initial seat and side is approximately 15 minutes. However, this will vary depending on the number of seats and sides placed in configuration, plus your skill set.
All the pieces needed to assemble the Sactional are provided so no additional tools are needed.
Modules
Each seat and side are packaged in recycled cardboard, making them easy to move inside and unpack.
The pieces are secured together using a combination of shoes and clamps, depending on the chosen configuration. Simply line up the feet on the guidelines of the shoe or clamp the pieces together in the designated slots to lock the pieces together.
Lovesac Sactional Couches
The original Lovesac couch is entirely made in the United States. While most of the Lovesac Sactionals are also made in the United States, there are some pieces that are manufactured in China.
Flame retardants aren't used either in manufacturing, and some of the fabrics are made using recycled bottles. The Lovesac line is made by hand and fabrics are also hand-sewn.
The modular sofa system has 11 main configurations which can be further customized with the purchase of additional sides and seats.
According to Lovesac, the expandability and durability of their product are estimated to save four couches from going to the landfill.
The manufacturing process and environmentally responsible nature of the Lovesac Sactional contribute to its hefty price tag.
Is the Lovesac Sactional comfortable?
Comfort is personal and can vary between users. Although the Sactional couch can be purchased online, there are also over 70 locations across the United States where you can try it out before you buy it.
The activity level, weight of users, and personal preference are all factors to be considered when determining comfort levels.
A person who is heavier may find the modular couch to be too soft and even feel that it sags under their weight. In contrast, a lighter person may find it too firm or that it doesn't have enough cushion for their liking.
For these reasons, we looked at third party reviews to help show a broader range of opinions on the comfort.
User Reviews
Here are some user reviews that stood out to help determine the level of comfort and durability of the Sactional sofa.
From Reddit user bougahleebooyas
"My husband and I have a 4×5 set for 3 years now, we love it and will never look back to regular couches! We have 2 dogs and all the cushions, pillows and their covers still look and feel brand new."
From Yelp reviewer Larissa B.
"Although we're happy with the appearance, the sofas are just not very comfortable. The backs and sides are set at right angles with no slant so it's really hard to get comfy. In addition, the down cushions don't hold their form at all so you wind up leaning against the hard upright back."
From Reddit user Send_Lawyers
"I have a love sac and here is a review after almost 10 years and 3 moves. The covers are very washable and despite a few holes on the cover from a cigarette burn and an errant screw poking out of a wall it has held up amazingly well. Comfy for one to two people. Old people struggle or do not use it."
From Reddit user Anon
"They are fan-****-tastic couches. We bought the sactional because we couldn't find a couch that was deep enough for my 6'4" husband to comfortably sit in, that we could also get through our apartment front entrance.

Fast forward a few years and we have a house and the awesomesauce sactional and supersac. We generally use it as an L shaped sectional but will adapt it as needed. Best sofa ever. My in laws are going to get a sactional soon and they rarely try new fangled things. Everyone who is in our house loves our furniture."
Why purchase a modular couch?
Modular couches are gaining in popularity and there are good reasons why. The set up is easy to change around, able to be moved from location to location, and can fit in most room sizes.
With the portability of furniture like the Lovesac Sactional, people are able to keep their couches longer, even if they have to move. The longer you can keep your furniture, the more cost-effective a modular sectional can be.
Convenient
There is no denying the additional convenience having a modular couch can provide. The ability to change it by removing a seat, adding a seat, creating a turn with the wedge seat, or turning it into a chaise lounger is hard to pass up for some.
However, the fact that the sectional breaks into pieces can also be a disadvantage.
Without one solid frame like a traditional sofa, modular furniture might not be as structurally sound or as comfortable. As a result, some may find that the seams are less comfortable.
Design
While there are various options for color choices and finishes, most modular furniture offers basic designs with little flair.
Due to the additional hardware required to keep the sectional secure, there can be uneven wearing from hardware. Sagging in the arms is common due to the stress at one single connection point and using them to hold body weight.
Lovesac Sactional Fabric Choices
Like we discussed earlier, Lovesac Sactionals are available in over 250 different fabrics. Most of them are machine washable with a zipper for easier removal. They do advise that you not put them in the dryer as they can shrink and might not fit back on the cushions.
They only offer 21 options for "quick ship" with the rest of the options considered custom. This can delay the processing and shipping time.
The warranty covers for 3- or 5-years, depending on the type of fabric. The website also notes the following:
"The Lovesac Warranty does not cover accessories, commercial/rental use, pet damage, color fading, failure to follow washing instructions, or damage due to burns, odors, mold, ink stains, water/fire, natural disaster, or bodily fluids."
How to buy a Lovesac Sactional sofa?
Ordering
You can go to one of the locations in store to purchase your Sactional or go online to order it based on your preferences and needs.
Select the cover: Choose your fabric choice.
Choose an arm type: Standard or rolled.
Select fill: Standard foam, down blend or lovesoft.
Add pieces: This step is optional – add pieces as needed.
Once you've filled in all the steps, you'll be ready to review your cart and then pay for your purchase. That's it. From there, the Lovesac takes 1-2 build and then is ready for shipping.
Shipping
Lovesac offers free shipping on all of their online orders. The time to ship is usually within 2-3 weeks, depending on location.
If you decide to purchase in-store, delivery timeframes can vary.
Trials & Returns
With Lovesac, you are able to try out the Sactional sofa for a full 60 days to decide if it's right for you. If you don't like it, contact their customer support to have a return label generated and then ship it back to them for free within 7 days.
Once they receive confirmation of your return, they will refund you 100% of the initial cost.
RELATED – See our guide on how to find the best furniture.
Should you buy a Sactional sofa?
After reviewing the steps to purchase and assemble, along with the specifications, fabric choices, and configurations is the Lovesac modular couch the right one for you?
I would recommend the Lovesac Sactional if you are looking for the following:
Wide-range customization: The Sactional can be used as a chair, loveseat, couch, lounger or even a bed. Buy just a few pieces now and then add to your collection as your needs change. Move it from room to room or if you decide to move house, disassemble it and take it with you.
No tools needed: One of the great features of the Lovesac is that there are no tools needed, only time to put the pieces together. The shoes have guidelines to make sure everything lines up with ease. The clamps can be used when shoes aren't an option to keep the modular furniture together and hold the sides on.
Lots of fabric choices: With over 250 options to choose from, there's bound to be a fabric that fits your aesthetic perfectly. If you get bored or change your style down the road, the entire system can be changed to a new fabric design.
Lifetime warranty on hard pieces: The seat, sides, clamps, feet, and shoes are all covered for the life of the product. Most modular furniture on the market doesn't stand by their craftmanship as long as Lovesac does, which can help with the initial higher cost of this furniture.
To make a purchase or learn more about the Lovesac Sectional, check them out here.
Scoring Note
Please note that this review is based on our assessment of the design, materials, specifications, and third party reviewer experiences. We have not yet tested the Lovesac Sactional. As such, some of the above review scores deviate from our typical scoring methodology
Module Customizable Couch
Design -

97%

Performance -

95%

Quality -

93%

Usability -

95%

Value -

94%
Summary
The Lovesac Sactional is a highly customizable couch. You're able to choose from over 250 different color and material options, different arms, and seats. The couch is built to be modular, so you can easily reconfigure it over time. The Lovesac sofa is more expensive compared to other options, but the customization, modularity, and durability provide the opportunity to keep the couch for a longer period of time, perhaps saving money in the long run.