Designed by two former Dyson engineers, the Lupe (pronounced 'loop') is a cordless vacuum that launched late Summer 2020. But is it really different than other vacuums?
We put it to the test with our Lupe review. Let's dive in now!
Cordless Design with a New Aim
Lupe Pure Cordless
Lupe performed extremely well in our cleaning tests, removing 97.3% of all debris by volume across 3 different floor types. The Lupe was absurdly easy to assemble out of the box, taking quite literally 15 seconds to snap it together. The design of the vacuum truly feels like a labor of love, there are so many small details to improve the experience including: multi-function accessories, attachment storage on the wand, variable suction, dual brushroll, washable filters, tons of configuration options, lift away canister, and more. The Lupe checks just about every box we look for in a high-end cordless vacuum.
Check Price
Pros
Dual brushroll (squishy soft brush + bristle brush)
Lift out canister for more mobile cleaning
Range of cleaning configurations (full size, lift away mode, hose, wand, attachments, etc.)
Has up to a 60-minute run time
Washable filters
Cons
Fairly expensive
Only available at LupeTechnology.com
Free shipping only to mainland UK (as of 10/15/20 it was $52.55 to ship to Arizona, USA)
How is it different?
Can stand on its own (rare for a cordless vacuum)
XL 1-liter dust bin capacity
Removable battery
Interior housing accessible for better lifetime maintenance
Designed so that each part is replaceable / upgradable as Lupe improves the vacuum over time
Rather watch than read a review? We've got our full video Lupe review below:
Lupe Pure Design
The design of the Lupe vacuum has been modified over a 3 year period with 18 months spent in crowdfunding and initial batch production.
Lupe gained momentum from a Kickstarter campaign that was launched in May 2019 and the first models rolled off the production line in July 2020, ready to ship into homes and businesses in a limited number of countries.
This cordless vacuum is a 2-in-1 vacuum with simple parts, a redesigned brushroll concept, and a different approach to in-hand vacuuming.
From the desk of two ex-Dyson engineers, the Lupe vacuum is designed to be different.
Instead of promoting new models and updates releases, Lupe is able to be upgraded and have all parts properly maintained and replaced as needed.
How does the Lupe work?
From top to bottom, the Lupe takes a different approach. But does different equate to better? Let's check it out.
The Breakdown:
Battery pack
Brushless motor in removable housing
Washable filter
Access panel
Cleaning head
Dust separation system
Re-programmable control electronics
The Lupe design is founded on transparency and lifetime usability. Parts can be reordered, replaced, or reprogrammed as things wear out or as your needs change.
The image above is a full breakdown of every single part that was designed into the Lupe Pure cordless vacuum.
The Top
The top of this vacuum has four main controls designed right below the handle.
Controls include:
Power on / off
Increase suction
Decrease suction
Brushroll on / off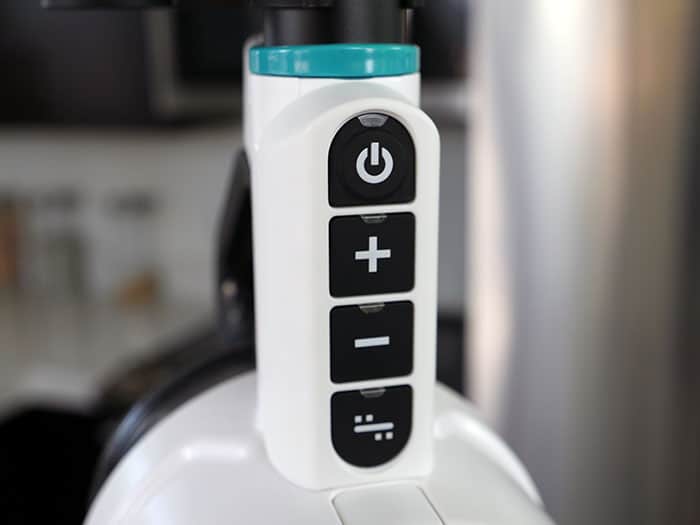 Unlike the Dyson V-series, which uses a "trigger" that only powers the vacuum when you hold down the button, the Lupe has a simple on / off button.
Press it and have continuous power until you press it again. Intuitive and simple.
The Mid Section
The middle of the Lupe has the expanding hose and detachable battery on the front and the dustbin on the back.
It's easy to pop the battery out when it's time to charge it up. A vertical row of simple LED lights indicate the remaining battery life.
How does it look?
Here's a profile view of what the vacuum looks like from the side. As you can see, it is very different.
The canister holds up to 1.0 liter of debris and there is a gap between the canister and the housing for the motor and expanding hose.
Cutting out this extra material helps to keep the unit lightweight and portable.
The Cleaning Head
The Lupe cleaning head uses a dual brushroll system. In the front, there is a squishy roller brushroll that helps flatten debris and provide a seal between the agitator and the floor for better suction.
The second brushroll is a spiral bristle roller that agitates carpet fibers and rotates in the opposite direction of the soft roller.
These two rollers work in tandem to increase suction and improve overall performance.
How big is the Lupe?
The Lupe is quite a slightly shorter than many other high-end cordless stick vacuums. In addition, much of the height is more towards the floor, as opposed to within the handle.
One difference in how all of these vacuums operate is in handheld mode.
With the Lupe, the dust bit canister stays at your feet (or in the other hand) which makes it easier to reach high spaces or nooks and crannies.
This design also may put less strain on your wrist since you are not holding the canister high and away from your body.
Length 45″
Width 10.2″
Weight (total) – 10.2 pounds
Weight (canister) – 6.4 pounds
What's in the box?
Right out of the box, the Lupe cordless feels different. It has a simple design and the parts are separated for easy install and compact shipment.
Here's a complete list of everything that comes in the box, from left to right in the image below:
Vacuum body: Body of the vacuum, which has the controls, dust bin on the back, and expanding hose; can sit upright on the floor
Rechargeable battery: The battery offers a 60 minute run time and charges up in about 3.5 hours.
Power adapter: Use this to charge the battery from any standard wall outlet.
Cleaning head: The cleaning head uses a dual brushroll system that improves suction on hard surface flooring while also agitating debris from high fiber flooring like carpet or area rugs.
Wand / handle: This piece connects to the top of the vacuum body and can create an in-hand portion for portable cleaning or the upright handle for a stick vacuum.
Tool clip: The clip allows you to attach the tools to the wand of the vacuum.
Mini brushroll: This brush is used for cleaning upholstery, car interiors, etc, while in handheld mode; attached to the wand.
Combination tool: The combination tool can serve as a crevice tool or a soft dusting brush, and also attaches to the wand for cleaning narrow spaces or dust furniture.
The handheld tools, shown below, are simple and easy to attach.
Just connect them to the green connection point on the wand and you're good to go.
Performance
We tested the Lupe Pure Cordless against 4 different types of debris and other 3 different floor types.
Our debris types include cereal, kitty litter, sugar, and rice. Our floor types include hardwood floors, low pile carpet, and high pile carpet.
Overall, Lupe's cleaning performance was excellent. It removed 97.3% of all debris (by weight) we tested against it. On all floor types it created good downward suction power.
In addition, it handled cereal (a common problem for many vacuums) with relative ease.
Hardwood Floors
Lupe's cleaning performance on hardwood floors was virtually flawless. It removed 99% of all debris. The only debris missed was a couple of debris that the brushroll dropped when we turned off power.
Even so, fantastic performance overall.
Low Pile Carpet
On low pile carpet the Lupe removed 96.5% of all debris we tested against. The Lupe creates excellent downward suction into the carpet, creating a seal in effect, which is what allows for deeper cleaning power.
The only debris the Lupe missed was a small amount of sugar that got buried within the carpet fibers. However, it was only 0.07 ounces out of the 2 ounces of debris we placed on our test carpet.
High Pile Carpet
High pile carpet was virtually the same experience we had on low pile carpet. Lupe removed 96.5% of debris by weight.
Just as with low pile carpet, on high pile carpet the Lupe missed a small amount of sugar (0.07 ounces).
While we of course would have liked to seen a perfect 99-100% score, it's hard to complain too much with a 96.5% removal rate.
Setup & Usability
Putting the Lupe together is fast and intuitive.
Unbox the vacuum.
Assemble the vacuum by clicking the stick into the body and the body into the cleaning head.

Plug in to charge it up the battery.
That's it. Assembly was incredibly fast and intuitive.
It took me less than 30 seconds to piece the vacuum together and did not require consulting with the instructions.
Lupe Maintenance
Maintenance is one area where the Lupe vacuum really strives to be something unique and different.
RELATED: Shark vs. Dyson: The Definitive Guide
Unlike traditional models that are more or less designed to be replaced by new models, the Lupe vacuum allows you to properly maintain all parts, even those within the housing of the vacuum itself.
Maintenance on the Lupe includes a few basic steps, like:
Empty the dust bin.
Wash the HEPA filter.
Recharge the battery.
The Lupe makes it possible to remove the back of the housing to the vacuum and access nearly all of the internal parts. If something goes wrong, you can assess and replace the individual part instead of buying a new unit.
How to charge the battery?
When the LED lights indicate battery power is low, simply press down on the green button to release the battery back from the vacuum unit.
You can remove the battery and charge it, or you can simply leave it in and bring the vacuum close enough to the power adapter. It takes around 3.5 hours to fully charge the batter.
How to wash the filter?
There are two filters on the Lupe vacuum and both are quick to remove.
You can clean with cold water or by simply dusting off the surface of the filter with a small brush. Make sure the filter is 100% dry before reinstalling it into the system.
Washing a filter is a great way to extend the life and keep annual maintenance costs down.
Lupe vs. Dyson vs. Shark Specs Compared
Below is a quick list of important specifications and features included on this Lupe vacuum as well as how it compares to Dyson & Shark comparable cordless models.
Specifications
LUPE CORDLESS
DYSON V11
SHARK IONFLEX
Manufacturer
Lupe
Dyson
SharkClean
Run Time
60 mins
60 mins
40 mins (per battery)
Model
Pure Cordless
V11
IonFlex
DuoClean
Length
45"
50.6"
46"
Width
10.2"
9.8"
13.4"
Weight (total)
10.2 lbs
6.68 lbs.
8.7 lbs.
Weight (canister / handheld)
6.4 lbs
6.13 lbs
5.0 lbs
Floor Type
All (indoor)
All (indoor)
All (indoor)
Dust Bin Capacity
1.0 L
0.76 L
0.3 L
Agitator On / Off

Yes

No

Yes

Removable Battery

Yes

No

Yes

Cordless

Yes

Yes

Yes

Upgradable Battery

Yes

No

No

Warranty
3 years (2 years on battery)
2 years
5 years (2 years on battery)
Price
Check Price
Check Price
Check Price
Who Should Buy the Lupe Vacuum?
The Lupe is designed to be powerful, usable, and easy to maintain over the long run. Those are traits many consumers look for, but can be incredibly difficult to find.
I would recommend the Lupe if you're looking for the following features in a cordless vacuum:
Excellent Cleaning Performance: Our test data speaks for itself, the Lupe removed 97.3% of all debris we tested against (by weight). It was virtually flawless on hardwoods and fantastic on both low and high pile carpets.
A long-lasting unit: With quality parts and a design that encourages replacing individual parts as needed instead of the entire vacuum, the Lupe can be attractive to buyers looking for a vacuum that can last for many years.
Cordless Lift Away Design: We've seen many corded upright vacuums offer a lift away canister, which in theory is beneficial. However, those vacuums are still corded. The benefits of a lift out canister that is also cordless cannot be understated. That design feature of the Lupe really takes it to the next level, allowing for highly portable cleaning on stairs, cars, furniture, and other hard to clean areas.
XL dust bin capacity: The Lupe has a dust bin capacity of 1 liter which is among the largest for this class of cordless vacuum.
For more information or to buy the Lupe click here.
Updates
October 15, 2020 – We finalized our updates started earlier in the week. Added a few more photos, added our score, and added / removed / clarified info in numerous places throughout the article.
October 13, 2020 – We've completed our testing of the Lupe and have started the process of uploading our data, photos, and tests. We've completed part 1 of our page updates with more to come later this week.
August 3, 2020 – Initial version of the review was published. The initial version was a pre-test, meaning we have not yet personally tested it (see more about our pre-tests here). Our information in the review is based off of information available on Lupe's website, as well comparisons to other vacuums we have tested. We are hoping to get a Lupe for testing soon, at which point we will update this review with our full testing data and a review score.
Durable Design, Impressive Cleaning Performance
Design -

98%

Performance -

97%

Quality -

95%

Usability -

98%

Value -

96%
Summary
The Lupe Pure Cordless is designed with replaceable parts, so that the vacuum can be more easily maintained and upgraded over time. The cordless design allows for 60 minutes of run time, while the lift out canister provides added portability to clean stairs, cars, and other areas. The Lupe performed well in our cleaning tests, removing 97.3% of all debris (by weight) across 3 different floor types. While the Lupe is expensive, the longevity of the vacuum (in theory) should be fantastic, as the design allows consumers to more easily replace parts that wear out or are upgrade over time.