Smart Air Purifier with Great Performance
Mila Air Purifier
The Mila smart air purifier is a mid-size purifier that can treat a range of room sizes (up to 1,000 sf). It offers 7 different styles of HEPA filter to choose from, each designed with different users in mind. When we tested the Mila, the performance was fantastic, reducing PM2.5 down to 0.1 and reducing AQI down to 1 as well. Overall, the Mila is a high quality purifier that gets the job done and looks great in almost any room.
Check Price
Pros
Smart performance with solid area coverage, up to 1,000 sf.
Offers 7 different styles of HEPA filters, each designed for different households
Impressive CADR rating of 447 m3/hr
Cons
No filter life indicator (yet… coming soon according to Mila)
Filters can be a little pricey to replace, depending what type you go with
Scoring
A Smarter Air Purifier
Design -

99%

Performance -

100%

Quality -

99%

Usability -

99%

Value -

97%
Summary
The Mila air purifier is a mid-size purifier that can treat rooms up to 1,000 sf. It relies heavily on smart integration and automated controls to make intelligent adjustments based on current indoor air quality. The Mila app for your smartphone is incredibly robust and has many helpful features. Ultimately, these features make it easier to use the Mila and get results. When we tested the Mila in-house, we were satisfied with the performance of this purifier. It did an excellent job of cleaning the air and the room smelled noticeably fresher when the cycle was finished.
Mila Design
The Mila air purifier has a simple design with a matte white body and black vent at the top. It has rounded corners and a soft, flowy look to it.
The outer shell is perforated as well to allow for plenty of airflow when in use.
Wood legs give it a higher-end, modern aesthetic. The legs have a natural finish and tend to make the Mila feel more like a piece of furniture instead of a traditional air purifier.
The Controls
There is a digital display with touchscreen controls on the Mila, which is located in the middle of the unit at the top.
That digital display allows you to choose between two simple modes—Auto Mode or Manual Mode.
MORE: Best Air Purifiers of 2021
Both modes display the same information on the digital display:
Air changes / hr
Target AQI
Current AQI
Fan speed
Mode selection
The Filters
The Mila offers seven different filters that can be paired with this purifier. Currently available filters include:
For more information on the differences between each filter, click here.
Smart Integration
There are a number of smart features on the Mila that allow the purifier to work smarter, not harder. The idea is that as the purifier begins to learn about your routine, it will be able to make more intelligent adjustments to the settings and clean more effectively.
One of the ways that Mila is smarter is by automatically detecting when people enter the room.
When people enter the room, it will automatically lower the fan speed and switch into "Quiet Mode".
After you leave, it will swap back into "Housekeeping Mode", which runs the purifier at a much higher fan speed for faster results.
Quiet Mode
Low Speed (24dB)
Housekeeping Mode
Max Speed
Build Quality
The entire machine looks and feels well built of solid parts.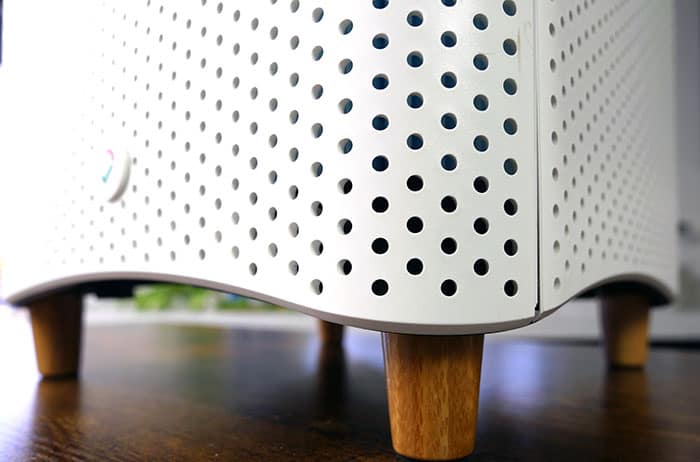 Some of the air purifiers we've tested can sometimes feel like knock-offs of other units or just the same unit being pumped out of a Chinese factory.
This is the not the case with Mila. It feels specifically and intentionally designed to be something different and its own entity.
There is a nice level of detail on the Mila which helps this purifier stand apart from the other models.
Size & Dimensions
The Mila air purifier is a mid-size purifier, small enough to sit on a tabletop or counter, but also large enough to hold its own sitting directly on the floor.
Width: 12″
Depth: 12″
Height: 15.5″
Weight: 13.75 lbs.
Unlike some other more portable air purifiers, there are no specific handles or anything designed for carrying the purifier. Even so, at less than 14 pounds, it is not too heavy to just pick it up and move it as needed.
RELATED: For an air purifier with a carrying handle, check out our full review of the Molekule Air purifier.
Accessories & Parts
The Mila comes with basic parts for regular use. The complete list includes:
Mila air purifier
Front panel (magnetically attaches)
HEPA filter (one included; other styles sold separately)
User Manual / Quick Start Guide
Performance
The performance of the Mila air purifier was impressive. We ran this unit in a medium-sized room and took measurements about how the indoor air quality was impacted.
What were the results?
Our Mila air purifier came with three different filters and we tested two:
Overreactor filter
Basic breather filter
Regardless of which filter we used, the results were pretty consistent.
Overreactor Filter
Starting Baseline
PM2.5: 3.4
PM10: 5.9
Particles: 279
AQI: 14
After 1 Hour
PM2.5: 0.1
PM10: 0.2
Particles: 18
AQI: 2
Basic Breather Filter
Starting Baseline
PM2.5: 4.1
PM10: 7.9
Particles: 269
AQI: 17
After 1 Hour
PM2.5: 0.1
PM10: 0.2
Particles: 19
AQI: 1
Within 1 hour the Mila air purifier reduced PM2.5 down to 0.1 µg/m3 and reduced PM10 down to 0.2 µg/m3 on both the Basic Breather filter as well as the Overreactor filter.
What is µg/m3? This unit stands for "micrograms per cubic meter. It's a detailed way to measure exactly how much of a particle is present in the air.
The particualte count was reduced by 93% and the AQI was cleared down to 1.
Testing Thoughts
Both the Overreactor filter and Basic Breather filter performed extremely well and more or less the same.
This isn't to say that some homes wouldn't benefit from the more advanced filters, but it is good to see that even the most basic HEPA filter they offer is still well built, well designed, and a strong performer.
After our air purifier tests with the Overreactor, the room's smell was noticeably improved and it smelled fresh and clean.
This is likely thanks to the carbon added to the Overreactor filter. The Basic breather filter did not impact smell as noticeably.
How do we test?
To collect this data, we set up the Mila air purifier in a medium-sized room in our office. We used the Temtop LKC-1000S+ professional air quality detector to get a baseline reading for the existing air quality.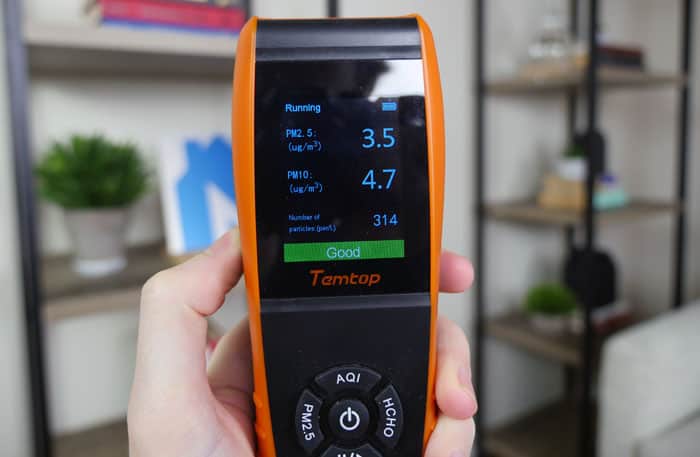 From there, we let the purifier run for an hour and then took new measurements.
The difference between the baseline and post-run data gives a solid picture of how well the air purifier was able to improve indoor air quality.
Setup & Usability
Let's talk about setup for the Mila. It was quick and took less than 5 minutes from unboxing to up and running.
Here's a complete step-by-step process:
First, unbox the purifier and remove all excess packaging.
Pull the front panel of the purifier off. It is attached magnetically.
Make sure the filter is installed correctly.
Reinstall the front panel.
Plug it in and get to work.
When a new cycle starts, the Mila will automatically run a calibration mode, which gives the purifier a couple of minutes to detect current air conditions and make a plan for how to best treat the air.
After this, you can select Auto Mode to begin an automated cycle or Manual Mode and select the settings you want to start with.
The App
The Mila app is one of the most attractive features of this air purifier. The app is designed to make Mila more transparent and show exactly what it's doing.
Using the app, you can see targeted AQI and see how fan speed impacts AQI and how long it will take the purifier to reach certain levels.
You can also receive messages from Mila that assess the air quality in different parts of your home.
There are 6 environmental sensors on this air purifier, one of which being CO2.
If this purifier senses unsafe levels of harmful airborne particles, the app will alert you and you can safely exit the room.
Maintenance
Proper maintenance of the Mila air purifier is not that much different from any other HEPA-based purifier.
The short maintenance checklist includes:
Wipe down the air intake and outlet grills with a dry, lint-free cloth
Replace the filters as needed, 4-6 months according to the manufacturer.
How to Replace the Filter
The front panel magnetically attaches to the body of the purifier. To swap out the filters, simply pull down the front panel, slide out the old filter, and slide in the new one.
The cost to replace the filter ranges from $59-99 / filter. Based on our findings, I would say that even the simplest filter, the "Basic Breather", performed extraordinarily well.
If you're worried about high annual maintenance costs, I think this filter would likely be sufficient for most home types.
MORE: How to Smoke in Your Room Without Smelling It
Is there a filter indicator on Mila?
There is currently no filter indicator on the Mila purifier.
According to customer support, this is a feature they are working on developing, and as soon as the technology is fully operational it will likely be integrated into an app update you can perform on your phone.
Auto-Refill
There is an Auto-Refill program for filters that will automatically send you a new filter after 6 months of use.
While this doesn't automatically detect the exact filter life of your current filter, it does a lot of the guesswork out of filter replacements and makes sure you are never caught with a dirty filter for longer than 6 months.
Is the Mila a good value?
So all things aside—specs, features, performance, design, etc… is the Mila a good value? I would say that the answer is yes.
The Mila air purifier is smart and simple.
For users who may not understand the ins-and-outs of complex air purifiers, the Mila really simplifies the whole process and breaks down the functions into basic and transparent terms.
The app is hugely helpful and a great resource for knowing more about your indoor air quality and how the current settings of an air purifier can affect that.
In addition, the price of the Mila is well below the price of other high-end models on the market. Mila boasts its:
High CADR ratings
Ease of use and transparency
Custom filters
Solid performance
Low price tag
CADR Comparisons
CADR stands for Clean Air Delivery Rate. It is a metric that was developed as a way of measuring the performance of residential air purifiers.
Here's a quick look at how the CADR rating for Mila compares to some top-performing brands.
Mila Specifications
| Specifications |   |
| --- | --- |
| Manufacturer | Mila |
| Model | Air Purifier |
| Width (inches) | 12" |
| Height | 15.5" |
| Weight | 13.75 pounds |
| Filters | 7 options, 1 selected |
| Wifi Compatible | Yes |
| Room Coverage | Up to 1,000 sf. |
| Returns | Varies by retailer |
| Warranty | 1-Year limited |
| Price | Check Price |
Should you buy the Mila Air Purifier?
I would recommend the Mila if you're looking for an air purifier with the following features:
Smart features: If you want an air purifier that can automatically adjust to changing air conditions, the Mila purifier is a good option. In addition, the app on your smartphone communicates a ton of information about the system and indoor air quality, making it easier to understand and easier to adjust when you need to.
Simple controls: The controls are intuitive on the Mila as well. There is an Auto Mode and a Manual Mode. Auto Mode can self-adjust for you or Manual Mode allows you to select fan speed based on what you think is right. Both modes clearly show the PM2.5 count and AQI so you can know if the system is working or not.
Customizable filters: Mila offers 7 different custom HEPA filters to choose from, which are designed for the specific needs of different users. If you want a purifier that feels custom to you, swapping out a filter could be a great way to get there.
For more information or the buy the Mila air purifier, click here.
ChangeLog
February 11, 2021 – Corrected a few minor label errors. In addition, changed the square foot coverage from 600 to 1,000. Mila recently changed the spec due to their revised understanding of how the AHAM calculates coverage.
February 4, 2021 – Initial version of the page was published.