Like the look of the Molekule Air purifier or the ingenuity of PECO technology? Check out Molekule's newest purifier to hit the market—the Molekule Air Pro.
Max Area Coverage PECO Purifier
Molekule Air Pro
The Molekule Air Pro purifier is a high-performance unit designed to clean the air in spaces up to 1000 sf. That's 40% more coverage than the original Molekule Air and 75% more coverage than the Molekule Mini. In our air purification tests, it removed 94.4% of airborne particulates, achieving a PM2.5 of 0.3, PM10 of 0.4, and AQI of 1. The Molekule Air Pro is easy to use either via Auto mode (with built in air quality sensor), Manual mode, and integrates with an app.
Check Price
Pros
Large coverage area of 1,000 square feet
Solid air purification performance. In our tests reduced particulates from 1,574 to 89 in 1 hour (PM2.5 from 10 to 0.3)
Incredible built quality (aluminum body, leather handle) with intentional design details (ex. stealth cord wrap on base)
Cons
Pricey unit compared to others on the market
Replacement filters are expensive
Purification Performance
Overall, the performance of the Molekule Air Pro was impressive. Considering the quality and past performance of other Molekule units (Molekule Mini Review & Air Review) we've tested, it was about what we expected as well.
Testing Series
To test the Molekule, we set it up in a medium-sized room in our office. I took a baseline measurement before the start of the test to gauge current air quality. Then, I let the Air Pro run for 60 minutes and took another set of measurements.
The difference between the baseline and post-run data gives a complete look at the performance on the Air Pro.
What were the results?
Starting Baseline
PM2.5: 10
PM10: 17.4
Particles: 1574
AQI: 41
After 1 Hour
PM2.5: 0.3
PM10: 0.4
Particles: 89
AQI: 1
Within 1 hour the Molekule removed 94.4% of air particulates from the medium-sized room we tested in (~14'x10′).
Molekule improved PM2.5 air quality by 97%.
In order to take these measurements, we used the Temtop LKC-1000S+ professional air quality detector. This device allows us to get precise readings and performance bearings before and after our test.
Below, we've included information on the testing criteria and what defines good vs. bad air quality.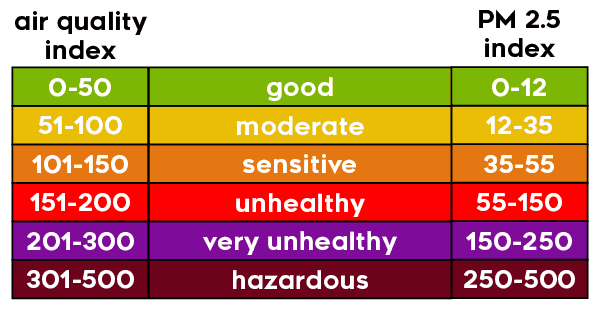 RELATED – What's the best air purifier?
Molekule Air Pro Design
The Molekule Air Pro is a slightly larger version of the traditional Molekule Air. It is designed with a simple aesthetic and a modern leather carrying strap if you need to move it around.
The Molekule Air Pro has a brushed aluminum finish with rounded edges and a white base. The base also has an integrated cord wrap which is a nice feature to stealthily hide the cord for a clean and sharp look.
The Filters
The Molekule Air Pro uses a hybrid filter that combines the jobs of the Molekule Air's two separate filters (pre-filter and PECO filter) into one efficient filter.
The pre-filter portion helps to capture larger airborne particles, while the PECO filter is designed to destroy finite particulate.
The Controls
The controls for the Air Pro can be accessed via an app on your smartphone or via a touchscreen on top of the unit.
This touch screen is easy to use and displays current air quality using a simple single-colored system.
Is there a remote control?
There is no physical remote control, but the Air Pro can be controlled using an app on your smartphone.
The app can tell you real-time air quality based on current particulate levels and also allows you to adjust fan speed (manually or automatically).
The breakdown of particulate levels includes:
PM10: coarse particles
PM2.5: fine particles
PM1.0: microfine particles
There are six manual fan speeds on the Air Pro as well as two specialty Auto modes: Standard and Quiet.
Using the Auto-Protect mode, sensors on the Molekule can detect particulate levels and adjust fan speed appropriately without any manual intervention from the user.
How is it different?
The Molekule Air Pro offers a high airflow and uses sensors that detect 3 different sizes of air particles: PM10 (like pollen), PM2.5 (like dust), and PM1 (like smoke).
It also uses light-based PECO technology to clean the air, which is a technology that's proprietary to the Molekule lineup.
What is PECO?
PECO technology is something that is unique to Molekule, as most other air purifiers rely on HEPA filtration.
PECO (aka: Photo Electrochemical Oxidation) technology takes a different approach by using a special filter that is activated by light shining onto the filter membrane.
The light creates a reaction on the surface of the filter which destroys pollutants by breaking down the molecular structure.
RELATED – For more information on PECO filters please see our full-size Molekule Air review.
HEPA vs. PECO
What's the difference between HEPA and PECO? Both technologies capture airborne particulate down to 0.3 microns, but each in a different way.
HEPA filters use their accordion style filter paper to catch particulate and store them in the filter. Once the filter is full, you simply toss it in the trash and replace it with a new one.
RELATED: What is a HEPA filter?
PECO filters are designed to destroy particulate instead of capturing it by using light technology. You still need to replace a PECO filter, but the pro-PECO argument is that it is cleaner because it destroys the particulate entirely.
RELATED: For more information on HEPA based air purifiers see our Dyson TP04, Dyson DP04, Rabbit Air MinusA2, and Oransi EJ120 reviews.
Size & Dimensions
The Air Pro is designed to be a larger version of the original Molekule Air (and nearly twice the size of the Molekule Mini.)
RELATED: Need less coverage? Click here to read our full review of the Molekule Mini.
The Molekule Air Pro treats air up to 1,000 sf. For comparison, the Molekule Air maxes out at 600 sf and the Air Mini at only 250 sf.
The larger area coverage also makes this unit the largest non-commercial / medical unit that Molkeule has sold to date.
It's the same height as the Molekule Air, but 3″ wider. Here are the exact dimensions for reference:
Width: 11″ diameter (4.33 cm)
Height: 23″ tall (9.05 cm)
Weight: 22.9 lbs. (10.38 kg)
Accessories & Parts
The Molekule Air Pro comes with the same basic set of accessories as the other Molekule units. The exact assembly of this purifier can be broken down into three main parts:
The Base: the gray plastic piece that holds the filter and shell in place
The Filter: a hybrid filter (pre-filter and PECO) that treats the air; designed to destroy harmful particulate and airborne particles
The Shell: made up of a machined hollow tube that houses the filter inside and the controls on top with a carrying strap
How loud is the Molekule?
According to the manufacturer, the Molekule Air Pro is a little louder than their smaller units, but not by too much.
Depending on fan speed, the Air Pro noise level ranges from 33-64 dBa.
This is slightly louder than the standard Molekule Air which maxes ranges from 33-55 dBa.
Setup & Usability
Setting up the Air Pro purifier is similar to their other units and not difficult, taking only a few minutes.
Here's the step-by-step rundown.
First, unbox the purifier and remove all excess packaging.
Plug the power cord into the bottom of the purifier.
Plug the cord into a standard wall outlet and follow on-screen prompts on top of the unit.
Select preferences and mode on the touch screen.
Download the Molekule app and pair it with your device.
That's it. At this point, the Molekule will start working immediately to clean the air in the room.
Maintenance
The main item of maintenance you'll need to worry about is replacing the filter as needed. The filter is designed to last about 6 months.
If you opt for in-app controls, there is an Auto-Refill program you can sign up for that will deliver new filters to your door as needed.
The app also can show you exactly how much life you have left in your filter.
Is the Molekule Air Pro a good value?
If you're serious about air purification and prefer a system that takes a different approach compared to traditional HEPA, then the Molekule Air Pro is a great value.
The price is steep, but also this purifier brings something fresh and new to the market.
It has:
Excellent area coverage (up to 1,000 sf)
Solid performance (improved PM2.5 by 97% in our tests)
Manual or Auto fan modes
Molekule Air Pro Specifications
| Specifications | |
| --- | --- |
| Manufacturer | Molekule |
| Model | Air Pro |
| Width (inches) | 11" (4.33 cm) |
| Height | 23" (9.05 cm) |
| Weight | 22.9 lbs (10.38 kg) |
| Filters | 1 hybrid filter |
| Wifi Compatible | Yes |
| Room Coverage | ~1000 sq. ft. |
| Filter Costs | $150 / filter |
| Returns | Varies by retailer |
| Warranty | 1-Year limited |
| Price | Check Price |
Should you buy the Molekule Air Pro Air Purifier?
Overall, I would say the Molekule Air Pro is an excellent purifier and a nice addition to the Molekule lineup.
It is user-friendly, has excellent performance, and embodies a sleek aesthetic that looks more like a piece of décor than a traditional air purifier.
I would recommend the Molekule Air Pro if you're looking for an air purifier with the following features:
Large Area Coverage: If you like the looks or technology of the Molekule air purifier, but have a larger space, the Air Pro is a great option. It offers nearly twice the coverage as the original Molekule Air and 4 times the coverage of the Molekule Mini.
Excellent Performance: In our air purification tests it was able to reduce PM2.5 to 0.3, PM10 to 0.4, and AQI to 1. The data speaks for itself.
Want in-app controls: The Air Pro pairs seamlessly with the Molekule app, making it easy to change settings, see real-time air quality, and check the filter replacement status.
Max fan speed: This Molekule is also the only current unit to offer 6 fan speeds. These speeds can be set manually or using the Auto-Protect modes. Auto modes can automatically adjust speeds based on indoor air quality and particulate count.
For more information or the buy the Molekule Air Pro air purifier, click here.
Updates
September 29, 2020 – Corrected an error where we originally reported that the Air Pro improved PM2.5 by 99%, when the correct number was 97%.
September 22, 2020 – Initial version of the page was published.
PECO Filter With Huge Coverage
Design -

100%

Performance -

98%

Quality -

100%

Usability -

97%

Value -

94%
Summary
The Molekule Air Pro is an air purifier built on the same technology featured in Molekule's Air & Air Mini purifiers. The Air Pro uses a PECO filter and light to destroy harmful airborne debris. It's designed for large spaces, offices, or even whole homes, purifying the air for up to 1,000 square feet. The Air Pro connects to an app, which is simple and intuitive. In addition, the unit includes a powerful air quality sensor that's capable monitoring your room's air and adjusting the Air Pro's operations to keep your air clean. In our tests, the Air Pro did well, reducing PM2.5 to 0.3, PM10 to 0.4, and AQI to 1. By all accounts, the Air Pro is another solid device from Molekule.