A Portable, Responsive, Seat Cushion
Purple Seat Cushion
The Purple seat cushion comes in 6 different variations as well as a supporting back cushion. It is made of a hyperelastic, springy polymer that's supportive, breathable, and responsive. Depending on how long you sit, Purple offers a variety of thicknesses and sizes. We've tested one cushion for over 4 years and been extremely impressed with the performance. It has been comfortable and has held up to daily usage.
Buy on Purple.com
Buy on Amazon
Pros
Excellent longevity and materials hold their shape over time
Comfortable for extended use
Doesn't get hot
Relieves pressure
Cons
A little pricey for the more advanced cushion styles
4-Year Seat Test
The Purple seat cushion first arrived at our doorstep in March 2016. This cushion sits in my personal office chair where it has been used nearly every day since.
That's over 4 years and 7 months or over 1700 days.
The cushion we tested was the original Royal seat cushion and really not much has changed between 2016 and 2020 with this particular cushion style.
How has it held up?
While the cushion itself is a little dirty and dusty, the functionality characteristics are all still present.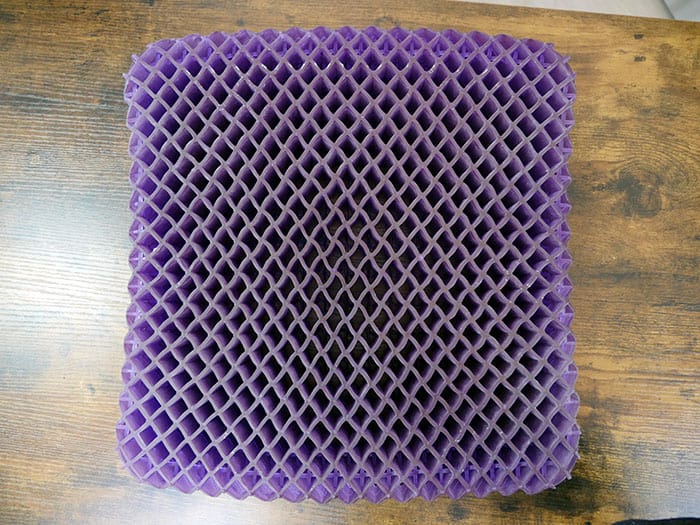 The cushion is just as responsive, cool, springy, and supportive today as it was when it was brand new.
Most days I don't even think about it. It's just sort of there in the background adding extra comfort and pressure relief to my chair.
What's new on the 2020 Purple cushion?
Our cushion design is slightly different than the one currently offered. The current one seems to have the same interior purple material, however, the exterior cover is definitely different.
The new cover has a different fabric finish and a different handle. But notably the purple material is the same.
Would I buy another Purple seat cushion?
The Purple seat cushion is probably not something I would have purchased (we received it as a free sample for testing), but now that I have it it's hard to imagine my chair without it.
The Lineup
The new lineup of Purple seat cushions is more exhaustive than it was the first day it launched, but the concept and hyperelastic polymer remain the same.
Purple's collection of portable seat cushions include:
Ultimate Seat Cushion
For 8+ hour sit time
21.75 x 18 x 2.5″
Built for larger chairs and supports heavier weight
Double Seat Cushion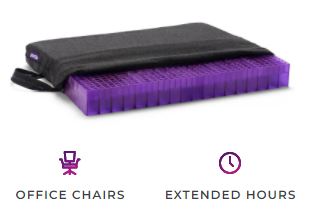 For 8+ hour sit time
16 x 18 x 2″
Best for office chairs or work-from-home setups
Royal Seat Cushion
For 5-8 hour sit time
16 x 18 x 2″
Rounded corners for softer edges
Simply Seat Cushion
For 0-4 hour sit time
15.25 x 17.5 x 1.25″
Designed for automobile seats
Portable Seat Cushion
For 0-4 hour sit time
13.25 x 15.25 x 1″
Designed for on-the-go events
Foldaway Seat Cushion
For 0-4 hour sit time
15 x 17 x 1.2″
Folds in half for easy storage
Back Cushion
9.25 x 15.25 x 2.5″
Good for lumbar support
Full List of Purple Cushions
The Cover
All of the Purple cushions have a similar style of removable cover. It is black with a zippered closure.
Here's a top view of the Royal cushion that we started testing several years ago.
And here is a close up of the zipper detail and fabric texture. While the exact design of each cover may vary between each cusion, the materials are consistent.
All of the removable covers are designed for comfort, breathability, and maximum airflow between the polymer and the outside of the cushion.
What's on the bottom?
The bottom of the cushion has a bit of a grippy feel to it, which helps keep the cushion in place.
What is the cushion made of?
All of the purple cushions are made of a 3D printed hyperelastic polymer in its classic purple form.
The material has a bit of a jiggle like Jello, but is still able to provide support and pressure relief.
It's an open-cell structure that allows air to flow between the openings.
RELATED: Read our Oak Hollow Aloria ergonomic chair review
Is it comfortable?
Overall, the Purple seat cushion is extremely comfortable in my opinion. Unlike traditional foam (solid core or shredded), the hyperelastic polymer hasn't lost any of its shape or bounce over the course of our 4+ year test.
It has a decent amount of give for good pressure relief and the open-cell structure keeps the cushion itself breathable for however long you're sitting.
Can you wash the Purple seat cushion?
Yes. The cover is machine washable and the Purple cushion itself can be rinsed off with water and sat out to dry.
How do you wash the cover? According to Purple:
Simply remove the cover and machine wash on a gentle cycle, then dry on low heat or hang to air dry
Is it portable?
Yes. All Purple seat cushions are pretty portable although some may be more portable than others.
For example, the Foldaway seat cushion can literally fold in half, making it a nice option to slide into your backpack or luggage for a trip.
It leaves denser support along the core areas and sparser connections between your leg gap where support isn't as critical.
To that end, I would also add that any Purple seat cushion that is less than 1.5″ thick is pretty portable. This list would include:
Portable Seat Cushion: 1″ thick
Foldaway Seat Cushion: 1.2″ thick
Simply Seat Cushion: 1.25″ thick
Which Purple cushions have handles?
In addition to being foldable, and thinner, there are also a number of cushions that have carrying handles.
Purple seat cushions with handles include:
Double Seat Cushion
Royal Seat Cushion
Simply Seat Cushion
Portable Seat Cushion
Foldaway Seat Cushion (listed above)
Spoiler—this basically includes all of the cushions except for the Ultimate Seat Cushion and Back Cushion.
But even without handles, all of the Purple seat cushions are easy to move around as needed. I would consider these to be highly portable.
Other Special Perks
All Purple seat cushions come with:
1-year warranty
Free shipping from Purple.com
30-day return policy
Free returns
Should You Buy the Purple Seat Cushion?
I would recommend the Purple if you're looking for a seat cushion that is:
Ultra-Breathable: The hyperelastic-polymer used in the Purple cushion is highly responsive and incredibly breathable.
Washable: The removable cover makes it easy to wash the Purple cushion. Even the polymer cushion itself can be rinsed off and cleaned.
Portable: There are many different options with this seat, but all of the Purple cushions are pretty lightweight and portable if you plan to pack it away or bring it with you.
For all-day use or heavy gaming, I would recommend the:
Ultimate Seat Cushion
Double Seat Cushion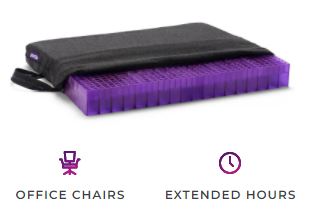 These two cushions are the thickest and largest cushions in the Purple lineup. The thicker support means more pressure relief where you need it.
For shorter time periods or for specific tasks, I would recommend the:
Royal Seat Cushion
Simply Seat Cushion
These cushions are a bit thinner than the Ultimate or Double listed above, but they are still quite nice
For on-the-go, I would recommend the:
Portable Seat Cushion
Foldaway Seat Cushion
Both of these cushions are on the thinner side, which means more lightweight, but still have a sufficient amount of support.
They have carrying handles and a smaller overall size making them good for sporting events, waiting areas, or other relatively quick events.
Click here to learn more about the Purple Seat Cushions or buy one for yourself.
The Ultimate in Material Quality
Design -

97%

Performance -

97%

Quality -

98%

Usability -

98%

Value -

96%
Summary
The Purple seat cushion comes in a couple of different versions, but the base material is the same for all of them. It is made of an elastic polymer that has some stretch and bounce, while still being breathable and washable. All of the Purple cushions also come with a removable cover with a zippered closure. I have personally been using the Royal Purple seat cushion for over 4 years and have been very satisfied with the level of support, comfort, and long lifespan of this cushion.