High-Performance HEPA Air Purifier
Rabbit Air BioGS
The Rabbit Air BioGS SPA-625A is a feature packed air purifier capable of cleaning rooms up to 625 sq. ft. The BioGS uses 4 stages of purification, including a HEPA filter and charcoal-based filter (for removing smells). It crushed our purification tests, removing 97.9% of all particulates in the room.
Check Price
Pros
Can filter a room up to 625 sq. ft. twice in an hour (on the highest setting)
HEPA and activated charcoal filters can last up to 3 year before needing to be replaced and the pre-filter is washable
Very quiet to operate (approximately 22 dB on the lowest setting)
Cons
More expensive than other air purifier models
Not smartphone enabled
Quick Specs
Model: Rabbit Air BioGS 2.0 SPA-625A
Coverage: up to 625 square feet
Size: 16.6″W x 9.8″D x 22.2″H
Filters: 4-stage (pre-filter, HEPA filter, activated charcoal filter, and negative ion generator)
Rabbit Air BioGS Design  
The design of the Rabbit Air BioGS is sleek, with a white body, round smooth edges, and simple controls. The controls are simple and include both text and illustrated icons to help explain each control function.
The air intake occurs at the sides and bottom of the purifier with clean air forced out at the top of the unit.
From the top of the unit you can adjust many of the functions of the air purifier or you use the physical remote control.
Unit Controls
The control on the top of the Rabbit Air BioGS air purifier include:
On / off button
Air quality indicator (5 settings)
Fan speed (5 settings)
Auto mode (low, med, or high)
Timer (4 hr, 8 hr, or 12 hr)
Negative ion (on or off)
Filter maintenance indicator (a variety of different settings on the left of the control panel – see image above)
Remote Control
The remote control has buttons for the following controls:
On / off
Fan speed
Auto mode
Timer
Negative ion on/off
This air purifier does come in a couple different colors.
All white (this is the one we tested)
White with green interior (shown below)
White with blue interior (shown below)
Size and Dimensions
The Rabbit Air BioGS 2.0 is as medium-sized air purifier. It is 16.6" wide, 22.2" tall and 9.8" deep and weighs 16.8 pounds.
Width: 16.6"
Height: 22.2"
Depth: 9.8"
Weight: 16.8 pounds
Accessories & Parts
The Rabbit Air BioGS air purifier doesn't come with many fancy accessories.
It does come with simple items like the 3-piece filter set, remote control, and a wrapped power cord.
The Filter
The filtration system has five main stages.
Pre-Filter
Activated Carbon Filter
BioGS HEPA Filter
Brushless motor to promote air flow
Negative ion generator (can be turned on or off)
The HEPA filter is designed to trap allergen and particles 0.3 microns in size at 99.97% efficiency.
RELATED – What's a HEPA filter?
There are two ways to use this filtration system:
Normal Residential Use: This mode would cover 625 sq. ft. of room coverage and provides two air changes per hour.
Allergy Sufferer Use: This mode can cover 313 sq. ft. of room coverage and provides four air changes per hour.
The Power Cord
The power cord is wrapped with a bold textile that gives the cord a modern aesthetic and helps to prevent fraying or splitting of the cord.
In my nerdier life, I am a PC gaming enthusiast. So I am familiar with, and a fan of, quality wrapped cords.
The cord wrapping on the BioGS was a complete surprise. It's easily one of the best wrapped power cords I've seen to date.
Rabbit Air Purifier Performance
The overall performance of the Rabbit Air BioGS air purifier was impressive.
Within 1 hour the BioGS removed 91.5% of air particulates and within 4 hours had removed 97.9%.
Starting Baseline
PM2.5: 15.5
PM10: 25.2
Particles: 899
AQI: 57
After 1 Hour
PM2.5: 1.8
PM10: 3.3
Particles: 76
AQI: 8
After 4 Hours
PM2.5: 0.3
PM10: 0.3
Particles: 19
AQI: 1
Testing Series
The testing method was comprised of:
Setting the Rabbit air purifier in a medium-sized bedroom in my home
Taking an initial baseline measurement of the room's air quality
Running the Rabbit for 1 hour (and then 4 hours)
Taking a new measurement to compare the difference in overall air quality.
Below, we've included information on the testing criteria and what defines good vs. bad air quality.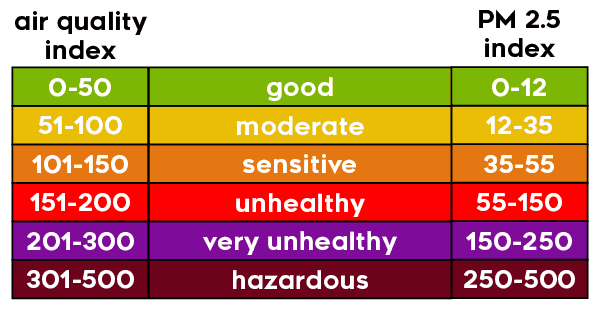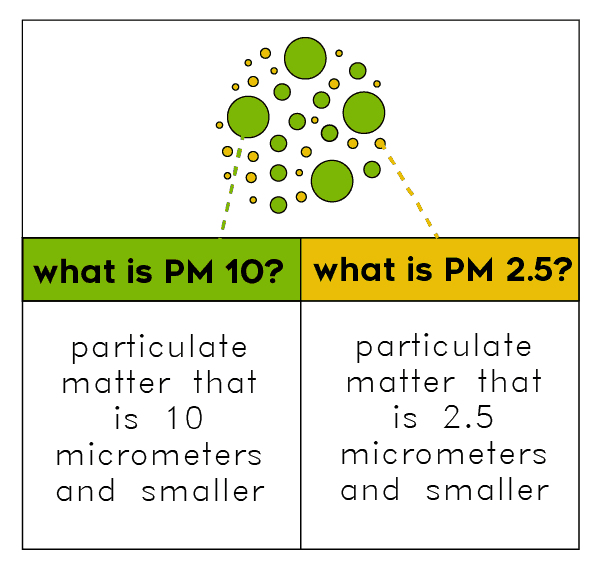 What were the results?
Before turning the Rabbit Air purifier on, our initial baseline measurements were as follows:
PM2.5: 15.5
PM10: 25.2
Particles per liter: 899
Air Quality Index: 57
In order to take these measurements we used the Temtop LKC-1000S+ professional air quality detector. By using this device, we were able to get precise measurements both before and after using the Rabbit Air purifier.
So how was the air quality after the test?
The air quality after 1 hour of using the Rabbit Air MinusA2 was drastically better. See below:
PM2.5:  1.8
PM10: 3.3
Particles per liter: 76
Air Quality Index: 8
We extended this same test to 4 hours to see if the BioGS was able to clean the air further. After 4 hours the results were:
PM2.5: 0.3
PM10: 0.3
Particles per liter: 19
Air Quality Index: 1
RELATED – What's the best air purifier? We answer in this in-depth guide.
Setup & Usability
Once we unboxed the Rabbit Air BioGS, setup was easy. All we did was put the purifier in a selected room, plug it in, and turn it on.
The process was simple.
Does the Rabbit Air BioGS have app control?
No.
This model does not offer app or smartphone-based control.
The remote control feature is utilized through the use of the physical remote control.
If you're looking for app-based smartphone control you may want to check out the Rabbit Air Minus A2 and see our review here.
How easy is the Rabbit Air BioGS to use?
Usability is just as simple as initial setup.
There are a few features that help to make usability even easier on this model.
The filter indicator will let you know when it's time to change the filter.
All interface buttons light up when you need them and go dim when the purifier is sitting idle
Childproof Panel
If you've got little ones in your home, you can have some peace of mind knowing that the Rabbit Air BioGS has a child-proof front panel.
Any time the panel is removed, the purifier stops running, as a safety precaution to little ones who might be nearby.
There is also an Auto Mode that analyzes air quality and automatically adjusts as necessary. There are three different levels of Sensitivity that the Auto Mode can go off of.
This is a nice feature concerning usability because it takes the guesswork out of setting up your air purifier.
Rabbit Air BioGS Maintenance
On the Rabbit Air, the filter indicator is pretty advanced and has a range of notifications.
It will let you know:
When it is time to clean the filter
When it is time to replace the filter
Filter life span remaining, counting down from "new" to "time to replace" in 3 month intervals so there's plenty of notice
Depending on how you use your BioGS you may need to replace filters a bit more or less often. As a general rule, replacing the filters every 18 months or so is typical.
This comes out to around $40 / year in filter replacement costs.
You can find replacement filters here.
How loud is the Rabbit Ait BioGS?
This Rabbit Air air purifier model has five different fan speeds.
We ran a series of tests looking specifically at sound output and found the following results:
Lowest fan setting the Rabbit reaches a level of 40 dB
Highest fan speed the decibel level was closer to around 55 dB.
The ambient noise in the room we tested was around 40 dB (even with the purifier turned off). Suffice to say, it is virtually noiseless when on the lowest fan speed.
Is the Rabbit Air BioGS a Good Value?
In my view, absolutely, the Rabbit Air BioGS is a solid value.
The BioGS does everything I look for in an air purifier.
It dominated our cleaning air cleaning tests, improving air quality by 97.9% in about 4 hours
It covers a large room size at up 625 sq. ft.
It's simple to use, especially when you use the auto modes. Once you get it set how you need it you can really just ignore it.
It includes multiple stage filtration, including an ionizer
Remote control
Filters last a long time and aren't overly expensive to replace
The only thing I wish it had was smartphone control, but given the price, it's not something I'm too disappointed isn't included.
Rabbit Air BioGS 2.0 Specifications
| Specifications |   |
| --- | --- |
| Manufacturer | Rabbit Air |
| Model | BioGS 2.0 SPA-625A |
| Width (inches) | 16.6" |
| Height | 22.2" |
| Weight | 16.8 pounds |
| Filters | 3 filters & 1 ionizer |
| Wifi Compatible | No |
| Room Coverage | ~625 sq. ft. |
| Filter Costs | $40 / year |
| Returns | Varies by retailer |
| Warranty | 5-Year limited |
| Price | Check Price |
Who Should Buy the Rabbit Air Purifier?
Overall, I was impressed with the Rabbit Air BioGS air purifier. It is reasonably priced for what you get and offered quality air purification in a way that was simple, quiet, and effective.
I would recommend the Rabbit Air BioGS 2.0 if you're looking for the following features in an air purifier:
Want excellent performance: Bottom line, if you're looking for excellent performance the Rabbit Air BioGS was extremely impressive. It was able to quickly and effectively treat the air, improving the air quality in our test room by 97.9%.
Don't need "smart integration": While more advanced air purifiers have a level of "smart integration" like app control via smartphone, the Rabbit Air BioGS leaves out this features. This likely allows the purifier to come in at a lower price than it would if app control were included. If you can live without it you can save a few bucks. If you want smartphone control see our review of the Rabbit Air MinusA2.
Quiet Operation: This air purifier was exceptionally quiet on the lowest settings and did not exceed even normal room ambient noise. Even on the highest settings it really isn't that loud at around 55 dB (at 3′ away). The dimming control buttons were another nice feature that made this air purifier virtually undetectable in the space.
For more information or to buy the Rabbit Air BioGS 2.0 click here.
Quiet, Affordable, & Easy to Use
Design -

96%

Performance -

98%

Quality -

98%

Usability -

95%

Value -

94%
Summary
The Rabbit Air BioGS is a high-performance air purifier with 4 stages of air purification. It includes a HEPA filter for fine particulates, charcoal-based filter for removing odors, and an ionizer (which can be turned on / off). While it lacks smartphone integration, it does have a remote control. It crushed our cleaning tests, improving air quality by 97.9%.